Silicone baking mats are one of the best things to happen to home cooks and bakers. The only area where parchment paper is superior is that the paper doesn't get a built-up layer of grease, whereas silicone mats do. This article shows you how to clean silicone baking mats so that you can tackle that pesky layer of oil, all while extending the life of your bakeware.
One of the most famous brands of baking mats is Silpat. There are a limited amount of ways to clean an oven mat, but all use gentle products that withhold their integrity for years.
Once you learn how to clean a Silpat baking mat, you'll find yourself saving time and money that is often spent making trips to the grocery store and buying non-stick items like wax paper and aluminum foil. After reading this article, we're sure that you'll have a new favorite way to clean a silicone baking mat.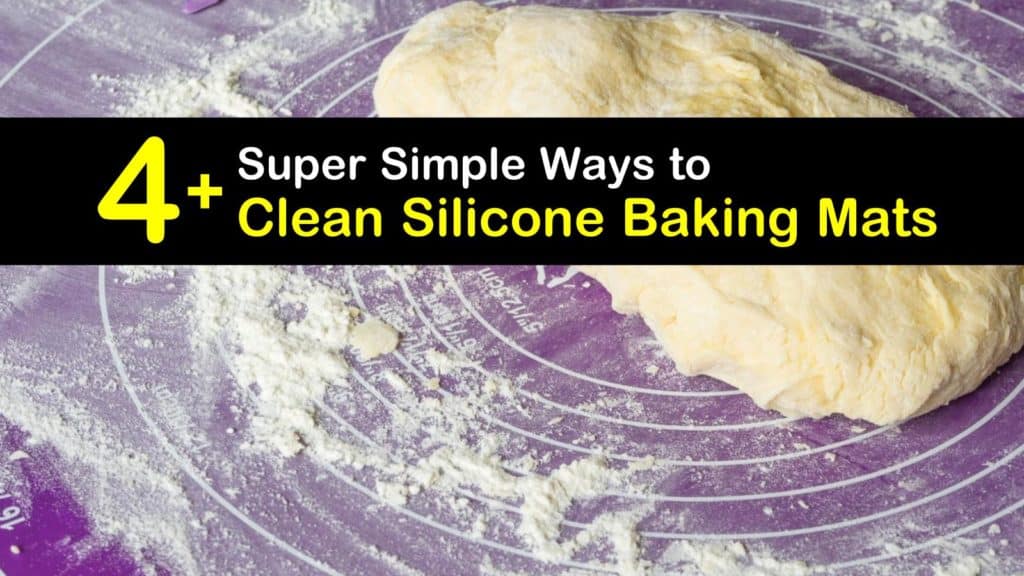 What are Silicone Baking Mats?
Silicone baking mats have become some of the most beneficial items in today's kitchens. This statement is especially true for those who love to bake. Silicone baking mats are made from food-grade silicone and fiberglass.
These mats are available for purchase in various sizes that easily fit into baking sheets, cookie sheets, and other cookware. Silicone mats and silicone bakeware are extremely non-stick and eliminate the use of parchment paper.
Silicone baking mats are used in a variety of ways. Aside from replacing wax paper and aluminum foil, they also keep your baking pans clean, are used on top of baked goods to help them rise evenly, keep batters from sticking, and are great for kneading bread and other doughs.
Although they already have a non-stick surface, using them with cooking spray or oil helps them become even more effective. The downside to this is that, after time, grease builds up and forms a thin, oily layer that requires cleaning.
If you need to know how to clean silicone baking mats, the following list of ways to clean an oven mat is sure to make yours look and feel like new once again.
How to Clean Silicone Baking Mats
Keeping a sheet pan clean is excellent, but whenever you're roasting or baking something on the top rack of your oven, residue is going to get cooked onto the surface over time.
There are several ways to keep these mats clean. Some are easier than others, but one of them is guaranteed to cut through even the thickest layers of grime.
Put Them in the Dishwasher
The most remarkable thing about cleaning silicone baking mats or cleaning silicone molds is that they are dishwasher friendly. Either roll the mat up to save space or lay it on the bottom rack of your dishwasher, so the surface gets evenly washed.
Run your dishwasher on a normal cycle with regular dishwasher detergent. If the cycle finishes and there is still leftover residue, move on to one of the cleaning methods below.
Old-Fashioned Soap and Hot Water
There is nothing better than the stereotypical method of cleaning items with hot soapy water. Dish soap with grease-fighting abilities is best for this cleaning strategy for your baking mats or to clean a silicone phone case.
Hot water and soap is the most recommended technique for cleaning oven racks and walls as well. Fill your sink with extremely hot water and add a few drops of grease-cutting soap to the sink so that suds begin to form.
Put the silicone baking mats into the hot water and allow them to soak for 15 to 20 minutes. Use a sponge or clean towel and start scrubbing all surfaces of the mats.
Remove the baking mats from the water and air dry on a drying rack or rub them down with a dry towel.
If the stains remain, repeat the process until all oil is removed from the surface. Make sure that the sink water is piping hot to help break down the grease more easily.
How to Clean an Oven Mat with Lemon Juice
One of the great things about lemon juice is that it isn't solely for food. Lemon juice is high in acid, which cuts through grease and oils. Fill your sink with hot water and squeeze the juice from one lemon into the water.
Submerge your baking mats in the lemon water or clean a Cricut cutting mat by allowing it to sit for 20 minutes in the solution. Use a sponge to scrub the mats, and then let them air dry on a drying rack.
How to Clean a Silpat Baking Mat with Baking Soda
It's common knowledge that baking soda is a powerful cleaning agent for nearly all spills, stains, and messes around our homes.
Combine it with white vinegar, and this DIY cleaning solution bubbles and cuts through grease like no other store-bought product on the market.
Wet the surfaces of your baking mats with running water and set them on your kitchen counter. Sprinkle a generous portion of baking soda over the mats. Add a few drops of vinegar over the baking soda and put on your rubber gloves.
Begin rubbing the vinegar into the soda to turn into a paste, smear the mixture over the mat's entire surface and let it sit for 20 minutes.
Wash the paste away under hot, running water in your sink and allow the mats to air dry. Repeat this process until all grease is removed from the mats.
Heat Your Mats
The easiest way to remove grease from most surfaces is to get it as hot as possible. The best way to heat your mats is to put them in the oven for ten minutes at 350°F.
Submerge the mats in a sink full of hot water with about a quarter cup of white vinegar for another 15 minutes. Rinse your Silpat mats under running water and allow them to dry before putting them away.
We all love using silicone baking mats, and learning how to clean a Silpat baking mat is a skill every owner should know. Taking care of our kitchen tools allows us to use them and pass them on for generations to come.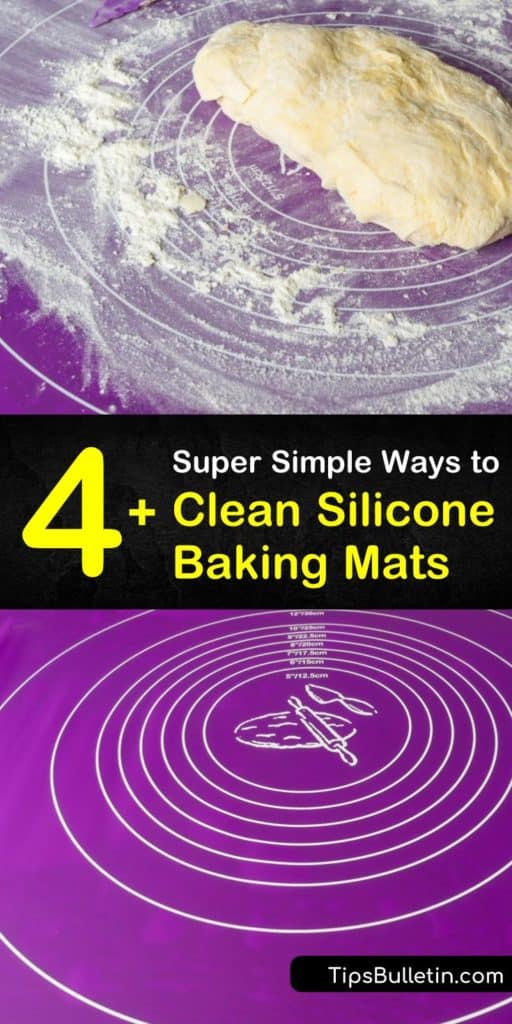 If we successfully taught you how to clean silicone baking mats, share these methods to clean an oven mat on Facebook and Pinterest.