It's not uncommon for blinds and window treatments to go neglected for months or even years; life is busy, and so are you. If this sounds like your household, you need this guide to jumpstart your window-covering knowledge. Learn how to clean window blinds made of many traditional materials, and discover how to do it quickly.
There are infinite styles, shapes, and shades to choose from in the world of blinds, and it's incredibly easy to enhance any aesthetic without spending much money. A good set of blinds or a color-coordinated drapery and valance scheme looks timeless. It provides much-needed protection from the sun's daily rays. Unfortunately, all these choices make cleaning somewhat confusing.
If you don't want to damage or discolor your elaborate window treatments, learn how to tailor the cleaning method to the material with these super-helpful and uncomplicated guidelines for proper window blind care. Regularly cleaning your blinds helps maintain their looks and functionality and sometimes extends their lifespan by years.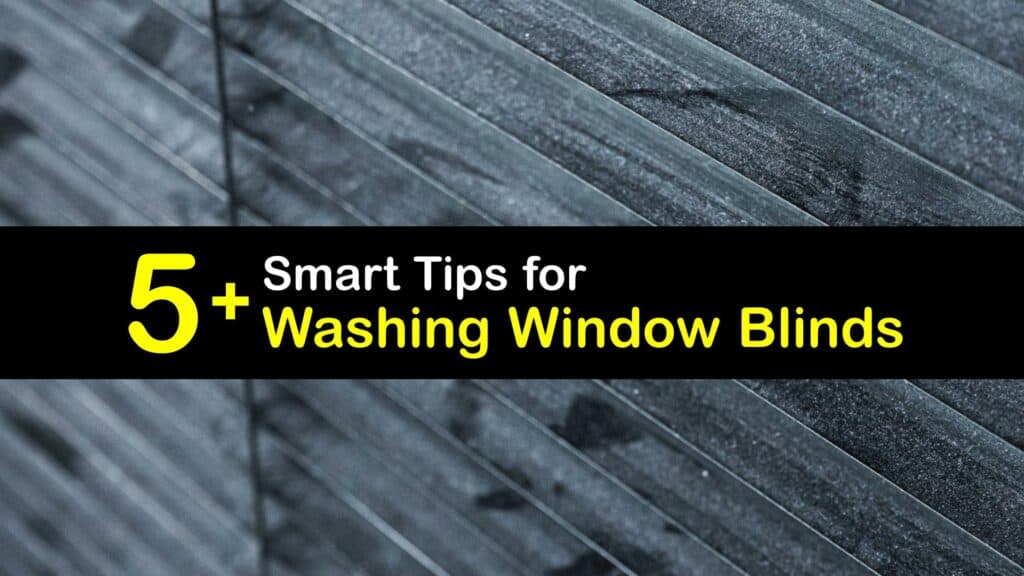 Essential Tips for Cleaning Window Blinds
If you want clean blinds and window treatments, try these incredibly effective strategies to get clean window blinds at home every single time. Cleaning blinds is traditionally a big job, but not with these exciting tutorials.
Learn how to identify the kind of blinds you have, then find a simple and specialized approach to cleaning them. No set of blinds is too big or too small to clean; your weary-looking window treatments await.
Cleaning Horizontal Blinds
Most of us are familiar with those plastic blinds or white vinyl blinds that run across the window horizontally and come with a convenient pull cord; horizontal blinds and mini blinds are practically a staple in North American homes.
The frequency with which you're likely to find these blinds means you require a strategy for cleaning them quickly and effectively.
Discover how to clean window blinds with a quick-mix soap solution and spray. Close the blinds, wipe them down with a paper towel to remove the dust, and then go in with the spray bottle and a damp cloth.
Flip the blinds around to ensure you get the other side, and don't forget the rods and cords, as they tend to get just as dirty. Regularly use the vacuum and soft brush attachment to prevent dusty buildup and ensure clean faux wood blinds.
Tips for Cleaning Vertical Blinds
Vertical blinds are those long plastic panels that usually cover a patio or sliding glass door. They're usually made from fabric or PVC and are perhaps more tedious than traditional horizontal blinds to get clean. Still, it's simple to find out how to easily clean windows with blinds made in this style.
Start with a thorough vacuuming using your trusty soft brush or upholstery attachment; begin at the top of the blinds and work your way to the bottom. Fill a gallon bucket with warm water and a small amount of mild detergent, preferably liquid laundry detergent, and get ready to wipe away layers of grime to reveal clean vertical blinds.
It doesn't matter whether your blinds are fabric or plastic; this soapy water method works for both varieties. Simply wet and wring the microfiber cloth and gently wipe each strip of your vertical blinds from top to bottom. Wipe away any lingering detergent with a clean, soft cloth and allow the blinds to air dry.
How to Clean Window Blinds Made of Fabric
Window blinds made of fabric that raise to create attractive pleats are called Roman blinds. Roman blinds are stylish, and their design is enduring, dating back at least 2,000 years. They have decorated some of the most prestigious homes in history.
Cleaning window blinds made of fabric, such as Roman blinds, is a must because, as fashionable as they are, they attract dust and irritants that settle in the fabric fibers. Schedule time to take your fabric blinds down for maintenance, lay them flat on the floor, and get the vacuum.
You can also learn how to get dust off fabric blinds without removing them from the rod if the process of removing them is too difficult.
Treat the fabric with a handheld vacuum or use the brush attachment on a standard vacuum. Work in sections, going from the top of the blinds to the bottom and taking special care to clean pleats and folds. If there are stains, spot-treat them with mild soap and water and a soft bristle scrub brush.
How to Clean Roller Blinds and Shades
Roller blinds are famous for their minimalistic and uniform aesthetic. Like anything else in your home, they gather dust and require occasional upkeep. Learn how to wash window blinds that roll. Bring back those vibrant colors or restore that long-forgotten crisp white finish. You're only a few steps away from revitalizing every window covering.
Fill a clean tub with lukewarm water and add your preferred mild laundry detergent to easily clean windows with shades designed to roll. The simplicity of roller shades means it is okay to take them off the wall and soak them for an hour.
Find a soft sponge to treat any stubborn spots that won't come out with a simple soak. Rub the affected area in small circles and add a smear of targeted stain-fighter. Pull the roller shades out of the tub and lay them out on a fresh towel to air dry.
How to Clean Honeycomb Blinds
Honeycomb or cellular blinds are becoming increasingly popular in new build construction and for anyone looking to add a unique flair to their window decor. These blinds have hollow horizontal tunnels that run vertically across the blinds. Cleaning window blinds with this pattern requires some creativity.
Cleaning window shades manufactured in a distinctive honeycomb pattern motif seems like a unique challenge that may require cleaning services, but all you need are a few tools. Vacuum horizontally along the folds with the soft brush attachment; the suction of the open vacuum tube creases and damages the honeycomb shape.
Mix a bowl of fresh soapy water and dampen a microfiber cloth to spot-treat your pleated shades. Blotting the blinds gently versus scrubbing preserves the shape. If you want extra clean blinds, use a small can of compressed air to blow out the tunnels to clear dust and dead bugs before rehanging.
How to Wash Window Blinds Made of Wood
A beautiful set of natural wooden blinds brings a sense of richness and luxury into your living room. Natural wood blinds could last over half a century if cared for lovingly. Learn how to wash window blinds made of natural wood with this vegetable soap-based wood cleaning guide.
Confirm that your blinds are natural wood, not faux vinyl. Start by dusting your blinds with a clean microfiber cloth, or get a microfiber glove to make things even easier. Turn the wood slats to ensure you get all the dust from the front and back.
To begin the process of washing aluminum blinds in your house, fill a medium sized-bucket with room temperature water and classic Murphy Oil Soap. Grab a microfiber cloth and give your wood blinds a gentle wipe-down. Make time to dust your blinds at least weekly to keep dirt and airborne debris from taking hold.
There's something so enchanting about natural sunlight peeking through the blinds. Bright, beautiful window treatments tie the room together, and guests notice if they're dull and dingy. Every great host cares about the details, and knowing how to clean window blinds will impress anyone who drops by.
Murphy Oil soap can also be used for cleaning rust off aluminum window frames and sills. The surrounding area of the window will need care and maintenance, too.
Vacuum your blinds and valances weekly or monthly at a minimum to prevent dust and allergens from building up on the surface. Keep a bottle of mild dish soap or liquid detergent in the cupboard to help treat localized stains, and always have a stack of microfiber cloths handy to make things easier.
We hope you enjoyed these helpful lessons in window covering care and that they make a difference in the overall appearance of your roller blinds, vertical blinds, and wooden blinds.
Each design requires a different approach to stay operational and look great; find what works best for you and do it regularly to get the most out of your blinds.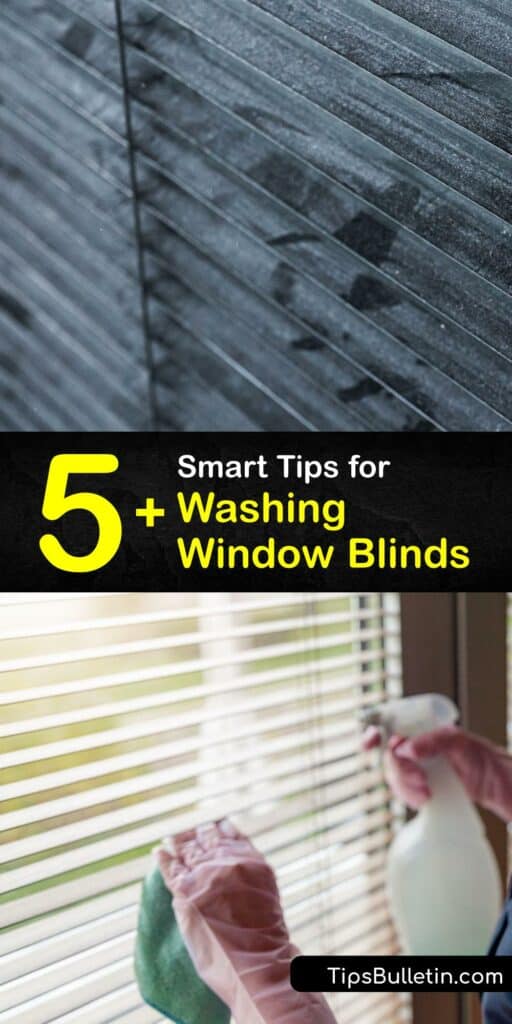 If you loved learning how to clean window blinds with these helpful tips, share this awesome article about getting the best out of your window blinds with friends on Pinterest and Facebook.