Are you curious about how to compost coffee grounds? Spent coffee grounds are a by-product of the coffee bean after brewing. Many homeowners and gardeners ask, are coffee grounds good for compost? Composting is an intelligent way to reduce food waste and is greener than curbside recycling.
Composting takes unwanted organic matter like kitchen scraps and yard waste and makes them into high-quality finished compost to use in your vegetable garden or indoors for your potted plants. So, are coffee grounds compostable? They are, and they're an ideal composting material to boost the quality of your finished fertilizer to provide better nutrition for your plants.
Despite being a waste product, fresh coffee grounds contain several vital nutrients used as building blocks in processes like plant growth, flowering, and setting fruit. Learn how to incorporate unwashed coffee grounds into your compost heap, bin, or tumbler and cut down on your kitchen waste while leveling up your finished compost.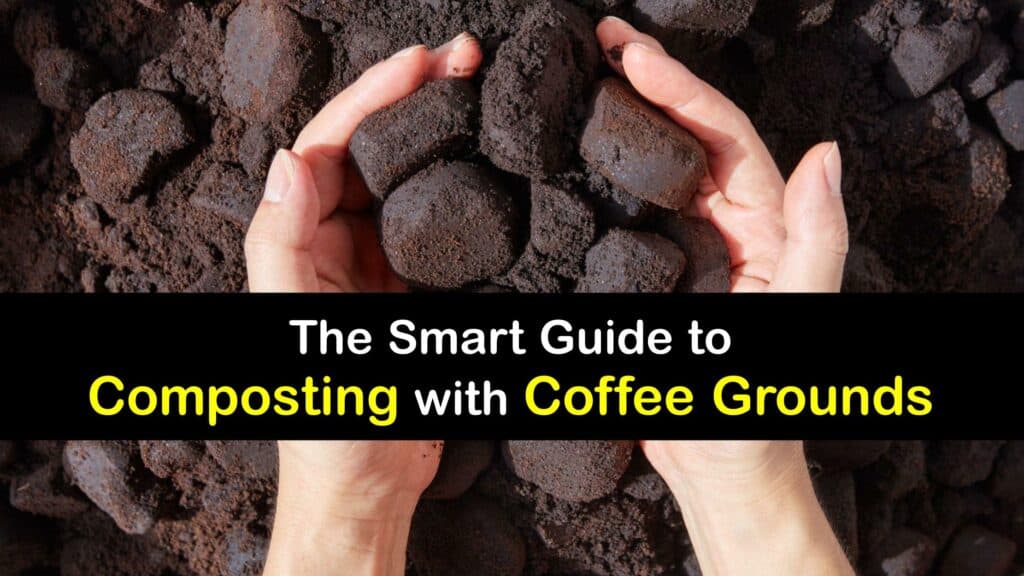 Are Coffee Grounds Compostable?
Discover how to compost coffee grounds to reduce food waste in landfills and add nutrients to your compost pile. If you've been wondering, are coffee grounds compostable, the answer is yes.
Many gardeners want to know are coffee grounds good for compost as they're eager to convey the advantages of coffee grounds to their plants. Find ways to compost hair, coffee grounds, and waste from your home. They add extra nutrients and improve the structure and texture of your compost, benefitting native or potting soil.
Are Coffee Grounds Good for Compost?
Can you compost coffee grounds? Coffee grounds are one hundred percent compostable and an excellent addition to enrich your finished compost with extra nutrition.
Spent grounds are readily available whether you get them from a coffee shop or take the remnants of making coffee directly from your machine, and coffee compost is fantastic for plants. Coffee grinds contain various nutrients conveyed to your plants through finished compost.
Including coffee grounds in your composting material ensures these nutrients find their way into the compost and, eventually, your plants.
Discover the Process of Composting
Composting breaks down organic matter into finished compost, an ideal organic nitrogen fertilizer for your garden. To create a balanced system, compostable items are separated into two main categories, green material and brown material.
Green compost material is organic material like green grass clippings, kitchen scraps such as veggie peels, and green yard waste, while brown is dead yard waste, dried leaves, and shredded paper. Mix green and brown material at a ratio of 1:3 parts; turn or tumble the system regularly for aeration.
How to Compost Coffee Grounds at Home
Once your compost pile or bin is established, composting coffee filters and grounds is straightforward. After brewing coffee, take your fresh grounds out of the coffee filter and include them in your compost material.
The suitability of coffee filters to be composted varies by type and brand, so check the packaging or ask the manufacturer if yours are safe to include in your compost heap. Wear gardening gloves and dig the new composting material, including the grounds, into your composting pile.
Coffee grounds are a green material as they're rich in nitrogen rather than carbon. Include the grounds as part of the green ration, and provide enough accompanying brown material such as shredded paper to keep the system balanced.
Ensure fresh coffee grounds don't exceed 20% of your compost material. Too many grounds may inhibit or halt the breakdown of matter in the compost pile.
Composting Methods for Coffee Grinds
If you're new to composting, you'll need to start your composting before adding coffee grounds. The first step is choosing a method. The space you plan to compost in and how much organic waste you generate is the most significant concern when setting up compost.
Large families or operations generating lots of compostable materials require a larger composter than a low-waste household.
Compost piles and large bins are open air and best for ample outdoor space. More moderately sized bins and tumblers are ideal for smaller outdoor areas like patios or small gardens. A small compost tumbler, compost machine, or worm bin is perfect if you live in an apartment or have no outdoor space and plan to do indoor composting.
While most composting methods work in the same way, worm bins have the addition of earthworms to aid in the breakdown process, meaning they produce compost faster than conventional methods though they require extra care to keep the worms alive and healthy.
Benefits of Finished Coffee Ground Compost
Finished coffee compost is an abundant organic fertilizer that adds nutrients to the garden soil to promote plant growth and provide the minerals needed for flowering or fruiting. Coffee compost is brilliant as it improves the soil structure and texture to raise overall soil health.
Whether you grow fruits and veggies or enjoy beautiful blooms, plants with adequate nutrition and fertile soil grow bigger and produce better than their non-fertilized counterparts.
If you grow acid loving plants like tomatoes, blueberries, strawberries, or azaleas, it might seem challenging to find a fertilizer without increasing the soil pH. Coffee grounds are pH neutral, and coffee compost does not change the pH value of acidic soil, making it an ideal fertilizer solution for any pH-sensitive plant.
Using Excess Coffee Grounds in the Garden
If you have more coffee grounds than you can compost, they have other uses in your home garden. Spent coffee grounds make an excellent free mulch to help garden beds retain moisture.
Mulch creates a physical barrier to reduce evaporation, and while the coffee grounds serve this purpose, they slowly break down, providing extra nutrition to your plants. Earthworms incorporate coffee ground mulch into the dirt, creating air pockets around your plants' roots and improving the soil's structure.
Pest control is another benefit of your used grounds. Coffee grounds keep slugs away like eggshells do and prevent the need for chemical interference.
Spread an inch-thick layer of coffee grounds on top of your native or potting soil around the bases of your plants to use it as mulch. Vegetables that like coffee grounds include carrots, squashes, and cauliflower. Used coffee grounds help tomato plants to grow faster and even bigger than you might expect.
As green living and organic gardening rise in popularity, many growers use coffee grounds and produce in their compost piles to produce better finished compost. You can compost tomatoes, avocado pits, and more organic materials. Coffee grounds are highly nutritious and contain many crucial compounds plants use for basic functions, from growing to bearing fruits and flowers.
Whether you're a regular coffee drinker or have access to an abundance of used coffee grounds from your local coffee shop, it's wise to repurpose this waste product in your garden.
Unlike chemical fertilizers, coffee grounds compost won't harm wildlife and beneficial insects, and you avoid introducing toxic chemicals into your garden and food. Instead of throwing away fresh coffee grounds, use them as green composting materials, or make them into a valuable coffee ground mulch for a greener, healthier garden.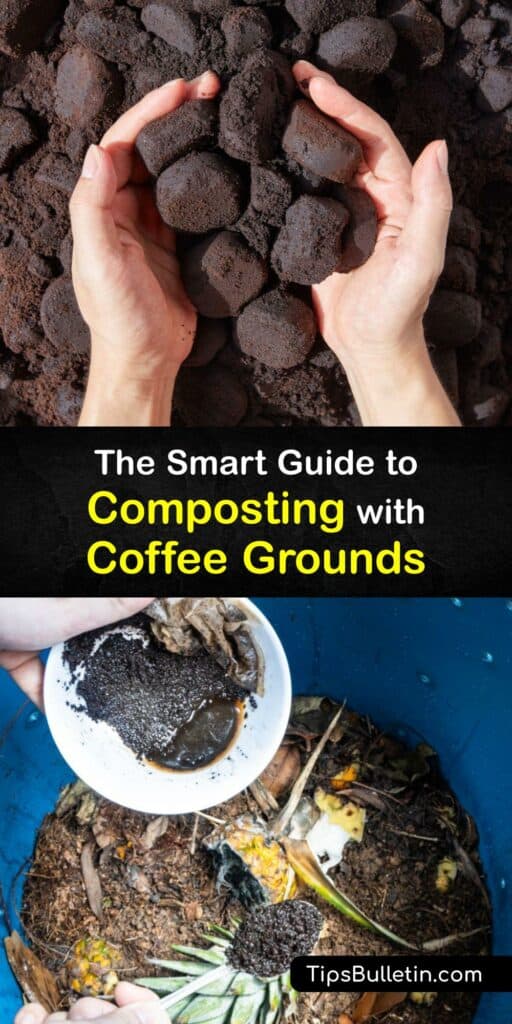 If you loved this article on how to compost coffee grounds, please share these brilliant answers to are coffee grounds good for compost with your friends and family on Pinterest and Facebook.