If you've always wanted to compost but fear you don't have the space, think again. Find the perfect compost bin for your home or apartment and how to compost indoors with the proper composting materials. Indoor composting is an excellent way to recycle kitchen scraps for outdoor and indoor plants, and it's easy to set up.
Homemade compost is an excellent alternative to chemical fertilizer, which is nitrogen leeching, and soil degrading. The composting process turns organic material into a naturally rich fertilizer that feeds plants and aids with soil density. It costs you virtually nothing since you're using the leftover scraps you usually toss in the trash.
When considering composting, most people imagine a large backyard compost pile filled with dry leaves, grass clippings, and other organic waste. However, you can layer compost bins indoors to offer the same benefits without sacrificing outdoor space, and there are different types to suit your needs.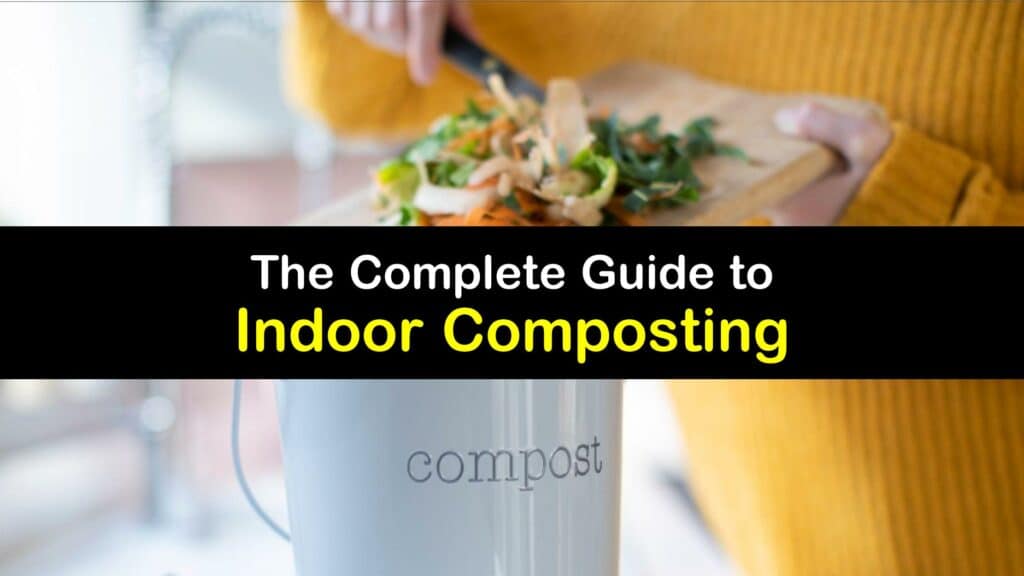 Ways to Compost Indoors
There are many advantages to composting indoors. Start a compost bin at home to reduce kitchen waste; this means there's less trash in the garbage can and landfill. The best thing about it is it provides you with a nutrient-rich soil amendment for your plants, indoors and outside.
The process may seem intimidating if you're new to composting, but it's actually pretty straightforward to start a small apartment compost for beginners. All you need is an indoor composter, organic matter, and some know-how. Learn how to start composting indoors with food scraps, shredded newspaper, and other composting items.
Read on to discover ways to make a bag of compost that will also work for a small kitchen.
What Are the Benefits of Indoor Composting?
While composting is Mother Nature's way of recycling organic matter into useful material, there is more to it. Find out more about kitchen composting for newbies and how composting indoors is beneficial to soil and plants.
Composting is the best way to reduce waste in your garbage can and the local landfill. It breaks organic matter into a soil amendment or fertilizer and reduces the need for chemical fertilizers. In addition, the material encourages good bacteria and fungi, enriches the soil and retains moisture, and suppresses pests and plant diseases.
What's the Best Indoor Compost Bin?
There is more than one method of indoor composting. Discover different composter types to help you choose the most suitable indoor compost bin for your requirements.
There are two main types of indoor composting; aerobic composting and vermicomposting. The aerobic method uses microorganisms that require oxygen to decompose organic matter, while vermicomposting uses worms in a worm bin to break down organic waste.
Indoor kitchen compost bins come in varying sizes and styles, from countertop types to electric composters. Purchase these bins online or at your local garden center, or make your own bin with a five-gallon bucket or plastic storage bin.
How to Start Composting Indoors
Once you pick the right composter for your kitchen, it's time to begin composting. Explore how to start composting indoors by setting up the indoor compost bin, start your own compost booster, and collect the proper composting materials.
Setting up the compost bin depends on the type you use. Nevertheless, placing the container in a warm area that is not too hot but doesn't get cold is a good idea. Choose a location with easy access, like the kitchen or pantry. Place it under the sink, in the corner of the room, or on the counter.
Once you pick the ideal spot for your bin, it's time to start collecting materials. Compost requires one part green, three parts brown, and soil for optimal results. Green material includes fruit and vegetable scraps, eggshells, coffee grounds, and tea bags, while shredded newspaper, corrugated cardboard, and dry leaves are brown materials.
How to Compost Indoors
Composting is pretty straightforward, yet it's essential to add a proper ratio of greens and browns to the bin. Maintain moisture, and turn the materials regularly to ensure you get good finished compost.
For aerobic composting, fill the bin nearly three-quarters of the way with damp browns, hand toss the materials, and sprinkle a cup of soil over the top. Add greens when necessary while turning the pile once each week.
Try to have shredded paper or dry leaves on hand, add a handful to the pile each time you add food scraps, and break up the material into small pieces for faster composting.
For a worm composter, fill the bin with the same damp browns and soil and place worms on top. Don't forget to place the lid on top of the bin to prevent them from escaping. Gather your food waste in a separate container over a week, and bury them in the worm layer with a trowel.
Get worms from a worm farm or worm factory – they usually sell Eisenia foetida or Eisenia fetida and Lumbricus rubellis, which are typical for vermicomposting. Steer clear of invasive worms, like Alabama Jumper and dew worms which die quickly.
Things to Avoid Adding to Your Indoor Compost
As much as we'd love to be able to recycle everything, some items are unsuitable for adding to the compost bin. Avoid these materials when composting indoors.
Since you're composting indoors, don't add smelly foods, like onion peels, which may stink up the kitchen. If the compost gets odiferous, consider adding coco peat to reduce the odor.
Stay away from melons, squashes, and other watery items which may cause the bin to get too soggy. Avoid adding meats, fats, and dairy products to the container, which are magnets for insects and vermin. Do not place laminated paper or treated items in compost bins to prevent contaminating the final product.
When is Compost Finished?
You've been adding food scraps and newspaper to the compost bin for a while, and wonder when to expect compost. Learn how long finished compost takes and what the final material looks like.
Aerobic composting takes two to four months for the microorganisms to break down the materials into compost. Vermicomposting takes three to four months as the worms swallow the waste, absorb the nutrients, and excrete decomposed material.
However, these time frames may vary if the conditions are not right. For example, adding too many greens or browns, inadequate moisture, and lack of oxygen create an imbalance that slows the decaying process. You'll know the compost is complete when it is rich, dark brown, has an earthy smell, and crumbles in your hand.
A kitchen compost bin is an ideal way to reduce trash while creating food or compost tea for your plants, whether you compost with worm bins or an aerobic composter. They are simple to set up, take up little space, and help the environment.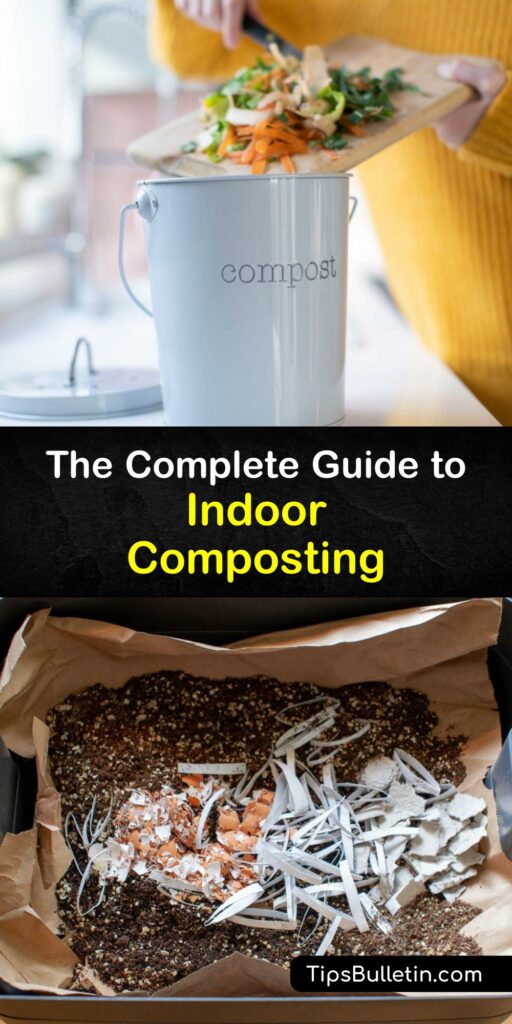 We hope you enjoyed learning how to compost indoors, and we'd love it if you'd share our indoor composting guide with your friends and family on Pinterest and Facebook.