Getting rid of microwave odors with everyday household items can be effortless and cheap.
Here's how to neutralize unpleasant microwave smells:
Start with a damp cloth to clean out any loose particles.
Place a bowl of baking soda inside overnight to absorb odors.
For tougher smells, heat a mix of vinegar and water, then wipe down.
Use coffee grounds in water to deodorize as you warm the mixture.
Lastly, vanilla extract in water, heated and left inside, also works wonders.
You pop open the microwave door to make some buttery popcorn when you're overwhelmed with an unpleasant smell. This lingering odor is usually the result of previously burned food, like burnt popcorn, trapped within the confines of the oven. Learn how to get a smell out of the microwave using simple and quick cleaning techniques, leaving your microwave smelling fresh.
Unlike the regular oven, a microwave is airtight when the door is closed. Therefore, a food smell or burnt odor is not as obvious until you open the microwave door. Not regularly cleaning the microwave causes splattered food particles to fill the small space with crusty food debris and a foul odor.
While we all dread cleaning kitchen appliances like the dishwasher, refrigerator, stove, and microwave, it's a necessary job to ensure they run effectively and do not fill the home with an unpleasant odor. Fortunately, the microwave oven is one of the easier appliances to clean.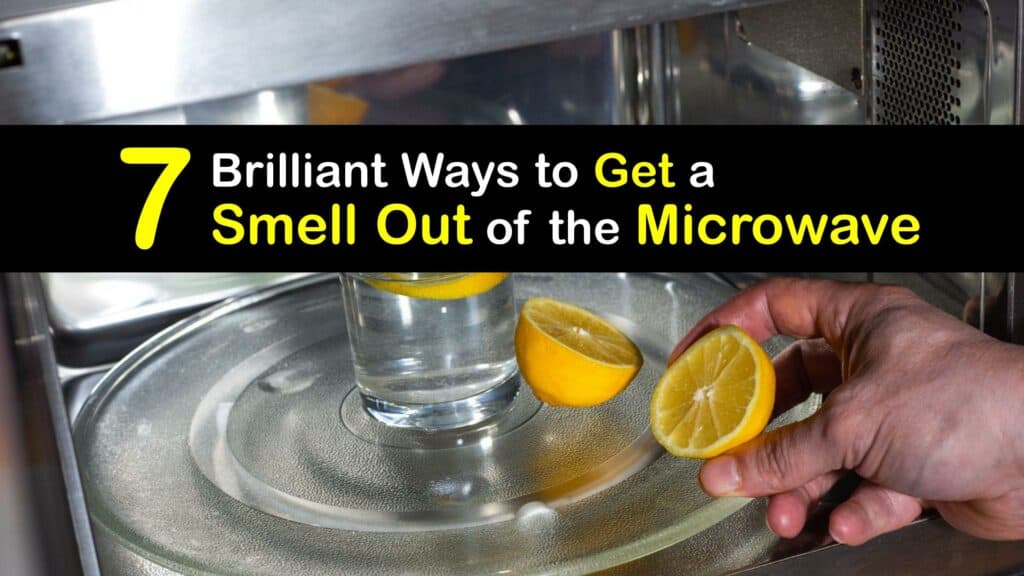 Ways to Get Bad Odors Out of the Microwave
There is nothing that ruins an evening snack faster than nasty microwave odors. Explore several ways to remove odor from the microwave with a few simple ingredients.
How to Get the Smell Out of a Microwave with Baking Soda
Baking soda or sodium bicarbonate is an alkaline powder that absorbs odors of all types, from a smoke smell to a burnt popcorn smell. Here is how to get the smell out of a microwave with this odor-absorbing powder.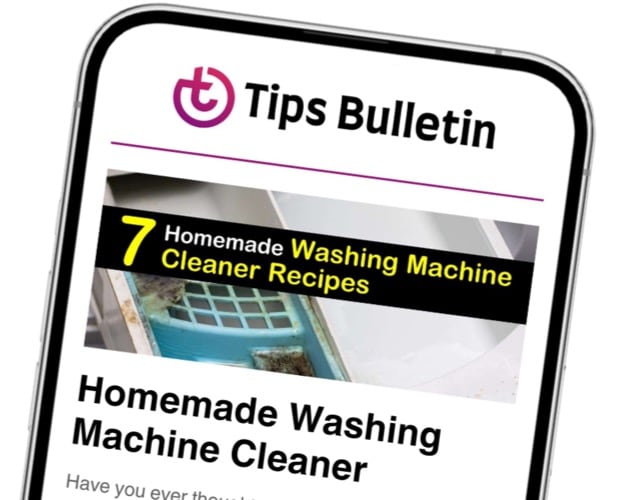 Finally, an email that Transforms Your Home.
Get the latest home and garden tips from our experts, delivered straight to your inbox.
Wipe the microwave's inside with a damp cloth to remove food debris. Generously shake baking soda into a shallow bowl and set it inside the microwave. Let it sit overnight as it absorbs the odor, and toss the stinky powder in the trash the following morning.
Getting a Bad Smell Out of the Microwave with Vinegar
Getting a bad smell out of the microwave is not as difficult as you think, especially if you have a jug of vinegar. White vinegar is an acidic liquid that loosens greasy food stains and has antibacterial properties that eliminate odors.
Fill a container with equal portions of water and white vinegar or apple cider vinegar. Dip a sponge into the liquid and use it to wipe down the top, sides, and bottom of the microwave. Don't forget that this is also the way to make a powerful glass cleaner with vinegar for the inside and outside of the microwave and your oven.
Pour a half cup of straight vinegar into another container and set it in the oven overnight to get smoke smell out of your microwave. In the morning, wipe down the inside with a clean cloth.
Wipe down a dirty stove or oven with vinegar and water. The combination makes an excellent DIY degreaser for stove and oven areas with oily stains and accumulated grime.
How to Get a Smell Out of the Microwave Using Coffee
Coffee is perfect for removing a smell from your microwave quickly. It is a natural air freshener with a smell-busting power that removes a burnt smell or food odor. Use coffee grounds to remove a bad odor from the microwave.
Fill a mug with a cup of water and add the coffee grounds. Heat the cup in the microwave for two to ten minutes, ensuring the liquid doesn't boil over. The coffee steam fills the oven, removing bad smells and softening grime. Finish by wiping the damp interior with paper towels.
Using Citrus Fruits to Get Bad Smells Out of the Microwave
Instead of tossing orange or lemon peels in the trash, consider using them to freshen and remove a bad smell. Discover how to get the smell out of a microwave with a few leftover citrus peels and juice.
Slice a lemon or orange in half and squeeze the orange or lemon juice into a container of water, or submerge citrus peels in water. Microwave the lemon water for four to five minutes to release the citrus scent, and let the bowl rest in the oven for about half an hour.
Removing Microwave Odors with Vanilla Extract
If you don't have any vinegar and are not a coffee drinker, check your spice cabinet for vanilla extract. Not only is vanilla great at flavoring baked goods, but it's also perfect for getting a bad smell out of the microwave.
Pour water in a microwave safe bowl and add four teaspoons of vanilla extract. Set the container in the microwave and heat the liquid for a few minutes. Turn off the oven, let it sit for half an hour, and finish by wiping the inside with a dry cloth.
Eliminating Bad Smells from the Microwave with Rubbing Alcohol
Rubbing alcohol is not just for first aid. This astringent liquid removes the smell from burnt microwave popcorn fast, and its disinfecting powers leave the microwave's inside clean of bacteria.
Pour a small bit of rubbing alcohol onto a cloth and use it to wipe the top, bottom, and sides of the oven. Clean the interior with soap and warm water, and leave the microwave door open to air dry. You can also add the ingredients to a sprayer to make a simple natural odor eliminator spray for your dirty and stinky microwave.
How to Clean the Microwave to Prevent Foul Odors
Smoke residue and cooked food smells are not the only problems affecting the microwave's inside. As food heats, it sometimes splatters on the sides and roof of the oven, and it's essential to clean the microwave to prevent it from smelling up the kitchen.
It's vital to clean the microwave once a week or immediately after food spills to prevent bacterial growth, fight stains, and prevent bad odors. One of our favorite microwave cleaning hacks is to loosen the grime by placing a bowl of water into the oven and heating it on high for a few minutes or until it boils.
Let the water cool for five minutes as it releases steam before opening the door. Remove the container and use a damp sponge to wipe all sides of the microwave's interior. Rinse the sponge as it accumulates food bits, and don't forget to clean the edges and corners.
To clean the inside and outside of the microwave door window, combine equal parts of water and white vinegar. Use a cloth and the vinegar solution to remove grease build-up on the glass and any other areas with stubborn food stains.
Repeat the steps once more if it's been a long time since your microwave's last cleaning and there are still crusty food bits remaining. When finished, leave the microwave door open until all areas are dry.
Apply these same principles to your oven. Use an oven-safe container and add lemon juice or vinegar to some water. Let the bowl boil for about ten minutes, turn off the oven, and sit until it cools or overnight. This is one simple way to get baked on grease off an oven wall or bottom. The steam loosens gunk and makes it easier to remove.
The microwave is a modern convenience that we often take for granted. While it cooks foods quickly and makes the best popcorn, there are times when it works a little too well, causing burnt food smells. Fortunately, you only need a microwave-safe container and some vinegar or coffee grounds to eliminate an unpleasant microwave smell.
Now that you learned how to get a smell out of the microwave, why not share our microwave odor-removing tips with your friends and family on Pinterest and Facebook?