Are you pulling out your hair because your kids used your dining room wall as a canvas, or are you trying to restore the look of your craft room after your project went awry? When there's paint on your walls, check out our advice on how to get acrylic paint off walls to make the removal process as painless as possible.
Acrylic painting is fun for all ages. Acrylics are thick, plastic-based paints. They go on thick and pack tons of pigment onto the page – or the wall if you're unlucky. Acrylic paints bond tightly to whatever they land on, drying hard. Budding artists and parents benefit from learning how to remove acrylic paint from a wall.
This seems intimidating but getting acrylic paint off painted walls is simple with the right tools and procedures. Never scratch or scrape at the paint. Explore techniques to remove acrylic paint from wood panelled walls and painted surfaces without destroying the drywall or paint beneath.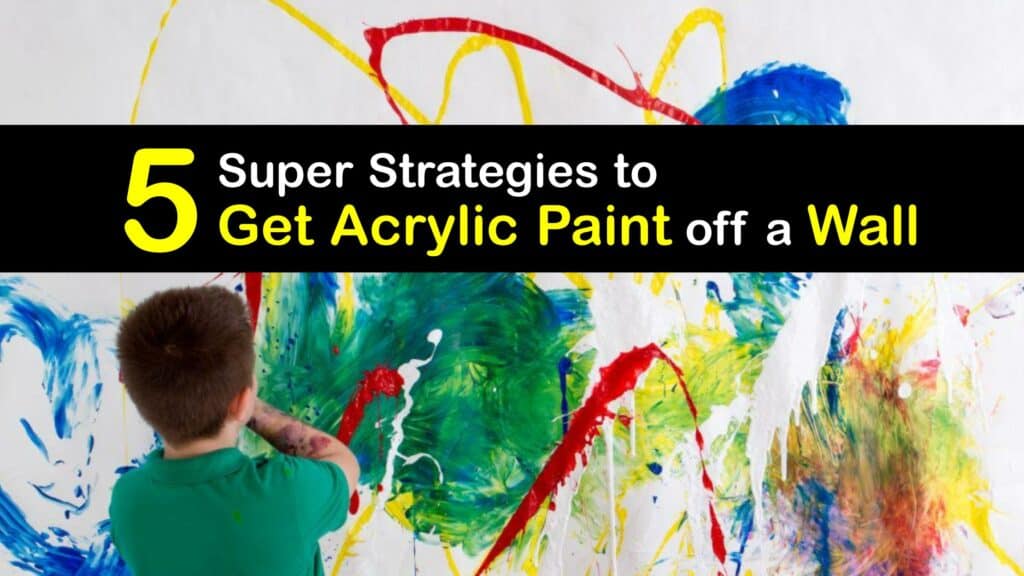 How to Remove Acrylic Paint From a Wall
If you love to paint, it's worth figuring out how to get paint off linoleum floors and walls. Whether you're preparing before starting a project or trying to get rid of paint spray after it's happened, don't stress. Acrylic paints are versatile, vibrantly colored, and easy to use.
Try our innovative home remedies for getting acrylic paint off painted walls without causing damage. If you accidentally get paint on cabinets, tackle the mess with household items like dish soap, rubbing alcohol, and nail polish remover, or pick up a chemical stripper from the hardware store.
Is Acrylic Paint Washable?
If acrylic paint spills on your laminate floor or walls, you first want to know if it's washable. Thankfully, acrylic paint and many standard crafting paints are washable. However, being classified as washable doesn't mean they're guaranteed to come off your wall without leaving damage where improper cleaning protocols are used.
Grab a paper towel and blot up the acrylic stain if you spot wet paint on your wall. Pat the color to absorb it rather than wiping or rubbing, which risks smearing the pigment. Once you blot up as much as possible, or for dealing with dry paint, follow our step-by-step instructions to clean paint off your walls.
How to Get Acrylic Paint off Walls
Rubbing alcohol is a mild solvent perfect for removing dried paint from your vinyl floor, carpet, or walls. It's essential not to use rubbing alcohol to lift acrylic paint splatter off painted walls, as this risks accidentally stripping your wall decor. However, getting old paint off wood baseboards with alcohol is the easiest way to remove paint drips.
Grab the rubbing alcohol from your first aid kit and a soft cloth. Damp the material in the rubbing alcohol and scrub the acrylic paint to remove it. The solvent properties of the alcohol break the bonds keeping the paint on the wall, so it gathers on the cloth as you clean.
If you don't have any rubbing alcohol around the house, high-alcohol products like hair spray or hand sanitizer are viable alternatives.
Getting Acrylic Paint off Painted Walls Using Dish Soap
Dish soap is a popular stain remover that effectively removes paint from painted or plastered walls. It can also be used for removing wallpaper that has been painted over. Since it's a mild detergent, dish soap has enough cleaning power to eliminate washable paints without destroying the permanent wall paint underneath them.
Liquid dish soap is a fantastic way to use the products you already have at home and forgo using industrial-strength paint removers.
Soak the scrub brush in warm, soapy water, and work on the paint streaks until they lift. Stop and wash the color away with a moist cloth when there is a lot of excess paint on the wall before rewetting your brush in the soapy liquid and scrubbing.
Chemicals for Removing Acrylic Paint From a Wall
Select a chemical paint remover recommended for acrylic paint. Chemical thinners and strippers break down the color and loosen it, so it sloughs off the wall easily. Before using any paint remover, test it in an inconspicuous location to ensure it doesn't harm the finish on your walls.
Paint thinner is less corrosive than paint stripper. Following the label directions, apply the paint remover to the wall, and cover it with plastic wrap if required. Scrape off the old paint stain with a paint scraper or putty knife after the allotted time.
Most paint removal products must follow tight safety requirements due to the presence of hazardous compounds. For the most remarkable results, follow the guidelines on the paint stripper's label.
Nail Polish Remover Lifts Dried Acrylic Paint
Acetone is the main ingredient in nail polish remover. In addition to nail polish, acetone can easily remove acrylic or oil paint blotches from walls. Given how well acetone dissolves nail polish, it stands to reason that it's also an acrylic craft paint remover.
Nail polish, like paint, is applied wet, includes a lot of pigmentation, and dries to a long-lasting coating. If you don't have any acetone nail polish remover, pick up some at a local pharmacy or cosmetics store for a reasonable price.
Gently wipe the acrylic paint mark back and forth with a clean cloth and a liberal amount of acetone. If the rag collects a lot of paint, stop cleaning and use a fresh towel and more acetone. Only apply acetone to the acrylic paint, not your wall paint, to prevent accidentally fading or removing it.
Did you benefit from our tips on how to remove acrylic paint from a wall? Arts and crafts are fun, but removing paint spills from your walls becomes a nightmare.
There's no need to give up your hobbies. Use our uncomplicated methods for getting acrylic paint stains off your walls and paint confidently, knowing if you make a mess, you're ready to clean it.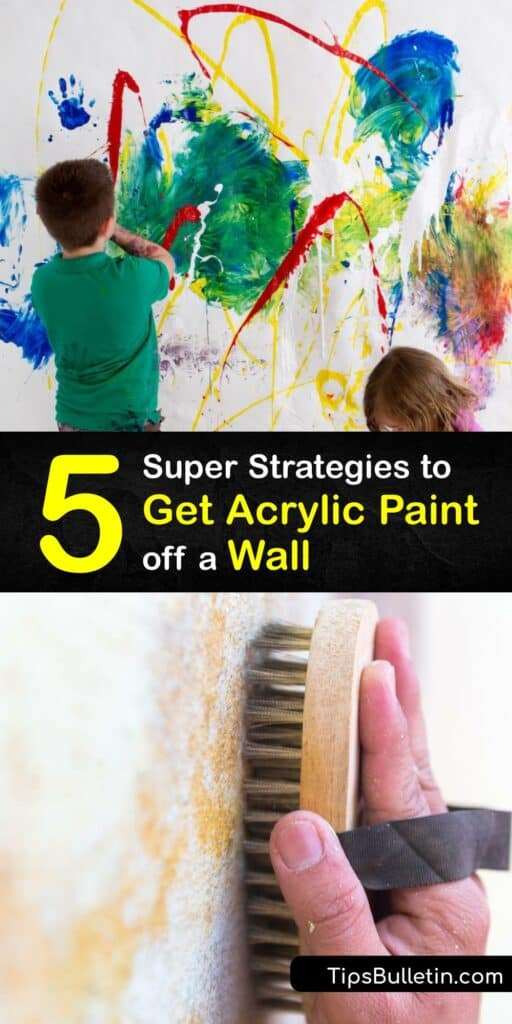 If you loved this helpful article on how to get acrylic paint off walls, please share it with your friends and family who are getting acrylic paint off painted walls on Pinterest and Facebook.