The overpowering odor and potential health issues make understanding how to get diesel smell off your hands vital. An incident involving diesel fuel exposes you to a chemical substance called hydrogen sulfide, which causes eye and skin irritation and, more gravely, unconsciousness and convulsions. Diesel fumes are incredibly potent and linger long beyond cleaning the initial spill.
Inhaling diesel vapor is hazardous; skin contact with the substance is dangerous, too. Regular hand soap is usually not powerful enough to get the smell out, and it may be difficult to know how to remove diesel smell from skin. Fortunately, getting diesel smell out of hands is uncomplicated with the right information and common household materials.
If the worst happens and you spill diesel or gasoline on your skin, rinse it with clean water as soon as possible and take care not to touch your face or eyes. Choose an approach from this list to get rid of the diesel odor for good.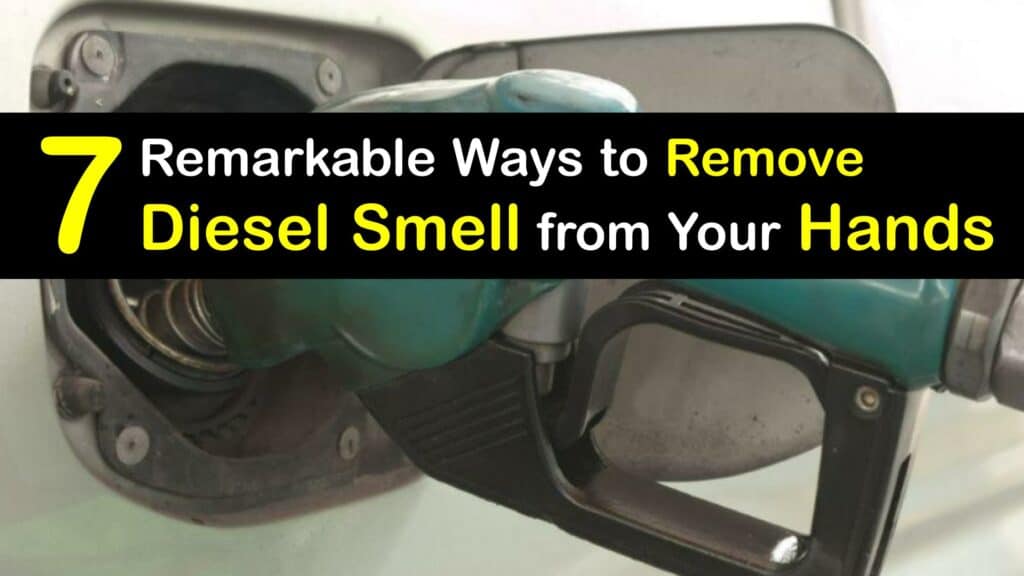 How to Remove Diesel Smell From Skin
You'll likely have to figure out how to get diesel smell off your hands at some point. If you repair automobiles or dispense fuel at the gas station, you will come into contact with it often.
When a fuel spill happens, getting diesel smell out of hands is challenging without the right tools. Discover simple techniques to erase the stench of diesel from your hands without hurting your skin.
Removing Spilled Gasoline and Diesel From Skin
Whether you're trying to increase fuel efficiency, fix your diesel exhaust, or fill up at the pump, spilling liquid gasoline or diesel on your hands threatens occupational safety. Diesel and gasoline poisoning have serious consequences, so it's essential to remove the fuel from your hands promptly.
The smell of diesel and gasoline fumes on your hands is unpleasant and annoying. When you spill it, the diesel gas will stain clothes, but a trip through the washing machine with regular laundry detergent is often not enough to remove the stain.
Be sure to follow our ways to get gasoline out of clothes to completely remove the gasoline smell from your clothing. Stains will set in quickly so be sure to take action to eliminate the odor.
The same applies to washing your hands with regular hand soap. Explore straightforward tips to get the diesel smell off your skin to stay healthy and keep your hands clean.
How to Get Diesel Smell Off Your Hands
Baking soda is typically used in the kitchen, yet it's an uncomplicated way to get the diesel or gas smell off your hands. Mix baking soda into a thick paste with water for a gentle deodorizer for your skin.
Apply a thick paste of water and powder liberally to your hands, then rub it thoroughly for two minutes. Wash your hands with soapy water and repeat as necessary to eliminate the smell of diesel.
This method will also work for cleaning gasoline smell off shoes quickly. Baking soda is a natural deodorizer and can eliminate odors from fabric.
Getting Diesel Smell Out of Hands Fast
White vinegar often cleans and gets rid of tough odors. It rapidly removes diesel smell from your hands and is so powerful that it doesn't need to be combined with anything.
Vinegar breaks the connections in the chemical compound holding the scent of gasoline or diesel on your hands. This fantastic deodorizer eliminates it and makes it simple to wash off your skin.
Pour enough distilled white vinegar into a bowl to soak your hands and completely submerge them to use it to erase the smell of diesel on your skin. After about 30 seconds, remove your hands from the liquid and wash them with hand soap and hot water. The diesel odor should be gone once your hands are dry.
Get Rid of Diesel Smell on Skin Quickly
Lemons contain naturally occurring citric acid, and are a quick way to get gasoline smell off your fingers and hands before the smell starts to become permanent. Although lemon juice is safe, use caution when applying it to cuts because its natural acid might sting open wounds and sores.
Pour freshly squeezed lemon juice and boiling water into a shallow dish, or use a couple of tablespoons of pre-squeezed lemon juice. Let it cool until comfortable, then rub the lemon juice mixture into your hands for at least a minute, paying particular attention to the regions where the diesel spill occurred.
Rinse your hands well with warm water and hand soap before applying the lemon juice solution once more if needed. Lemon leaves your hands smelling fresh and clean and doesn't require removal.
Dish Soap Destroys Diesel Fuel Smell Safely
Combat diesel or gas fumes with salt and dish detergent. Dish soap is harsh on grease and dissolves the chemical makeup of diesel to get rid of the gas fumes on your hands.
As a fine-grained exfoliator, salt removes the layer of dead skin cells containing the odor while also absorbing odors. As with any exfoliant, open cuts or sores may sting because the salt mildly abrades the skin on your hands.
Wet your hands. Liberally coat your skin in dish soap, and sprinkle salt crystals on top. Scrub your hands with the dish soap and salt mixture. Rinse in warm water and repeat.
If your hands start to burn, itch, or feel uncomfortable, wash the salt and salt off right away and try another technique. Exfoliants are effective at removing the odor of diesel from the skin after an oil spill, although they may be too harsh for some skin types.
Hand Sanitizer Erases Diesel Odor From Skin
Due to its solvent qualities, hand sanitizer removes dust and debris from the skin, as well as diesel and gasoline vapors. Use an alcohol hand sanitizer or pure rubbing alcohol. If there is a gasoline spill, wash your hands using hand soap and water, then thoroughly dry them.
Drizzle rubbing alcohol or a generous amount of hand sanitizer onto your palm. Rub the alcohol into the areas affected by the diesel using your fingers and the heel of your hand. Continue rubbing until the alcohol evaporates and your hands are dry.
Remove a Diesel Stain and Smell From Your Hands
If you don't have proper supplies to get the diesel smell off your hands, consider mechanics soap or a commercial solution to remove fuel oil and diesel from your skin. Choose a soap like Fast Orange to erase the lingering scent of diesel without hurting your hands.
Decide before purchase between an abrasive product or a non-abrasive cleaner. Always read the soap label and use it according to directions to avoid skin irritation and reactions.
If you work on cars or fill up at the diesel pump, it pays to know how to remove diesel smell from skin. In addition to being inconvenient, spilling diesel on your hands is bad for your health. Explore ways to remove the diesel and odor from your hands and work on your car confidently.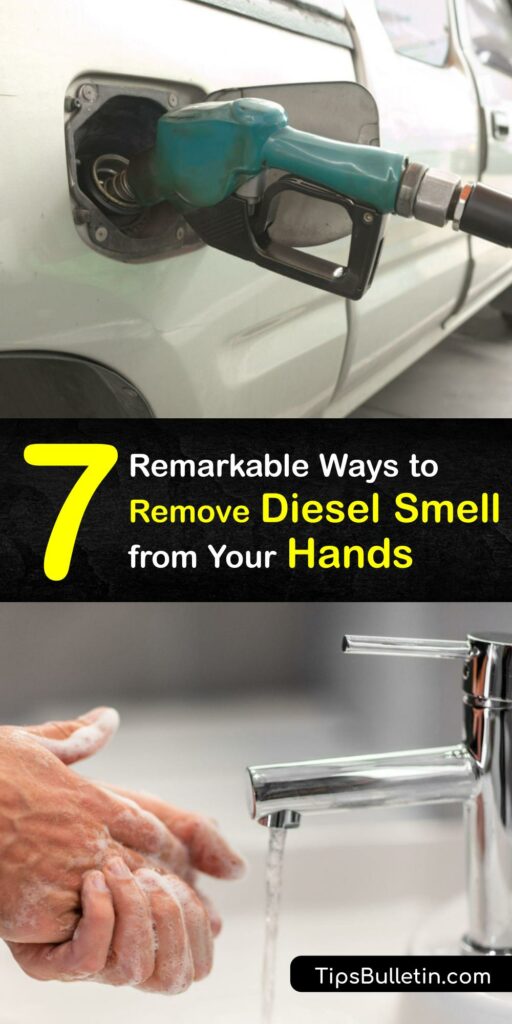 If you liked this article on how to get diesel smell off your hands, please share these brilliant tricks for getting diesel smell out of hands with your mechanic friends and family on Pinterest and Facebook.