Using hair dye is a fun way to experiment with colors, but despite the evolution of the procedure from the days of using lime to lighten hair, the process is still messy. If you're dyeing hair at home without the aid of a professional, the chance of staining your face is high. Because visible color stains on your face are unsightly, you should know how to get hair color off your face.
Most permanent dyes contain ammonia, while demi and semi-permanent dyes contain alkaline agents to apply color to the hair. Less permanent dyes like temporary colors and wash-ins contain less and less harsh ingredients and therefore are less effective at coloring the hair strand and coating the hair in color.
The lengths required to remove dye from your skin depend on what kind of dye is involved. The type of dye also determines if an additive of a developer made with hydrogen peroxide was applied. With a high concentration developer, getting dye on your skin goes from inconvenient to irritating for your skin.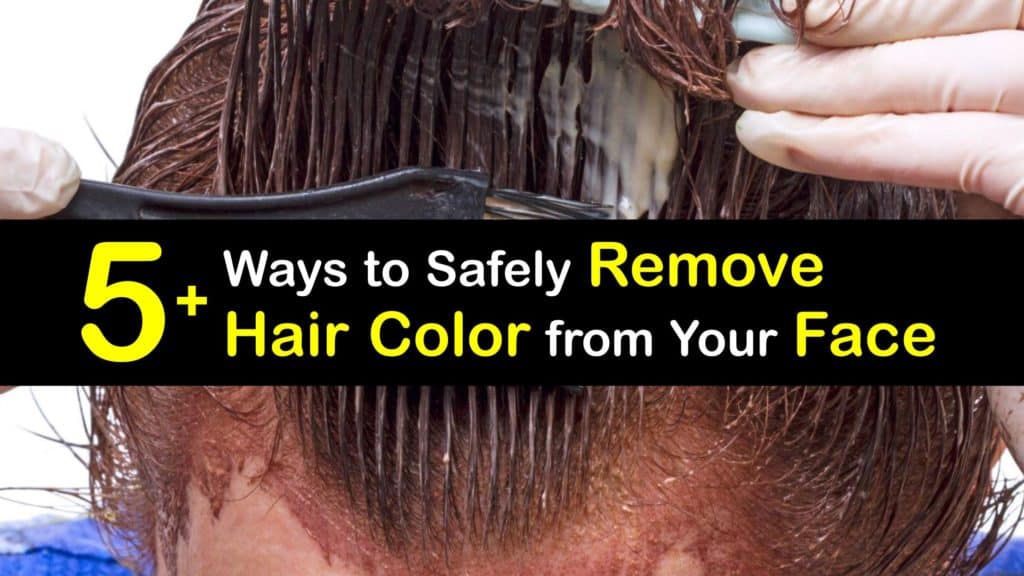 Clean Hair Color from Your Face
Due to its nature, hair dye stains on your skin are a pain. Unlike the skin on your hands or neck, the skin on your face is sensitive, and taking care your skin between treatments is essential to prevent skin damage or irritation.
How to Get Hair Color Off Your Face with Hydrogen Peroxide
Hydrogen peroxide is a powerful chemical compound used for industrial and commercial purposes. When sold commercially, hydrogen peroxide comes in a safe diluted volume but is still strong enough to clean and lift the pigment from the skin.
Use a cotton pad dampened with hydrogen peroxide and gently swab the stained area. After treating your skin with the peroxide, rinse with warm water and a soft cloth to check if the stain is coming off.
Get Hair Color Off Your Face with Baking Soda
Baking soda is a versatile tool in the kitchen, and when applied with other cleaning agents, it becomes effective at removing stains and build-up. When mixed with a liquid, baking soda retains its granular nature, making it effective at rubbing away stains. Tackle hair bleach on hands and fingers, stains on your scalp, or your hairline with this solution.
Make a baking soda paste and apply it to a small patch of skin behind your elbow to test. While baking soda is a beneficial tool for cleaning, it may be harsh for some skin types. Although it affects everyone differently, it's not uncommon to experience redness or a burning sensation.
After a patch test, if no irritation occurs, use a cotton swab to apply baking soda to the stained skin on your face. Rub the area gently to scrub the dye pigment from your skin. To boost cleaning power, use lemon juice in place of water as the added acidity helps break down a permanent hair dye stain.
Use this simple remedy to clean hair color from your hands and fingers, too. It's fast and easy.
Remove a Hair Dye Stain with Hair Dye
Although the idea of adding more hair dye to your face might seem like the last thing you should do, it might help. Hair dye stains once the pigment sticks to your skin and dries.
By reapplying a tiny bit of dye to the stain, you reactivate the dye, which helps it come free from your skin. Use this method in combination with another one of our suggestions for better odds to get hair color off your face.
Cleanse Dye from Your Skin with Rubbing Alcohol
Isopropyl alcohol, better known as rubbing alcohol, is an excellent cleaner because it quickly breaks down and dissolves build-up, including colors from stains, whether you need to clean tie dye stains from nails or have drops of hair dye on your cheeks.
Dampen a cotton ball with isopropyl alcohol and apply a small bit of gentle liquid dish soap on top to help remove stains from your face. Gently rub this mixture against your skin to lift and clean away the dye stain. Switch out cotton balls for new ones as the old cotton becomes stained with the color from the stain.
Try rubbing alcohol on cotton balls to remove hair color from clothing, too. Remember to dab rather than rub to keep from spreading the stain.
Using Makeup Remover to Clean Stained Skin
Cleansers designed to remove makeup come in different forms, usually as wipes, creams, or liquids. Makeup removers pull artificial color and pigment from the skin and trap it within the makeup remover. Once trapped, the product washes away easily, leaving the skin clean. Get hair dye off your skin quickly with the makeup remover you probably already have in the bathroom cabinet.
One of the gentlest methods for removing makeup or hair color stain from your face is micellar water. This makeup remover contains purified water and surfactants that reduce the surface tension between solids and liquids. Dab the micellar water on a cotton pad and gently rub it against the color stain to make removing the stain easier.
Rub Away Color Stains with Toothpaste
Like baking soda, non gel toothpaste naturally contains a bit of grit. This grit helps when we brush our teeth to remove plaque and, when used on the skin, aids in removing tough stains.
Apply a bit of toothpaste to your skin and use a cotton pad or swab to work the paste into the stained skin. Let the paste sit for about ten minutes before wiping away with a damp cloth. Repeat as needed, but stop if irritation occurs around the area you are cleaning.
What to Avoid When Removing Hair Color from Your Face
If you're dealing with stubborn stains, stronger cleaners help remove the stain from your skin. However, as the face is a delicate skin surface and often the least protected from environmental factors, we do not recommend using bleach on your face.
Although using small amounts of chlorine bleach may quickly remove other types of dye from your hands or skin, the irritation from using such a strong chemical on your face, so close to your eyes, is not worth any potential risk.
Likewise, do not use other strong chemicals such as the acetone found in nail polish remover anywhere near the face to avoid contact within your eyes or inhaling fumes.
Preventing Hair Color from Staining Your Face
As evident by how easy it is to stain your fingers when working with markers, human skin stains quickly. By applying a protective barrier to the skin before working with any dyes like Splat Hair Dye, you avoid some of the work afterward in removing a hair color stain from your skin.
Whether it is a cream or oil, this barrier holds onto dye and prevents it from reaching your skin, making removal quick and easy.
Apply your preferred barrier to your skin, around your hairline, behind your ears, and even your neck before using dyes. Because applying dye to your hair with oily hands might be difficult, wear gloves to protect your hands the best you can.
How to Remove Hair Color from Your Scalp
When applying dye to your hair, it's nearly unavoidable that some of the dye will get on your scalp and stain. Dyes like Splat Dye function like hair paint, coating everything to achieve the desired result.
Because of this, it's essential to remove hair color from your scalp to allow your head and follicles to breathe after hair treatments. Cleansing your scalp also avoids scalp irritation if you have sensitive skin.
Following the directions on hair coloring products, thoroughly wash your hair with shampoo until the water runs clear after applying color to your hair.
Clarifying shampoo, designed to remove oil, grease, and build-up from hair, helps pull excess dye from your scalp. Rinse with lukewarm water to minimize the chance of the dye bleeding from your hair.
Although coloring your hair at home can be fun, it's essential to be prepared to resolve any issues that may arise should you end up dyeing your skin. Aside from being unpleasant to look at, a blue splotch of color on your hairline could be harming your skin if left alone.
If our article taught you how to get hair color off your face, please share it with friends on Facebook and Pinterest to share how to remove hair color from your scalp.