Many people know how good an at-home hair dye job makes us feel. On the other hand, it doesn't feel so good when you discover that it left a colossal hair dye stain in your tub. Figuring out how to get hair dye out of your bathtub is a nerve-racking process.
Unless you've mastered dying your own hair, both permanent hair dye and semi permanent hair dye can leave behind tough stains. Aside from the stress of trying to remove hair dye from a bathtub, you also have to worry about the tub's material and which cleaning agents are safe to use on the different kinds.
At first, it may feel like you seriously messed up. However, there are safe and effective ways to remove hair dye from a tub regardless of the type of hair color.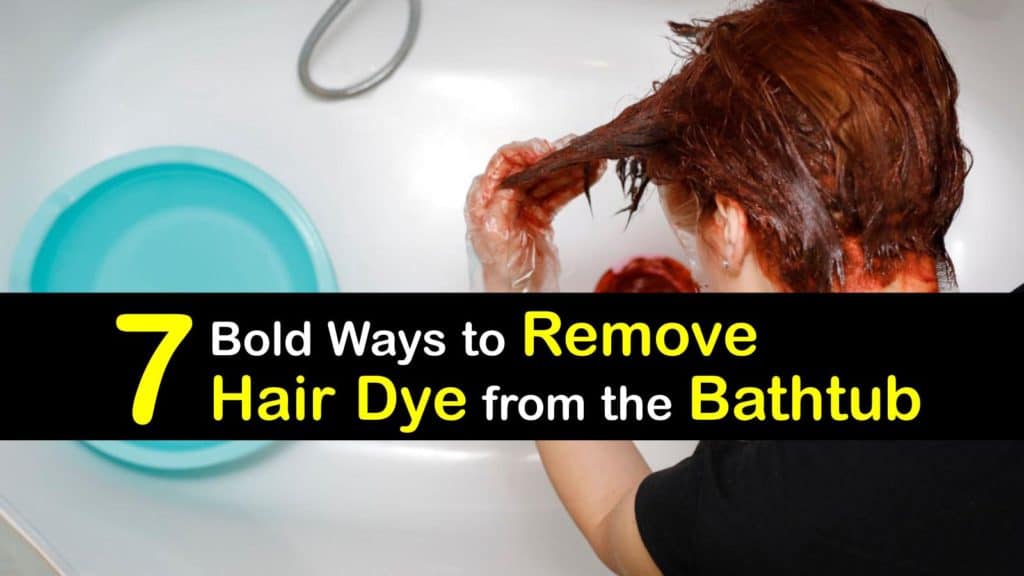 The Different Types of Tubs
The method you remove hair dye from a bathtub depends on the type in your house. There are many different tub options. To make it easier, let's stick to some of the most popular ones.
Fiberglass, also known as fiberglass-reinforced plastic, is one of the least expensive bathtub materials and is very common in today's households. A fiberglass tub is made by forming several layers of fiberglass into a designated shape and then coated with resin.
The perks to these tubs are that they are low-cost, lightweight, and repairable. The downside is that they're not very durable.
A porcelain tub, also called an enamel bathtub, is another inexpensive yet more long-lasting choice. Porcelain tubs are easy to clean, and the finish is resistant to most common cleaning chemicals. The tubs retain their gloss for a long time, but they are much heavier than a fiberglass or acrylic bathtub. It's just as easy to get stains out of a porcelain sink, too.
An acrylic tub uses fiberglass sheets to create reinforcement underneath sheets of colored acrylic. These are essentially the same as fiberglass, and the main difference is that they are more expensive. There are many shapes, colors, and sizes, but they scratch and discolor over time.
Cast iron tubs are the most durable. They are made by pouring molten iron in a mold of a tub and then coated with a layer of enamel. These are the sturdiest by far and retain heat from hot water best. However, they are very heavy and require extra labor and floor reinforcement to install.
You may or may not have a tub that will allow you to start removing hair dye without being damaged from a powerful cleaning agent. Though it can be tough to clean hair dye from a bathtub, it helps to know that there are gentle solutions for some less-durable materials.
How to Get Hair Dye Out of Your Bathtub
Having to clean hair dye from bathtub surfaces isn't ideal. Even if there are a few small spots on your shower curtain or bathroom sink, you need to work with effective products to remove a stubborn stain. With the proper cleaning recipes, your bathroom tile will be completely free from stains and soap scum in a short time.
One Quick Way to Remove Hair Dye from a Bathtub
You wouldn't necessarily clean your fiberglass tub the same way you would a porcelain one. If you have a fiberglass bathtub stain, fill the tub with hot water and drop in four to five denture cleaning tablets. Allow the cleaner to sit in hot water overnight. In the morning, drain the tub and wipe the surface clean.
Use this simple remedy for the way to get hair dye off your sink if it is fiberglass or plastic, as well.
Cleaning with Bleach
Bleach is more potent than most other ingredients on the list, yet it makes the perfect cleaning solution for tough stains.
Add the household bleach to your spray bottle and fill it the rest of the way with water to dilute it. Once mixed, spray the bleach water on the stain and allow it to sit for a few minutes. Scrub the hair bleach stain with a soft sponge or cloth.
Removing Red Hair Dye from Tubs
Red hair coloring is one of the most challenging colors to remove. The best way to undo the damage is to counteract the red with hair bleach. Hair bleach is easy to find at your local hair supply store or pharmacy.
To remove the dye, wet the area with a sponge and dab the hair bleach onto the stain. Dampen a fresh cotton ball with some nail polish remover and blot at the excess color.
Uncommon Ingredients to Remove Hair Dye from a Tub
Regular bathroom cleaners are more designed for a rust stain or to clean grout instead of removing permanent hair dye. Uncommon cleaners like nail polish remover will get hair dye off fingernails and it will clean hair dye off porcelain.
Nail polish remover and regular rubbing alcohol are two products you probably already have under the bathroom sink that work miracles on stubborn stains, whether in your tub or as a way to remove hair dye from hands and skin.
To get rid of food coloring stains on a counter or hair dye in the tub, apply a small pour of nail polish remover or rubbing alcohol to a cotton ball or dry cloth and start to blot the stain.
To remove hair dye from a bathroom counter, sink, or tub, continue to blot at the area, using a fresh section of fabric and rubbing alcohol when the rag becomes saturated. Once almost all of the stain is gone, scrub the spot with some dish soap and rinse it away with water.
You may find that this solution also works well as a way to remove paint from a tub if you have an accidental spill during a remodeling project. Follow the same procedure.
Heavy-Duty Cleaning
You can create one of our favorite DIY cleaners for hair color stains and other messes with only a few ingredients.
For this homemade bathtub cleaning solution, stir equal parts baking soda and white vinegar in a bowl. If you don't have white vinegar, use lemon juice or hydrogen peroxide as a substitute.
Dip the Magic Eraser into the paste-like solution and apply it to the stain. Allow the soda paste to sit for five to ten minutes before wetting the Magic Eraser and scrubbing at the hair dye. You may need to repeat this cleaning process several times until all the coloring is gone.
Borax and Bathtubs
Borax is a little tougher on stains compared to other cleaning products. To remove hair color stains, fill your bathtub with hot water and sprinkle in one cup of Borax. Allow the water to sit overnight. Drain your tub in the morning, and use a sponge with soapy water to remove any remaining residue.
Stain Prevention While Dying Your Hair
Dying your hair is a messy job, and it's nearly impossible not to splatter some of the colors during the process. While this is a little bit more work, it will save your bathroom surfaces from any stains.
If dying your hair over a bathroom sink, spread a thin layer of petroleum jelly over the surface to protect it from any small splatters. Once you have colored your hair and showered to remove the dye, use a clean rag with hot soapy water to remove the old layer of petroleum jelly.
While the process to remove hair dye from a tub isn't always easy, you definitely don't want that experimental color stuck to your shower walls. These cleaning recipes are some of the easiest to make and most effective for permanent and semi-permanent hair color.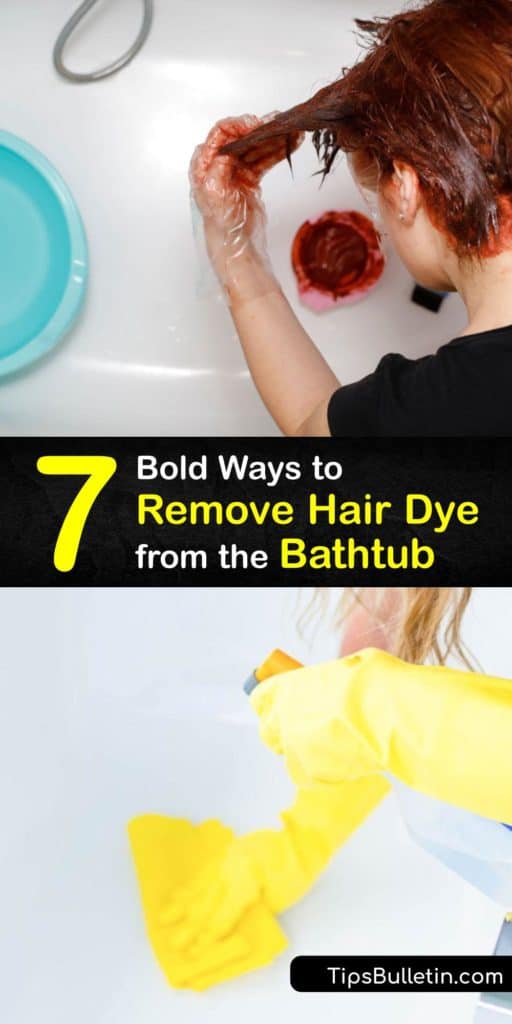 If learning how to get hair dye out of your bathtub has kept your bathroom crisp white, share these tips to remove hair dye from a bathtub on Facebook and Pinterest.