At first, an accidental paint spill seems detrimental. Painting stains are often thought to be nearly impossible to eliminate without leaving a noticeable mark on clothing and other surfaces. However, learning how to get latex paint out of clothes is relatively simple when you know what everyday household items double as a natural paint thinner.
That's right – you do not need to go searching your home improvement store for special tools to eliminate paint stains.
Many household cleaning agents like liquid dish detergent, vinegar, and baking soda are excellent for removing wet and dried paint from your clothing articles.
Whether you are looking to remove latex paint from jeans or delicate fabrics, we show you the most efficient ways to implement stain removal techniques.
Additionally, we describe how to launder your clothes with a latex paint stain so the paint does not settle into the fabric. With these fantastic tips and tricks, you will be able to remove latex paint from fabric within a matter of minutes.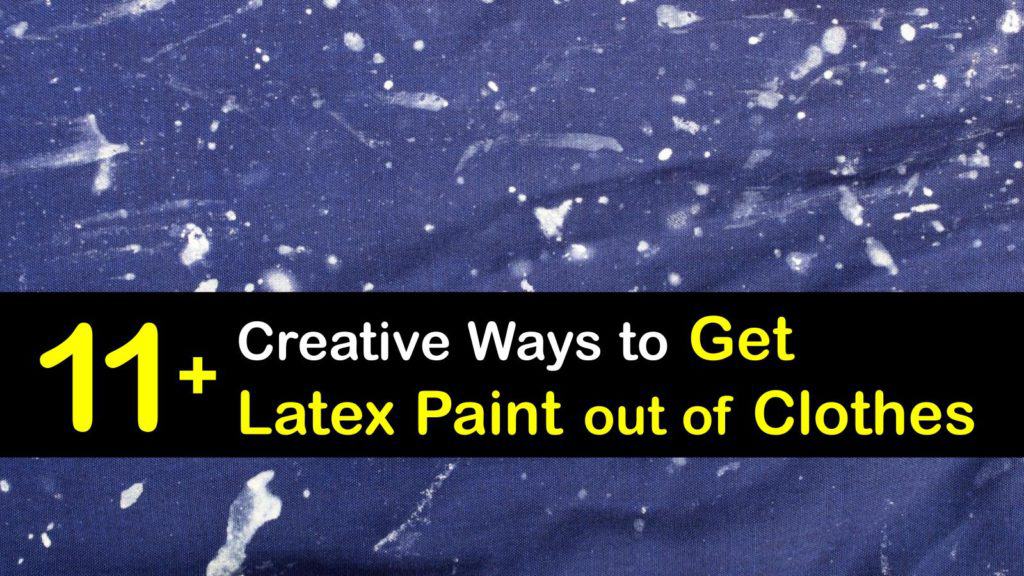 Is Paint Removal Time-Consuming?
A common misconception is that DIY paint stain remover methods are quite time-consuming and do not eliminate the paint from the stained area. However, the tools we provide loosen up the chemicals in the paint.
A homemade solvent effectively removes latex paint stains by breaking down the paint's structure, making it simple to blot away. The stain removal agents we show you start working immediately and clean up any type of paint.
The Structure of Latex Paint
Before you remove latex paint from clothing, it helps to understand the basic structure and makeup of latex paint.
One familiar type of paint is acrylic paint, which is made up of chemicals that allow the paint to expand or contract with temperature fluctuations.
Alternately, latex paint is water-based. The most common uses for latex paint include general home improvement projects, like painting walls and ceilings.
Latex paints dry much faster than acrylic varieties, so it is important to know how to get latex paint out of clothes right away.
How to Get Latex Paint Out of Clothes with Baking Soda
Baking soda is terrific at cleaning a variety of surfaces around the house, and it also excels at removing latex paint. The powder ingredients dissolve dirt, grease, grime, and paint when they interact with water.
After combining the warm water and baking soda in a shallow dish, stir the mixture until it forms a paste. To remove spray paint from fabric or to eliminate latex paint stains, rub the paste onto the paint and let it dry before throwing it in the washing machine.
Remove Latex Paint from Fabric with a Vinegar Solution
Whether your stained garment is made out of acetate, cotton, or is a delicate fabric, vinegar successfully treats latex paint stains. Vinegar is quite acidic, allowing the liquid to break through stains, grease, and dirt easily.
When vinegar combines with latex paint, it breaks up the paint particles, and is ready to wipe away.
To remove latex paint from jeans with vinegar, pour vinegar on the paint stain and let it sit until it dries. Place the garment in your washer and clean it as usual.
Using vinegar as a paint remover is a terrific solution because it is easy to find, inexpensive, and avoids a dry cleaning trip.
Remove Latex Paint from Jeans with Rubbing Alcohol
Rubbing alcohol, also called isopropyl alcohol, removes latex paint stains on many surfaces.
Whether you have paint stains on your clothing, window, or mirror, rubbing alcohol is the perfect solution. The high volume of alcohol in the solvent liquifies even the oldest paint stains. You may find that it works well at getting latex paint out of carpet, too.
Turn the clothing article inside out and use paper towels to dab the paint stain until it is completely covered and damp from the liquid.
Use an old toothbrush to work the rubbing alcohol in the fabric of the clothing. Continue scrubbing until all the paint is lifted, then rinse it under hot water.
To remove paint from leather seats or clothes, use a cloth rather than a brush to gently work the paint out of the material.
Using Dish Soap to Lift Latex Paint Stains
Dishwashing liquid soap breaks through tough grease and paint stains. Using this cleaning agent to remove latex paint from fabric or to get engine oil out of clothes is easy and efficient because it calls for a soap you already have in your house.
In a small bowl, pour one cup of cold water and one teaspoon of liquid dish soap. Stir the liquid so the soap mixes into the water before blotting the fabric with a clean cloth.
Launder your clothing with hot water to remove the stain. When you use dish soap to treat paint stains, it acts as a pretreatment before adding them to a washing machine.
How to Use Nail Polish Remover to Eliminate Paint Stains
The ingredients in nail polish remover work like rubbing alcohol to remove paint stains or to get lipstick out of fabric. Most nail polish removers contain acetone, which is a powerful agent against paint spills. It liquifies the paint to make it effortless to clean.
Learning how to get latex paint out of clothes with nail polish remover is easy with acetone. Use a cotton ball or swab to cover the affected area with nail polish remover.
Covering the paint stain in acetone loosens up the paint before you throw it in the laundry. Before washing the article in the washing machine, use an old rag to remove as much of the loosened paint as possible.
Does Turpentine Remove Latex Paint?
One effective way to remove latex paint from jeans and other fabrics is with turpentine. The turpentine's chemical structure allows the liquid to dry quickly, allowing you to peel the paint stain off your clothes.
Using a paper towel or a sponge soaked in turpentine, gently pat your clothing article until the whole paint stain is covered. Wait five minutes and the paint stain is ready to remove.
One tool that helps lift the excess paint is a butter knife. If some of the paint stains remain, repeat the previous steps.
Treat Paint Stains with Bleach
Before using bleach to remove latex paint from fabric, understand that certain materials stain when they interact with bleach.
Use color-safe bleach or oxygen bleach to ensure your clothing remains unharmed. Or, use bleach for white clothing and color-safe clothes.
For minor paint stains, mix one gallon of hot water with one cup of bleach and soak your garment in the liquid solution. After soaking for clothing for 30 minutes, wash it as usual.
How to Remove Excess Paint with Duct Tape
You may be surprised that duct tape is a terrific way to remove excess dried paint from jeans or other fabrics. Duct tape contains a strong adhesive that effectively gets rid of dried paint.
Using duct tape is an inexpensive means to finish up your paint removal process if there are a few paint spots on your clothing.
Place a piece of duct tape over a paint stain and press down firmly. Pull the tape off to remove the dried paint stains. Learning how to get latex paint out of clothes is simple with duct tape.
Hairspray is a Creative Way to Remove Latex Paint from Clothing
Perhaps one of the unique ways to remove latex paint from fabric is with hairspray. One of the ingredients in hairspray is isopropyl alcohol, which liquefies paint and makes it easy to remove from your clothing.
If you are short on cleaning agents, treat a paint stain with hairspray for quick clean-up. Liberally spritz hairspray on the affected area to loosen up the paint's bonds.
Let the hairspray sit for five minutes before scrubbing with a clean washcloth. If there is a little paint left on your fabric, use more hairspray.
Eliminate Latex Paint Stains with Hand Sanitizer
Similar to rubbing alcohol and nail polish remover, hand sanitizer contains alcohol that loosens dried paint. Educating yourself on how to get latex paint out of clothes with hand sanitizer is a quick technique to treat stains.
Cover the paint stain with a generous amount of hand sanitizer and let it sit on the clothing for two to five minutes. Use an old toothbrush to work the hand sanitizer into the fabrics and throw the article in the wash to remove the stain.
How to Launder Clothes with Paint Stains
Knowing how to launder the clothing correctly is also important, so the stain does not set, whether you are dealing with paint or trying to get blood out of clothes. Simply using running water to rinse your clothes is not enough when there is a blood or paint stain on the item.
Pretreat the latex paint stain with laundry detergent to break up the stain. Wash your clothing in a warm or hot wash cycle and air dry so the stain does not settle.
Washing your clothes with the proper wash cycle is necessary to remove a latex paint stain completely.
Paint stains are quite common when working on home improvement projects. If you happen to get some latex paint on your clothes, it is not impossible to get out and restore your garment to its original state.
Several everyday products like vinegar, dish soap, and even hairspray serve as natural paint thinners and are easy to find.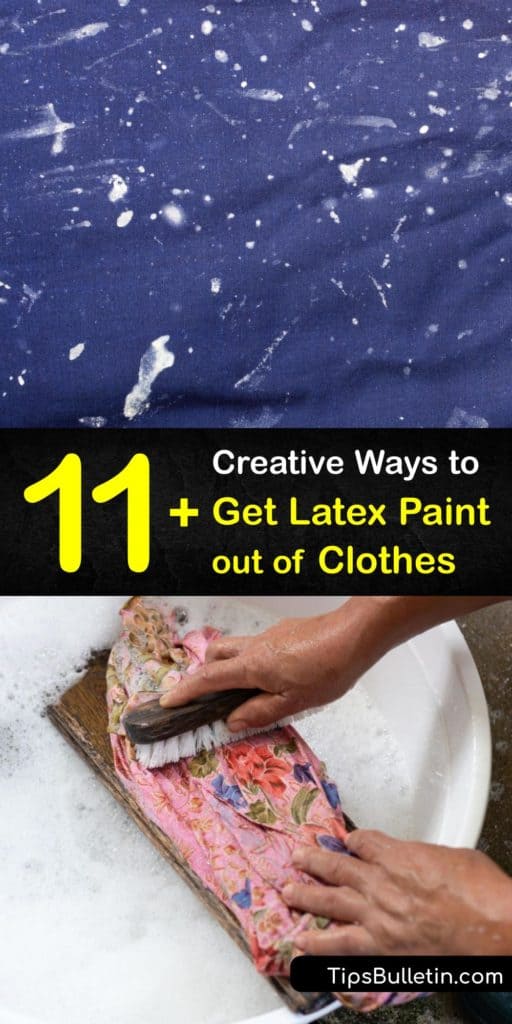 If you learned how to get latex paint out of clothes, share these tips for removing paint with your roommates and family members on Pinterest or Facebook.