Have you noticed a buildup or a moldy smell on your washer's rubber door seal? It's probably time to learn how to get mold off a washing machine rubber seal. Although it may appear complicated, getting mold off a washing machine rubber seal is a simple procedure essential to the health and durability of the appliance.
A front-load washer's gasket is necessary to maintain the watertight seal and prevent leaks or floods in your laundry room. Due to its continual exposure to water, this rubber ring is prone to accumulating mold.
The rubber seal on most washers only has to be cleaned once every six months, although you can do it more frequently if you'd like. Learn the best ways of removing mold from a rubber washing machine gasket and keep it from getting moldy in the first place. Use white vinegar, dish soap, chlorine bleach, or baking soda to keep your door seal sanitary.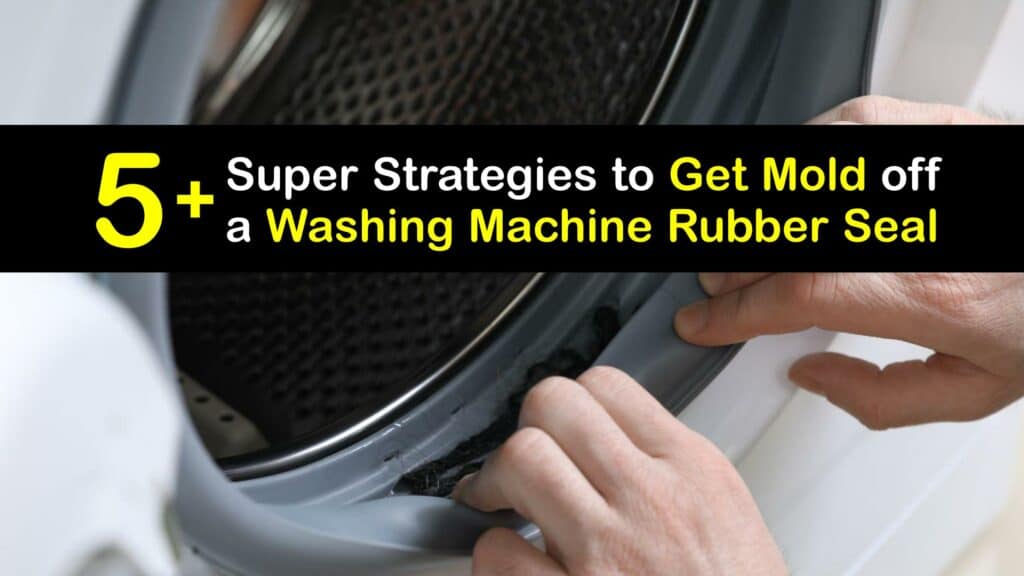 How to Clean Black Mold off a Washer Gasket
Are you stumped about how to get mold off a washing machine rubber seal? Mold is daunting to address as it's potentially harmful to your health. Luckily, there are simple techniques for quickly getting mold off a washing machine rubber seal. Clean black mold off your front load washer gasket with white vinegar, chlorine bleach, baking soda, and dish soap.
What Is the Washing Machine Seal?
The washing machine door seal keeps water from spilling out of a front load washing machine. The seal is lined with a rubber surface to aid water retention.
Despite being vital to your appliance's function, this rubber ring tends to harbor detergent, fabric softener, and lint, creating an ideal environment for multiple microorganisms to grow. A moldy or dirty washing machine seal or gasket leads to mold growth and a musty or mildew odor.
Find out how to eliminate mold from your washer door seal and take care of cleaning black mold off a washer gasket to ensure your laundry always smells fresh.
How to Get Mold off a Washing Machine Rubber Seal
White vinegar is the best choice if you're looking for a practical yet natural mold eliminator. Distilled white vinegar is perfect for cleaning black mold stuck in the washing machine seal because it contains acetic acid. The mold spores are rendered inert, and the acid breaks down any grime on the rubber.
Put some distilled vinegar into a spray bottle, then use it to clean the rubber gasket surrounding your washing machine door. Wait up to an hour after applying the vinegar to the seal before you rinse everything off with hot water.
Leave the washing machine door open for air circulation, and your gasket dries thoroughly. If your washing machine is not stainless steel, use undiluted white vinegar to clean additional components, such as the detergent dispenser and the interior of the drum.
Getting Mold off a Washing Machine Rubber Seal
Easily remove mold on the washer's door seal with liquid chlorine bleach. A caustic cleaner, bleach eliminates dangerous black mold spores and dissolves dirt. While using bleach on your washer's rubber seal is acceptable, using it a few times a year or less is preferable to avoid wearing it out.
Put on the gloves, fill the bucket with bleach and water, dip the cloth, and clean the gasket. Dampen all rubber surfaces with the chlorine bleach liquid. With the door open, wipe away the bleach residue with a moist towel and let the rubber dry.
Open the windows to let fresh air into the laundry area, and take precautions to avoid getting bleach on your skin because it might burn. When using bleach, always abide by the safety instructions on the bottle.
Baking Soda Destroys Washing Machine Gasket Mold
To create a homemade fizzing cleanser, combine white vinegar and baking soda (sodium bicarbonate). Baking soda has excellent cleaning power and removes stubborn mold on your washer door. Use baking soda's fizzing to remove tough dirt and thoroughly clean your door seal.
Pour the white vinegar into the sprayer while scattering the baking soda within and around the washer seal. Spray vinegar both inside and outside of the washer gasket once more.
Clean away mold, baking soda, and vinegar residue with cloths dipped in warm water, and allow the seal to air dry. Baking soda and white vinegar react to remove tenacious clumps and clean the surface. This technique works well for cleaning the detergent tray and other washer accessories, too.
Dish Soap Can Remove Mildew From a Washer Seal
Minimize mold growth by scrubbing the rubber ring on a washing machine with a dish soap solution. Liquid dish soap, which we frequently use in the kitchen, is the perfect detergent to clean mold on the rubber seal on a front load washer.
Dish soap's surfactants dissolve thick grease and grime, yet they are gentle and won't harm or wear down rubber. To produce a basic cleanser for your washer gasket, use hot water and liquid dish soap.
Put on the gloves, mix the soap and water in the basin, then add the cloth. Pull back the rubber gasket and squeeze out the extra liquid. Start by clearing any debris beneath the gasket, including lint or hair.
Use soapy water to clean the gasket's outer and inner surfaces. Swap a new, clean cloth for a dirty one. Grab a clean cloth, dampen it by soaking it in warm water, and wipe down the rubber. Recheck the inner and outer door seals, and leave the washer door open until everything is dry.
Prevent Mold on the Rubber Gasket
Mold growth and a putrid smell are typical in environments with inadequate ventilation and high moisture content, such as your washer. Taking smart precautions helps reduce odor-causing variables in your washing machine and the gap around the rubber ring to slow or even prevent mould problems.
Because of these easy adjustments, the amount of time your rubber gasket is exposed to moisture is reduced, making mold growth more difficult. Repairs to the rubber seal are among the most common reasons washing machines require technician visits.
Follow these simple procedures to ensure your washing machine continues to function correctly and avoid spending money on costly washer repair services.
After reading this article, are you confident about how to clean black mold off a washer gasket? Eliminating mold from the rubber seal on your washer prevents your clothes from smelling mildewy after a wash cycle and saves money on washer and dryer repair. Use straightforward methods with everyday products to eradicate a washer mold problem.
If you loved this educational article on how to get mold off a washing machine rubber seal, please share it with your friends and family who are getting mold off a washing machine rubber seal on Pinterest and Facebook.