Black mold is a destructive organism that can wreak havoc in areas throughout the entire home. One sneaky place that it is notorious for growing in is the washing machine. It is essential to be aware of this and to know how to clean mold from a washing machine.
Being aware of the issues may help you identify other problems you have like badly smelling wet clothes. Keeping a clean laundry room will help get moldy smell out of a washing machine and keep your clothes smelling fresh.
There are top-loading and front-loading washing machines. Although both can be hotspots for mold growth, front-loading machines are typically worse. A lack of air circulation commonly causes this problem since a front load washer seals tightly while a top loader allows air in before, after, and during the wash cycle.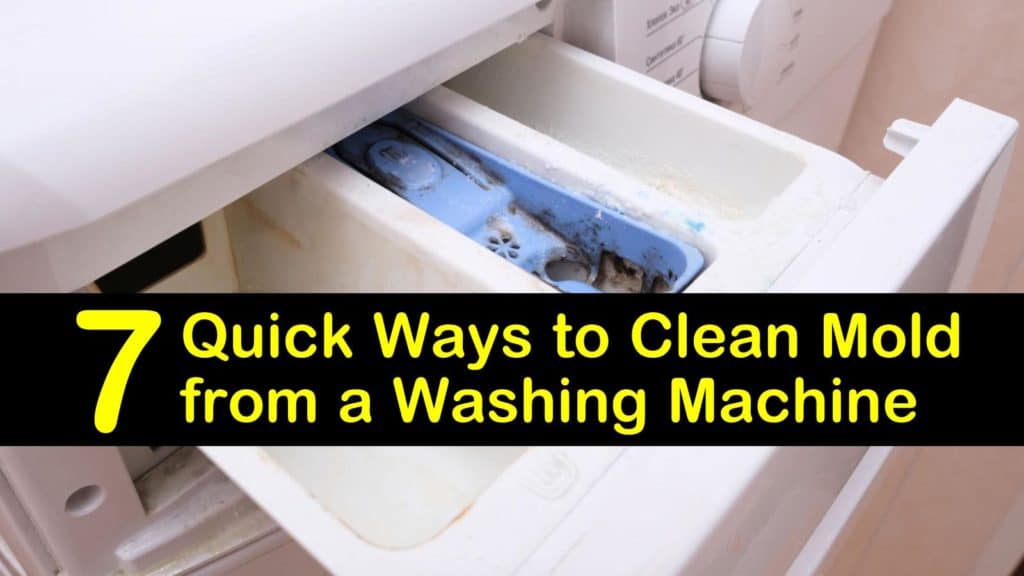 Get Moldy Smell out of a Washing Machine
To help you deal with a mold problem, we have helpful recipes for mold cleaners and tips on where and how to clean.
Mold and mildew growth often develop in washing machines that seal with rubber gaskets. This suction traps moisture inside the machine. This moisture joins to form pockets that act as a refuge to mold spores.
It all creates the perfect growing environment, and suddenly you can't get moldy smell out of a washing machine, except that we are here to help. Use one of our ways to clean mold from your washer for fresh-smelling results.
Mold can grow in other appliances as well. These recipes will make your vacuum smell better by removing any moisture or mold from inside of the machine and filter.
Ways to Clean Mold from Your Washer
The start of the process is mixing up your cleaning solution. There are some cleaning products available for a quick fix, but using natural ingredients is generally safer and easier to DIY at home.
Vinegar Defeats Mold
When it comes to stamping out black mold in washing machine, vinegar is always a household go-to. It is highly effective for sanitizing almost any surface and is a quick mold killer.
If your washing machine smells like mildew, use this simple recipe. This mixture involves one part vinegar to four parts water and does the trick for smaller infestations.
Mix it in the spray bottle and mist it over the areas you want to clean. Use a soft cloth or paper towel to wipe the spray and mold spores away. The washer should smell nice and fresh again.
Bleach as a Mold Killer
Although not a natural solution, bleach is the end-all when mold is involved. Only use bleach or a bleach mixture if other solutions don't work for you since it is a harsh cleaner.
Use the same ratio as in the water and vinegar recipe, one part bleach to four parts water. Spray it in the areas that have mold patches. If it is an especially damaging growth, run a bleach and hot water wash cycle.
This acts as a cleaning cycle for the entire machine if there is more than a smattering of patches.
Destroy Mold with Lemon Juice and Bleach
Together, bleach and lemon make an excellent washing machine cleaning solution in large-scale infestations. They work to not only clean it out but inhibit future growth in the machine.
Combine the three ingredients in a spray bottle and spray the essential areas of the machine. Use a toothbrush to get into nooks where build up has begun to form.
Home Remedy for Mold – Lemon Juice and Vinegar
Ammonia is the solution to use when you are close to the last resort because of how intense it is as a cleaner. To take a step down from this, use a vinegar and lemon combination to get a satisfactory clean.
For cleaning a front load washer or a top-loading machine, use the same procedure as followed above, combining the ingredients into the bottle. Then, spray the entirety of the front loading washing machine and wipe down the inside. Dry thoroughly. Heavily soiled machines may require repeat treatments.
Eliminate Mold with a Fizzy Mixture
This recipe is not a combination that needs mixing before the cleaning starts. Instead, head down to the laundry room armed with baking soda and vinegar.
As one of the best ways to clean a top load HE washer, start the clean up with the damp cloth and wipe out the interior as much as you can. It helps to get rid of any build-up of soap, detergent, and the top layers of mold.
Then, sprinkle in the baking soda and pour some vinegar into the gasket and let it sit for a minute. It should bubble.
Scrub the inside of the gasket and the drum with a toothbrush and wipe it out again afterward. Be sure to dry it after you have finished to keep dampness from encouraging new growth.
Prevent Mold with Commercial Products
There are several laundry detergents or additives that work to get rid of mold spores from clothing.
Laundry Additives
Some products stop mold from finding a place to rest in the washing machine, killing it before it starts growing. If spores do settle, using laundry additives prevents it from growing during the next wash cycle. You can also make a natural laundry detergent to discourage growth.
Use a Dehumidifier
The last one of the ways to clean mold from your front loading machines is with a dehumidifier. These keep damp spots from forming in the laundry room, starving the mold of a humid place to live.
Keeping it in the laundry room close to the washer helps to keep the mold at bay before even having to start the cleanup process.
How to Clean Mold from a Washing Machine
Although a front loading washer is known to be a high-efficiency machine, which is why many people prefer it, mold removal needs to be more of a habit than with a top loading machine. You may ask, "Is it mold or mildew?"
Either way, there are specific areas in a front load washing machine that need a focused scrubbing. First, prepare your preferred cleaner and some warm water. Then check out these three areas to be sure you properly remove mold from the washing machine door seal to eliminate any bad odors.
Gasket
The gasket is the rubber seal that keeps water from squeezing around the washer door. This door seal collects build-up from the suds from the soapy water and allows mold growth.
Do you know how to clean a front load washer gasket? It's quite easy. Use a cleaner and a toothbrush to remove mold from rubber seal effectively.
Dispensers
The detergent dispenser and lint dispenser are other hot spots in a front loader. Take these out and use your mold remover and a rag to clean them thoroughly. Another suggestion is not to use fabric softener but vinegar instead. Mold seems to flock to the softener dispenser.
Once you have put better laundry habits in place and have go-to recipes that allow you to get the job done quickly, you shouldn't have problems with washing machine mold growth again.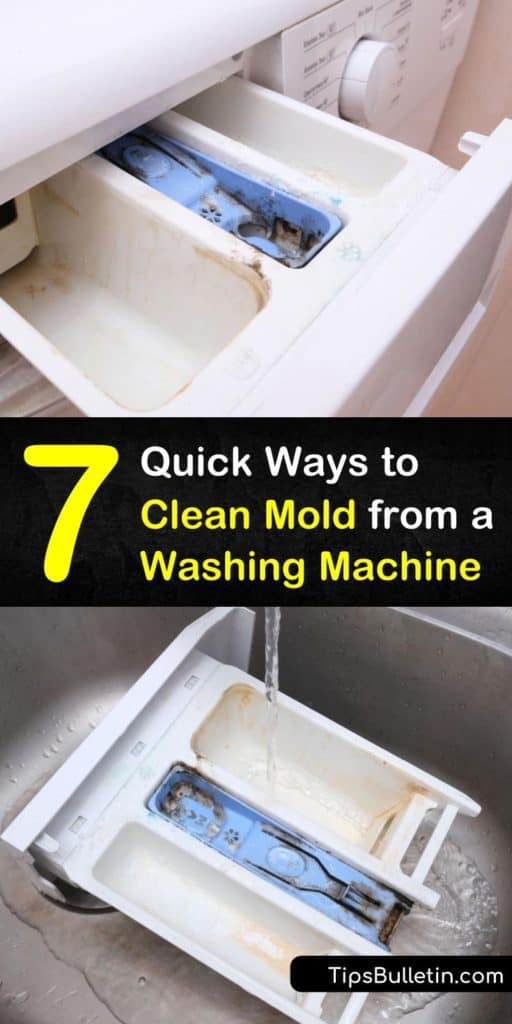 Our techniques and tips should prove helpful in developing better methods to keep the home clean. If you learned how to clean mold from a washing machine, please share this mold removal post with your friends on Pinterest and Facebook.