Ants are a nuisance, whether they are in your home or around the yard. They are especially a problem if you begin seeing trails of ants leading a path to food sources in your house. Discover how to get rid of ants naturally using a variety of everyday household items and techniques.
The main goal of an ant colony is to survive, and they need a reliable food source to do this. If they discover that source of food in and around your home, ants are more than happy to take up residence. Fortunately, many home remedies are great for eliminating and preventing an ant invasion.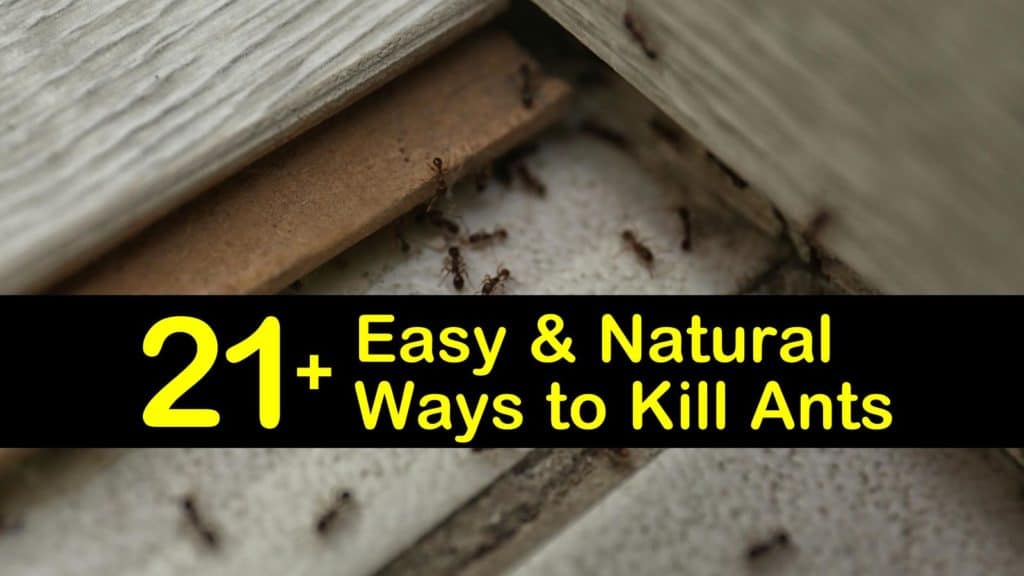 Natural Remedies for Getting Rid of Indoor and Outdoor Ants
Your first step to get rid of ants is to determine which type is causing the infestation. Then consider why they are attracted to your home and how they are getting inside. Once you discover these issues, it's easy to solve your ant problem by applying one of many natural solutions.
Understanding Ants and their Habits
There are many different varieties of ants, and each type is attracted to various food sources. When trying to determine how to get rid of these pests, you probably have questions such as does flour kill ants or are ants harmful? Understanding the answer to these questions is essential when getting rid of ants around the home.
Indoor and Outdoor Ants
There many different types of ants, and while most are not harmful to humans and pets, some are aggressive. Harvester and fire ants have a painful bite and require elimination if there is a nest in your yard. On the other hand, carpenter ants are harmful to the structure of your home.
These ants form tunnels in wood, especially damp areas around leaky sinks and faucets. Ants need to feed, not only themselves but their entire colony.
They send scouts to locate a food source, while the workers retrieve the food and bring it back to the colony. Adult ants digest food in liquid form while the larvae eat solid food brought back by the workers.
Natural Ways to Get Rid of Ants with Chalk
While there are many natural ways to kill ants, using standard chalk is one of the easiest and cheapest ways to stop ants from entering your territory. Chances are you have an old piece of chalk lying in the bottom of your junk drawer.
Chalk Ant Deterrent
Ants leave pheromones along a pathway for other ants to follow once they discover a tasty food source. Drawing a line of chalk across the paths of ants confuses them and forces them to find another route.
To prevent ants from getting into your home, draw a chalk line across apparent points of entry such as windowsills, doorways, and other locations. Make sure the line is unbroken as you trace the chalk along the surface. If you do not have any chalk, baby powder works just as well.
Natural Way to Kill Ants with Essential Oil
One of the natural ways to get rid of ants is with essential oils. Certain oils such as mint and citrus repel many insects, and peppermint oil is an excellent additive for a natural ant spray.
Fill a bottle with water, add a teaspoon of dish soap, and squeeze in a few drops of peppermint oil and shake to mix. Label the bottle for safety purposes and future use.
Spray the ants directly with the solution to kill them on contact. The peppermint spray is also useful for spraying the path of the ants to break their chemical trail.
How to Get Rid of Ants Naturally with Lemon Juice
While a pitcher full of lemonade attracts ants with its sugary sweetness, straight lemon juice is not their friend. This natural remedy for ants uses the sour and bitter power of lemons to keep them at bay.
Slice a lemon in two and squeeze its juice into a bucket of warm water. Clean your floor with the lemon-scented water. Not only does this get your floor clean, but it fills the room with a refreshing lemon scent.
If you prefer not washing your floor this way, consider squeezing lemon juice into a spray bottle filled with water. Spritz the solution on the counters and wipe clean with paper towels. Peel the leftover lemon and place the peels in areas of the room where you notice ants entering.
Repelling Ants with Pepper
Ants hate pepper as much as they love sugar, and this is a useful tool for keeping them away from the kitchen. While pepper does not necessarily kill ants naturally, it is an excellent deterrent.
Sprinkle either black pepper or cayenne pepper in areas where you notice ants getting into your home. It's also useful to make a spray solution for use in other areas of the house.
Pour water into a bottle sprayer and drop in a couple of teaspoons of black pepper. Shake the bottle well and spritz the black pepper spray in entry points such as doorways and windows.
Getting Rid of Ants in Pet food
It's common to discover ants in dog food since this is a tasty treat that is not easy to eliminate without causing your pets to go hungry. While it isn't always possible to stop ants from being attracted to your pet's food, it's easy to prevent them from infesting the food and alerting other ants of their discovery.
Store your pet's food in a large container with a lid between feedings. Fill a cake pan, pie tin, other shallow baking dish with water. Set your pet's food dish in the center and place it back in their eating area. The tin and water act as a moat, trapping and drowning any ants that attempt to eat the food.
How to Get Rid of Ants Naturally with Ant Traps
A natural way to kill ants is with Borax. It is a great ingredient for making a homemade ant trap, especially when you add sugar to the mix. The sweetness attracts ants to ingest the liquid, and the Borax kills them without using harsh chemicals.
Pour the water into a plastic container and add the sugar and Borax. Stir well to dissolve all of the ingredients. Soak cotton in the liquid and place them in areas where you notice ants. Replace the lid on the jar, label it, and store it in a cool, dry area for future use.
Killing Ants with Borax
This homemade ant killer is similar to Terro and other brand name ant baits. While this form of Borax does not kill the adult ants, they carry their new-found treat to their colony and give it to the ant larvae.
Combine the sugar and Borax in a small bowl and stir well to mix. Sprinkle the powder lightly across areas such as windowsills, doorways, and any other areas where you see signs of ants. Try to spread the mixture in a fine layer so that the ants gather it on their bodies as they pass through.
Deter Ants with Table Salt
Regular table salt tastes great added to your favorite dish, but did you know it is also a handy tool for ant control? Ants have this thing about certain seasonings that they cannot stand. Salt is useful for deterring ants in its dried and liquid form.
Sprinkle table salt along the areas of the kitchen where you spot ants. If you are unsure where they are coming from, consider shaking it in the corners and crevices of the counter or along baseboards and window ledges.
To make a salt spray, fill a bottle sprayer with hot water and add about a cup of salt. Shake the container well to dissolve the salt and label it for future use. Spray the solution along ant scent trails, windowsills, and other suspicious areas.
Making an Ant Spray with White Vinegar
White vinegar is an acidic liquid that not only works well for pickling your favorite vegetables, but it is an ant repellent as well since they hate the smell of vinegar. This acidic liquid is also a good choice for a natural roach killer spray.
Add equal parts of vinegar and warm water to a bottle sprayer and shake well to mix. If you hate the smell of vinegar as much as ants do, add a couple of drops of your favorite essential oil.
Spray the solution across doorways, window ledges, and other areas you deem as a no-enter zone. Label the bottle and use daily to keep ants at bay.
Keep Ants at Bay with Spices
Cinnamon and clove spices release a strong odor that is pleasing to you, yet ants loathe. Use these two spices to your advantage to keep ants out of the home.
Place cinnamon sticks and whole cloves along the back of your kitchen counter and on windowsills. If you have potpourri in your house, consider adding these spices to the mix to create an ant barrier throughout your home.
Make a Homemade Ant Repellent Spray
Soapy water is the easiest solution to kill ants and eliminate their trail. Adding peppermint oil to this solution makes it an excellent home remedy for spiders as well.
Fill a bottle with water and add the dish soap. Shake the bottle gently to mix and label it for future use.
Spray the solution directly on ants as soon as you spot them and wipe them away with paper towels. Spray the soapy water on the ant trail to stop more ants from finding their way to the food source.
Using Oranges to Repel Ants
Ants hate the scent of oranges due to their naturally occurring limonene substance. Orange peels are a great way to deter ants from the area while making your home smell fresh. It's also useful for eliminating anthills.
Grate the peel of one whole orange and spread the orange zest where you see ants crawling. Peel the other three oranges, place the skins into a blender and add the water.
Blend until liquified and pour the juice into any anthills located around your home. Don't forget to enjoy the oranges yourself as a tasty treat.
Steer Ants Away from Food with Bay Leaves
Bay leaves are a useful tool for your ant-repelling arsenal. While you enjoy particular smells such as lemon, garlic, or bay leaves, ants hate them and steer clear of areas that carry the scent.
For ants outside the home, crush up several bay leaves and sprinkle the scented powder into anthills or other areas you notice ants congregating.
To deter ants in the house, place the whole bay leaves into the foot section of an old pair of pantyhose and tie off the end. Hang the sachet in the pantry, kitchen, or other areas of concern to keep ants away.
Prevent Ants from Coming Indoors with Diatomaceous Earth
Diatomaceous earth is a non-toxic powder that forms from fossilized algae. DE works to kill insects such as ants by cutting into the exoskeleton as they walk over the powder, resulting in dehydration and death. Use diatomaceous earth for carpenter ants and controlling other pests in the house. Although not instantaneous, this natural remedy kills ants wherever they lurk.
Diatomaceous Earth Ant Killer
To kill ants outside, sprinkle a thin layer of food-grade diatomaceous earth across ant trails around the perimeter of your home to prevent them from coming into the house.
Spread fine layers along baseboards, windowsills, and other entryways to your home.
Wait for 24 hours to see if the ants create an alternative route. After the ants are gone, clean up the DE powder and dispose of it in the garbage.
Eliminate Ant Hills with Boiling Water
Biting ants are not an insect you want in your yard. If you know where the ant colony resides, the easiest way to eliminate them is to use plain water or a homemade ant hill killer. It is not only safe and non-toxic, but free as well.
Fill a large pot with water and bring it to a boil before pouring it carefully into a watering can. Take the can outside immediately to prevent it from cooling down, and pour the water directly into the opening of the anthill.
Use Splenda as a Safe Way to Kill Ants
If you prefer to stay away from harsh chemicals to kill ants because you have children or pets, Splenda is a great alternative. It's sold at grocery stores and is easy to apply.
Splenda Ant Killer
To get rid of small ants or larger species, sprinkle Splenda along the areas where you see ants regularly, making sure to place it on their trails, anthills, and any other visible location.
The ants eat the substance and die shortly thereafter. Replenish the Splenda as needed, especially after it gets wet.
Confuse Ants from their Trail with Coffee Grounds
Did you know that coffee grounds repel ants? The scent of coffee causes the worker ants to get confused and lose their trail, making this an effective way to prevent ants from getting into your home and food storage.
Coffee Ant Elimination
Instead of throwing your coffee grounds away each morning, spread the grounds over anthills and around the foundation of your home.
The worker ants lose the trails to their food source and are unable to feed the colony. With persistence, this technique eliminates the entire ant colony.
Prevent Ants in the Home with Baking Soda
Baking soda is a non-toxic solution for breaking up an ant trail around your home and preventing worker ants from invading your space and feeding their colony.
Fill a bucket half-way with water and add a squirt of dish soap and a couple of shakes of baking soda. Agitate the soapy water with your hand to mix the ingredients.
Dip your finger or a rag into the solution and use it to draw a line around your home. Pay attention to windowsills, doorways, and other entry points.
Making a Boric Acid Ant Bait
While it's easy to buy commercial ant bait, it's also just as easy to make your own at home with boric acid. The ants walk through the mixture, ingest it, and quickly die. Boric acid is poisonous, so this technique is not recommended if you have children or pets.
Drizzle some maple syrup onto a shallow and disposable container. While wearing a pair of gloves, sprinkle a small amount of boric acid over the syrup. Use a toothpick to stir the mixture around. Discard the toothpick and gloves in the garbage can.
Place the container in an area where ants are noticed most often. Check the bait regularly for any signs of activity. The syrup draws the ants in with its sweetness, and the boric acid kills them. After about one week, discard the container into the garbage.
Preventing Ants from Getting in Your Home
If ants cannot find an easy way to a food source, they are likely to look elsewhere. There are ways to prevent ants from having access to the inside of your home without calling an exterminator.
Inspect the outside area of your house and check for any entry points. Check cracks in the foundation, gaps in windowsills, or crevices around pipes. Fill these areas with caulk to prevent insects from having easy entry, and replace any torn screens.
Create barriers around the perimeter of the home using one of our repellent recipes, such as chalk or food-grade diatomaceous earth. Eliminate ant hills located near your home, especially if fire ants inhabit them.
Eliminating Ants Food Source in the Home
The best way to protect your house from an ant infestation is to stop ant scouts from finding a good food source in your home. Once they locate a new source of food, they report back to the colony, and an infestation begins. Luckily, there are many simple ways to prevent this from happening.
Make sure to store all food items in airtight, sealable containers and canisters. Ants that do not have easy access to food search elsewhere for another source. It's also essential to keep a lid firmly on the kitchen trash can at all times.
Keep the counter clean of dirty dishes by washing them regularly or placing them directly into the dishwasher with the door closed between washing. Clean the kitchen countertops with plain white vinegar to remove any food traces. It not only disinfects the surface but deters ants as well.
Sweep the kitchen and pantry area daily, if not more, to keep the floor clean of spilled crumbs and bits of food that is appealing to ants. Make sure to clean beneath the cabinets and any nooks and crannies. Unfortunately, squashing those tiny pests on-site is not enough to stop ants from trailing into your home or patio.
Luckily, there are many natural ways to kill ants and deter them from your living space without having to call pest control. Arm yourself with a few simple ingredients such as white vinegar, cornmeal, and natural ant bait and get rid of those ants for good.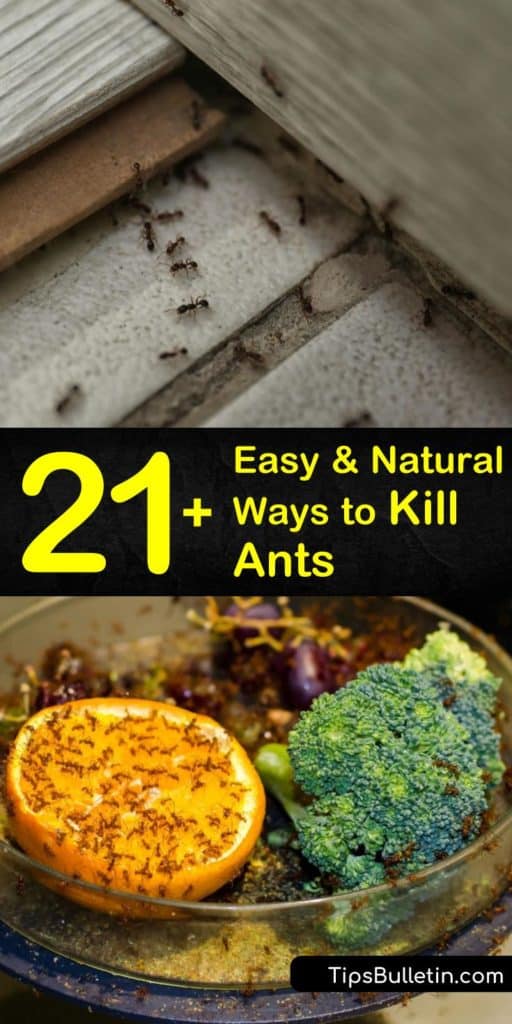 We hope that you enjoyed learning how to get rid of ants naturally in and around your home to prevent an infestation, and we'd love it if you'd share our ant prevention and elimination tips with your family and friends on Pinterest and Facebook.