It's the time of year for barbecues, camping trips, swimming, and, unfortunately, ants. While we all want to spend leisure time outdoors during the summer, we don't want to deal with intrusive ant activity or the painful bite of fire ants. Fortunately, we've discovered how to use coffee grounds to get rid of ants and create an ant-free zone.
Ants have fairly predictable habits, and each ant plays a role in the ant colony. Worker ants search for food, leaving a pheromone trail in their wake. Once they find a suitable snack, they follow this scent trail back to the nest. It's relatively easy to eliminate ants after observing their activity.
Knowing what ants love and hate is the key to finding quick solutions to stop ants from coming inside. While it's evident that the sugar ant seeks out sweet foods, all ants cannot stand the strong smell of citrus peel, vinegar, peppermint, and, you guessed it, coffee grounds.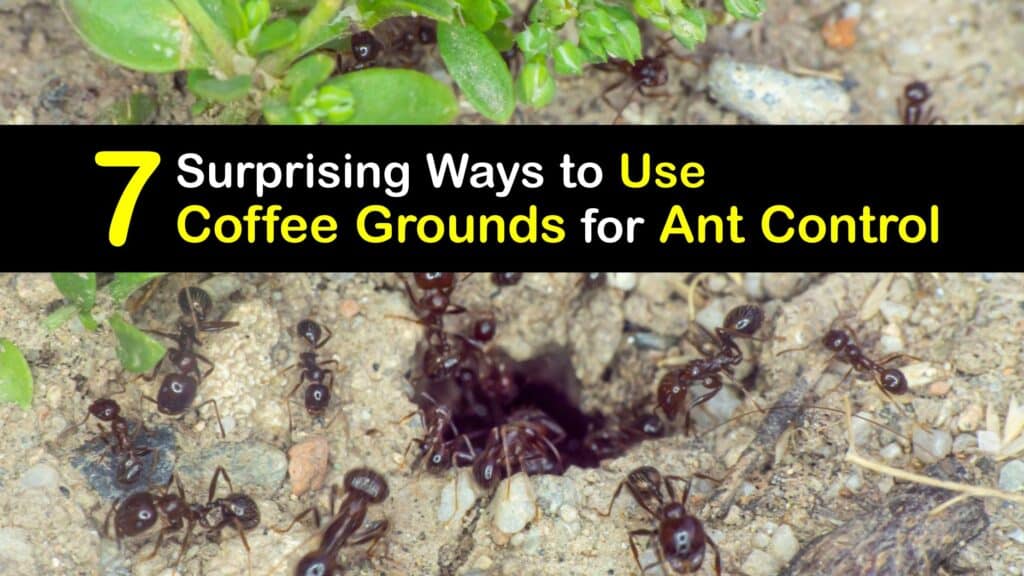 Ways I Use Coffee Grounds to Get Rid of Ants
Coffee grounds serve multiple purposes after you use them to make your morning coffee. There are plants that like coffee grounds and you can learn how to use coffee grounds to keep pesky ants out of the home and away from outdoor plants. We always start the day with a cup of joe. What better way to recycle the used grounds than to use them to repel ants?
Do Coffee Grounds Repel Ants?
Nothing is better in the morning than inhaling the aromatic steam from a fresh cup of coffee before taking the first sip. While we enjoy this hot brew, ants cannot stand coffee and is a great item to use in DIY sugar ant traps. So, how do coffee grounds repel ants?
Ants vs My Coffee
Coffee grounds, whether they are fresh or brewed coffee grounds, confuse the worker ants while they are out looking for food. Spreading the grounds over areas where you notice ants causes them to lose their scent trail.
Additionally, coffee emits a strong odor that ants avoid. However, coffee grounds alone do not kill ants, and adding another ingredient is necessary to make an effective ant eliminator.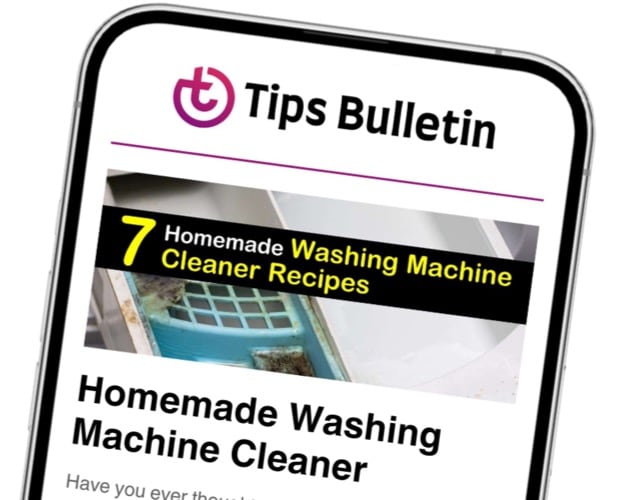 Finally, an email that Transforms Your Home.
Get the latest home and garden tips from our experts, delivered straight to your inbox.
Consider sprinkling coffee grounds around your yard to repel ants. It can also be used to avoid ants in cats food if you happen to keep an outdoor pet.
Are My Coffee Grounds Harmful to Plants?
If you want to keep this insect pest out of the vegetable garden or a potted plant, you may wonder if it's safe to use coffee grounds around your plants to repel them. Discover how leftover grounds benefit your plants and compost while keeping pests away.
While coffee grounds repel ants, they also contain nitrogen and other valuable nutrients that benefit plant growth. Not only do the grounds deter insects like ants and slugs, but they enrich the plant soil and retain moisture, and they are helpful for adding to beds, flower pots, and the compost pile.
How I Use Coffee Grounds to Get Rid of Ants
Next time you make a pot of coffee, save the grounds to repel ants. Use those leftover coffee grounds as a natural barrier to keep these pests from invading your space.
For outdoor use, place used coffee grounds around plants to create a barrier. Walk around the lawn and search for an ant nest. Place a heap of soaked grounds on the top of the ant hill to cause the ants to find another area for nesting.
Sprinkle fresh grounds around the perimeter of your home to keep the ants from getting inside. If you notice a line of ants marching in and out of the house, spread a coffee ground layer across the line to stop them in their tracks.
I Use Diatomaceous Earth and Coffee Grounds for Ant Control
Coffee grounds are great for deterring ants of all types, from carpenter ants and pharaoh ants to pavement ants. However, they do not kill the insects. Diatomaceous earth is an excellent additive if you're looking for ways to make an ant repellent at home with easy ingredients. Combine DE with coffee grounds for ant control.
Locate the ant hill or a spot where you notice ant activity and sprinkle coffee grounds around the outside this area to keep the ants confined. Spread diatomaceous earth over the infested area. The ants stay within the boundary of the coffee grounds, traveling across the DE powder, causing them to dehydrate and die.
This combination is the ideal way to keep ants off of vegetable plants in your garden. Reapply as needed throughout the season.
I Use Coffee Grounds and Borax to Eliminate Ants
Borax is a popular laundry additive that eliminates various insects, including ants. It's a great way to get rid of ants overnight. Use this powder with coffee grounds to kill ants in the yard.
Locate the ant hill and sprinkle coffee grounds over ant trails going to and away from the nest. Then, use sugar and Borax for ants outside. Make an ant bait by combining powdered sugar, Borax, or boric acid with water.
Soak balls of cotton in the mixture and place them beside the ant mound. The ants take the sugary poison back to the nest, and any ants that do not take the bait cannot find their trails leading away from the hill. Boric acid does kill carpenter ants, sugar ants, and all kinds of other ants you want to get rid of.
Combining Essential Oils with My Coffee Grounds to Keep Ants Away
We enjoy the scent of essential oils to create a pleasant atmosphere. However, ants detest their strong odor and avoid areas where you apply them. Use the power of these oils with coffee grounds for ant control inside the home.
Look around the room to determine where ants enter the house. Once you find a line of ants, sprinkle fresh coffee grounds across the entry point to prevent more ants from entering.
Fill a bottle with water and add about 20 drops of citrus essential oil. Spray the liquid directly on any remaining ants to kill them and wipe them away with a paper towel. Citrus contains d-limonene, a compound toxic to ants.
Other Ways I Prevent Ants Around My House
While coffee grounds are great for deterring ants, there are other ways to keep these insects away from the house. Follow some pest control tips to keep ants out of the home and prevent them from infesting the lawn.
The most important step in preventing an ant infestation is eliminating nests. Walk around your yard, look for ant hills, and pour boiling water directly into the ground to kill ants and eggs.
Another form of pest control is to grow ant-repellent plants around the house. Rosemary, catnip, lavender, mint, and thyme are all excellent choices for keeping ants and other insects at bay.
To keep ants like the carpenter ant or sugar ant from getting inside, sprinkle coffee grounds, ground cinnamon, chili powder, baking soda, or chalk across their scent trails to cause confusion and send them looking in other areas for food sources.
Not only do coffee grounds take care of an ant problem, you can also use the grounds for mosquito control. Carefully burning coffee grounds to get rid of mosquitoes is the ideal natural way to eliminate them from outdoor gathering areas.
Like all insects, ants have their place in nature. However, nothing ruins a backyard picnic faster than a sugar ant or fire ant attack. Fortunately, using coffee grounds is a natural way to deter these pests and keep them from becoming an infestation.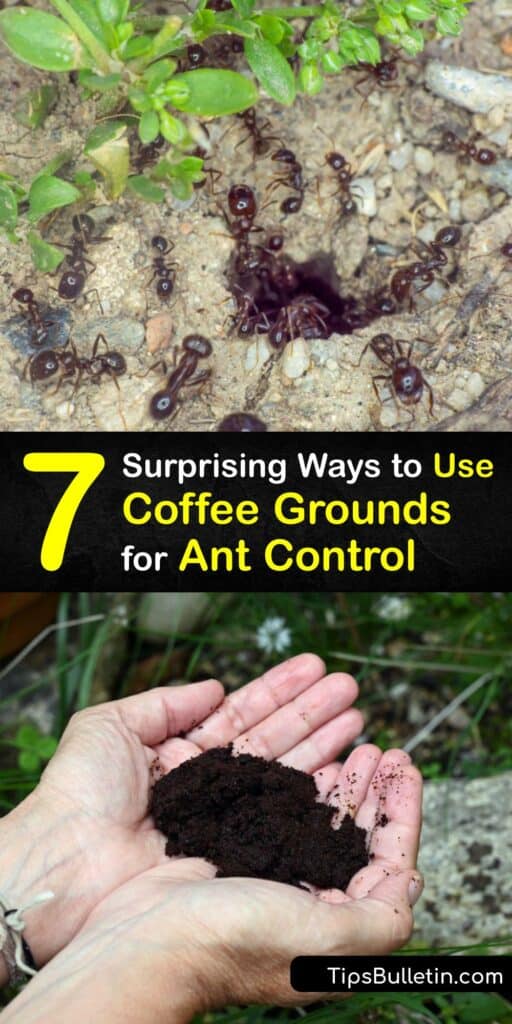 Now that you understand how to use coffee grounds to get rid of ants in and around your home, why not share our guide for preventing ants with coffee grounds with your friends and family on Pinterest and Facebook?