Few things signal the start of the summer season like chirping crickets; however, this song is best enjoyed from afar because when crickets find their way inside, their signature sound becomes irritating. To prevent their mating calls from filling your home at night, learn how to get rid of crickets outside.
You may find three types of cricket species inside your home in North America: field crickets, house crickets, and camel or cave crickets. Generally, these insects are not dangerous to humans and are only nuisance pests because of the sound they produce. However, once inside your home, these crickets feed on fabrics like cotton, fur, and linen.
Male crickets make chirping sounds to attract a mate or signal to female crickets about shelter in the ground. If the sound of these crickets becomes unbearable, or you fear an eventual cricket infestation, discover options for getting rid of crickets outdoors.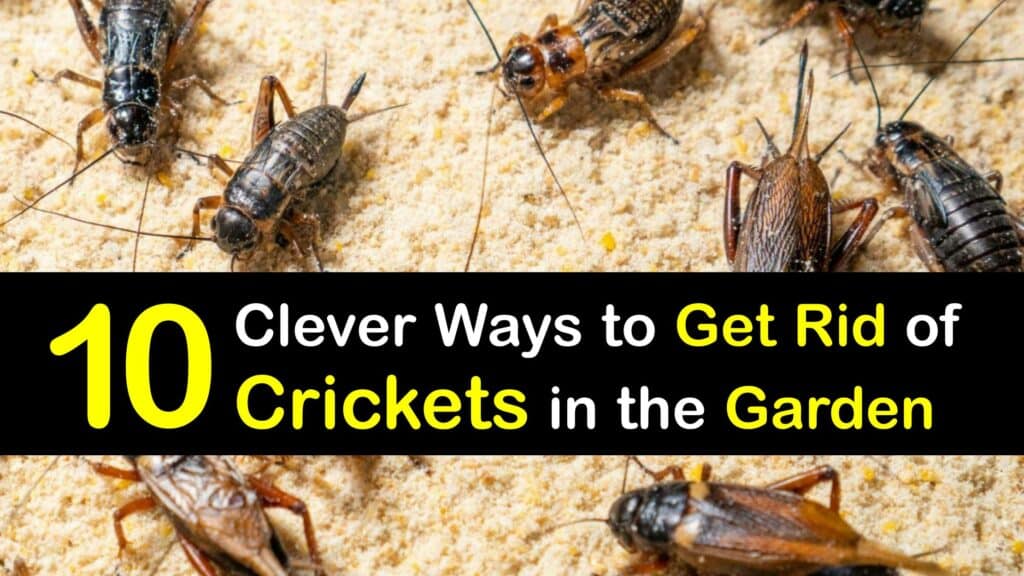 How to Kill Crickets Outside
One benefit of field and camel crickets is that they prefer to live outdoors where the conditions are favorable. These insects only venture inside when the weather turns bad. However, house crickets adapt to living indoors, so control their numbers before they enter the house. The best way to kill crickets and keep them from being a problem is by following some simple elimination strategies.
Testing For Ground Crickets
Cricket noise is the clearest indicator that you have crickets living in the grass around your home. Despite making themselves known, getting rid of crickets outside involves more than recognizing a cricket problem.
If you plan to use commercial insecticides to tackle a spider cricket infestation, it's vital to know the right areas to treat. Mole crickets burrow through the soil to create their tunnels which act as safe places to lay cricket eggs. To force these crickets to the surface, use water and soap.
Fill a bucket with water and the dish soap of your choice. Spread the soapy water evenly over your yard to saturate the soil. If crickets are present, they'll quickly emerge from the wet ground.
Using Neem Oil for Cricket Control
Neem oil is a natural insecticide known to repel pests from gardens. Neem oil is toxic to spider crickets and affects their hormones once consumed.
When pests ingest neem oil, it causes them to stop feeding and may even affect their ability to molt and grow, killing many crickets with each treatment. Jerusalem crickets that burrow into the ground to feed on plant roots are a big target for this treatment when used in the garden.
Combine water and dish soap in the sprayer first to emulsify the water. Slowly add neem oil and mix to combine thoroughly. Spray the mixture evenly across your lawn and garden weekly to treat crickets.
Use a tank sprayer or watering can, and make your neem oil mixture outside. Apply the mixture evenly across your lawn in areas you identified as problem areas for mole crickets.
Introduce Parasitic Nematodes
Beneficial nematodes are microscopic roundworms that naturally exist in the soil; however, these nematodes are also sold as a form of pest control to kill crickets outside. The nematodes are parasitic to pests with a larval stage that develops in the soil.
Mix the nematode packet with water according to the package instructions and apply it to the lawn. Once the parasitic nematodes reach their target, they inject their blood with bacteria. This bacteria creates a food source inside the crickets for the nematodes to feed on.
Get Rid of Crickets in the Garden With Diatomaceous Earth (DE)
Diatomaceous earth (DE) is made from fossilized aquatic creatures known as diatoms. Food grade diatomaceous earth for insects and pest control comes in powder form, and the bodies of the diatoms have a crystalline texture that is safe around humans and pets. When used to get rid of crickets in the garden, the sharp edges of diatoms cut into the bodies of small pests.
Most crickets have hard heads and limbs for digging; however, their abdomens are soft. This soft spot on their body is perfect for diatomaceous earth to pierce them on contact. Sprinkle DE around your home's exterior, near cracks in the foundation, and throughout the garden to manage the cricket population outside.
Don't be afraid to use DE inside, as well. Getting rid of crickets in the house may be as simple as sprinkling some diatomaceous earth powder in hidden locations where crickets might hide.
How to Get Rid of Crickets Outside
Like all living creatures, crickets rely on finding a water source to live. Some crickets, like spider crickets, make their home in crawl spaces because they are damp. If you're dealing with a cricket pest problem in your yard and want to trap crickets using water as an attractant, mix dish soap in with the water.
Fill as many bowls as needed with water and dish soap, and leave them around your house in places like patios and porches. Once a cricket visits the bowl for water, it sinks into the water due to the dish soap lowering the surface tension.
The addition of dish soap also helps erode the protective coating on their bodies. Empty the trap bowls and refill them as they become full.
Cricket Sticky Trap
It might come as a surprise, but crickets love molasses's sweet smell and taste. Camel crickets especially enjoy molasses when not feeding on fungus and wood around your home. Because molasses is sticky, it works as cricket bait and as a trap to kill crickets outside.
Catching and killing crickets outside with molasses is an excellent way to prevent crickets from getting inside. To make crickets go away quickly, fill the bottom of bowls with molasses and leave them around the yard and garden. Check your trap bowls often and refill them as needed.
Picking Mole Crickets From the Garden and Yard
Crickets are nocturnal insects and spend most of the day sleeping in their tunnels. As night falls, crickets leave the ground in search of food. If you want to grab and kill crickets by hand, wait until early morning.
Bring a jar filled with soapy water out with you to get rid of crickets in the garden. While wearing gloves, grab any crickets you find and toss them into the jar to kill them. Dealing with crickets by hand isn't efficient when dealing with large numbers, but picking them off by hand is an ideal solution if you have a small number of crickets.
Killing Crickets With Salt
Despite its simplicity, salt is a great way to deal with unwanted crickets in the yard. Treating crickets with a spray of salty water dries them out and kills them on contact. If crickets aren't dying after spraying them, you may need to add more salt.
Mix salt and water in a bottle and shake until the salt dissolves. If you're out early in the morning, or just tested your lawn with a soap water soak, spray crickets you find to kill them.
Use Boric Acid on Crickets
Boric acid naturally occurs in plants, water, soil, and the environment. Commercially, find boric acid at hardware stores. In its powder form, sprinkle it around your home's foundation to target crickets.
Once crickets contact the acid, it sticks to their exoskeletons. The boric acid dehydrates the cricket, and the loss of water results in their death. If you've had crickets indoors in the past, treat foundation cracks with the acid and around plumbing pipes.
Glue Trap for Crickets
Although glue traps don't need to contain actual glue, they entice crickets with bait onto a surface they can't escape from. Because glue doesn't have a sweet smell, it's an ineffective attractant for crickets. Make your own DIY cricket trap with ingredients you probably already have in the house.
Warm water and corn syrup on the stove until it comes to a boil. Cut pieces of cardboard into sizes that you can move around. Spread the corn syrup and water across the cardboard and place the cardboard outside around your house to draw crickets.
Reducing Crickets Near Your House
Many crickets thrive in temperate climates and only find themselves near or inside your home searching for food or if the weather deteriorates. Because crickets spend most of their time underground, completely getting rid of sprickets may seem nearly impossible; however, you can lessen their numbers.
Regular Yard Care
If you hear crickets when walking outside at night, pay attention to where the sound comes from. Crickets often hide in patches of tall grass as it offers protection from predators as they search for food and mates.
Keeping the grass trimmed low is one way to keep crickets away from your home and is what repels crickets. Regular lawn care is essential if there are many points of entry for crickets, like large windows and patio doors.
According to the National Pest Management Association, if the sound of crickets is too much to deal with, you may need to hire a professional to deal with the problem. To reduce their numbers and protect your garden from crickets, implement one of our methods for cricket control.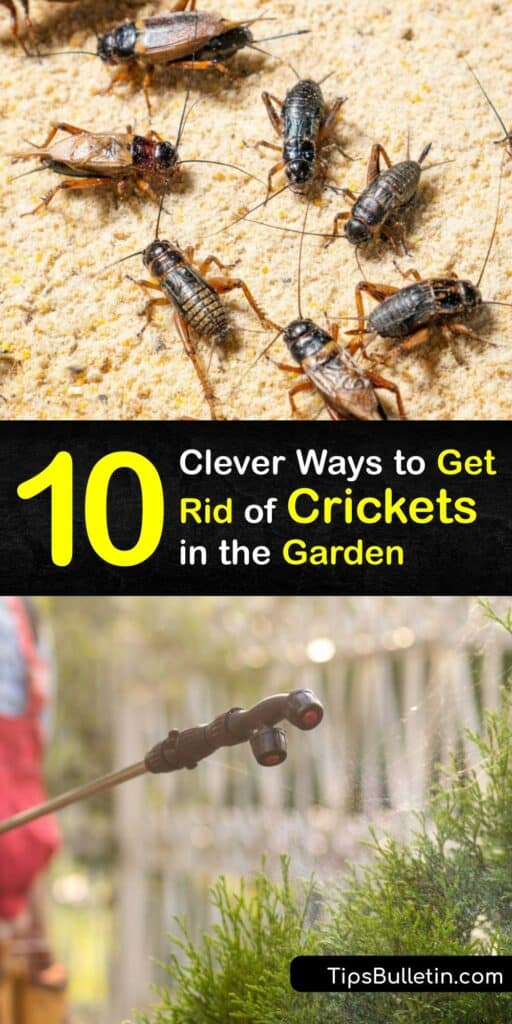 If you learned how to get rid of crickets outside with help from our guide, please share our tips on how to kill crickets outside with your friends on Facebook and Pinterest.