Using diatomaceous earth for pest control is incredibly effective and cost-efficient.
Here's how I tackle pests with diatomaceous earth:
I buy food-grade diatomaceous earth, ensuring it's safe for use around my home and garden.
I sprinkle a thin layer of the powder in problem areas where insects are likely to crawl to increase their contact with it.
I apply the powder to my houseplants' soil and around the base, helping to keep pests away without chemicals.
I reapply diatomaceous earth as needed, especially after cleaning or watering, to maintain its effectiveness.
I always wear a dust mask and gloves to avoid irritation when I'm using diatomaceous earth.
Using diatomaceous earth is easy and quick, with no need for professional pest control services. It's cheap, too—just one bag can cover my entire house, garden, and potted plants. Plus, I love that it doesn't harm my family or pets when used as directed.
As more people use less harsh chemicals, homeowners are interested in the safer diatomaceous earth options for controlling insect pests. Learning how to use diatomaceous earth for pest control or creating a diatomaceous earth pest repellent offers many choices to deal with insects without turning to harmful or unsafe chemicals.
Using food-grade diatomaceous earth for organic pest control is a safe and effective way to tackle multiple pests, from bed bugs and fleas to carpet beetles or squash bugs. Other than beneficial insects, insects in the garden or home are usually unwelcome.
Getting rid of insect pests quickly and safely is a priority when an infestation occurs. A crawling insect is unsightly and unhygienic; biting insects such as fleas or roaches pose serious health risks, pain, and discomfort. Pest insects destroy plants inside the home and in the garden. Diatomaceous earth powder offers a means of eradicating a wide range of insect pests effectively and safely.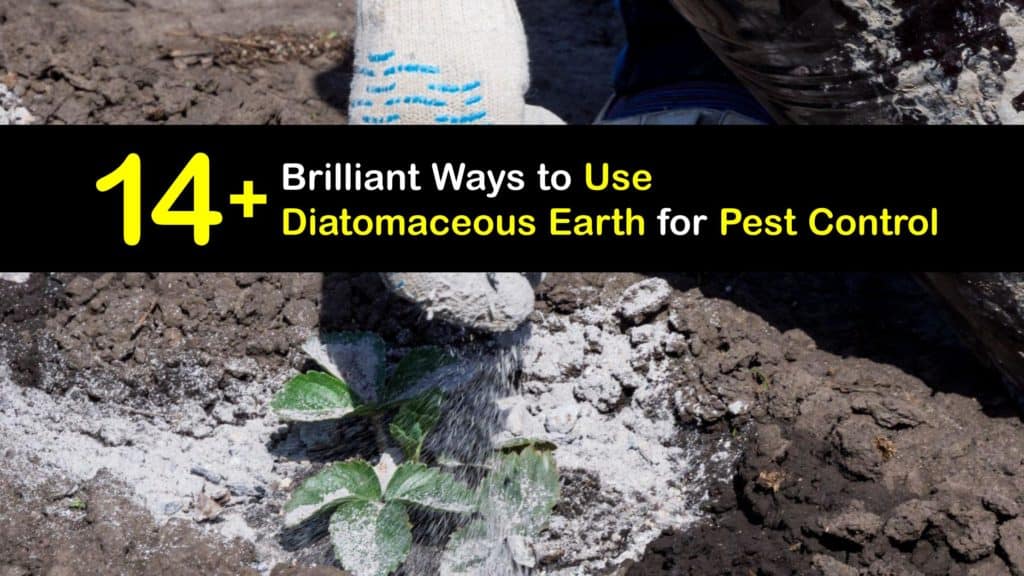 Using Food Grade Diatomaceous Earth for Organic Pest Control
Understanding how to use diatomaceous earth for pest control or make a diatomaceous earth pest repellent gives homeowners and gardeners methods to tackle pest issues without using chemical pesticides.
Most diatomaceous earth comprises a diatom of amorphous silica and is often in powder or dust form. Using food grade diatomaceous earth for organic pest control involves strategically placing the powder so insects contact it through mucous membranes and ingestion, which results in dehydration and death.
How to Use Diatomaceous Earth for Pest Control
DE or diatomaceous earth is commonly purchased in the form of a grey powder or dust. It is typically sprinkled, spread, or applied in layers where pests are problematic or commonly observed to increase the chances that insects contact the powder.
While generally applied dry, DE powder may also be mixed with water to create a solution for use in a bottle and applied as a spray. Since diatomaceous earth acts through contact, the fundamental principle is to spread it widely to increase coverage.
Diatomaceous Earth Pest Repellent
Using diatomaceous earth indoors is a valid technique to keep insect pests out after they infiltrate from the outdoors. It can even be used as the best homemade snake repellent as it can be sprinkled around the perimeter of your yard to keep pests out.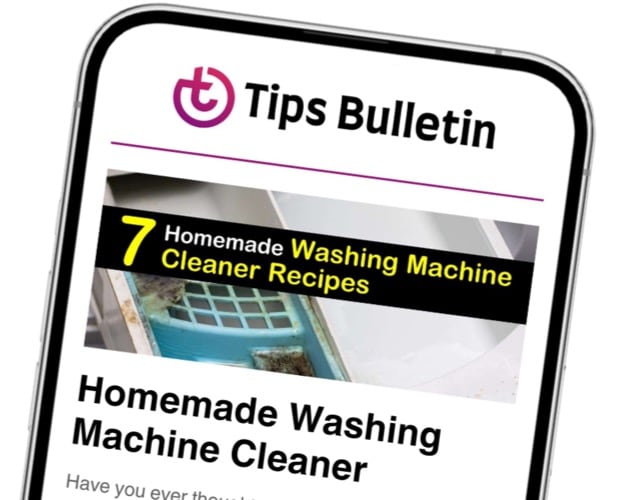 Finally, an email that Transforms Your Home.
Get the latest home and garden tips from our experts, delivered straight to your inbox.
In addition to sealing cracks in windows, doors, and around basements, and minimizing foot traffic and pets traveling in and out, applying diatomaceous earth around potential entry points helps reduce the number of insect pests gaining access to the home. Using DE for earwigs and other unwanted bugs is simple and it works well.
Diatomaceous Earth for Plant Pests Outside
Control garden pests with diatomaceous earth, a non-toxic substance. Because contact with the powder is highly dehydrating, it is efficient against all insect pests that crawl on plants, whether you use diatomaceous earth for chiggers, fleas, or aphids.
Dust the plants with an applicator after watering; this makes it easier for the powder to adhere to plant surfaces. Wetness leaves the powder temporarily useless because dehydration is the primary mechanism of action, but it resumes acting as the water evaporates.
Despite diatomaceous earth being an insecticide, flying beneficial insects such as bees are unaffected since they do not touch the substance. Spraying flowers, on the other hand, should be avoided.
To keep mollusks away from your anthuriums and cabbages, apply DE in a circle around the plant. The sharp particles cause tiny cuts on the skin when their soft bodies move over the powder, and they lose too much fluid. Gardeners may use food-grade diatomaceous earth directly on a plant as it's non-toxic and washes away easily.
Diatomaceous Earth for Houseplant Pests
Diatomaceous earth is an organic sedimentary rock powder used to kill and repel various indoor garden pests like mites, aphids, maggots, flies, and slugs without chemicals, increasing pot porosity and deodorizing your plants.
DE can be mixed with potting soil and used to enhance the soil in potted plants. Not only does diatomaceous earth provide more oxygen to the root zone, but its porosity aids drainage and loosens compacted potting soil.
From time to time, houseplants develop an odor due to mold, overwatering, or compost. Diatomaceous earth is a natural deodorizer safe to use directly on plants, enabling houseplants to remain in the home while neutralizing any aroma. Read on for more ways to use diatomaceous earth for plants to eliminate many common problems.
DE for Pest Control of Fleas
Flea control is an issue in many homes, especially those with dogs, cats, or other pets. Sprinkle a layer of food-grade diatomaceous earth over all your home. Make a list of places where your dog enjoys spending time, like the carpet, beds, sofa, pillows, and dog beds.
DE won't work right away because of the way diatomaceous earth kills fleas. Allow the dust a few days to complete its task. The longer you leave the powder sitting, the more fleas contact the particles.
After several days, vacuum all of the locations where you put diatomaceous earth to get rid of the dead fleas and larvae the treatment has left behind.
If you have an infestation, apply more diatomaceous earth to eliminate all fleas. Examine your pet and furniture for fleas or larvae that may still be present. Repeat the methods above if necessary until all fleas have been removed.
While diatomaceous earth helps you get rid of a flea infestation in your home caused by your cat or dog, never put it directly on your dog's skin or coat. This substance, while not harmful, can irritate your dog's eyes, nose, or lungs if unintentionally consumed.
Treating Bed Bugs with Diatomaceous Earth
The bed bug is one of the worst unwanted pests. Bed bugs are unhygienic and inconvenient, lingering in bedsheets and other fabrics and leaving painful and itchy bites behind. Many homeowners are eager to treat their beg bug pest problem without using a pest control service or a harsh chemical pesticide. DE provides this option.
Controlling Crickets with DE
Because of its insect repelling properties, diatomaceous earth is a popular solution for organic pest control. For a non-toxic remedy to get rid of your basement cricket infestation, the fine, off-white powder of diatomaceous earth is ideal.
Crickets' exoskeletons are lacerated by diatomaceous earth. The finely powdered fossilized sea phytoplankton fragments cause the insects to dehydrate and die.
Garden supply stores sell diatomaceous earth as an insect killer, safe for pets and kids. Apply a thin layer of DE powder to any surfaces in your home where crickets are a problem, such as carpets and furniture.
Insect Control with DE Powder for Cockroaches
Abrasive diatomaceous earth powder breaks the waxy covering of the cockroach's strong exoskeleton, causing dehydration and death. Roaches carry away the powder clinging to the tiny hairs on their legs when they move through diatomaceous earth. They usually perish later when they return to their nest.
Diatomaceous earth must be dry to kill cockroaches effectively. Use fans to remove moisture before applying DE if the humidity in your attic, basement, or bathroom is too high.
It's easy to apply DE indoors for roaches. Use a light coat of DE dust to surfaces and crevices where cockroaches have been found. Focus on areas where the bugs obtain crumbs and other food sources, such as the backsides of stoves, cabinets, and other equipment.
Keep an eye on the areas you've treated; depending on the location and the extent of the cockroach infestation you're combating, the powder may need to be replenished from time to time. Reapply if it becomes too humid. For a lot of roaches, dusting twice a week is an ideal starting point.
Carpet Beetle Pest Control
Treat carpet beetles with diatomaceous earth pest control. Natural fibers are a favorite of carpet beetles, so getting rid of every beetle is critical. Removal of carpet beetles, like any other pest management, takes time, and it's vital to eliminate the entire colony to avoid recontamination.
For a non-toxic way to get rid of carpet beetles, diatomaceous earth might be your best option. Placing DE powder in places where carpet beetles are an issue exposes them to the powder.
Adult carpet beetles' exoskeletons are lacerated when they touch the powder causing them to dehydrate and perish.
How does Diatomaceous Earth Work on Ants?
Ants are creepy and annoying, and some species, such as the fire ant, even bite. Diatomaceous earth is a great way to get rid of carpenter ants naturally. Whether you have ants inside or outside the home, DE powder is a great insect killer and ant-removal solution.
For a completely natural way to get rid of sugar ants, sprinkle the dust in areas where ants are a problem, focusing around the room's edges where foot traffic is less likely to disturb the DE. Spread the powder evenly over and around anthills. When the ants emerge to collect food, they encounter the powder, take it back to the colony, and quickly die.
Addressing Centipedes and Millipedes with Diatomaceous Earth
Sprinkling a fine layer of dust in areas where millipedes and centipedes are regularly seen or to trap earwigs in your house helps remove them. Obtain diatomaceous earth from gardening stores; it is safe to use around dogs and children when used according to guidelines.
Store diatomaceous earth in sealed vessels after use, as its dust could be toxic if inhaled for an extended period.
Deter Fruit Flies with DE
Diatomaceous earth is one of the most efficient natural repellents for fruit flies, and it is well-known for its insecticidal properties. To use DE for fly control, apply it directly to plants with no risk to pets or people. Sprinkle diatomaceous earth on the potting soil of your potted plants to use DE for fungus gnats and watch your houseplants thrive again.
As the gnat crawls over the siliceous diatom fossils in the powder, the waxes on its body are removed. When exposed to diatomaceous earth, gnats lose water due to desiccation and die from dehydration.
Different Grades of Diatomaceous Powder
Both food grade diatomaceous earth and pool grade diatomaceous earth are available Food grade powder is required for applications such as cleaning and pest control. Food grade diatomaceous earth is of higher quality and is a purer product, making it safer and more effective.
When purchasing diatomaceous earth, check the packaging to confirm you're working with food grade products for the best results.
Consulting the National Pesticide Information Center
If you've tried diatomaceous earth and are still struggling or have questions about other pesticides such as chemicals or the products used by a service, the National Pesticide Information Center can be helpful. The National Pesticide Information Center supports residents using chemical and other pesticides, and offers information about their side effects and intended uses.
Safety Working with Diatomaceous Earth Powder
Though we consider diatomaceous earth safe, DE powder can be irritating if inhaled or if it comes into contact with the eyes or prolonged contact with the skin.
Following a few essential tips helps keep homeowners and gardeners safe when using the dust.
Understanding how to use diatomaceous earth for pest control and applying diatomaceous earth pest repellent provides gardeners and homeowners a natural and safe pest control method, effective against several problem insects.
The powder is affordable treatment available for purchase in most grocery and gardening stores. Using grade diatomaceous earth for organic pest control is straightforward, safe, and efficient in removing a multitude of bug species and pests.
If you loved this article on how to use diatomaceous earth for pest control, please share this brilliant information on using food grade diatomaceous earth for organic pest control with your friends and family on Pinterest and Facebook.