Nothing smells worse than a backyard full of dog poop left to sit in the summertime heat. Every responsible dog owner needs a plan to deal with dog poop. Discover how to get rid of dog poop smell outside for good. Whether it's the lawn, the concrete patio, or the wooden deck furniture, we've got a pet smell solution for you.
Dogs are one of the two most popular domestic animals on Earth, with cats being the other. Approximately 48 million Americans own at least one dog, so Americans collectively clean around 12 million tons of dog poop every year. Even if you only have one dog, you're responsible for about 250 pounds of poop annually.
Generally, dealing with dog poop is more challenging than changing a cat's litter box. For example, dogs go to the bathroom outside, and their waste has high levels of nitrogen that burn the lawn and stink the place up. Take back your green space with our incredible tips; no more living with unpleasant odors.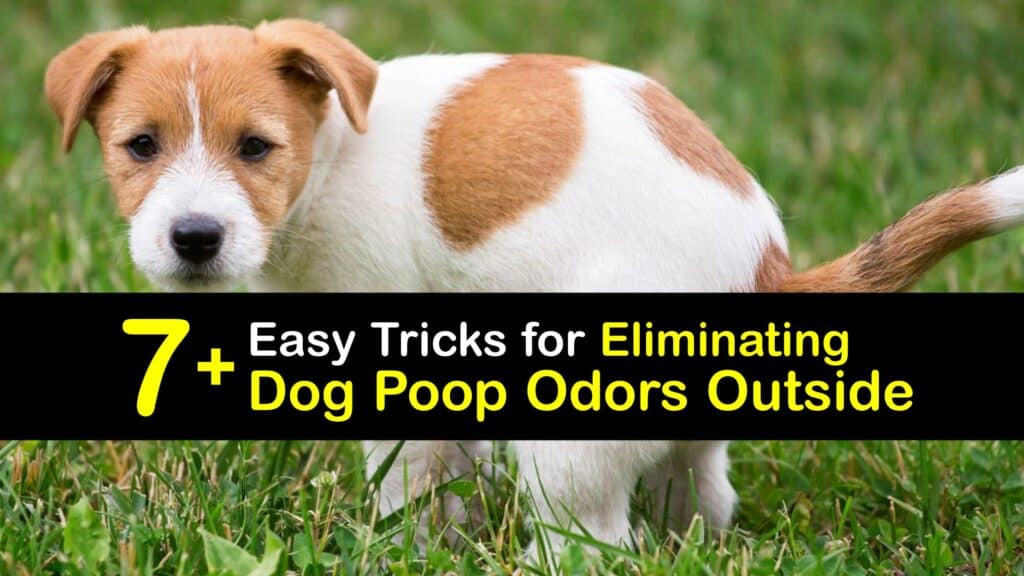 Getting Rid of Dog Poop Smell in Your Yard
If your backyard smells like dog poop, it's time to take action; no one wants a nostril full of dog poop smell. Learn how to use simple strategies to protect your yard from pet stain odor caused by bacteria.
Get in the Habit of Hosing Down the Yard
Start simple with a bit of water when planning how to eliminate dog odors and get rid of cat poop smell outside. Fresh water helps dilute animal urine and wash away fecal matter, stopping bacteria from taking hold and causing a stink. Keep the hose handy and spray the area after your pets relieve themselves.
Before spraying, pick up the poop with a paper towel, put it in a plastic bag, and dispose of it in external garbage. Hose the area down or use a watering can to disperse the dog waste.
Bacteria thrive in the warmth of the summer. Be extra invested over the warmer months, and always try to deal with dog feces right away. Don't forget to rinse dog poop on shoes after walking around the yard and any other problem areas.
Baking Soda Spray for Dog Poop Smell
Mix a baking soda spray to get rid of pet odor fast. This DIY odor eliminator is safe for pets and works quickly to rid your yard of unpleasant odor. Mix a batch when the dog pee smell overwhelms, and spot treat any problem areas.
Combine the baking soda and warm water in a spray bottle. Give the bottle a shake, and find the areas where your dog likes to go to the bathroom. Spot-treat with a light spritz of baking soda spray. Leave the space to air dry before letting the dog out.
Pick up and dispose of all the dog poo before going in with the odor eliminator. Use the hose to dilute any leftover dog odor particles to get the freshest clean. Or, add two cups of white vinegar for concrete patio surfaces. Don't use vinegar on the lawn, though.
How to Eliminate Dog Poop Odor from the Backyard
You can't fertilize your veggie garden with dog feces because it transmits parasites and bacteria. However, dog poop composts into helpful organic matter for flowers. It's surprisingly simple to make your own doggy compost bin. All you need to make this compost bin are a few simple items and some elbow grease.
Choose a place for your compost hole away from seating areas and family spaces. Dig a hole big enough to hold the bucket, with the hole below the soil line and the lip of the bucket above it. Drill small holes around the base of the bucket, about two inches apart. Cut out the bottom with a small saw or sharp knife.
Place your bucket in the hole and line the bottom with a few medium-sized rocks to create a loose drainage system. Toss a layer of dog feces in the bucket and add a layer of grass clippings or green material over it. Finish off with a light watering and then cover with a piece of wood or whatever you have handy.
Getting rid of dog poop smell in your yard has never been easier. Although you can't use dog or cat feces on fruits and vegetables, it does make decent compost for the flower bed. Turn your dog compost with a stick every few weeks; after a couple of months, you'll have a finely broken-down organic material.
Treat the Patio Furniture with an Enzyme Cleaner
Have you ever wondered why dog urine smell is so hard to eliminate? Animal urine contains a complex mix of chemical signatures and biological waste. Uric acid, in particular, is a stubborn compound that isn't water-soluble and crystallizes after the liquid evaporates from the urine stain.
When it comes to dog pee smell and cat urine, water isn't enough, especially if you've got porous concrete surfaces and wooden patio furniture. Don't use masking agents that cover the pee smell with overpowering perfumes; neutralize the urine odor with an enzymatic cleaner.
Each enzymatic cleaner possesses enzymes that break down a specific type of stain. For example, the protease enzyme breaks down protein-heavy stains like blood and pet urine, lipase works for lipid-based grease stains, and amylase cleans starch-based stains.
An enzymatic cleaner works on synthetic grass patches, wooden patio furniture, and can even remove dog poop smell from carpet. Enzyme cleaners are safe for use around the home with pets and children. However, following the manufacturer's safe-use instructions is essential for the best results.
How to Repair Dog Pee Burns on the Lawn
Getting rid of dog poop smell in your yard is one thing, but what about the burn marks on the lawn? Those unsightly dead patches and inconsistent growth patterns arise from leaving dog poop and pee to burn the grass.
If you've ever over-fertilized with nitrogen, you know the risk of burning your grass and how quickly it happens. Pet waste produces a super-concentrated spot of nitrogen.
Both male dogs and female dogs make waste capable of burning your grass. However, male dogs usually spray with a leg up, dispersing the nitrogen in a wider area, leading to the misconception that only female dogs burn the lawn.
Mix a dab of dish soap in a spray bottle filled with water. Spray the yellow areas to dilute the pee and wash away the urea. Use a hose if you're short on time. Rake the yellow spots on the lawn to break up the dead grass on the soil surface. Aerate the soil by turning over the first couple of inches with a garden fork.
Make a bit of grass seed spread by mixing one part lawn seed with three parts topsoil. Cover the pee circles with an inch or two of the seed mix, even and loosely packed. Water your new grass seed and keep the patches moist while the fresh grass sprouts. To avoid dead patches and dog pee circles in the yard, deal with pet waste promptly.
How to Get Rid of Dog Poop Smell Outside
Learn how to eliminate dog poop odor from the backyard with an in-ground dog waste disposal system. Doggie Dooley is ideal for multi-dog homes or large-breed dogs that produce a lot of waste and dog smell.
The Doggie Dooley is like a mini septic tank. This clever system uses a blend of protein enzymes and subtilis bacteria to break organic waste into a ground-absorbing liquid. It's like having an organic ecosystem at your fingertips, making dog poop disposal fast, easy, and safe.
Train Your Dog to Pee in an Approved Space
One way to eliminate dog poop odor from the backyard is to train your dog to pee in an approved area. It's not as challenging as it seems to train your pet to go in a certain area of the yard. It only requires consistency and a reward system to succeed.
Create or pick a space in your yard for the dog to relieve itself. Next, choose a command word for going potty, just like you would for "sit" or "stay." Help your dog associate the command word with a tasty treat by leading them to the area when they have to pee, saying the command word, and presenting them with the treat.
Hire a Professional Pooper Scooper
Picking up poop isn't for everyone. Professional pooper scoopers provide an invaluable service and, surprisingly, are pretty affordable. Why not hire someone to come by and do it for you a few times a week instead of stressing over pet poop and urine smell?
Check your neighborhood Facebook pages for anyone advertising pooper scooper services; find someone reliable to take the load off while you enjoy your dog's company.
We hope you benefit from our incredible tips for how to get rid of dog poop smell outside. Sometimes it seems like the poop never ends, but if you follow a few of our guidelines, you'll have that pet poop problem under control in no time.
Try to hose the area down quickly when possible, or keep a watering jug handy to help dilute the urea on the lawn. Regular scooping is essential. Keep a poop bag handy and dispose of it in an outside garbage receptacle.
Get outdoor rubber mats so you don't have to worry about carpet cleaning, and regularly disinfect synthetic potty grass with an enzymatic cleaner.
Consistency is key when cleaning up; keep things tidy and make memories with your dog. There are many ways to keep a pet stain smell to a minimum. Train your dog, if possible, to relieve itself in one area of the yard, or consider hiring a professional to stop by and scoop your lawn.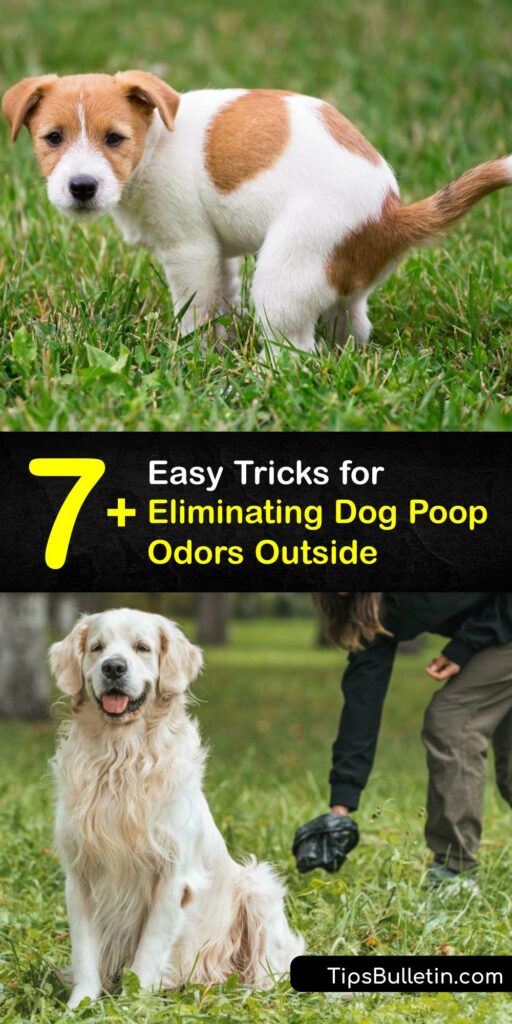 If you enjoyed learning how to get rid of dog poop smell outside, please share this article with fellow dog lovers on Pinterest or Facebook who are always looking for pet smell solutions.