Most people prefer to delay cleaning the basement concrete as long as possible. Yet, this can be a mistake since postponing the job causes ugly stains to turn into mildew and mold growth. Discover how to get rid of mold on concrete block walls with simple and advanced solutions.
Concrete is notorious for accumulating mold, and while this porous surface is not hospitable to mold spores, concrete absorbs moisture, providing mold with the damp environment it loves. Under the right conditions, mold grows easily on a concrete basement wall or an outdoor cinder block wall.
Many stain types affect concrete, from efflorescence, salt and mineral stains, to white mold. However, a mold problem is nothing to shrug off, especially if it's black mold, since this type is hazardous to people and pets. Long-term exposure may pose a health risk to those with asthma and allergies. Use the best homemade wall washing solution to get mold off your concrete walls.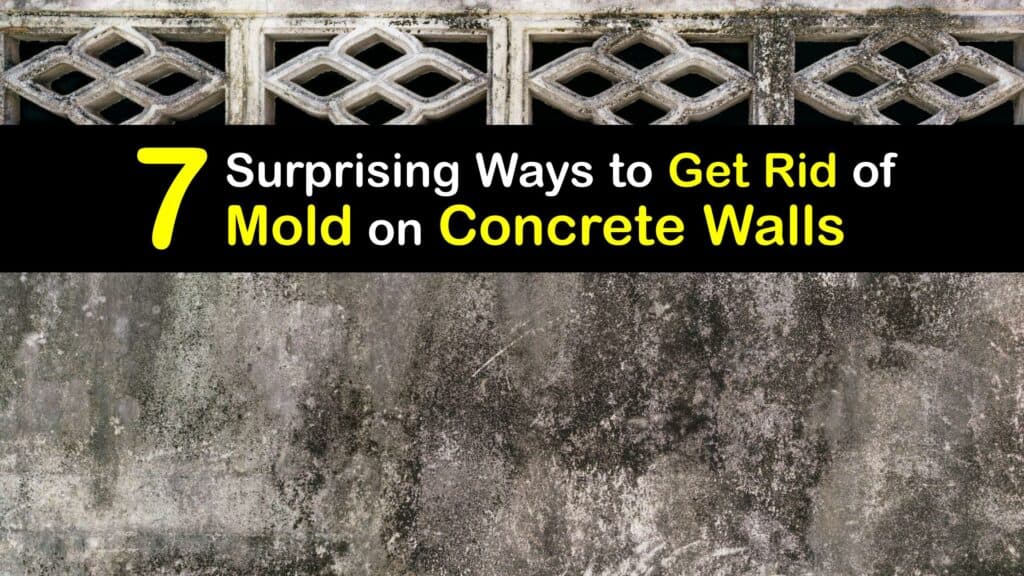 Cleaning Concrete Walls to Remove Mold
Concrete cleaning is a tedious and sometimes challenging job, but it's a necessary task if you have a mold infestation. Discover ways to clean concrete block walls to remove a mold stain using everything from white vinegar to a pressure washer.
How to Remove Mold from Concrete Walls with a Vacuum
While a regular vacuum cleaner doesn't do the job, a shop vac with a HEPA filter is a handy tool for removing mold from a basement wall. Learn how to remove mold from concrete walls by vacuuming up spores.
Put on protective gear and use a stiff brush to scrub the concrete to remove mold. Suck loosened mold off the walls, between blocks, and off the floor with a shop vac hose. Repeat the two steps until you get the desired results.
Removing Mold from Cinder Block Walls with OxiClean
OxiClean is a common household stain cleaner that works well for removing mold from cinder block walls and will also clean moldy basement walls. Use this bleach-free product to remove mold stains from a concrete wall.
Combine a gallon of warm water and four scoops of OxiClean in a bucket and spread out a tarp beneath the work area to catch drips. Dunk a scrub brush into the cleaning liquid and use it to scrub the concrete wall.
This is also one way to kill black mold on drywall. Scrub more gently on plaster than you would on concrete. Let the cleaner sit for 30 minutes, and wipe away the residue with clean water and a sponge.
How to Get Rid of Mold on Concrete Block Walls
Safely use chlorine bleach to clean a basement wall stain. Bleach is your best option for cleaning mold off cement block walls. It kills mold spores, making them easier to remove from the wall.
To remove black mold from concrete walls, combine water and bleach in a spray bottle, shake it thoroughly, and spray it over the moldy areas on the wall. Let it sit for ten minutes as the bleach kills the mold, and use a stiff-bristled brush to scrub it away from the concrete. Finish by rinsing the wall with warm water and drying it with rags.
Using White Vinegar to Clean Moldy Concrete Walls
Consider white vinegar if you prefer to use something a bit more gentle than bleach when removing mold from cinder block walls. Vinegar is an acidic liquid that kills some mold types and is a safe alternative to harsh chemicals. Make a simple concrete cleaner and degreaser with the bottle of vinegar sitting in your pantry.
Spread a drop cloth or towels beneath the dirty wall to prevent the vinegar from dripping on the floor. Next, fill a bottle with undiluted white vinegar, spray the moldy areas liberally with the liquid, and let it soak for an hour. Scrub the concrete with a stiff brush, paying particular attention to dirty areas, and rinse the wall with water.
Use this simple solution for cleaning moss off concrete or brick walkways, too. It's easy and effective.
Cleaning Mold Off Concrete Walls
Hydrogen peroxide is the simplest option for cleaning mold off a cinder block. It's a mild bleaching agent that kills bacteria and spores; no mixing is required. Find out how to remove mold from concrete walls with peroxide when you make your own organic mold killer spray from things you already have at home.
Pour 3% hydrogen peroxide into a spray bottle and spritz the liquid over the affected areas on the concrete wall. After saturating the mold, allow the solution to sit for about 15 minutes before using a scrub brush to scour away the dirt. Once the mold is gone, rinse the wall with warm water and dry with a fresh towel.
Removing Mold from Outside Concrete Walls
Mold inspection and mold remediation are laborious. However, a pressure washer makes the job more manageable since it does most of the work for you. Learn how to clean mold off an outdoor concrete wall or basement with floor drainage with a pressure washer.
Pressure Washing Concrete
Follow the directions for your pressure washer. Begin slowly and increase the pressure as needed until you see that the water removes the mold to prevent damaging the concrete surface. Work back-and-forth in small sections. Make your way down the wall while pushing the water away from your home or toward the drain.
A power washer is also a way to clean graffiti off concrete and brick surfaces or for removing moss from brick walls and the driveway outside the house.
Ways to Prevent Mold Growth on Concrete Walls
Cleaning mold off concrete is a long and unpleasant chore we'd all rather avoid. Explore these tips to help you prevent mold from growing on concrete walls.
Even though the wall looks great after removing mold, that doesn't mean the mold won't return, especially if the space is damp. The ideal way to prevent mold growth is to lower the dampness, whether it's in the basement, garage, or another structure.
Consider placing dehumidifiers strategically around the area to lower humidity. If dampness seeps in through the concrete from outside, check downspouts and redirect them if necessary. For excessive water problems, install a French drain around your home's perimeter to divert water or an interior footing drain inside the house at the wall base.
Sealing the concrete with epoxy is another way to keep walls dry since the coating doesn't allow water vapor to pass through. Try using Borax to repel mold by dusting the surface or adding it to a vinegar spray the next time you clean your walls.
Basement mold spores spread quickly, and it's essential to clean the wall stain immediately to prevent mold infestation. Fortunately, there are several ways to clean mold off a concrete block, whether you decide to use a natural cleaner like white vinegar or something stronger like bleach.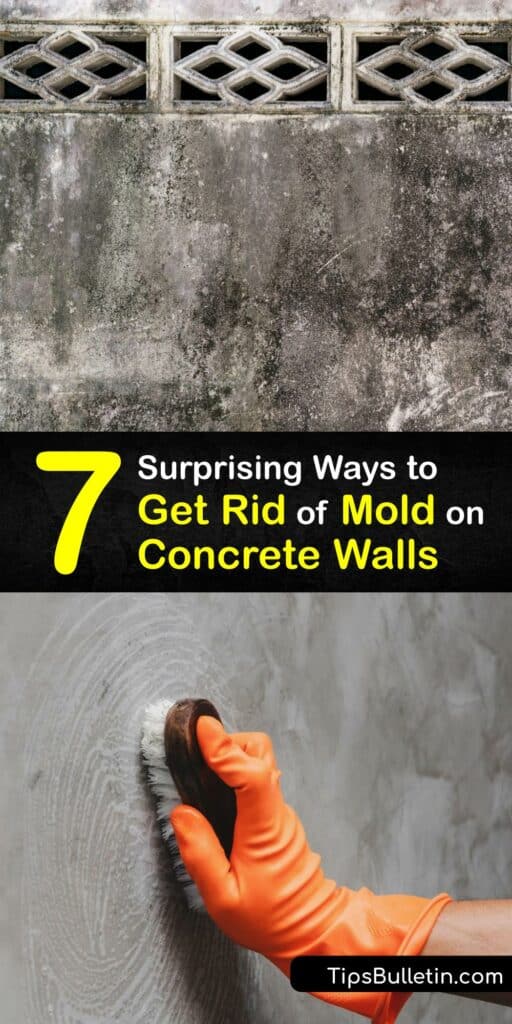 Understanding how to get rid of mold on concrete block walls is vital, especially if it's black mold, so why not share our concrete wall mold removal ideas with friends and family via Pinterest and Facebook?