Every homeowner must know how to remove mold from drywall. Mold growth is an inevitable part of homeownership for many families, though it poses a health risk. Understanding how to get rid of mold behind drywall is paramount to protecting your family's health and keeping your home looking inviting.
Mold spores are everywhere; they just need moisture and heat to become active, and a mold colony starts to grow suddenly in your home. The growth may occur anywhere the circumstances are ideal, whether on a surface like wood, tile, or sheetrock walls. You may find black, brown, or orange mold on your walls.
Once found, eliminate the mold as soon as possible. To assist you in preventing mold from getting out of control, learn the indicators of a potential mold infestation even when you can't see any visible mold. Cleaning mold from drywall is easy with the right supplies and information.
How to Get Rid of Mold Behind Drywall
When mold patches show up, knowing how to remove mold from drywall is vital. Mold poses a serious health hazard to your family and makes your home look unclean and unsafe.
While it might seem daunting, cleaning mold from drywall is relatively straightforward with just a little information and the right tools. Instead of purchasing expensive commercial mold cleaners, consider making your own simple DIY mold remover to tackle the spores and restore your space.
What Creates the Need for Mold Remediation?
Mold spores severely detriment the indoor air quality inside your home. Mold growth primarily happens when moisture is high, such as after water damage from a leaking pipe. Bathroom and attic mold are common, as these areas often have the ideal conditions to make mold grow.
Though molds thrive on porous material, they grow on various surfaces, including drywall and painted drywall. When airborne water vapor hits a cold surface and turns into a liquid, mold may grow on your cellar or exterior walls. Because restrooms and laundry rooms are often damp, mold may flourish there.
You can frequently see mold and mildew coexisting on grout. The walls and ceiling next to humidifiers and any room with a hot tub or jacuzzi are other places that are humid and prone to mold.
When to Remove Mildew from Plaster Walls
Visible mold is the primary sign of a mold problem. A black, brown, or orange mold stain on the wall is a solid indication your wall requires attention. Other subtle signs may also indicate a mold colony on your painted walls or unpainted drywall.
Perform a mold inspection at least once per year, and prevent mold by staying up to date with drywall repair and addressing any moldy area promptly. It's also important to clean efflorescence from basement walls but note that mold and efflorescence are different.
Preparation Before Cleaning Mold from Drywall
Remove any decorations, drapes, and other portable items from the space with the mold before you begin cleaning. Cover heavy furniture or other immovable objects with plastic sheets and tape them down with painter's tape to protect them. Lay plastic over the floor where you'll be working, and cover it with an old towel to collect any spills.
Keep the rest of your house safe by closing the door to the space you plan to clean since mold spores readily spread via the air. If there's no straightforward way to close the room, hang a plastic covering to seal off the area.
Vacuum the area with a shop vac to remove mold dust or for cleaning sheetrock dust. Dispose of the contents of the bag outside.
Safety Precautions for Cleaning a Surface Mold Infestation
Mold exposure may irritate the skin and produce serious respiratory issues. Put on goggles or eye protection to prevent discomfort from the mold removers and a filtration dust mask or respirator to prevent breathing in mold spores.
Wear rubber gloves, long sleeves, and slacks that you can wash in hot water to destroy any spores they may pick up to avoid skin reactions or cross-contamination. Prepare to wash or dispose of each article of clothing right away.
How to Remove Mold from Drywall Using White Vinegar
White vinegar is a powerful mold cleaner thanks to its acetic acid content, as well as an easy solution to get old wallpaper off unprimed drywall surfaces. Acetic acid rapidly kills molds and makes it effortless to wipe away. Use distilled white vinegar at full strength to harness its mold-destroying power. Vinegar will kill mold on basement walls or ceilings or even the floor if it has spread there.
Pour distilled white vinegar into a sprayer and saturate moldy areas, like if you need to remove mold from a sheetrock ceiling. Allow the distilled white vinegar to sit on the mold for at least one hour to ensure all spores are eradicated. Wipe away mold residue with a clean cloth and repeat until no sign of mold remains.
Take care when using distilled white vinegar on painted drywall, as the acid content may cause the paint to peel or crack.
Homemade Mold Removal Spray
Avoid toxic store-bought mold removers and make your own uncomplicated spray with affordable ingredients. Mix as much or as little mold remover as required for the amount of mold you're treating.
Combine the ingredients in a sprayer and shake well. Whether you are killing mold on wooden struts, the floor or walls, spray the area thoroughly, then scrape the mold's top layer off immediately using a cloth or brush. Spray the area simply enough to dampen it, wait ten minutes, and use a clean, fresh rag to wipe it down.
Allow it to dry overnight without rinsing to eliminate any hidden mold. Use this separately from other mold removers. Do not keep unused spray since it stops working in two to three hours. Use adequate ventilation when spraying, and keep kids and pets out of the area.
Chlorine Bleach is Excellent for Killing Mold
Bleach has many uses in cleaning and disinfecting and makes a brilliant mold remover for specific surfaces. Bleach destroys mold spores on contact to prevent regrowth and spreading.
While bleach is an efficient mold remover, it's not appropriate for every wall or ceiling, so use it with care in a well-ventilated room and test a small spot before completing a large scale clean.
Shake the bleach and water in the spray bottle until thoroughly blended. Spray the bleach mold remover until the region is saturated but not drenched. Remove the residue by scrubbing it with a brush, scouring pad, or cloth.
Reapply the cleaner sparingly, let it dry for 15 minutes, and then wash it off with a clean cloth dipped in water. Check the area after allowing it to dry overnight. Repeat as necessary. This technique works best on tile stone, concrete, and cement walls and surfaces. Use bleach on painted drywall with care, as it may cause fading.
Treating a Moldy Drywall Ceiling or Popcorn Ceiling
Textured or popcorn-style ceilings are found in many older homes. Though this finish looks stylish, it poses unique problems for mold removal and is easily damaged if cleaners are misused. Be careful not to oversaturate the area while cleaning mold off popcorn ceilings, or the texture may start to come off.
Softly spritz the room with the DIY bleach-based mold remover, ensuring good coverage without soaking it. Let the ceiling dry for 24 hours, and repeat until no traces of mold remain. To ensure the mold is eradicated, do at least two cleaning cycles.
Tips for Removing Mold from Sheetrock Walls
The mold you observe probably made its way below the surface because unsealed or primed sheetrock or drywall is a porous surface. Moldy drywall is best removed and replaced. If replacement is not feasible, apply the homemade bleach mold remover to the afflicted area until it is moist but not dripping.
Let the area air-dry. Clean any leftover spray with a clean cloth, and apply one last light coat. Allow the spray to dry overnight to kill mold while it dries.
Getting Rid of Black Mold on Drywall
If you don't have the time to make a mold treatment or would rather not take a DIY approach to get rid of black mold behind walls, head to your local hardware store. Many mold cleaners are available, including Concrobium Mold Control liquid. Choose a cleaner within your price range and check the directions to ensure you can use it appropriately and safely.
Don't stress about how to get rid of mold behind drywall. Though spotting mold in your home is never fun, cleaning it is less complicated than it seems. Rely on proven home remedies and choose the correct cleaner for the surface to ensure you oust every pesky mold spore and restore the air quality inside your house.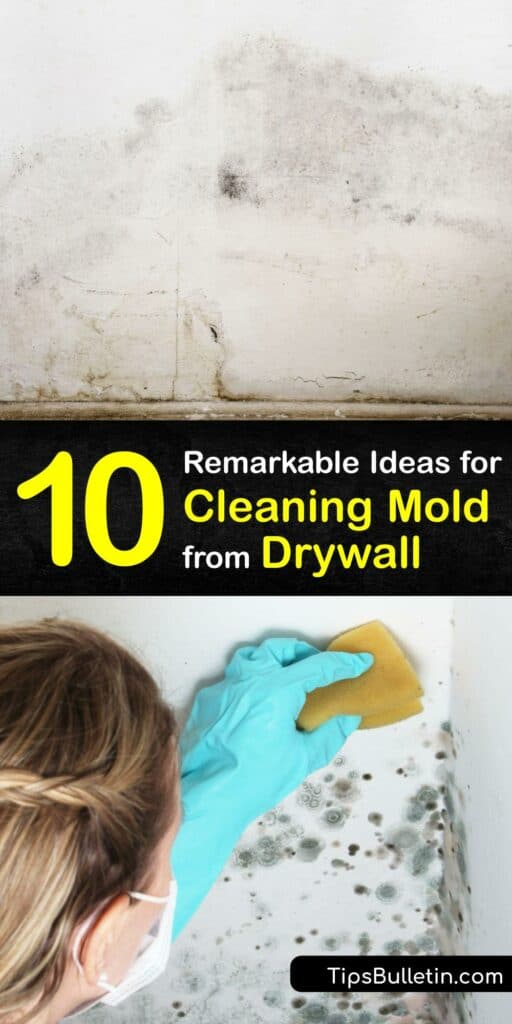 If you loved this article on how to remove mold from drywall, please share these brilliant tricks for cleaning mold from drywall with your friends and family on Pinterest and Facebook.