You give your indoor plant tender loving care with water, sunshine, and even the occasional pep talk now and then, so why is it losing leaves, and what's that white, fuzzy stuff? Unfortunately, it sounds like your green-leafed friend has a form of mildew, a common house plant problem. Learn about this plant disease and how to get rid of powdery mildew on houseplants quickly and effectively.
There is nothing more startling than discovering mold growth growing along the stems and leaves of your favorite indoor plants. What was once a vibrant and healthy plant is now dismal-looking and dropping leaves all over the floor. What happened to your plant, and can you save it?
Powdery mildew is a widespread disease. It may seem that your plant is at the end of its life, but the condition is rarely fatal. While the white mold is concerning and gross, you'll be happy to know that the symptoms of powdery mildew look far worse than the actual damage to your plant.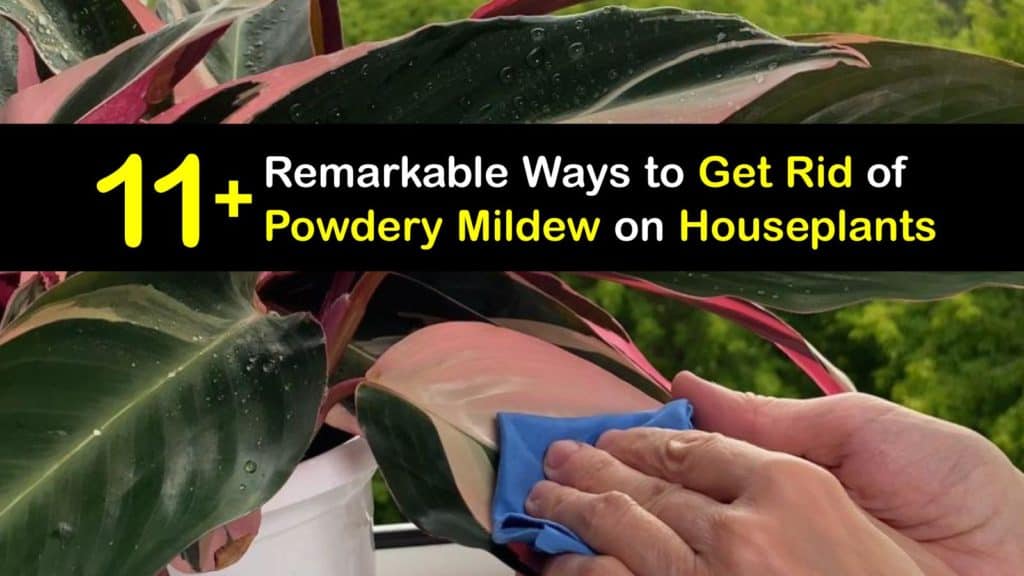 How to Cure Plants of Powdery Mildew
Although it's important to kill aphids on indoor plants, it's also crucial not to overlook plant diseases. While your plant doesn't look its best when suffering from a fungal infection, don't give up on it yet. Learn how to eliminate, control, and prevent powdery mildew from infecting your houseplants using simple solutions.
What is That White Stuff on My Houseplant?
You discover white fuzz on houseplants, and you're not sure what it is or what to do about it. What is that moldy-looking stuff on the plant leaf, and is it bad for your houseplants? Discover what this fungus is, what causes it, and which plants it affects the most.
Powdery Mildew
Powdery mildew (Ascomycota phylum) is a common fungal disease that affects many outdoor and indoor plants. It spreads through spores and lands on plant leaves and houseplant soil.
However, it is host-specific, which means that finding it on one plant doesn't necessarily mean it's a threat to the other plant varieties in your home. Indoor plants most affected by powdery mildew are African violets, ivy, begonias, jade, poinsettia, and rosemary.
Symptoms of this disease are white or gray powder on the stems and leaves that typically starts on the undersides and resembles a mealybug. The mildew leaches essential nutrients from the plant, leading to withering and yellowing leaves that begin to drop from the main stem.
How to Treat White Spots on Indoor Plants with Baking Soda
Baking soda, or sodium bicarbonate, is an everyday staple you probably have in your kitchen. While it's well-known as a baking additive, this powder has many other uses around the home. Here is how to treat white spots on indoor plants with baking soda.
Water your house plant a couple of days before treatment, and do not apply the solution to the plant sitting in full sun. Combine baking soda, non-detergent liquid soap, and water in a container. Pour the mold treatment into a spray bottle and coat all areas of your plant with the solution.
If you make a larger quantity of the baking soda mixture and put it in a sprayer, you can use it as one way to get rid of powdery mildew on grass, too.
Home Remedy for White Stuff on Houseplants Using Mouthwash
Mouthwash not only kills germs and bacteria in your mouth, but it is a great home remedy for white stuff on houseplants. The active ingredients in an ethanol-based mouthwash kill the fungal spores of powdery mildew without damaging the plant.
Mix water and mouthwash in a spray bottle with a three to one ratio and shake the container well. Spray the solution over your plant every two to three days until the powdery mildew is gone.
Here is How to Get Rid of Powdery Mildew on Houseplants Naturally
Potassium bicarbonate is similar to baking soda and a contact fungicide that works well to kill white fungus on indoor plants. It's also approved for use in organic growing and is an ideal natural remedy for powdery and downy mildew.
Pour water into a container and add the potassium bicarbonate and liquid dish soap. Stir the ingredients to mix them and fill a spray bottle with the mold treatment. Spray the solution liberally over all parts of your plant to treat existing infections.
Apple Cider Vinegar to Get Rid of Powdery Mildew on Houseplants
Another way to treat white spots on indoor plants is to use vinegar, similar to mouthwash. The acetic acid in apple cider vinegar controls mold spores and is safe as long as you use the correct strength.
Mix a gallon of water and a couple of tablespoons of apple cider vinegar that contains 5% acetic acid in a container. Do not use stronger vinegar since it may burn your houseplant. Pour it into a spray bottle and spray it over the plant. This solution also works as an organic bug spray for houseplants by repelling insect pests.
Use Milk to Eliminate Powdery Mildew on Indoor Plants
While it's not clear why it works as well as it does, milk is another home remedy for white stuff on houseplants. Its naturally occurring compounds seem to play a role in combating the disease while encouraging healthy growth of the plant.
Pour the milk and water into a spray bottle and shake it to mix the liquids. Spray the milk solution on your plant to lightly coat all surfaces. Avoid applying the liquid to your houseplant in a sunny area.
Instead, move it to a shady spot and let the leaves dry before returning it to the window. Repeat the steps every ten to fourteen days to keep powdery mildew at bay.
Getting Rid of Powdery Mildew on Houseplants with Neem Oil
If you discover white spots on houseplant leaves, try using Neem oil to cure the problem. This organic oil comes from the seeds of the Neem tree, and it has natural insecticide and disease control qualities. Whip up a simple neem oil recipe for powdery mildew on indoor and outdoor plants.
To make this Neem oil recipe for houseplants, pour a gallon of water into a container and add two tablespoons of Neem oil. Combine the ingredients and pour the liquid into a spray bottle. Apply the mold control solution liberally to your plants once every seven to fourteen days until the mold is no longer present.
Compost Tea for Powdery Mildew Treatment
Studies have shown that applying compost tea to your plants reduces the severity of mildew on houseplant leaves. In addition, it's easy to prepare, and it boosts the health of your plant, helping it resist diseases and pests.
Pour the water into a bucket and steep a compost tea bag in the water for eight to twelve hours. Pour the solution into a bottle sprayer and apply it to the leaves and stems of your plant. To treat the dirt, pour the liquid into a watering can and drench the potting soil. Apply the compost tea once a month for optimal results.
Fungicides to Treat Houseplants with Powdery Mildew Spores
If you'd rather not use a home remedy to treat your infected plant, many commercial fungicides are available at your local garden center. However, it's vital to choose the right one for getting rid of powdery mildew.
Commercial Fungicide Treatment
Choose a fungicide that contains chlorothalonil, copper, or sulfur and follow the instructions for your particular brand. Typically, you spray the solution on the foliage and stems to coat them and reapply every seven to fourteen days for continuous protection.
How to Use Mild Soap to Get Rid of Powdery Mildew on Houseplants
If the powdery mildew on your plants has just started and is not severe, it's possible to eliminate it with a little bit of soap and water. While this isn't effective on a heavily infested plant, it is helpful for mild infections.
Pour the liquid dish soap and water into a container, stir the solution well, and pour it into a spray bottle. Spray the soapy water over the plant leaves and use a soft cloth to gently rub it over the surface to remove the white mold leaf spot. Avoid cleaning your plant in a sunny area to prevent the leaves from burning.
Pruning Your Houseplant Infected with Powdery Mildew
If your houseplant is infested with sooty mold or white mold, get rid of white mold on plant soil by removing the infected portions of the plant to ensure the healthy parts thrive after treatment. Here is how to prune your indoor plant to stop the spread of plant mold.
Use a pair of plant clippers to remove the portions of your plants most affected with visible powdery mildew. If it's just on one infected leaf, remove that section from the healthy part of the plant.
Dispose of the plant debris in the garbage and do not compost them to prevent contaminating other plants. Clean the clippers with alcohol wipes and wash your hands thoroughly.
Ways to Prevent Powdery Mildew on Houseplants
No one wants to watch their favorite house plant suffer from the spores of powdery mildew. Fortunately, there are simple ways to prevent white and gray mold growth from taking over your plants by changing their environment.
The best way to completely avoid powdery mildew is to choose disease-resistant plants. However, this isn't always possible. Make sure to position your houseplants where they get a sufficient amount of sunlight and avoid over-fertilization because new growth is more susceptible to powdery mildew.
Do not overcrowd your plants since poor air circulation is a breeding ground for diseases. Treat affected plants with horticultural oil, fungicide, or homemade powdery mildew solution as soon as mold appears.
While plant mold is disgusting and causes your indoor plants to look sad and dismal, it doesn't mean your African violets or ivy are ready to be discarded. There are many ways to save your favorite plants, restore their vibrant health, and prevent this fungal disease from involving them again in the future.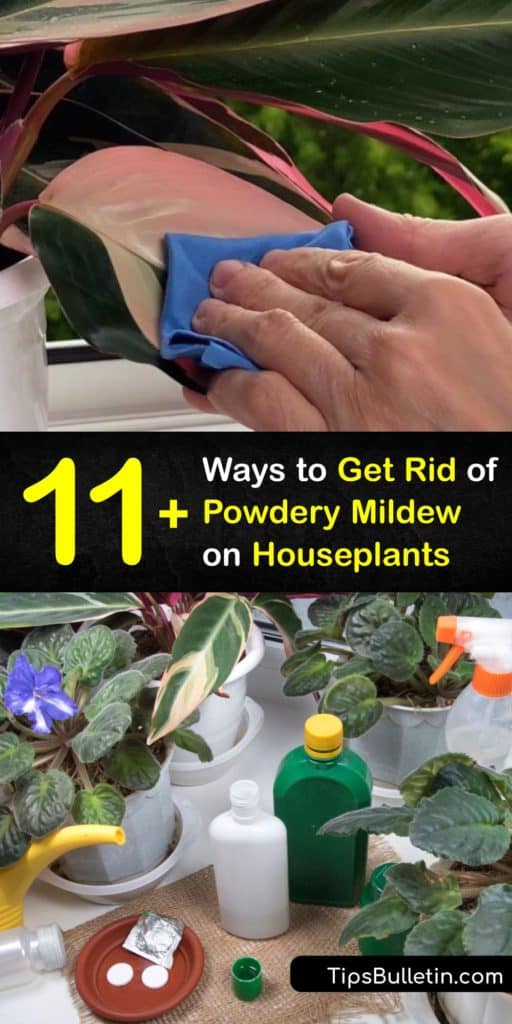 Now that you know how to get rid of powdery mildew on houseplants and keep them healthy and beautiful, why not share our houseplant powdery mildew elimination and prevention guide with the plant-lovers in your life on Pinterest and Facebook?