Many new growers and organic gardeners are eager to know how to use neem oil for powdery mildew. This troublesome fungus appears as a dusty gray or white deposit on plant leaves and spreads quickly if left unaddressed. Use a neem oil recipe for powdery mildew and oust this unwelcome visitor from your garden or houseplants before it causes widespread destruction.
Powdery mildew thrives in warm and damp conditions, and if your plants are young or stressed by heat or drought, they're much more susceptible to this and other diseases. Does neem oil kill powdery mildew fungus?
Neem oil is an all-natural product of the Azadirachta indica or neem tree. The oil contains unique active ingredients, which give it inherent insecticidal, fungicidal, and pesticide properties.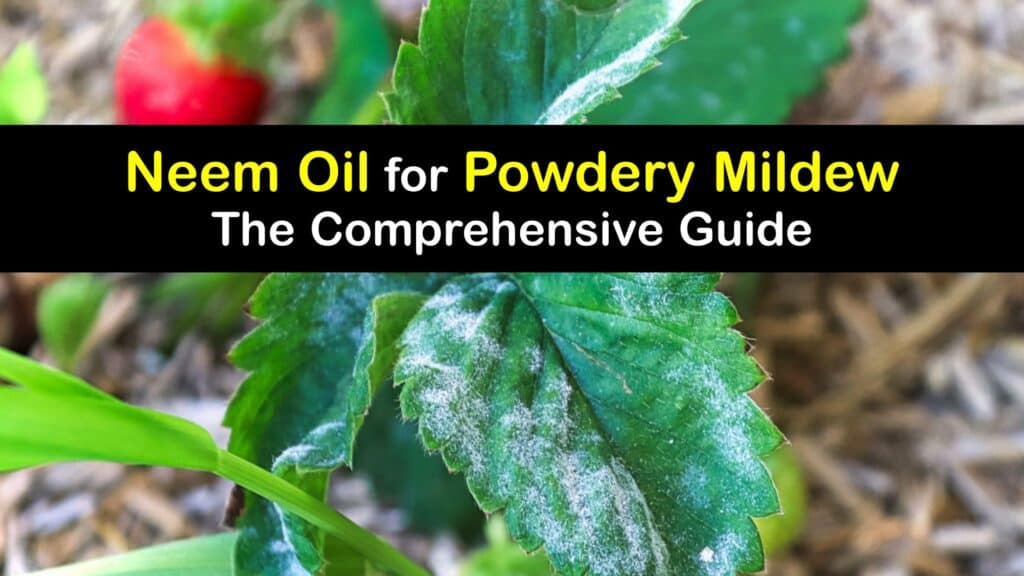 Discover a Simple Neem Oil Recipe for Powdery Mildew
Use natural and safe ingredients to stop powdery mildew fungus before it spreads and kill insect pests simultaneously. If powdery mildew appears on your plants, don't turn to commercial treatments with dubious ingredients. Keep your garden free of chemicals and mix your own neem oil foliar spray or soil soak to remove or prevent fungus.
Learning how to use neem oil for powdery mildew removes the need for commercial fungal treatments in your garden. Powdery and downy mildew can devastate your houseplants or crops if left untended.
If you're considering neem oil, you're likely asking, does neem oil kill powdery mildew? Pure neem oil eradicates powdery mildew spores without harming beneficial insects and the environment.
Does Neem Oil Kill Powdery Mildew?
Clarified hydrophobic neem oil is an efficient way to destroy powdery mildew spores on your houseplant or in the garden. Powdery mildew is a rampant fungal disease affecting thousands of plants around the globe.
Like most fungi, warm, wet environments hasten its arrival, and less than ideal conditions such as overcrowding and poor nutrition make plants more susceptible. It causes powdery mildew on roses and many other types of plants.
If you observe a tiny white or gray leaf spot that looks similar to talcum powder or find white spots on zucchini leaves, you could be dealing with this prevalent fungal disease.
While chemical treatments are sometimes tough on your plants and harmful to the environment, neem oil is safe to bring into your home and garden. Numerous studies have illuminated neem oil as a valuable mode of treating and preventing powdery mildew fungus on indoor and outdoor plants.
How to Use Neem Oil for Powdery Mildew as a Soil Drench
Soil drenches are an innovative technique for treating and preventing powdery mildew fungus. Rather than being applied topically, pour soil soaks into the soil. The plant roots take up the hydrophobic neem oil and act as a systemic insecticide for dealing with fungus on tree bark or other parts of the plant.
When treating vast sprawling plants or large trees, use a soil soak to deliver neem oil without the added labor of spraying.
Mix the liquid soap into the lukewarm water to break the surface tension, and measure out the neem oil to add to the blend. Shake the contents to mix well and pour at the base of plants or trees to treat powdery mildew fungus and combat pest invasion.
Powdery Mildew Treatment with Neem Oil Foliar Spray
Neem oil spray is a straightforward way to treat and prevent powdery mildew when used for powdery mildew on soil surface or on different parts of a plant.
Foliar sprays are treatments applied directly to the leaves for rapid absorption. Choose a foliar spray to address fungal issues on smaller plants where all the leaves are easily covered or in a circumstance where urgent treatment is needed, like when using neem oil on tomato plants with an active infection.
Shake the ingredients in the spray bottle and apply the diluted neem oil mixture to the leaves of your infected plant. Aim for a light mist over all of the foliage, and ensure you cover the tops and bottoms of the leaves.
Use the same recipe to make a simple neem oil spray for fungus gnats that may be lurking on your plants or the soil. It will take care of them quickly.
Does Pure Neem Oil Harm Beneficial Insects?
Neem oil is safe to use on an indoor plant or outside in your garden, and it's kind to the environment, too. Neem oil will not hurt bees or other pollinators. Flying insects like bees and butterflies aren't affected by neem oil, making it safe for insect garden helpers.
Since pure neem oil is a byproduct of the neem tree, it's suitable for use in organic gardens and offers a safe alternative to synthetic fungal treatment.
Other Uses for Neem Oil Insecticide
Whether you have houseplant pests or observe damage to a plant leaf in your vegetable garden, neem oil is a beneficial treatment when unsure of your problem.
Neem oil is a broad-spectrum pesticide, and while it's safe for pollinators, it destroys a range of pest insects and cures plant disease without damaging your plant, making it a great starting point for natural pest control.
Neem oil eradicates an insect pest population without introducing toxic compounds to your garden or decimating your local pollinating insects.
Every gardener should know a neem oil recipe for powdery mildew. Whether you practice organic gardening or not, natural tools like horticultural oils and neem oil are fast replacing chemicals as the preferred pesticide and fungal treatment for safe produce.
Neem oil is an entirely natural compound derived from the neem tree. Whether you grow flowers or food, using neem oil in your garden never needs to be a source of concern.
Pure neem oil is safe for you, your family, your pets, and local pollinators who ensure your garden grows and thrives. When powdery mildew strikes, bypass toxic commercial remedies and use pure neem oil for outstanding results.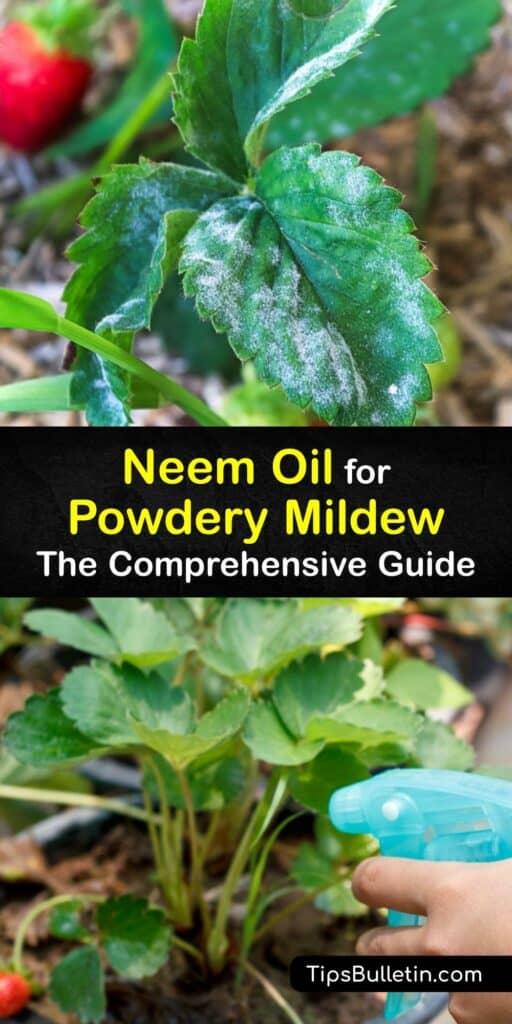 If you loved this article on how to use neem oil for powdery mildew, please share this brilliant information answering does neem oil kill powdery mildew with your friends and family on Pinterest and Facebook.