Getting sweat smell out of a shirt is easier than you might think.
Here's how you can do it effectively and cheaply:
Start by soaking the shirt in cold water mixed with lemon juice before the stains set.
For set-in stains, create a blend of white vinegar and warm water and apply with a toothbrush.
To tackle tough smells, mix vodka and water in a spray bottle and spritz the affected areas.
Turn gym clothes inside out and pretreat with cold water and lemon before washing.
Use oxygenated bleach according to directions for stubborn sweat stains and smells.
To eliminate the sweat smell from shirts, begin by mixing cold water and lemon juice in a sink. Soak the shirt for half an hour, then launder as usual with hot water. For persistent odors, mix white vinegar with warm water, soak the stain for half an hour, and gently scrub with a toothbrush. Wash the shirt afterward. If you're short on time, vodka can be mixed in equal parts with water in a spray bottle to treat the stain and let it evaporate.
For workout clothes, pretreat with the same cold water and lemon, and always remember to wash them inside out without overusing detergents. Oxygenated bleach is safe for colors and a final solution for tough stains – just follow the product instructions. These simple and cost-effective steps guarantee fresh-smelling clothes every time.
Sweat happens, and it happens to all of us. There's no need to feel self-conscious; over 15 million people in America report feeling excess sweat in their daily lives. Discover how to get sweat smell out of a shirt after a long day so you can wear any piece of clothing confidently.
Sweat is a healthy bodily function, and it's essential for temperature control. When your temperature rises, your body signals the sweat glands, called apocrine glands, to jump into action. Once the sweat appears, it evaporates off your skin's surface, producing a cooling effect that lowers your body temperature.
If sweat is colorless and odorless, why yellow stains? Body odor happens when bacteria on your skin break down the sweat into unsaturated fatty acids. Healthy bacteria are present on everyone's skin and interact with sweat, fabric, and deodorant to cause yellow staining and a bad smell. Fortunately, sweat stains are preventable and treatable with these top tips.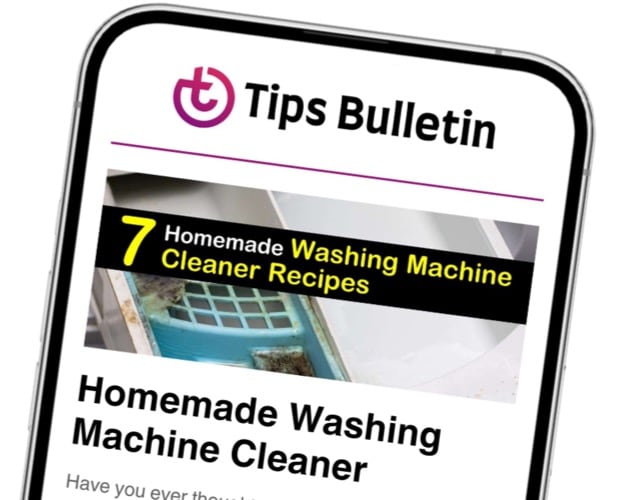 Finally, an email that Transforms Your Home.
Get the latest home and garden tips from our experts, delivered straight to your inbox.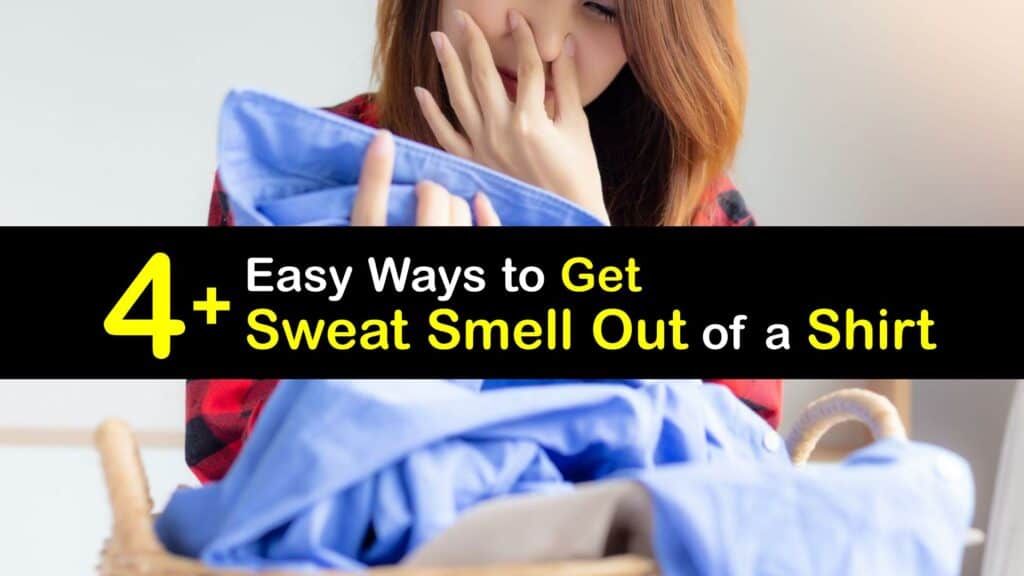 How I Remove Sweat Smell from My Shirts
Getting sweat smells out of shirts isn't as complicated as it seems. Learn how to remove sweat smell from shirts, stinky workout clothes, and more with this fabulous tutorial. Everyone has their little laundry secrets, and we will share ours.
Getting Sweat Smells Out of My Shirts Before They Set
Don't waste your time scrubbing set-in stains on sweaty clothes; try removing sweat smell from a shirt before it sets. If you sweat throughout your work day, this simple trick helps you stay on top of stubborn stains before they take over your clothes.
Remove your shirt before the sweat has time to dry. Run a sink full of cold water, add a tablespoon or two of lemon juice and let the shirt soak for a half hour. Always pretreat sweaty laundry with cold water because hot water makes some stains like blood and sweat cling to fibers.
Once your clothing soaks thoroughly, run it through the washing machine with a bit of laundry detergent and set your washer's water temperature to hot.
It's also okay to hang dry your shirt until you have a full load of laundry; the most important thing is the cold water and lemon juice pretreatment. Be careful not to shrink your expensive cotton shirt in the dryer. Prolong the life of your clothes, and make your sweat stain motto "get it before it sets."
Flush Set-In Stains with White Vinegar
We've taken the confusion out of learning how to get sweat smell out of a shirt that's been sitting for a while. Sweaty clothes left to sit for a while often have a musty smell, or sometimes even a mildew smell. It's important to get armpit smell out of shirts before you wear them again. Eliminating the problem might seem impossible, but these stains are treatable with the right action plan.
Distilled white vinegar is your best friend regarding sweat odor and smelly clothes. To remove perspiration odors from laundry, mix one cup of your preferred white vinegar and two cups of warm water to create an odor-fighting pretreatment. Soak the sweat stain for half an hour, and run a soft toothbrush over it in small circles to loosen anything clinging to the fabric.
Wash your clothing as usual in hot water with detergent, or take things a step further and treat the deodorant stain, too. Use your cleaning toothbrush, dip it in a bit of water and baking soda, and then set to work with soft circular motions. Feel free to add a dash of hydrogen peroxide for tough, set-in sweat stains.
It's also a great idea to use baking soda to remove grease stains or for getting fried food smell out of your clothes. It works wonders for stain removal.
How I Get Sweat Smell Out of My Shirt
Removing sweat smell from a shirt with vodka sounds insane. Whether you're dealing with lingering body odor, food smells, or the unpleasant odour of cigarettes that cling to your clothes after a big night out, vodka can help. This tip comes highly recommended by professional wardrobe personnel and DIY enthusiasts alike.
Create a convenient vodka spray mix with one cup water and one cup vodka. Give your spray bottle a little shake, and it's ready to go. Do you wonder how to remove sweat smell from shirts with vodka?
It's easy to remove musty odor from clothes without washing them and you're short on time. Spritz the stained area and let it sit. As soon as you spray the sweat stain, vodka's natural antiseptic properties work their magic. The vodka evaporates and won't leave behind any detectable smell, either.
My Best Tips for Smelly Workout Clothes
Workout clothes are usually made of synthetic fabric. Manufacturers claim that synthetic materials are moisture-wicking and pull sweat off the skin for quicker evaporation and cooling. However, these fabrics also allow bacteria to quickly become trapped between the fibers, creating a sweat smell that never seems to go away.
Getting sweat smells out of shirts and other workout clothing is possible with the proper clothing care routine. To remove underarm odor from clothing, pretreat your gym clothes with cold water and lemon. Always turn your stinky workout clothes inside out before washing to allow detergent and water to penetrate better, and avoid overuse of commercial laundry products.
If you're experiencing an unpleasant smell shortly after putting your clean clothes on, you might have a product buildup problem. Excess detergent, fabric softener, or a dryer sheet can cause product buildup.
These products sometimes trap bacteria in the fibers, tricking you into thinking the smell is gone. Get your detergent dose right, and add a quarter cup of white vinegar to crush odor causing bacteria.
Try Oxy Bleach for Sweat Stains
If you've tried everything and your shirt smells like sweat, it's time to level up your old washing soda. Oxygenated bleach is super-effective against sweat stains, mold smell, and most other bacteria-borne stains.
Oxy bleach is safe for colors and won't corrode your fabrics like chlorinated bleach. Always follow the manufacturer's directions for safe use on your favorite clothes.
We hope you loved our tutorial about how to get sweat smell out of a shirt with simple, safe strategies. Try these tips on anything that needs refreshing; musty smelling coats, sheets, or curtains. Pretreat your fabrics with cool water, and don't be afraid to try a little lemon juice, vinegar, or even vodka to get the job done.
For sparkling smell-free clothes, always deal with sweaty items at the end of the day, no matter how tempting it is to toss them in the washing basket and go to bed. There's no sweat stain too serious with the proper clothing care instruction on your side.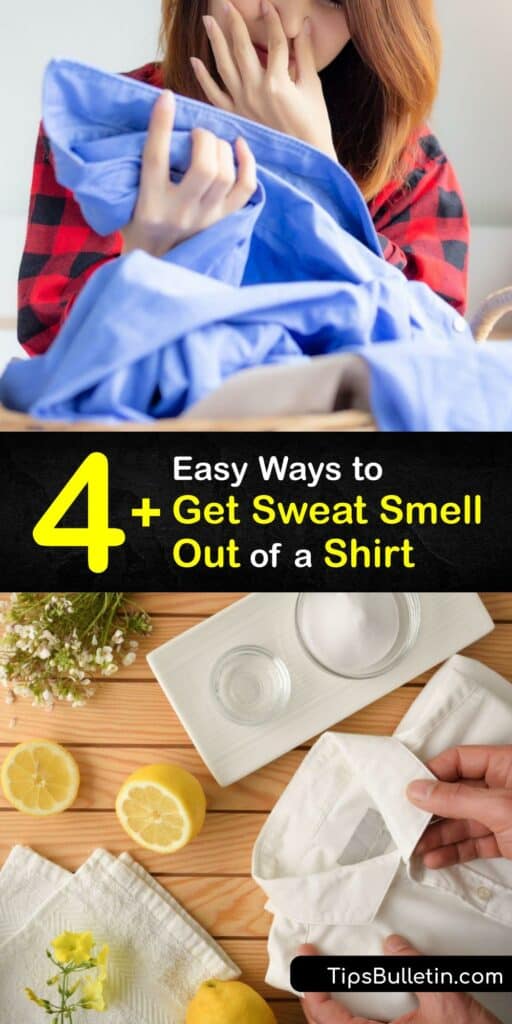 If you had fun learning how to get sweat smell out of a shirt, share this article with your laundry-loving friends on Pinterest or Facebook who are always looking for the best stain-fighting tips.