Next to tree sap and chewing gum, tar is one of the trickiest substances to remove from shoes. Even if you scrape off the tar spot, it leaves a sticky residue that continues to attract dirt. Find out how to get tar off shoes with a few simple tar removal methods and restore your footwear to its original appearance.
We usually think of a freshly tarred road as a place to avoid when taking a stroll. However, there are other types of tar, including roofing tar, turpentine tar, and beach tar. While black tar is the most common, all stubborn tar stains are challenging to clean from surfaces, from canvas shoes and leather shoes to car paint and carpet.
Before you toss your sneakers or boots into the trash or the back of the closet, there are a few things to try to get your footwear clean. As impossible as it seems to remove tar residue, it's easy to clean away the sticky residue if you use the tar remover for the job and apply a little bit of elbow grease.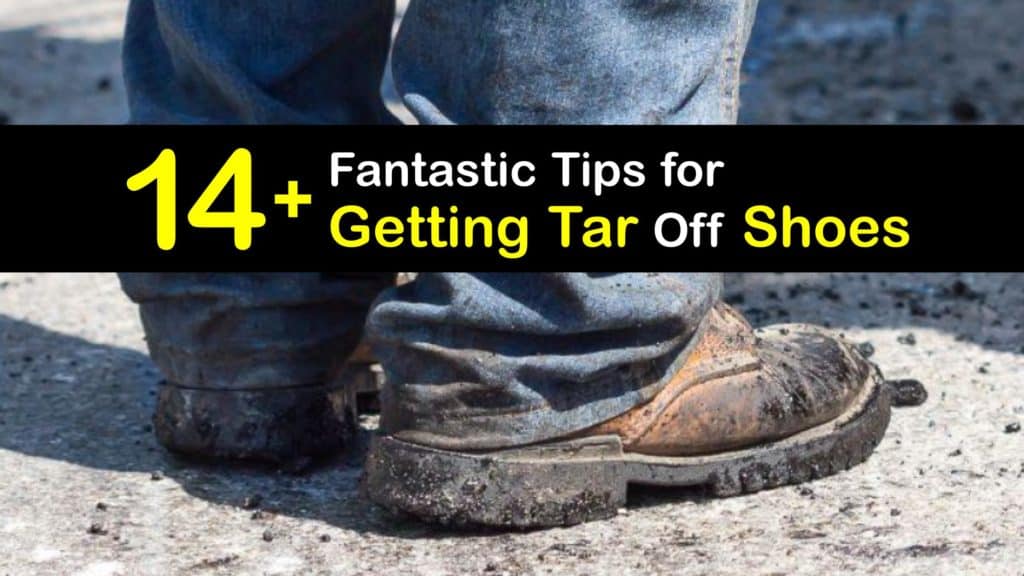 Ways to Get Tar Off Shoes
We agree that discovering a tar stain on your suede, leather, or canvas shoe is disconcerting. Fortunately, there are many solutions to this problem. Learn to remove these stains from your shoes using a plastic knife and soapy water, or clean away stubborn stains with solvents.
How to Remove Tar from Shoes with a Sharp Edge
Tar stains are usually thick globs, and cleaning them may spread the stickiness further. To make the job easier, it's vital to gently scrape away the tar from the material with a sharp edge. Here is how to remove tar from shoes before applying a cleaner.
Take off your shoes and use a knife's edge to scrape off the hard tar. Many tools work well to get the job done if you don't have a knife, such as a putty knife, flat head screwdriver, or even an old credit card.
If the tar is on the bottom sides of your shoes, try to work the gunk out from between the sole gaps, and avoid using too much pressure to prevent damaging your footwear.
Cleaning Tar Off Boots with Soapy Water
After cleaning tar off boots by scraping the sticky bits away from the surface, it's time to remove the tar residue. Remove the remaining tar with some dish soap and warm water. While this doesn't always work for stubborn stains, it's helpful for a small stain. You can also use it as part of homemade car wash soap for tar if the problem isn't too severe.
Pour hot water into a container or bowl and add several squirts of dish detergent or laundry detergent. Agitate the soapy solution with a toothbrush, and apply the cleaner to the tar stain with the toothbrush bristles.
Use small, circular motions to clean away the tar, making sure not to spread it outward. Once you remove the residue, rinse your shoe with cool water and dry it with a towel or rag.
How to Get Tar Off Shoes with Oil
The best way to break up the sticky bond of tar, whether you need to remove hardened tree sap and tar from your car or your shoes is to apply some oil, and just about all oil types loosen tar stains for quick cleaning. Discover how to get tar off the bottom of shoes using a variety of common household oils.
Apply some oil to the head of a toothbrush and scrub the tar spot in a circle. Any type of oil is okay, including olive oil, vegetable, or baby oil.
Let the oil sit for a few minutes to loosen the stain, and scrub it gently to remove any remaining tar. Wipe with a paper towel, and rinse your shoe with clean water before patting it dry with a clean cloth.
Oil is also beneficial to use when getting tar off car paint without damaging the finish. The slipper nature of mineral oil expertly slides the sticky tar off car paint.
Getting Tar Off Shoes with Petroleum Jelly
Vaseline, or petroleum jelly, is a combination of waxes and mineral oils, originally created as a topical ointment. However, this product has many other practical uses, including removing sticky residue. Here is how to remove tar from shoes by applying a coat of Vaseline.
Dip a paper towel into a jar of petroleum jelly and rub the ointment on the tar stain. Let it rest for several minutes as the jelly loosens the tar, and then brush the area gently with an old toothbrush until the tar comes off the shoe. Use another paper towel to wipe away the residue, rinse it with clean water, and dry it with a towel.
Using Mineral Oil to Get Tar Off Shoes
Mineral oil is another option for cleaning tar off boots. While this clear and odorless liquid is a laxative, its lubricant qualities help to loosen the bond of tar from many surfaces, including footwear.
Soak some cotton balls with mineral oil and press them on the areas of your shoe with tar stains. Let them rest for about an hour, and use an old toothbrush to gently scrub away the softened tar. Rinse your shoe with water and dry it with a towel.
How to Get Tar Off Shoe Soles with Nail Polish Remover
Many fingernail polish removers contain acetone, which dissolves sticky substances, such as gum, sap, and tar – you may already have a bottle sitting in your home. Find out how to use this product to get tar off the bottom of sneakers.
Apply acetone-based, colorless nail polish remover to a cotton ball. Rub the cotton over the tar with a circular motion and use freshly soaked cotton balls as needed until all the sticky tar is gone. When your shoe is clean, rinse it with cool water and dry it with a towel.
Getting Tar Off Shoes with WD-40
If you don't already have a can of WD-40 in your home or garage, what are you waiting for? This product has many purposes, from loosening screws and quieting squeaky doors to removing adhesives, and it's excellent for getting tar off the bottoms of your shoes as well as to get engine oil out of clothing and other materials.
Set the affected shoe on a newspaper and spray WD-40 on the tar spot. Let it sit for a few minutes, then scrub the area with an old toothbrush, taking care not to spread the stain. Rinse your shoe under running water to flush away tar bits and WD-40 residue, and dry it with a towel.
How to Remove Tar from Shoes with Rubbing Alcohol
Rubbing alcohol is a concentration of isopropyl alcohol, and it has many potential uses, including sanitizing surfaces, disinfecting skin, eliminating odors, and cleaning. Clean dark spots on leather and remove all types of discoloration. Additionally, this liquid softens the bond of adhesives and works wonders at removing tar from shoes.
Liberally pour rubbing alcohol onto a clean rag and lay it on the tarred areas of your shoes. Leave it in place for a few minutes as the alcohol begins to loosen and dissolve the sticky tar, and use an old toothbrush to gently scrub the stickiness away from the material. Repeat until the stain is gone.
Cleaning Tar Off Shoes with Turpentine Oil
We often associate turpentine with cleaning paint spills and paintbrushes or to remove old grease stains from a concrete driveway. However, this product also helps remove the sticky residue leftover from tar.
Pour some turpentine onto a soft cloth and rub it in circles on the affected area of your shoe. Continue rubbing the stain until it's gone, and reapply more turpentine if necessary. Rinse your shoe with clean water and let it air dry.
How to Use Lighter Fluid to Remove Shoe Tar
While lighter fluid is a fuel and safety measures are necessary when using it, this liquid works great as a tar remover since it quickly dissolves the stickiness for easy cleaning. Here is how to use lighter fluid to get tar stains off your shoes.
Apply some lighter fluid to a cotton ball and rub it onto the tar stain of your shoe. Use circular motions to loosen the sticky residue and apply freshly soaked cotton to the area until all of the tar is gone. Finish by cleaning the spot with soapy water, rinsing it with clean water, and drying it with a towel.
Removing Tar from Leather and Suede Shoes
While cleaning tar off a canvas shoe or boot is one thing, cleaning leather and suede is another issue altogether. These natural materials require special cleaning and care to prevent damage.
The way to get stains out of leather shoes if they are of the tar variety is to gently scrape as much dry tar away from the leather or suede as possible with a plastic knife. Use a suede brush to clean away the remaining tar specs. Finish by cleaning the spot with a leather cleaner and rinsing it with a damp cloth.
After the shoe dries, brush a suede shoe to restore its appearance and polish a leather shoe with leather oil or conditioner to give it a smooth finish.
Getting Tar Off Shoes with White Vinegar
White vinegar is a cheap and useful liquid that does everything from pickling food to disinfecting surfaces to kill bacteria and germs. It is ideal to get smoke smell out of leather shoes and also has acidic qualities that loosen sticky substances like tape, glue, and tar. Use white vinegar to remove tar from shoe soles and fabric.
Add three spoons of white vinegar and one spoon of liquid dish soap to a bowl of water and apply the cleaning solution to your shoe with a clean rag. Rub the cleaner on the stain with a circular motion until the tar is gone, and rinse the shoe with clean water.
Get Beach Tar Off the Bottom of Shoes
Beach tar is a natural petroleum seepage that comes from the bottom of the ocean, and it sometimes makes its way to the beach. Unfortunately, it sticks to your feet like road tar and roofing tar. Learn how to get beach tar off bottom of sneakers or sandals in a few simple steps.
Flip your shoes or sandals over and lay them on a towel. Spray the bottoms with cooking oil spray and let them sit for about five minutes. Use a soft-bristle brush to scrub the shoe bottoms and rinse them with warm water.
Remove Turpentine Tar from Shoes
Another form of natural tar is turpentine tar, a substance produced from trees. If you're unfortunate enough to get this tar stuck on your shoes, you're aware of its sticky abilities. Use your freezer to get turpentine tar off your shoes.
Set your shoe in a plastic bag and freeze it for a few hours. Once the tar is frozen, use a plastic knife to scrape away the hardened glob. Apply some rubbing alcohol to a ball of cotton and rub it on the sticky residue until the stain is gone.
Things to Do If You Get Tar on Your Shoes
Though there are ways to remove tar from footwear and other surfaces, it's not a fun job. Here are steps to take if you discover tar on your shoes to make the cleaning process more manageable when you get home.
Shoe Tar Stain Tips
If you discover a tar spot on your shoe, do not wipe the area with a dry cloth since doing this may spread the tar, making it more challenging to clean. Instead, leave the spot until you get home to clean it properly. If the tar stain is wet, allow it to dry and avoid rubbing it against other surfaces.
If you find yourself in areas where you come into contact with this sticky substance regularly, consider keeping alcohol wipes on hand for quick clean-up. Hand sanitizer is also helpful for quick spot cleaning.
No one wants their footwear covered with sticky bits of tar, whether they are a pair of work boots or stylish leather shoes. While it seems that your shoes are doomed for the trashcan, it's possible to remove these stains with a bit of patience and the proper cleaning solutions.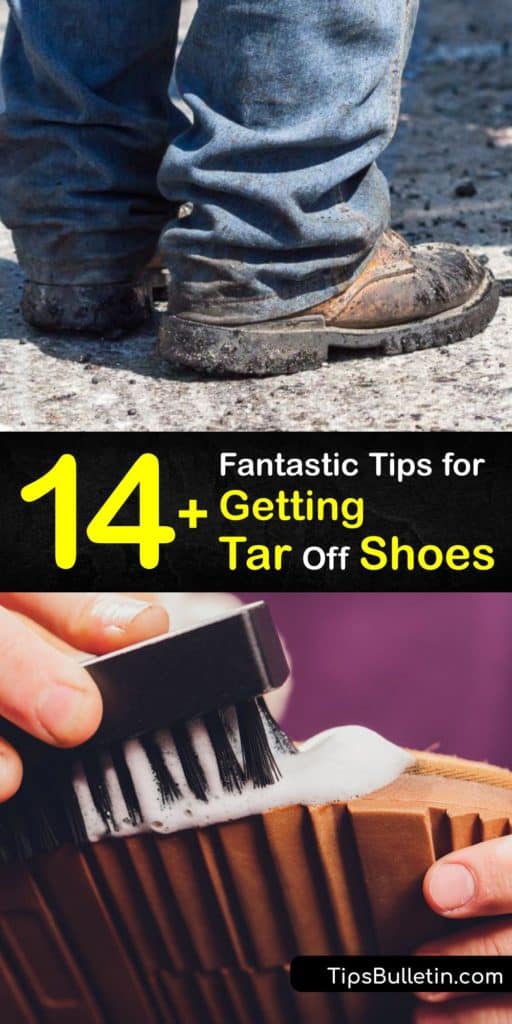 Now that you know how to get tar off shoes and restore their appearance, why not share our shoe tar removal tips with your friends and family on Facebook and Pinterest?