If you're struggling with how to get wax off a mirror, you're not alone. Wax is an incredible substance. When heated, it takes a liquid, flexible form, though it quickly cools to become very hard and persistent. We use wax for everything from beauty to cleaning. Whether you have stubborn car wax residue stuck on your wing mirror or your body wax splattered onto your bathroom mirror, there's no need to stress about eliminating it.
Getting wax off a mirror is uncomplicated with the right approach. The key to how to remove wax from a mirror is understanding how to break the bonds holding it.
Being conscious of the glass and working lightly prevents scratching and blemishes on the mirror. Heat and solvents degrade wax. There's no need to spend money on an expensive and toxic glass cleaner to get sticker residue off a mirror. If you have a hairdryer, white vinegar, or some ice, you have everything required to get wax off your mirror.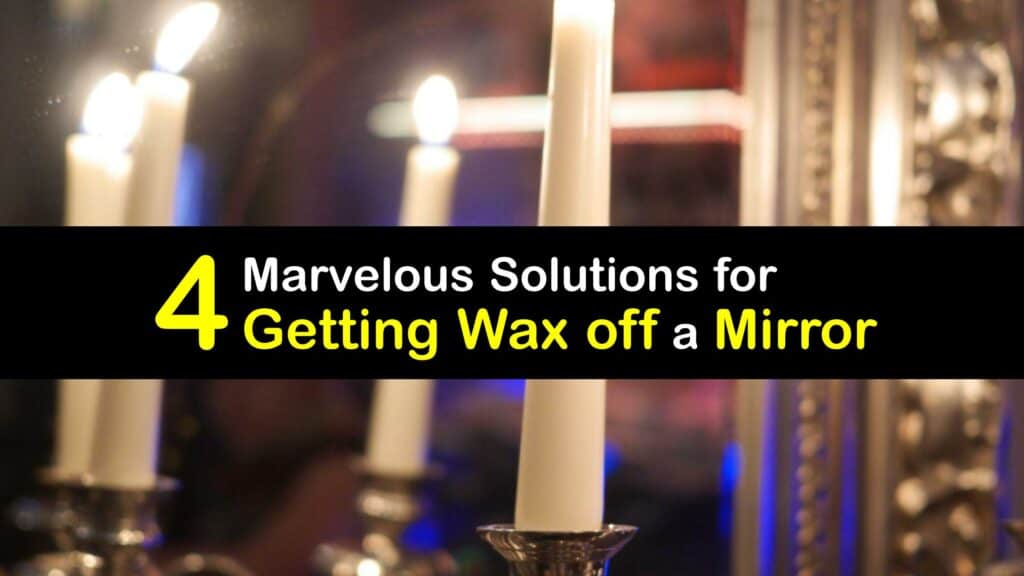 Tricks for How to Remove Wax From a Mirror
Toothpaste splatters, bits of paint, or hardened wax take the shine away from your mirror surface. Wax is a tricky stain, and it's easy to leave scuffs or scratches when getting wax off a mirror.
Since it goes on as a liquid and dries to the surface, regular glass cleaner is often insufficient get wax off glass or a mirror. Explore straightforward ideas for how to get wax off a mirror to keep your bathroom or bedroom looking its best.
Tips for Removing Wax From a Mirror
Spilled wax must be handled carefully, especially on a glass surface prone to scratches. Mirrors are beautiful and practical but quickly lose their sparkle and become dirty.
Cleaning wax off hardwood floors or shower door is a challenge. Everything from water spots, shaving cream, toothpaste, and furniture polish ends up on the mirror. Getting any kind of wax off glass requires extra caution.
Use a dry paper towel or a clean cloth to dab melted wax off the walls if you notice it before it dries. Rubbing risks spreading the wax and making the stain trickier. Choose a method proven to clean mirrors and eliminate hard wax to restore the mirror gloss to your bathroom mirror.
How to Get Wax off a Mirror Using White Vinegar
Distilled white vinegar is the most efficient way to remove minor wax spots from your mirror. White vinegar's low acetic acid level, which dissolves the bonds binding the wax to the glass. A quick and effective wax stripper combines water and distilled white vinegar.
Dip a cotton ball into a mix of hot water and vinegar and hold it over the wax for a few seconds. The heat of the water and the acid in the vinegar degrade the bonds in the wax; wipe it away with a microfiber towel.
Vinegar will work to clean sticky messes on all types of glass surfaces. Discover more ways to get sticker glue off glass with at home cleaning solutions.
Getting Wax off a Mirror With Ice Cubes
To cool and harden the wax quickly, place a couple of ice cubes in a bag and rub the wax with the ice. Use a butter knife or the side of a credit card to start carefully scraping the wax. To avoid gouging the glass, work gently in shallow sweeps, and maintain an angle with the blade.
Peel the wax with the least amount of pressure to avoid damaging the mirror. After all the wax scrapes off, polish the mirror with a microfiber cloth to restore the finish.
Get Candle Wax off a Mirror Using a Hairdryer
Most wax, whether cosmetic or candle, has a low melting point. A hairdryer is a safe and convenient way to heat the wax to make it pliable and straightforward to lift off the glass. It removes the labor from cleaning wax off a mirror.
Turn your hairdryer to medium heat, hold the nozzle about six inches from the mirror, and move it back and forth over the wax splatter to melt it. Dip a microfiber cloth in warm water, wring it out, and use it to wipe the loose wax from the mirror. Check for any remaining wax and buff the mirror to a shine.
The heat from a hairdryer will also work to get candle wax comes out of clothes. After candle wax becomes embedded in the fibres of clothing, it can seem impossible to scrub out. Luckily, the heat from a hairdryer will soften the wax enough to peel off.
Learning how to remove wax from a mirror allows you to keep your furniture looking clean and tidy. Wax has many uses in homes and cars, yet it becomes an annoyance when it gets on a mirror. Use simple hacks to make erasing wax from glass a breeze.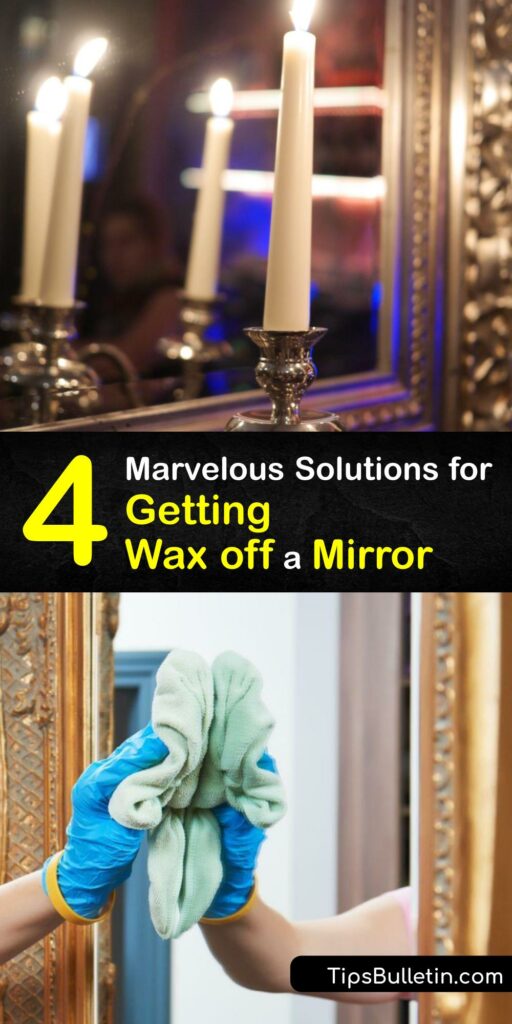 If you loved this concise article on how to get wax off a mirror, please share this knowledge on getting wax off a mirror with your friends and close family on Pinterest and Facebook.