As the short summer season comes to an end and the weather begins cooling off, home gardeners start to shift their focus toward more suitable crops for the fall. There are a few veggie options to put in your autumn beds, but beets are one of the most vibrant root vegetables that are surprisingly versatile. If you're going to branch out from routine, learning how to grow beets from seed is a rewarding process.
Growing beets from seed isn't all that complicated, and it allows you to take full advantage of your garden beds throughout the entire year.
Before learning how to plant beet seeds, there are a few crucial steps to take. Choosing between all the different beet varieties, preparing the beds, and figuring out what pests and diseases to look out for are important first steps.
Don't know where to start? Use this beet planting guide to walk you through the process from start to finish.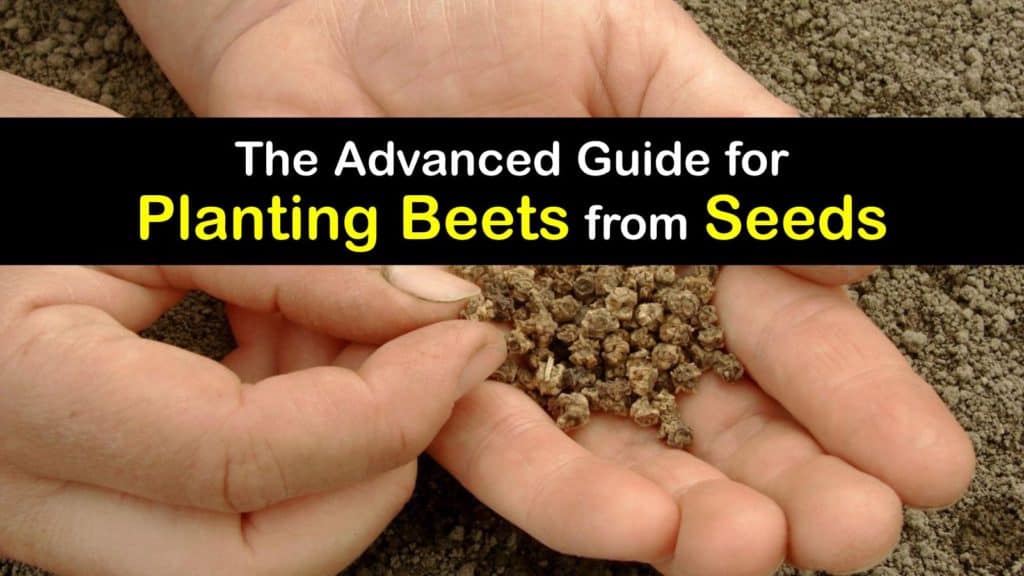 About Beets
Beets have the scientific name of Beta vulgaris and are biennial plants, though some home growers grow them as annuals. These root crops are related to vegetables like spinach, radishes, and kohlrabi, but they have the closest relations to swiss chard.
Beets are notorious for their earthy taste, and even if you don't love them, they are highly nutritious. Beets have vitamin C, potassium, folate, fiber, and manganese that nourish our bodies and give us tons of natural energy.
Beets grow during the cool season and are an excellent crop choice for gardeners in northern regions of the world. They survive frost and near-freezing temperatures that make them a smart selection for the fall and winter.
Figuring out how to grow beets from seed is a little trickier in hotter regions, but they're not an overly complicated plant to care for.
We have complete faith that planting beet seeds and stocking up on these homegrown vegetables is something you'll continue to do every year.
How to Grow Beets from Seed
Figuring out when to plant beet seedlings, how deep to sow them, caring for them, and choosing a variety to grow becomes overwhelming if you've never done it before.
We took all the hard work out of this process and created a guide with everything you need to know. When you find yourself forgetting the next step, refer to this article to find the answers you're looking for.
Different Beet Types
Before learning how to plant beet seeds, choose which varieties you're going to work with. Beets have different shapes, and there is a rainbow of colors to pick from.
Deep red is the most common color, but there are also some pink, white, and golden beets. Heirloom varieties with built-in disease resistance are the easiest to grow. Chioggia, Detroit Dark Red, Red Ace, and Ruby Queen are some of our favorite kinds of beets.
Burpee, Formanova, and Avalanche are also fantastic beetroot options for beginners. Decide what kind is going to work best in your hardiness zone before growing beets from seed.
When to Start Planting Beets from Seed
The time to plant beets is critical because you don't want to plant them too early or late in the growing season. Your first round of beats should be planted in the early spring whenever the soil becomes workable.
Continue to plant beet seeds every two to three weeks until you reach mid-summer or until the daytime temperatures go over 75°F.
Germination happens when the soil temperature is above 50°F and about five to eight days. In colder soil temperatures, germination might take two or three weeks.
If you prefer to harvest your beats in the fall, sow your beet seeds in the late summer or early fall months, about a month before the first frost occurs. In zones nine and above, winter crops are possible and should be planted in the late fall to harvest in the winter.
Prep for Growing Beets from Seed
Part of learning how to plant beet seeds is understanding what requirements they have while they grow. Beets thrive in full sun, where they receive at least six hours of direct sunlight every day, whether you embrace the way to grow beets indoors or outside. Partial shade is okay but not ideal.
Beets only do well in sandy or loamy soils that warm up faster than other types. Heavy clay soil is not welcome, especially if the clay is packed tightly together.
If your soil isn't well-draining, make ridges four to six inches tall to help the water drain or amend it with organic matter like mulch or straw.
Perform a soil test before growing beets from seed to ensure it has a soil pH of 6.0 to 7.0. Poor soil lacking in nutrients is easily amended with a balanced fertilizer before planting.
How to Plant Beet Seeds
The first thing you might notice about beet seeds is the odd-looking shapes. They are large and chunky, and each seed is actually a fruit cluster with multiple tiny seeds inside.
They also have a tough outer casing that sometimes hinders germination. Before planting your seeds, soak them in warm water for up to an hour.
Most people prefer to sow seeds directly in their tilled garden beds so that they don't disturb the roots during transplanting. Because they are cold-tolerant, they do really well outdoors, and transplanting isn't always necessary.
Sow your beet seeds about half an inch deep and one or two inches apart. Keep the row spacing about one foot apart. Cover the beet seeds in a thin layer of soil and water the area.
Beet greens start sprouting after a short period of time. After the first true leaves emerge, thin them since multiple seeds are growing in one spot.
Instead of pulling up the plants, snip off the fibrous greens, eat them, or put them in your compost bin. Remember to keep the soil moist and watch all your beet plants mature.
Growing Beets from Scraps
If you eat beats regularly, you might already have some sitting in the kitchen. Consider growing beets from scraps instead of purchasing seeds from the garden center.
Wash your beets before cutting into them. Remove the stems and leaves and separate the top of the root from the bulk of the bulb. Fill a shallow dish with a little bit of rainwater so that there is enough to just cover the root top.
Place the beet top in the water for several days until new leaves grow. Change the water every day to prevent rot. After about a week, transplant your beet directly into your outdoor garden, or you could choose growing beets indoors in a pot. Just make sure they get plenty of sun.
Issues with Beets
Managing pests and beets is never a fun chore. It's sometimes challenging to tell what exactly is killing your crops, and not many people want to use pesticides on their food. What issues can you expect after learning how to plant beet seeds?
Flea beetles and leaf miners are some of the most common pests that attack beet plants. They leave the leaves covered in tiny holes and turn the plants yellow.
Diatomaceous earth is a non-toxic powder that you can spread around your garden to take care of these pests. Putting a row cover over your crop is another easy way to keep bugs away.
As far as diseases, boron deficiency is a significant issue with beets. It is also called the black heart because it turns the roots a dark, unappealing color.
Symptoms of boron deficiency include distorted or scorched leaves and black spots on the roots. Treat boron deficiency by adding one teaspoon of Borax to a gallon of water and dispersing it over 100 square feet.
Another disease that beets might have issues with is Cercospora leaf spot. This beet disease is caused by a fungus and results in significant losses during harvest.
Small white or brown circular spots are usually the first sign of Cercospora. The only effective way to treat it is to apply a fungicide and destroy the host plants if you can identify them.
Harvesting and Eating Beets
Harvest time is the favorite of gardeners. It is when you finally get to pull your plants from the ground and use them in delicious ways in the kitchen.
With most beet plants, it is best to harvest the entire plant from the ground as they reach full maturity. When are beets ready to pick?
The longer you leave them underground, the woodier and less edible they become. It is also okay to harvest young beets and use the baby beets for pickling or other fun recipes.
To harvest beets, loosen the dirt around them and dig a trench around the roots. Use your hands to gently guide the beetroot out of the soil.
From there, cut the greens from the root and cook with both or store the roots in a dry spot in a root cellar. If you're unsure of what to do with your beet greens, check out this simple recipe.
Cut out the thick center stalk from the greens and bring a pot of salted water to a boil. Add the bunches of beet greens and cook them until just tender, about two minutes.
Drain the beet leaves in a colander and immediately dunk them in an ice-water bath. Dry the leaves on a paper towel and coarsely chop them all.
Heat the oil in a skillet over medium heat and stir in the garlic and pepper flakes. Add the beet greens and season them with salt, pepper, and a small squeeze of lemon juice until soft and tender.
It's no fun to only use your veggie garden during the spring and summer. There are plenty of vegetables that prefer cold weather, and beets are one of the easiest and most nutritious to grow.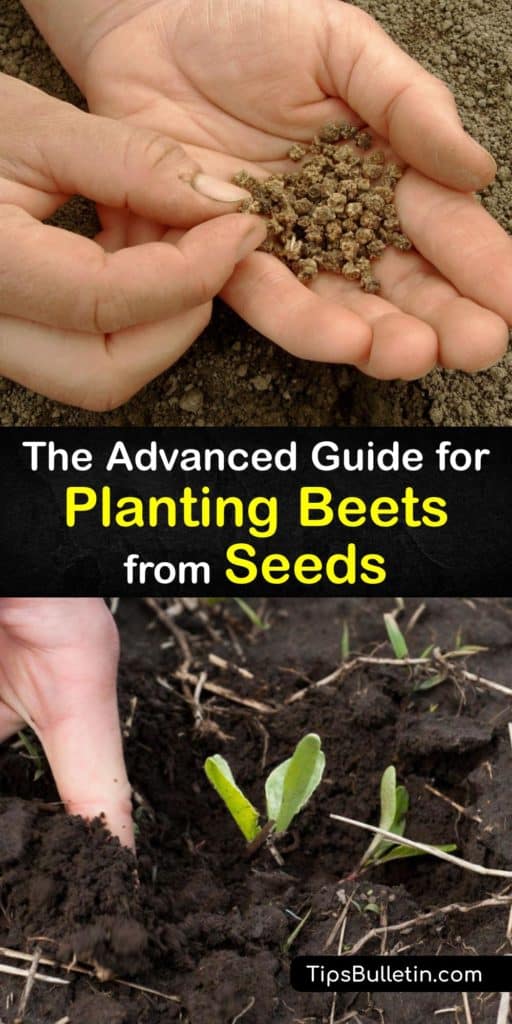 If learning how to grow beets from seed has helped you take full advantage of your garden beds, share this guide for growing beets from seed on Facebook and Pinterest.