Fennel has an aromatic freshness unique from any other vegetable, whether you eat it raw or prefer it sauteed or roasted. While this plant is indigenous to the Mediterranean, it's easy to grow just about anywhere. We show you how to grow fennel from seed and propagation and ways to care for your plants for a healthy harvest.
Fennel is an underrated vegetable with many culinary uses. We think of this plant as a flavoring with its spicy fennel seeds. However, this veggie is more versatile than that.
All parts of fennel are edible raw or cooked, from the bulb and stalks to the leaves, flowers, and seeds. The bulb has a crisp texture with an anise flavor, and the roasted seeds have a sweet, licorice tang.
Fennel is also very healthy. It's low in calories and contains high amounts of nutrients such as vitamin C, potassium, and dietary fiber. Growing your own in the garden is the best way to enjoy organic vegetables throughout the growing season.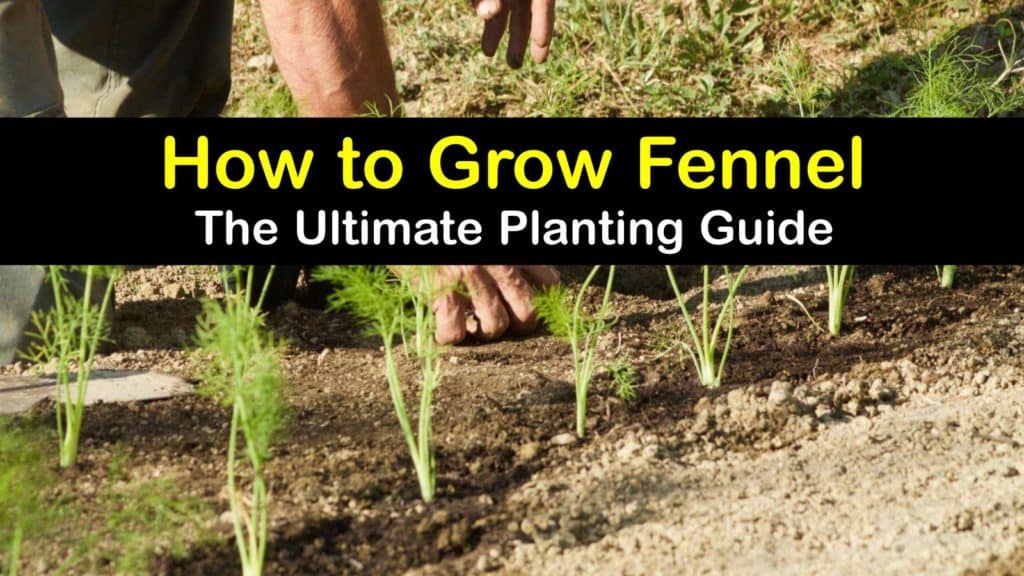 Growing and Caring for Garden Fennel
While growing fennel seems intimidating since it's not as common as many other types of vegetables, it's relatively simple. That said, there is more than one way to grow fennel, and one is easier than the other. They also require the right conditions and TLC to flourish.
Many questions arise when growing your own fennel plants. Are there different types of fennel? How long do fennel take to grow, and how do you know when it's ready for harvesting? Learn the answer to these questions and ways to grow fennel in an herb garden.
Growing Fennel and Caring for Your Herbs
Growing fennel is fairly straightforward as long as you provide your plants with the right care to encourage strong bulbs and herbs. Unless you live in zones 10-11, fennel is not one of the herbs to plant in fall. It is primarily a spring and summer-growing plant.
Discover the different types of fennel for your garden, the soil conditions and sun requirements they need, and how to maintain them as they grow.
The most important thing to understand when growing fennel is that there are two main types. First, herb fennel or sweet fennel (Foeniculum vulgare) grows three to five feet tall with fine fronds that resemble dill.
This type produces clusters of yellow flower heads in late summer, and the stems, leaves, and seeds are harvested.
Florence fennel or Finocchio (Foeniculum vulgare var) is a shorter plant with dark green foliage, and it grows a large, flat, and thick bulbous base.
Both varieties produce the famous licorice or anise flavor and are favorite plants for beneficial insects and pollinators like the swallowtail butterfly, honeybee, and bumblebee. Sweet fennel is a host plant for the black swallowtail butterfly larvae.
While fennel is a member of the carrot family, it is not a root vegetable. Instead, it grows from a taproot and is a cousin to herbs such as dill, caraway, and cumin. It is a short-lived perennial plant that produces best during the second growing season.
While it is not often thought of as invasive, it re-seeds and is somewhat aggressive, so some maintenance is necessary to prevent it from taking over the garden.
Fennel plants love growing in full sun in well-drained, acidic soil rich with organic matter. They grow rather tall, so they are perfect for growing at the rear of a garden. They need about one inch of water weekly and a high nitrogen fertilizer after developing bulbs.
Once your plants establish themselves, they require very little assistance from you other than the early summer pruning and fall deadheading.
However, it is essential to keep a close eye on them during the growing season to ensure they aren't infested with pests, such as aphids, armyworms, cutworms, whiteflies, and slugs.
Remove the pests by hand as soon as you notice activity and use an insecticidal soap if necessary.
How Long do Fennel Take to Grow?
Different plants have varying periods of growth, whether they are vegetables, fruits, herbs, or flowers. Not knowing when your plants are mature is often frustrating, especially when waiting for a harvest, so how long do fennel take to grow?
There are different periods of fennel growth. If you start your fennel plants from seed, they take roughly eight to 12 days for them to germinate and another four to six weeks before the seedlings are ready for transplanting in the garden.
Once you move them outdoors, it takes about 65 days for herb fennel to mature, and 90 to 115 days before Florence fennel is ready for harvest.
Once your fennel plants establish, they grow back each year since they are perennial. However, they often only overwinter in warmer regions, such as USDA hardiness zones 7 through 10. Fennel is not one of the perennial herbs zone 5.
How to Grow Fennel by Dividing
Planting seeds is not the only way to grow fennel. Some plant types regrow from propagation, and fennel is one of them.
While this technique is not as simple as planting seeds, it's a useful method for creating more fennel plants. Learn how to propagate your plants by dividing them and how far apart to plant fennel in a new garden bed.
In the early summer, when the fennel begins to produce top growth at ground level, use a shovel to slice down into the taproot alongside the plant you plan on moving.
Split the plant vertically while inflicting the least amount of damage possible since fennel does not handle the dividing process as well as other plants.
Transport the propagated fennel to the new, prepared garden. Prepare a hole slightly larger than the plant's base and root, place the roots in the hole, and cover them with soil. Pat it down firmly around the plant and water them right away.
Growing Fennel from Seed Indoors
If you don't already have fennel plants to propagate, growing fennel from seed is the way to go. However, it's always a great idea to start them indoors before the last frost to give your seedlings a chance to grow strong before planting them in the ground.
In the early spring, four to six weeks before the last frost, prepare your fennel by filling a seed starting tray or small pots with potting mix.
Sow the seeds a quarter to a half-inch deep and pat the dirt down lightly over them. Water the soil so that it's damp but not soaked and set them on a sunny windowsill.
When you grow fennel indoors, it's important to keep the seeds in a warm area where the soil temperature is between 60 and 90°F. If you do not have a warm and sunny window, consider placing the seed tray beneath grow lights.
Also, be sure to keep the dirt slightly moist during the germination process. If the ground is too dry, the seeds don't germinate, and very wet soil causes the seeds and plants to rot.
Transplanting Fennel Seedlings in the Herb Garden
Once your seeds germinate and you have a tray or pot full of young fennel plants, it's time to move them to the outdoors. Here is when to plant fennel outside and how to plant your seedlings in the herb garden.
The most crucial step to transplanting your fennel outdoors is to harden off the plants first. Seedlings are accustomed to the indoors, and moving them straight into the garden causes shock, and they probably won't survive the transition.
To acclimate your fennel, take the plants outside each day for a week before moving them permanently into the garden. Start by setting them in a shady area for a couple of hours the first day and gradually moving them to a sunny spot as the week progresses.
Dig holes in the garden six to 12 inches apart, making sure they are slightly larger than the seedling base. Do not plant fennel next to dill or coriander since cross-pollination tends to be a problem.
Carefully remove each plant from the container and set it in the hole. Push dirt in around the seedling and press it down lightly. Provide your plants with a good drink of water right after planting.
After you situate and water all the seedlings, spread a couple of inches of mulch over the garden to help retain moisture and prevent the growth of weeds that take nutrients from the ground. After the fennel develops bulbs, feed the garden with a high nitrogen fertilizer.
When is Fennel Ready for Harvesting?
There is a waiting game after planting fennel, which often feels like the hardest part of growing vegetables. You put in a lot of hard work, and you wait impatiently for your efforts to pay off. When is the fennel ready, and what's the best way to harvest it?
When it comes to fennel, there are different forms of harvesting, and it also depends on the type of fennel you grow.
To harvest the bulb type of fennel, wait until the stem base is swollen. Pull them from the ground as needed and harvest any remaining plants before the first hard frost.
Remove fennel leaves whenever they are the desired size since doing this encourages more plant growth. To harvest fennel seeds, wait until late summer or early fall after bolting occurs.
Clip away the plant stem and shake the seed heads over a paper bag to collect them. Set the seed bag in a cool and dry area of the kitchen to dry.
Ways to Store Fennel
A good harvest only goes so far if you do not know how to store your veggies properly. Here are some useful ways to keep your fennel leaves, bulbs, and seeds fresh in the pantry and refrigerator, so you get more time to enjoy their tasty benefits.
To prepare a fennel root for storage, cut the stalks off the bulb and remove the core end. For thin slices, slice the bulb horizontally from top to bottom. If you prefer thick wedges, cut the bulb in half and slice the halves into desired sizes.
Wrap them in a plastic bag and set them in the crisper drawer of your fridge for up to ten days. To store fennel leaves, place them in a plastic bag, separate from the bulb, or in a glass of water, and keep them in the fridge for five to ten days.
A great way to store fennel stalks is to dry them. First, slice the stalks away from the bulb and remove the fronds, then spread them in a single layer on a baking sheet and dry them in an oven preheated to 200°F for three hours.
Let them sit out overnight, and then keep them in an airtight container.
To keep fennel seeds fresh, remove the seed head from the plant. Set it in a paper bag and shake it vigorously to loosen the seeds.
Spread the fennel seeds on a baking sheet and dry them in the oven at 200°F for half an hour. Pour the dry seeds into an airtight jar and store them in your spice cabinet.
Fennel is not just seasoning. The bulb and leaves have a unique texture and flavor, perfect for adding to soups and stews or eating raw as a garnish on salads. What better way to enjoy this versatile vegetable than to grow it yourself?
We hope that learning how to grow fennel in your herb or veggie garden keeps your fridge and spice cabinet well stocked with deliciousness, and we'd love it if you'd share our fennel growing tips and guide with your social circle on Facebook and Pinterest.