Swiss chard (Beta vulgaris) is a spinach, rhubarb, and beet relative, and it's perfect for trying your hand at DIY container gardening or adding to a garden bed. Many growers are eager to learn how to grow Swiss chard in containers. This biennial cool weather crop is exceedingly easy to grow and looks as wonderful as it tastes in leafy greens.
Growing Swiss chard in containers provides ornamental value and a delicious crop. The plant's enormous, thick, ruffled leaves come in various hues, with dark green leaves and red stems growing from a crown at the plant's base. As you harvest individual chard leaves, new leaves continue to grow.
In its second year in the vegetable garden, the plant blooms with tiny yellowish flowers. Swiss chard grows quickly, with its peak growing season occurring in mild conditions, so it's typically planted once the last frost in early spring has passed or in late summer.
All About Growing Swiss Chard in Containers
Fortunately, learning how to grow Swiss chard in a pot is straightforward and an appropriate project for all levels of grower. Whether you prefer the Bright Lights or the Fordhook Giant cultivar, learning how to grow Swiss chard in containers allows you to enjoy this tasty veggie even in a small space.
Growing Swiss chard in containers is simple and adds a pop of color and interest to any room, patio, or garden during Swiss chard season. Keep reading to learn how to grow Swiss chard in a pot, care for it, and harvest your homegrown produce.
Choosing a Container for Growing Swiss Chard in Pots
Because Swiss chard doesn't have deep roots, the container you choose shouldn't be too deep. Pots for the varying Swiss chard varieties should be about eight inches deep and 12 inches wide. A five-gallon container is perfect for each plant. If you don't mind your plants having smaller leaves and stems, two chard plants may be grown in a five-gallon container.
The size is more significant than the material you choose. Because terra cotta dries up more quickly than cement or plastic, it means being more careful with watering. Also, consider mobility. If you wish to bring your plants inside for the winter or relocate your pots to follow the sun during the summer, ensure you can lift them.
Plastic is the lightest material, whereas cement and clay are the heaviest. Whatever you select, the bottom should have many drainage holes to keep the roots from becoming waterlogged.
Planting Swiss Chard in Containers
Soak your chard seeds for 24 hours before planting, although this isn't necessary for germination. Fill your selected container with all-purpose potting soil and sow seeds, spacing them six to 12 inches apart and about a quarter-inch deep.
Use a watering can with finely spaced holes or a spray bottle to moisten the potting mix. The idea is to minimize disturbing the ground while providing moisture to the seeds.
In roughly a week, the seedlings sprout. When chard seedlings have two sets of genuine leaves, thin them to six to 12 inches apart. Because chard seeds are little pods containing many seeds, each one you plant will most likely produce multiple seedlings.
How to Grow Swiss Chard in Containers – Care
Swiss chard doesn't mind being crowded, and it won't bolt like some other plants if you neglect to water it. Keep in mind while chard doesn't need much, it demands consistent moisture. In containers, this may be difficult.
Because shallow pots offer a larger surface area for water to evaporate, they require extra attention. Each week, plants need one and a half inches of water. Avoid wetting the foliage by watering it at the base of the plants, remove any decaying organic matter, and consider mulch for better retention.
Swiss chard thrives in full sun or spending at least four hours per day under grow lights. Be vigilant about pests or diseases like aphids, leaf miners, or leaf spot.
How to Grow Swiss Chard in a Pot – Harvesting
After growing Swiss chard in a container, it's time to harvest. Snip the outer leaves off at their colorful stems as soon as they reach your desired size and leave the plant to produce new leaves.
Only collect the veggies you intend to eat and enjoy fresh tender leaves any time. Alternatively, cut everything off at once. Either harvest the entire plant or bring your container indoors to overwinter after the first hard frost.
Learning how to grow Swiss chard in a pot is a fun project for any grower level. As the popularity of container gardening increases, Swiss chard is a delightful way to try this trend while doubling as an ornamental addition to a space thanks to its brightly colored stems and large, pretty leaves.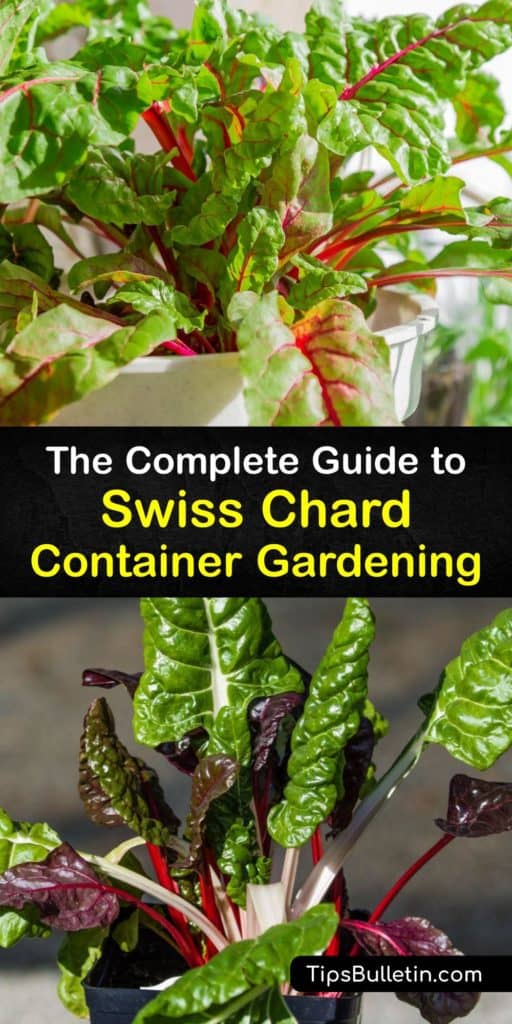 If you loved this article on how to grow Swiss chard in containers, please share these brilliant tips on growing Swiss chard in containers with your friends and family on Pinterest and Facebook.