Swiss chard might be a type of beet, but these leafy greens aren't famous for their roots. Instead, they feature glossy, puckered leaves with colorful veins and stalks that make an exciting addition to your veggie garden. Finding out how to grow Swiss chard isn't always simple because it isn't as common as carrots, potatoes, and onions.
Instead, growing Swiss chard becomes more appealing after you've tasted it for the very first time. From that point on, most people want to have easy access to these tender leaves, and the most obvious method to do that is to plant them directly into your garden.
Once you decide to grow these tasty chard plants, you might become overwhelmed with questions. How long does Swiss chard take to grow? When should I plant it? What time is the best time to harvest it?
Instead of browsing dozens of web pages and gardening books, we have provided everything there is to know about growing Swiss chard at home in one place.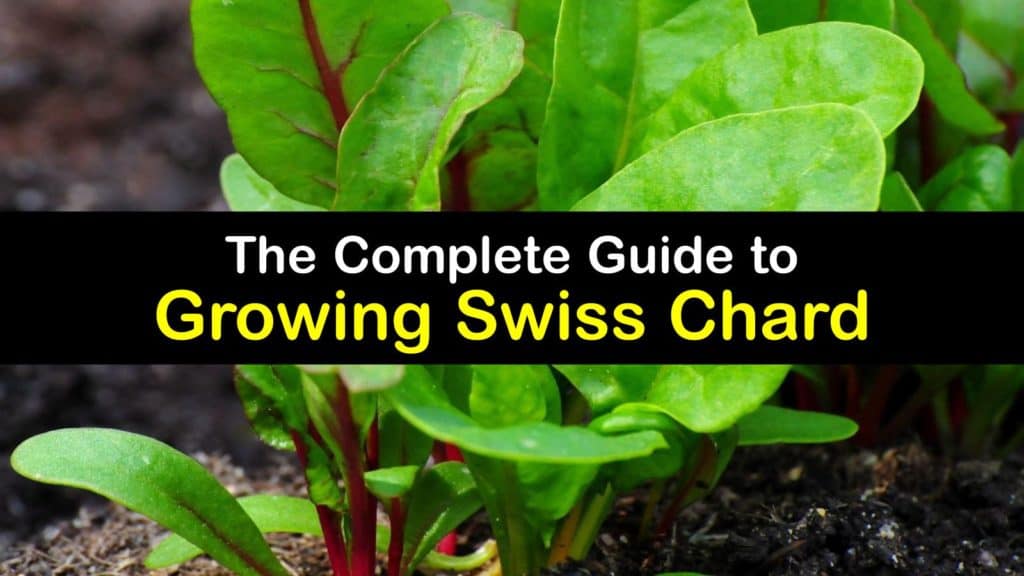 History and Benefits of Swiss Chard
Swiss chard is a type of leafy green plant that comes from the wild beet variety of the Mediterranean island of Sicily.
Historians know that Greeks ate this plant, but there isn't a definite answer of when exactly it appeared because it had similar names to beets, kale, spinach, and other leafy plants.
Swiss chard did, however, start appearing in Europe and America around the 1830s.
Swiss chard goes by the name Beta vulgaris subsp. Vulgaris. It belongs to the Cicla group and is a biennial plant that is a member of the beet family and closely related to spinach.
It has dark green leaves with colorful yellow, white, orange, and red stems. You might consider kale one of the best leafy superfoods on the market, but Swiss chard is even more nutrient-dense.
Swiss chard is mainly known for its ability to grow in poor conditions and has attracted many gardeners. They don't realize that they're gaining more than a low-maintenance plant by incorporating it into their diet.
A single cup of Swiss chard has only 35 calories with over three grams of protein and fiber, on top of vitamins A, C, E, and K. Better yet, there are tons of minerals inside like calcium, manganese, copper, iron, and potassium.
Why are vitamins and minerals important? They keep our body's cells strong and healthy so that everything works the way it should.
Swiss chard does an excellent job at improving heart health, decreasing insulin resistance and blood sugar, promoting weight loss, and fighting cancer. The more we eat chard leaves, the better our bodies feel.
Varieties of Swiss Chard
Even though there are a dozen varieties of Swiss chard globally, some are more popular than others.
One of the most common chard types is Bright Lights. This chard showcases both solid and striped stems, and their leaves are both red and green.
Fordhook Giant is another good choice. This one has light green leaves and white stems, and it reaches up to two feet tall.
Lucullus is prized for its flavor and tolerance to heat and cold. Rhubarb has poisonous leaves, and the red stalks are usually baked into desserts like pies and crumbles, but growing rhubarb is easy.
The one type of chard you've most likely heard of is Rainbow chard or Silverbeet. It has a mix of colors on the stems like purple, yellow, red, and orange and tastes as delicious as it looks.
The chard that you decide to grow is up to you and your preferences. If you don't know where to start, we recommend planting two varieties in your garden during your first growing season and switching it up the following year until you find your favorite.
How to Grow Swiss Chard
How long does swiss chard take to grow, and how soon can you get started? Let's jump right into growing Swiss chard outdoors.
Growing Swiss Chard Outdoors
Chard seeds are irregularly shaped clusters, and each one has several seeds inside. Note that when growing Swiss chard from seed, that the entire plant likely won't produce seeds until the second year of life. Keep that in mind if you hope to harvest some the following season.
Because the seed clusters have a tough outer shell, try to scarify them. Either put the seed clusters in a glass of warm water to soak for 12 to 24 hours or scratch the outside with another rough surface, like sandpaper. Scarifying them helps with germination and gives you a better chance at success.
Before you sow seeds, look at your seed packets for information on the dimensions once the plants reach maturity. If you don't have a packet, it is usually a safe bet to use a spacing estimate of 12 to 18 inches apart.
If you live in northern growing zones, sow seeds in the early spring right before you expect the last frost date.
When you plant early enough, there is a chance for you to sow more seeds in the middle of summer for a large harvest once in midsummer and once in late summer or early fall.
If you live in warmer regions where the ground doesn't freeze, you may plant your seeds in early fall. They germinate when the soil stays around 50°F, but they might struggle if soil temperatures exceed 80°F.
They do tolerate light frost, but a hard freeze is likely to kill them. If possible, grow Swiss chard indoors a few weeks before it is safe to transplant them outdoors.
Growing Swiss Chard Indoors
Growing a Swiss chard plant indoors is similar to growing them in an outdoor garden. While you can grow beets from beet tops or seeds, ensure that they have plenty of fertile soil and a large pot. If starting them in a smaller pot, wait for new leaves to emerge before transplanting them to another container.
As some of the best veggies to grow in pots, ensure that each container has good drainage holes and that the soil stays moist. If you plan to move them outdoors, harden them off by moving them outside during the day for increasing periods before making a permanent move.
Caring for Swiss Chard as it Matures
There are several seeds in a single pod. When you notice saplings shooting up from the ground, be prepared to trim them. This stops them from competing for nutrients. Cut the weakest stems to the ground and get rid of any older leaves to encourage root growth.
Swiss chard enjoys soil that is rich with plenty of organic matter. It is a good idea to supplement the ground as they grow with organic compost or fertilizer.
Like the way to plant rhubarb, Swiss chard tolerates full sun or partial shade, so ensure the location they're in meets those requirements. They do best in slightly acidic to neutral soil or a pH between 6.0 and 7.0.
Water the whole plant evenly throughout the entire growing season and supply them with one to one-and-a-half inches of water every week.
Don't forget to sprinkle a layer of mulch around the base to retain moisture. Remove any outer leaves that are wilted or dying for the plant to send nutrients to the inner, more edible leaves and produce more colorful stems.
How Long Does Swiss Chard Take to Grow?
Swiss chard only takes about 50 to 60 days to completely mature before being ready for harvest. Succession planting works well with these plants as long as you sow seeds a minimum of ten days apart.
Some people prefer to plant baby greens and harvest them in smaller sizes, around six inches tall, like when harvesting beet greens.
How long it takes to harvest your Swiss chard is ultimately up to you, but don't let them grow too long, or they might start bolting and have an unappealing flavor and texture.
Companion Planting with Swiss Chard
Companion planting is a wise gardening tool. When planted next to one another, some plants work together and benefit each other. Good companions are often ones with similar light, soil, and water requirements and that keep pests and diseases away from one another.
For companion plants for Swiss chard, members of the brassica family like Brussels sprouts, cabbage, radishes, and broccoli are reasonable choices. Other friendly companions are lettuce, mint, and chamomile.
There are also some plants that you should try to keep away from Swiss chard. Plants like cucumber, pumpkins, potatoes, corn, and melons all attract pests that might do more damage to your chard than good.
Pests and Diseases of Swiss Chard
When learning how to grow swiss chard, pests and diseases are sometimes unavoidable. Swiss chard isn't the most prone plant to these issues, but the risk worsens if they don't have the right environment.
Some insects to look out for when growing Swiss chard are aphids, leaf miners, leafhoppers, flea beetles, slugs, and blister beetles. Pests are a menace in two different ways. First, they carry diseases that might spread into our crops with every bite they take.
Second, they turn your veggies into their home where they lay their eggs, nourish their appetites, and overwinter, and their species feed year after year. If not taken care of, they cause severe damage to yields and sometimes completely kill plants.
The best chance at avoiding pests altogether is to purchase some floating row covers. If these aren't in your budget, food-grade diatomaceous earth is a non-toxic powder that kills pests that walk through it.
Don't forget to practice crop rotation for the eggs that do overwinter, and they don't have the same food source as their parents did before, and they are forced to move elsewhere.
While Swiss chard isn't at risk for many diseases, over and underwatering them could create some issues.
Downy mildew is one problem that may occur if the soil doesn't have adequate drainage. Amend the earth at the beginning of the season with lots of organic matter to keep it loose and healthy.
Harvesting Swiss Chard
A huge benefit of growing Swiss chard at home is that you may cut the plants throughout their entire growing season if you desire. Start cutting the first tender leaves that appear in the late spring that are around six inches tall.
Only use sharp garden shears or scissors to avoid damaging the plant and stunting growth. Always take the outer leaves before the inner ones.
If you'd like, a big harvest at the end of the season is also okay. For those who go this route, dig up the entire plants, including the roots, before taking them inside to store or use them.
Storing Swiss Chard
Growing Swiss chard was one adventure, and storing it is another. There are various ways to store Swiss chard, and they could last for up to a year, depending on how you treat them.
If you plan to cook the chard within a week, put them in plastic bags with a few damp paper towels and store them in the crisper drawer of your refrigerator.
The next best place to store Swiss chard is in the freezer. If you have a large batch, make sure to wash and boil the leaves for a few minutes and then dunk them in a bath of ice water. Dry the leaves on a paper towel and store them in freezer bags until ready to use.
Another fun way to store Swiss chard is to cut out the stalks and pickle them. This strategy is a new take on pickles and is even more nutritious than traditional cucumbers.
Remove the leaves from the chard stems and wash them under cold water. Cut the stems into three to four-inch pieces and set them aside.
Split the garlic, mustard seeds, celery seeds, and peppercorns between the two Mason jars. Pack the Rainbow chard stems into the glass jars.
Pour both kinds of vinegar into a pot and stir in the sugar, salt, and sriracha. Bring the vinegar-based liquid to a boil and continue to stir it until everything is dissolved. Pour the pickling mix over the chard stems to completely submerge them.
Allow the hot jars to cool before putting their lids on and setting them in the refrigerator. Wait at least two days for the flavors to develop. Keep them stored in the fridge for up to one month.
Swiss chard is a veggie that a lot of gardeners overlook. They don't realize how tender, flavorful, and low maintenance Swiss chard can be. They make our garden beds look full and colorful and are a true gem that more people should embrace.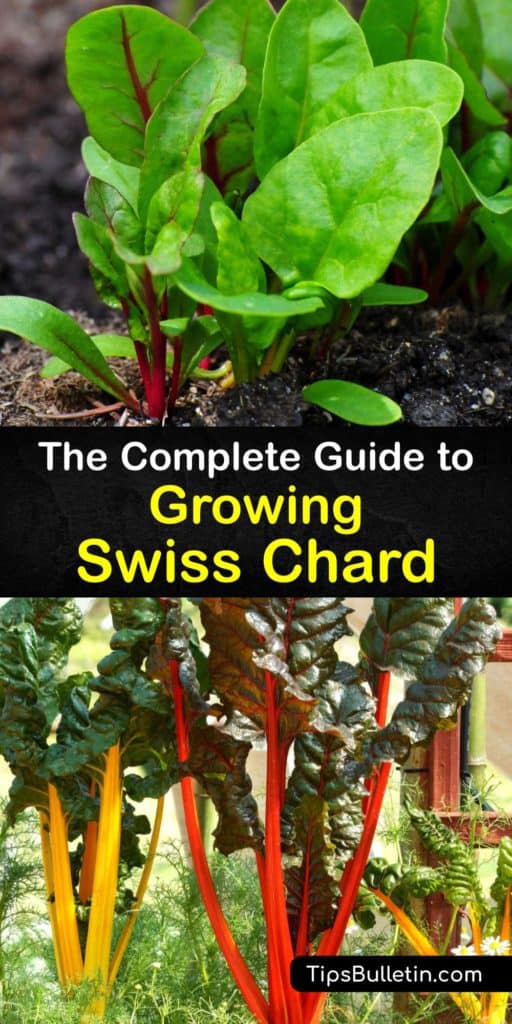 If learning how to grow Swiss chard has boosted your nutritional intake, share this complete guide for growing Swiss chard on Facebook and Pinterest.