The aloe vera plant is one of nature's wonders. It adds beauty to the space while purifying the air, and there are many health benefits to harvesting the gel. Learn how long this plant takes to grow and how to harvest aloe vera for use around the home.
There are many medicinal plants, from echinacea to ginseng, and aloe vera is one of the easiest houseplants to grow. While you are probably know about its ability to soothe a sunburn, this succulent plant has many other uses.
While buying a bottle of aloe vera gel from your local store is convenient, there's nothing quite like harvesting aloe and using it to moisturize your skin or treat minor burns. It's no more challenging to grow than other indoor plants, and it's simple to propagate by removing offshoots or pups and transplanting them into another container of potting soil.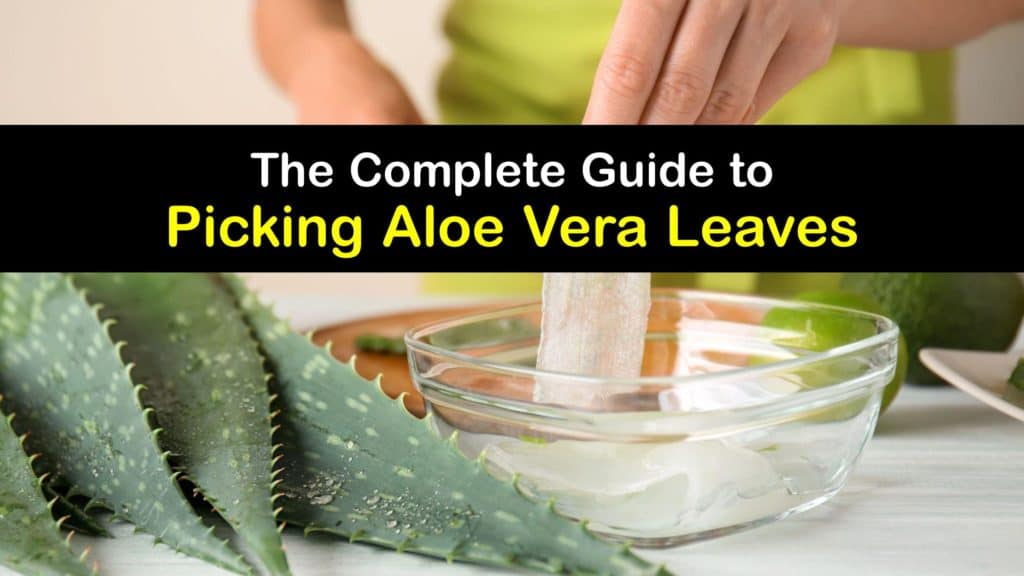 When and How to Harvest-Aloe Vera
You'll appreciate the aloe vera plant if you're a DIY person. This easy-growing plant has thick, succulent leaves that contain a clear gel with healing properties. However, it's essential to know when to harvest aloe vera to ensure you get the most out of your plant. The key is understanding when the aloe vera leaves are ripe for harvesting.
Unfortunately, this wonder plant is a slow grower, particularly if you are growing aloe from seed, and patience is necessary as you wait for it to mature. Learn when and how to harvest aloe vera gel and store it for everyday use. Discover the many ways to use the gel after harvesting aloe vera.
When to Harvest Aloe Vera
How long does it take for aloe vera to grow? While many houseplants grow quickly, aloe vera plants are not one of them. Explore the growth rate of an aloe vera plant to understand when to harvest aloe vera.
If you grow aloe vera from seed, it takes about two to four weeks to germinate. Unfortunately, it takes considerably longer to grow to maturity – three to four years to grow from a pup to a plant with leaves eight to ten inches long. In that time, be sure to keep an eye out for aloe vera problems that could arise and affect the plant.
It's easy to grow aloe vera from another plant. The way to propagate aloe vera plants is by removing and planting the "pups," or smaller versions of the aloe that grow to the side of a mother plant.
However, there are ways to encourage faster growth among the large variety of aloe plants. Make sure to plant it in well-draining potting soil, avoid giving the plant too much sunlight and water as they are drought friendly plants, fertilize it regularly, and keep it indoors when possible.
How to Harvest Aloe Vera
You've waited patiently for your plant to mature, and it's finally aloe vera harvest time. Determine which leaves to remove and how to harvest them from your plant and store them.
Pick the largest three or four leaves from the outside of the plant and make sure they are in good condition. Next, use shears to cut them close to the stem since most of the nutrients are at the base of the plant. Hold the cut end down to drain the aloin to keep the gel from tasting bitter.
Wash and dry the aloe leaves, lay the cut leaf on a cutting board, and trim away the prickly edges. Start on the cut side of the leaf and filet off the skin from the outside in, including the yellow layer.
Rinse the clear, translucent flesh with warm water and store it in an airtight container in the refrigerator for five to seven days. To keep the gel longer, freeze it in ice cube trays and keep them in a freezer bag for up to one year.
Ways to Use Aloe after Harvesting Aloe Vera
You're probably wondering how to use the fresh aloe after harvesting aloe vera. While its primary purpose is to soothe irritated skin, the gel has many other uses. Here are several ways to enjoy the benefits of aloe.
Since aloe vera has cooling, moisturizing, and soothing properties, apply the clear ooze to your skin for acne, insect bites, burns, and other skin irritations. In addition, studies show that it offers pain relief and improves minor wound healing. Apply it to the affected area of your skin a few times a day.
Aloe contains vitamins C, A, and E, which promote shiny hair growth, and folic acid and vitamin B12, which prevent hair from falling out. It's an alternative to a chemical-based mouthwash, blocking plaque and reducing swelling and bleeding gums.
The gel is good for digestion and consuming one to three ounces at mealtime is a gentle remedy for relieving heartburn. In addition, it's considered a natural laxative. However, those with Crohn's disease should avoid it since it may cause cramping and diarrhea.
Making a Natural Face Moisturizer with Aloe Vera Gel
Aloe is wonderful for promoting the overall condition of your skin, and what better way to use it than make a homemade face cream? This recipe makes five ounces and stores for up to four months.
Add the jojoba oil, coconut oil, and beeswax pastilles to a double boiler and heat until melted. Let the mixture cool, and add the aloe vera gel. Blend until light and fluffy, add the lavender oil, and blend once more. Spoon the cream into a lidded jar or an airtight container and keep it in the fridge.
Aloe vera has antibacterial and anti-inflammatory qualities, while coconut oil is a natural emollient. The jojoba oil contains vitamins and minerals to promote healthy skin, and the lavender oil adds a relaxing and pleasing scent.
Make a Delicious Smoothie with Aloe Vera
The aloe plant is more than a skin product; it is a superfood and excellent for boosting your immunity. Use aloe vera to prepare a healthy and delicious smoothie without a bitter taste.
Mix the ingredients in a blender on high speed for two to three minutes until they have a creamy and smooth texture. Taste the smoothie, add more milk or a sweetener if desired, and drink it immediately for the freshest flavor. To store it, pour the smoothie into a storage container and keep it in the fridge for up to 24 hours.
The aloe vera plant is a fantastic addition if you're looking for a new houseplant. It's relatively simple to grow, has a unique appearance, and the leaves provide a gel for natural healing to treat burns, bug bites, or moisturize your skin.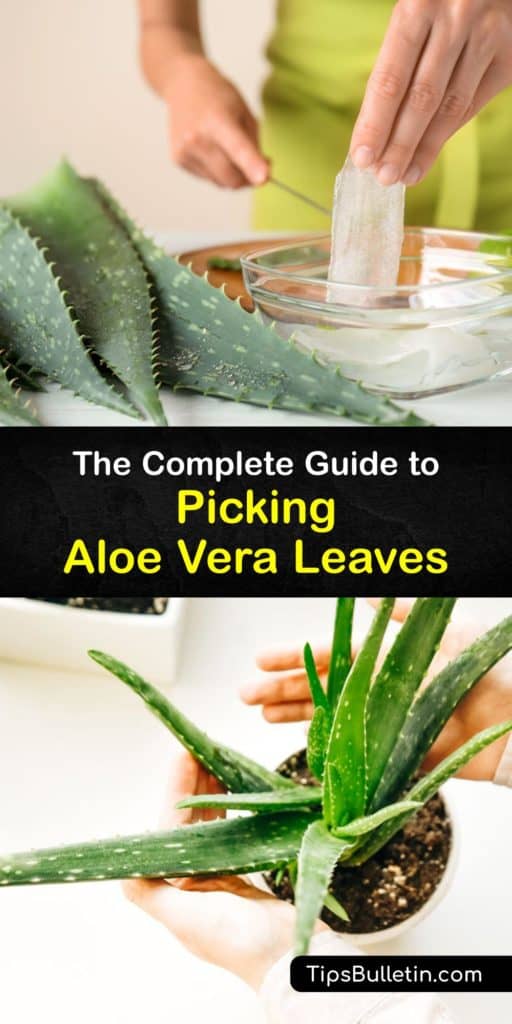 Now that you understand when and how to harvest aloe vera gel from your succulent plant, why not share our aloe vera harvesting guide with your family and friends on Pinterest and Facebook?