Knowing how to make manure tea gives you access to free fertilizer and levels up your gardening. Manure from horses, chickens, cows, or goats may all be used to make good manure tea. Avoid handling the dung of carnivores such as cats and dogs since they sometimes carry dangerous bacteria that could harm you if it enters your food.
What is manure tea? Manure tea is a mixture of water and manure, and it's advantageous for almost any plant. Avoid using manure tea to fertilize root crops like carrots, turnips, potatoes, and beets. Find fresh manure from a nearby farmer, or buy bagged dung at your neighborhood nursery or garden store if you don't raise livestock or pets.
The amount of potassium these plants require is greater than the amount in manure tea, which would result in attractive, healthy top growth but minimal root growth. Discover the best ways of using homemade manure in your vegetable patch with an uncomplicated and fast recipe.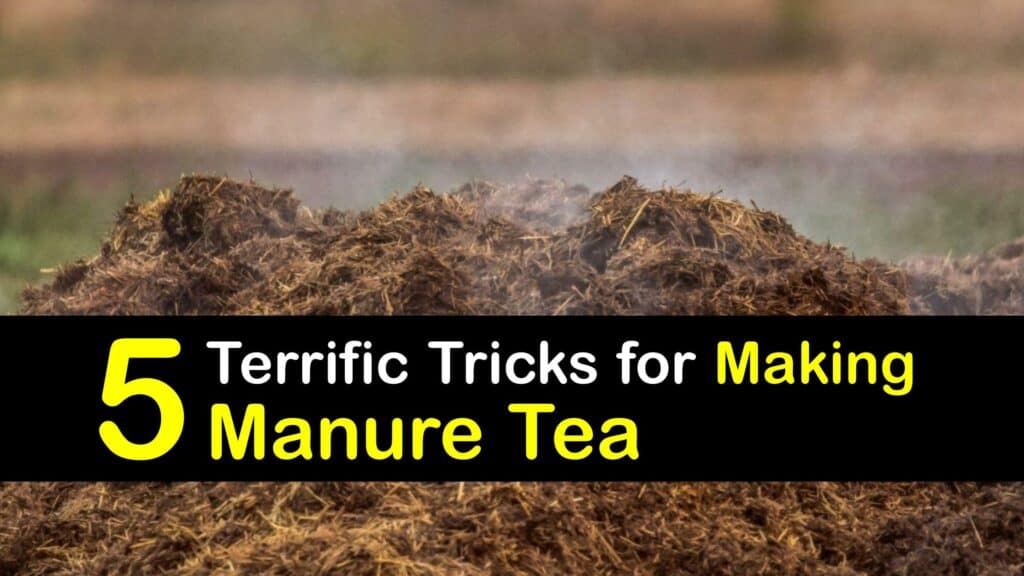 What Is Manure Tea?
Simple to create and use, manure tea is a rich mixture for feeding your garden. Learn how to make manure tea and enjoy a fantastic source of natural nitrogen fertilizer for your vegetable beds and container crops with a little bit of manure and some brewing time.
As the name implies, manure is steeped in water to make tea. The liquid produced after it soaks is nutrient-rich and can be readily applied to garden plants. Discover an easy-to-follow compost or manure tea recipe, and get started.
All About Manure Tea Fertilizer
You may have heard of using chicken poop to make at home made manure. Though it seems off-putting, animal excrement is rich in nutrition and beneficial bacteria. Crafting manure into tea releases nutrients like nitrogen, making it easy for a plant to absorb them through its roots.
You can use waste from other animals as well, such as sheep, pigs, or cows. Read on to discover many ways of composting pig manure to benefit your garden and grow your vegetables naturally.
Similarly, finished compost from a compost pile, or worm compost from a vermicomposter, is also often made into tea. Manure and compost tea have high nutrient and microbe density. They're simple, inexpensive, and boost most plant health and growth.
How to Make Manure Tea or Aged Compost Tea With a Bag
Manure tea is a weak tea of raw or composted manure and water. The excrement is mixed directly into the water or steeped using a manure tea bag. While gardening stores sell premade mesh tea bags, crafting your own is straightforward and budget-friendly.
Filter away the large bits of compost if you intend to use your tea in a watering can or sprayer so they won't get stuck and clog the device.
Either add your manure or compost to the bag before steeping or include it directly in the water and use the bag to strain out the liquid before applying it to your plants.
Simple Manure Tea Recipe
If you raise livestock or keep pets, upcycle their waste into rich liquid fertilizer for your garden. Grab a bucket and brew a batch of manure tea with just two ingredients. This anaerobic manure tea recipe requires no filter or additional oxygenation. Stirring the tea keeps the brew agitated and provides enough air.
Pour water into a five-gallon bucket or equivalent container until it is two-thirds full. Fill the bucket to the desired level with manure, or use a manure tea bag. Let this soak for a day or two and mix once or twice daily. Strain and use the manure tea in place of water to feed your plants.
Actively Aerated Compost Tea Recipe
If you make your own organic compost but prefer a liquid fertilizer rather than finished compost from the compost bin, you need a compost tea brewer. Compost is decayed organic matter and a plentiful nutrition source for growing crops or flowers.
Actively aerated compost tea contains more beneficial microbes thanks to the higher oxygen contents in the water.
Place four gallons of chlorine-free water into a clean 5-gallon bucket; rainwater is best. City water must be aerated in an open vessel for a few hours before use to eliminate the chlorine. Use an aquarium pump to aerate the water.
Place roughly one cup of aged compost in the tea bag for every gallon of water and submerge it in the bucket. Keep the bucket out of direct sunlight to protect the microbial population from UV harm.
For optimal effects, leave it at room temperature. Look for a fragrant, earthy aroma and a bubble-covered surface after you let the compost tea brew for 24-36 hours. Spray the aerated tea around the bases of plants.
Benefits of Using Fertilizer Tea
Fertilizer tea is uncomplicated to make and budget-friendly. This organic fertilizer promotes plant growth and healthy soil by feeding the processes powering the plant cells. The tea is applied as a soil drench by pouring it around the bases of plants or as a foliar spray by spritzing it directly onto the leaves.
Well-fed plants are more vigorous and better able to resist diseases and insect pests. Fertilizer tea provides the soil with beneficial microorganisms that help maintain its structure and keep root systems healthy.
What is manure tea? Manure tea is crafted by steeping animal waste instead of using tea leaves to make plant food. Although it doesn't sound appetizing, plants adore it. The helpful microorganisms and nutrients in the manure disperse and multiply in the water, making liquid fertilizer plants soak up quickly.
Don't waste money on expensive synthetic fertilizers like Miracle Grow. Keep dangerous substances out of your garden and prepare your own manure tea using anaerobic or aerobic methods.
If you loved this helpful article on how to make manure tea, please share this knowledge with your friends and family who could use a manure tea recipe on Pinterest and Facebook.