We use onions in hundreds of dishes throughout the year. As a kitchen staple, learning how to plant onion sets in your home garden is a significant benefit.
Planting onion sets gives you a hardy supply at the end of the growing season. It also encourages you to learn more about the different varieties available to you.
Knowing when to plant onion sets and how to care for them isn't common knowledge. There are many different onion varieties that not every home gardener has worked with.
Onion bulbs are a great way to get a head start on the season. Because they are cold-season crops, you may grow onions even when all of the other crops in your beds have died.
Growing onions from sets is also one of the easiest methods. Once you understand a little more about how these plants grow, you'll be able to care for all sorts of onions.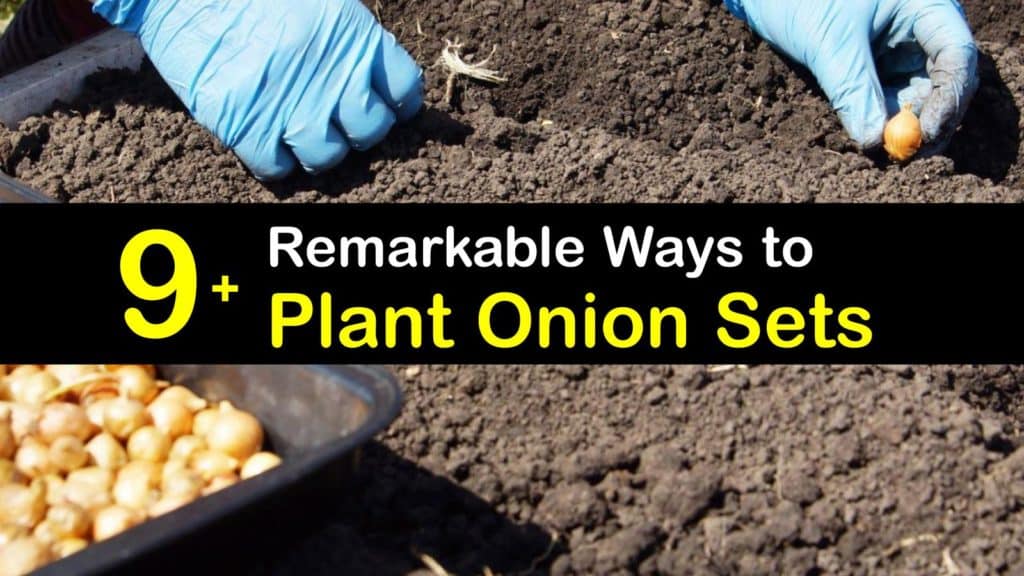 Tips for Planting Onion Sets
Figuring out how to plant onion sets is easy once you start to put in the work. Onion seeds are different from sets. You can grow onions from seed but it takes much longer.
Onion sets are small bulbs that have already begun growing. Plant shallots or yellow onions from bulbs without the worry of frost damage. They mature quicker than the seeds.
Pay attention when you purchase onion sets from your local garden centers. An onion crop is divided into either short-day or long-day categories. These terms refer to the day length required for germination and bulb formation.
Without the appropriate day length, you won't be able to grow large bulbs. Long-day varieties of onions require 14 to 16 hours of sunlight to grow, while short-day requires 10 to 12.
Long-day onions are more commonly grown in a northern hardiness zone. There are also the less common intermediate-day onions that need 12-14 hours of light.
You can also grow bunching onions like chives, scallions, or green onions. Regardless, learning how to plant onion sets will have you growing all sorts of onion family members like shallots, leeks, Walla Walla, and the beloved yellow onion.
When to Plant Onion Sets
Knowing when to plant onion sets is crucial for these crops. Depending on the variety, onions can be both a fast or slow grower, and ensuring that they get planted at the right time helps speed up that process.
Onions are planted in the early spring before the last frost or in the fall before the first frost. Try and grow them when the weather is still cool but not too cold.
Planting red onions and other types in the fall require four to six weeks of warm temperatures to become established in the ground. Onion seedlings should then start to appear the following spring.
Spring-planted onions are usually started indoors about six weeks before transplanting. The green tops should start sprouting within a couple of weeks.
Start to Plant Onions Indoors
Some of us live in hardiness zones that are frigid and keep the ground frozen far too long. Get ahead of this by learning how to grow onion sets inside.
Planting onion sets about six weeks before the last frost of the spring makes it easier to transplant them once the ground warms.
To grow onions in a pot, find a container with a few drainage holes and fill it with peat-moss soil to start sets indoors. Water the plant and set it in a location with full sun.
You may use a grow light if you don't have a window with adequate sunlight. Continue to keep the ground soil moist until your onions start sprouting.
Hardening Off Onions
The last thing you want is to shock your crops by moving them from an inside, warm location to an outdoor one that's still a little chilly.
Harden off your onion plants by moving them outdoors for small increments of time. Increase their time spent outside little by little over a week until they grow accustomed to the outdoors.
Transplanting Onions
It's possible to buy onion transplants at your local garden center, but it's just as easy to start the crops indoors and transplant them once the ground is warm enough.
It is best to wait until the danger of frost is completely gone, even though the sets are more likely to survive a frost. Onion seeds germinate at 40°F. The optimum soil temperature is between 65°F and 75°F.
How to Plant Onion Sets
Knowing when to plant onion sets is only half of the knowledge needed to be successful. When it comes time to plant onion sets, you also have to understand how to maintain them.
Transplant your onion sets to an outdoor bed or raised beds about two to four weeks after the last frost date of spring. The spacing for onion sets is four to six inches apart per set and rows 12 to 18 inches apart.
The way to plant green onion bulbs includes amending your soil with lots of organic matter and using a shovel to dig each row a few inches deep. Place each onion set in the rows and cover them with the remaining soil. Water them so that the earth is damp and tamp down on them lightly.
Spread mulch around your garden bed to help the ground maintain moisture and block out weeds. Onions only require about an inch of water every week.
Onions crave nitrogen, so apply a nitrogen-based fertilizer to your onion beds every two weeks to assist with bulb formation. Remember that onions need full sun, or about 8 hours of direct sunlight every day.
Controlling Onion Pests
Many different types of pests and diseases attack onions. Some of the most common insects are onion maggots, nematodes, and thrips.
Typical fungal diseases include mildew, rust rot, and neck rot. Most of the time, control these issues with row covers, fungicides, and insecticides.
Add the oil and soap to a spray bottle before diluting it with water. Spray four teaspoons of the mixture directly onto your affected plants. Continue to use the solution once per week until there are no longer signs of insects.
Plant onions next to lettuce and tomatoes to deter unwanted bugs from your plants.
How Long Do Onions Take to Grow?
Onions take between three and four months from the moment you plant them until they are ready for harvest. Spring onions, the green parts of the onions, are harvested after only three or four weeks.
Harvesting Onions
Monitoring the green tops of the onions is the best indicator of readiness. Mature onions have tops that start to flop over and change from green to brown.
Remove the onions with your bare hands by pulling upward from the base of the tops. You might have to gently loosen the soil if one is stuck. Harvesting onions doesn't usually require any tools.
Drying and Curing Onions
Onions must be cured before they are ready to eat. Spread your harvested onion out on a flat surface to allow them to dry, usually about ten days.
If not cured, onions will rot from the remaining moisture. You know that they are ready for storage when you cut the top off of one and no white, milky substance oozes out.
Cooking with Onions
Onions don't have to be diced up and sauteed to be appreciated. While we love the flavor they add to our dishes that way, there are better ways to embrace onions for all that they are.
To make the pastry, put the flour, ½ teaspoon of salt, and sugar into a food processor bowl. Pulse these items for a few seconds to combine them. Add 12 tablespoons of butter and pulse it about ten times until the butter is in small pieces.
Keep the motor running and slowly pour in the ice water until a dough forms. Dump the fresh dough on a floured surface and knead it into a ball. Wrap the dough in plastic and refrigerate it for one hour.
Heat your kitchen oven to 400°F and line a baking sheet with parchment paper. Roll the dough out and cut it so that it is 10 x 14 inches. Place the tart dough on the prepared sheet and sprinkle it with the cheese to the edges.
Sprinkle the thyme and chives over the top. Peel and cut the onions into half-moons and spread them over the dough. Dot the top with the remaining three tablespoons of butter and sprinkle with the leftover one teaspoon of salt.
Bake the onion tart for 40 minutes or until brown. Remove the onion tart from the hot oven and allow it to cool before cutting into squares and serving.
Onions are a staple in many of our lives. They add a distinct flavor to our favorite recipes that can't always be substituted. Knowing when to plant onion sets and how to care for them allows us to have a supply of homegrown onions on hand throughout most of the year.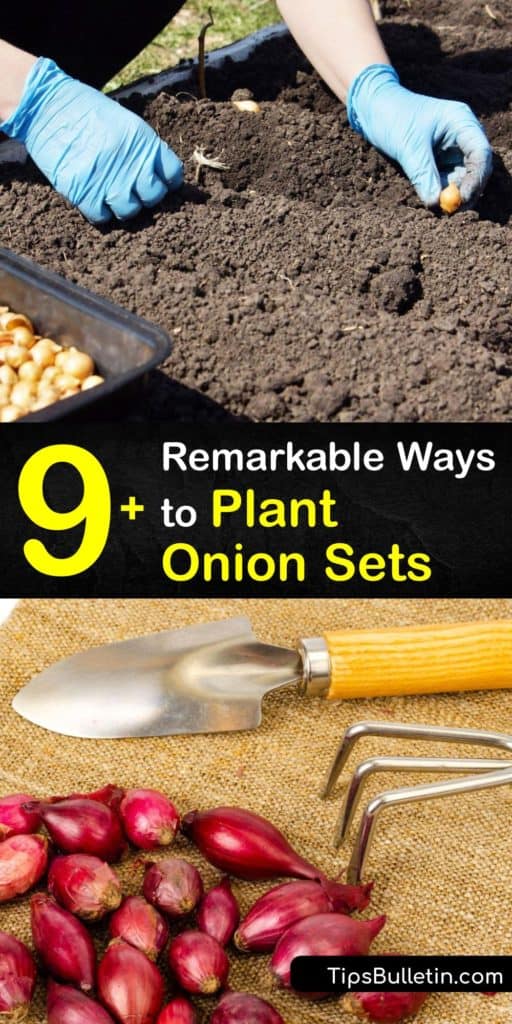 If learning how to plant onion sets has made you a better gardener, share these useful tips for planting onion sets on Facebook and Pinterest.