If you enjoy cooking Mexican cuisine, it's a great idea to start growing your own tomatillos in the garden to save you money and time running to your local market. Learn when and how to plant tomatillos and enjoy fresh tomatillo fruit at the end of the growing season.
While the name is similar to tomatoes, and they resemble green tomatoes, you probably wouldn't recognize one in the grocery store if you've never seen a tomatillo before. These distinct green fruits are the main ingredient in salsa verde, and guacamole is even better with tomatillos and cilantro.
They are unique-looking cousins to the tomato and native to South America. Tomatillo fruit is covered in a green, papery husk, which is why it is also called a husk tomato. Ground cherries come from a husk, as well, and look like small tomatillos.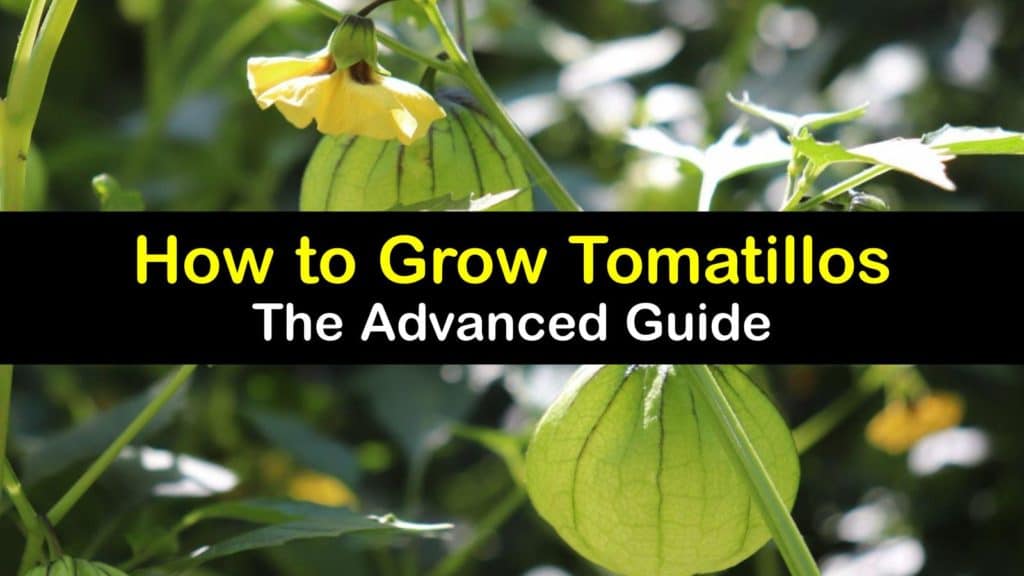 Planting and Caring for Tomatillos
Unlike regular tomatoes, tomatillos are generally eaten cooked. They have a bright, tart, and citrus flavor that becomes slightly sweet during the cooking process.
What do tomatillos look like? The fruits are firm and only grow one to two inches in diameter. The outside has a tacky residue, and the inside is white and meatier than your typical tomato. While they seem quite different in appearance, they are just as easy to grow as tomatoes.
While planting tomatillos is pretty straightforward, like when growing golden berries or ground cherries, there are some essential things to understand to ensure they grow healthy and produce delicious green fruits.
Like other vegetable or landscaping plants, tomatillo plants need good soil and the right amount of sunshine, water, and food to thrive.
Discover when to plant tomatillos so they are in no danger of frost damage and how to plant them by starting them from seeds indoors and transplanting them outside in the garden.
Explore spacing and staking tips when growing tomatillo plants to give them plenty of air circulation and support as they mature.
When to Plant Tomatillos
Before you plan on growing a tomatillo in your garden, it's important to know when to plant tomatillos to ensure they don't suffer from frost and understand how long they take to grow to maturity and produce fruit. Here is the best time to start seeds indoors and transplant them outside.
Tomatillos have a long growing season, and the first step in tomatillo plant growth is the germination process, which takes about a week or two.
When to plant ground cherries depends on your growing zone but it's a good idea to start your seeds inside about seven weeks before the last frost date to give them time to strengthen and grow. After they germinate and have at least three pairs of leaves, it's time to plant the seedlings outdoors in the spring after the danger of frost passes.
At this point, they grow for about two months, developing strong stems, full leaves, and eventually blossoms. Most types grow roughly 75 to 100 days before they have mature fruit ready for picking, depending on the type.
What to Know before Planting Tomatillos
There are many questions to be answered before growing a garden, like do the plants require full sun, how far apart to plant tomatillos, and how much space do they need?
Here are some useful things to know before planting tomatillos, whether growing them in a garden setting, raised bed, or container.
Tomatillos are an annual plant of the nightshade family, and they go by many names, including Toma Verde, Ground Cherry, and Mexican Husk tomato.
There are also different hybrid and heirloom tomatillos like Toma Verde, Gigante, and Rio Grand Verde. Most types grow well in USDA hardiness zones 5 through 11.
Where do golden berries grow for ideal fruit production? Tomatillo plants (Physalis philadelphica and physalis ixocarpa) grow best in soil pH between 6.0 and 7.0, and they want at least six hours of full sun to grow healthy.
These plants enjoy fertile soil, so apply a fertilizer high in potassium and phosphorus before planting and then again after harvesting the first fruits to encourage more blossoms and fruiting.
Two or more tomatillo plants are required for pollination, and they need staking from tomato cages or another form of support to keep the tomatillo fruit off the ground.
As your plants grow, keep an eye out for common garden pests, such as aphids, cucumber beetles, and cutworms. Remove them by hand right away, spray them off with a garden hose, or use insecticidal soap.
How to Plant Tomatillos
The best way to plant tomatillos is to start them from seeds indoors to give them a head start on the season, and growing them this way is also the most inexpensive. Here is how to sow tomatillo seeds and transplant seedlings outdoors.
In early spring, start growing tomatillos from seed by sowing seeds a quarter-inch deep in a seed starting tray or small pots filled with potting mix.
Spray them with water to dampen the soil and seeds without soaking them and set them in a warm sunny window. Do not let the dirt dry out, and spray them as needed to keep the dirt slightly moist to encourage germination.
After the spring frost, move the seedlings outdoors for a couple of hours each day for a week to harden them off. Prepare the garden bed, raised bed, or five-gallon pot for planting by amending the soil if necessary. Growing tomatillos in pots is easy if you have a large enough container.
Dig holes slightly larger than the seedling's base with the appropriate tomatillo plant spacing of 18 to 24 inches apart and rows set 3 to 4 feet apart. Set each plant into a hole, push the soil around the base, and press it down firmly but gently.
Water them immediately to help the roots settle and spread a layer of organic mulch over the garden bed. Don't forget to place a tomato cage over each plant or some form of staking right after planting.
If you choose, tomatillos are vegetables to grow indoors year round as long as their growing requirements are met.
When cooking, use green tomatoes as a substitute for tomatillos, as their flavor profiles are similar.
How to harvest tomatillos is easy. Wait until the fruit fills out the husk, is a little soft, and the husk starts to split. Gently pluck them from the vine.
We don't often consider tomatillos a typical fruit or vegetable to grow in a garden. However, they are just as easy as growing tomato plants as long as you know how to start them and give them the proper care.
There is nothing better than picking ripe fruit for your favorite recipes after all your hard work.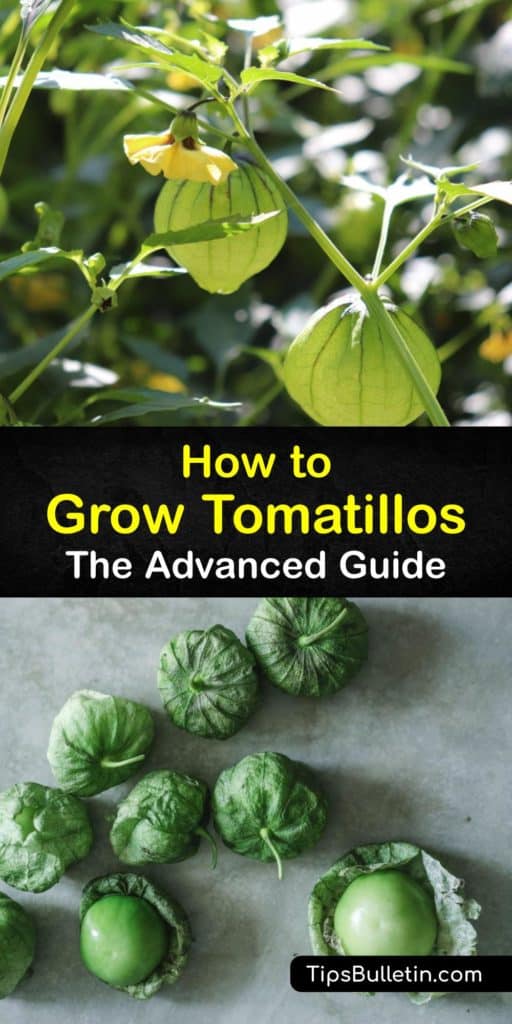 Knowing how to plant tomatillos in your own garden is a great way to enjoy organic, ripe tomatillos at the end of the season, so why not share our tomatillo growing guide and plant care tips with your friends and family on Pinterest and Facebook?