If you're looking for something unique to grow, the ground cherry or cape gooseberry might be your next fruiting plant. These odd-looking fruits look like a small orange tomatillo, growing wrapped in their own papery husk. Explore the growing habits of the husk cherry plant and how to grow ground cherries in the home garden.
The ground cherry plant is not as well-known as other plants. However, they are pretty easy to grow, and they thrive in a bed or container without much worry from diseases and pests. Contrary to the name, ground cherries are not related to real cherries but come from the same family as tomatoes.
While they are tomato family members and resemble a paper-wrapped cherry tomato or husk tomato, they do not taste like tomatoes. Instead, they have a mildly sweet, tropical flavor with a grape-like texture. The berries are delicious straight from the plant or used to make ground cherry salsa, chocolate-covered ground cherries, or another tasty dessert.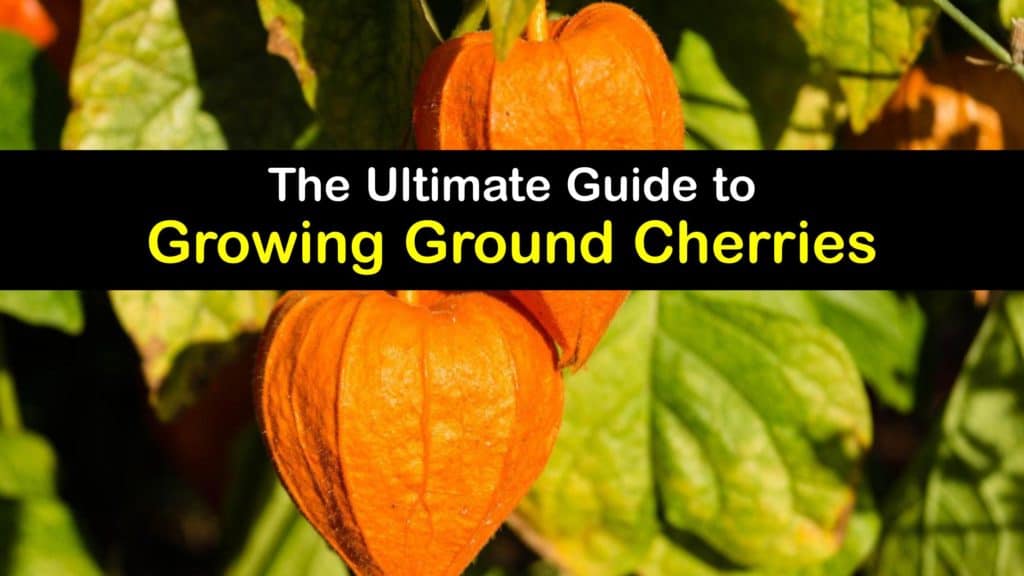 Planting and Growing Ground Cherry Plants
While growing ground cherries may seem intimidating, especially if you've never heard of these fruits before, these fast-growing plants are simple to grow. Give them sunshine and some TLC, and they reward you with fun and tasty fruit at the end of the growing season.
Learn what ground cherries are in our complete guide to planting, growing, and harvesting ground cherries. Discover how to grow golden berries or ground cherries from seed or cuttings, transplant the seedlings into the ground or a pot, and care for your plants until it's time to harvest ground cherries for making delicious recipes.
What are Ground Cherries?
Ground cherries are not actually cherries, as their name implies. Instead, they are an annual fruiting plant and a nightshade family member. Tomatillos are closely related to ground cherries, as they both come with husks. Find out some of the more popular types of ground cherry plants and their appearance to help you choose the optimal plant for your yard.
Ground cherry plants originate in South America, and there are a few different varieties, including the Strawberry groundcherry (Physalis pruinosa) and Peruvian groundcherry (Physalis peruviana). Goldie, Cossack Pineapple, and Aunt Mollys ground cherry are some of the more popular types.
Cossack Pineapple has a tangy-sweet taste similar to pineapples, Aunt Molly's grows with an upright, bushy habit, and Goldie ground cherries are low-growing and spreading.
Ground cherries resemble tomatillos with fruits that grow in a papery husk. However, ground cherries are smaller and are yellow or orange instead of green and have a sweet taste. While the fruits are edible, all other parts of the plant are toxic to humans and pets.
Preparing for Growing Ground Cherries
All plants want the perfect amount of sunshine, proper soil, and space to flourish, and ground cherries are no different. Where to plant ground cherries is an important consideration. Learn what these plants need to thrive to help you plan accordingly and ensure you grow ground cherries in the right environment.
Whether you choose to grow ground berries, golden berries and tomatillos in a large size container or in the ground, ground cherry plants need at least six hours of full sun each day. While they tolerate periods of shade, they produce fewer fruits. They grow ideally in loamy, sandy, and well-drained soil with a pH between 6.0 and 6.5. Ground cherries have a sprawling growth habit and require at least two feet of space between plants.
How to Grow Golden Berries from Seed
Growing golden berries from seed is inexpensive and easy. Determine when and how to sow ground cherry seeds indoors to get a head start on the season and encourage germination.
When you are growing ground cherries indoors, sow ground cherry seeds roughly six to eight weeks before the last frost. Fill peat pots with seed starting dirt and bury a couple of seeds a quarter of an inch deep in each container. Spray with water and place them in a warm area while they germinate.
Germination usually takes two to three weeks, and it's vital to keep the soil moist during the process. Once the seedlings are an inch or so tall, thin them out, leaving the most vigorous plant in each pot.
How to Propagate Ground Cherry Plants
Another way to grow ground cherry plants is by propagating. Propagation is a process where you grow a new plant from the parent stock, and it's a cheap way to produce more ground cherries.
In early spring or summer, cut a four to six-inch section from the middle of the stem rather than the growing tip or base. Remove the foliage from the bottom half of the branch and dip the cut end in the rooting hormone.
Fill a small container with soilless potting mix and bury the bottom section of the cutting into the dirt. Use a flower pot with drainage holes to stop the soil from getting too soggy.
Set the container in a warm area with bright indirect sunlight, and keep the soil moist. The roots form in a couple of weeks, and new growth appears on the stem. At this point, the young plant is ready for transplanting.
How to Grow Ground Cherries in the Garden
If you'd rather not start seedlings indoors, it's possible to plant ground cherry seeds directly outside once the danger of frost is gone. Explore how to grow golden berries or ground cherries outside by sowing seeds and transplanting seedlings and cuttings.
If you're transplanting seedlings or cuttings that you started indoors, plant them in the ground at the same depth as their container. To sow seeds, place a seed a quarter-inch deep and two feet apart in the ground, raised bed, or containers. Water them right after planting and weekly to prevent the soil from drying out.
Caring for Ground Cherries in the Garden
While nature usually provides plants with what they need, there are times when you have to step in and give your garden some TLC. Provide proper care for your plants while growing ground cherries to ensure they are healthy and produce fruits.
Ground cherry plants (P peruviana) like their soil moderately moist, and it's essential to ensure they get an inch of water every week. If you notice your plant drops blossoms without producing fruit, this is a sign that they are not getting enough water.
Consider spreading mulch around the plants to retain moisture and keep weeds at bay and a floating row cover to protect them from unwanted pests.
Position a tomato cage over each plant as they grow to keep the plants from flopping over onto the ground. If you have poor soil, feed your ground cherries a fruit and vegetable fertilizer at the time of planting, when they set flowers, and again two weeks later.
Common Problems When Growing Ground Cherries
Ground cherry plants do not generally contend with harmful insects and diseases like other plants. However, a few problems may occur while growing husk cherries. Keep an eye out for a few things and remedy the issues to prevent them from destroying your crop. One way to avoid issues is learning what to plant with ground cherries, known as companion planting.
Fortunately, ground cherry plants (P pruinosa) are not as susceptible to fungal, viral, and bacterial diseases as some other plants. However, they suffer damage from leaf beetles, mites, whiteflies, and flea beetles if left unchecked. Inspect your plants daily, remove insects by hand, or apply insecticidal soap to eliminate pests.
Another way to keep insects from destroying your plants is with companion planting. Grow chives, basil, mint, sage, marigolds, and other companion plants near your ground cherries to draw beneficial pollinators and repel harmful pests.
If you find that your ground cherry plant is wilting, it's probably due to overwatering. The plant's roots require oxygen, and too much water causes root decay, leaf wilting and dropping, and pale-colored leaves.
When and How to Harvest Ground Cherries
There is a waiting game after you plant ground cherries since the plant needs time to produce. How long do ground cherries take to grow, and when can you start picking fruit? Learn about the growth rate of this plant, how to tell when it's mature, and when the ground cherries are ready for harvesting.
Ground Cherry Harvest
Ground cherry plants typically grow their fruit in around 70 days. Each plant produces a pint of ground cherries each season, and they are ready for harvesting from late summer into fall. While we usually harvest a fruit or vegetable directly off the plant, the harvesting process is different for ground cherries.
As the fruit ripens, the husk dries, and the green ground cherries turn tan. The ripe ground cherry then drops from the plant to the ground. This is where they get the name ground cherry. To make harvesting easier, place containers or cloth beneath each plant to catch the fallen fruit.
Make Hot Sauce with Ground Cherries
After growing husk cherries and harvesting all the fruits from beneath the plant, it's time to use your ground cherries in the kitchen. Our favorite way to eat these fruits is to make a ground cherry hot sauce. It's sweet and spicy, tastes great on tacos, and stores in the fridge for up to a month.
Pour the white vinegar, sea salt, and jalapeno peppers into a saucepan and turn the stove on medium heat. Remove the husks from the fruits and add them to the pot.
Simmer the mixture for about 20 minutes until the peppers and ground cherries are very soft, and pour the liquid into a blender or food processor. Puree the mixture until only the seeds remain, and add the honey. Transfer the hot sauce to a jar and store it in the refrigerator.
Using Ground Cherries to Make Skillet Cherry Crisp
For a simple way to use ground cherries from your garden, this skillet crisp is the perfect comfort food. It is sweet, tart, and crispy and perfect for dessert, breakfast, or whenever you get the craving.
Melt a half-stick of butter in a cast-iron skillet over low heat. While the butter melts, toss the ground cherries in a bowl with half a cup of flour and half a cup of brown sugar. Remove the skillet from the heat and pour the cherry mixture into the pan.
Add the brown sugar, rolled oats, cinnamon, and remaining flour into the bowl. Cut in the rest of the butter and use your hands to mix the ingredients into crumbs.
Crumble the mixture over the ground cherries and place the skillet into a 350°F oven. Bake the cherry crisp for 30 to 35 minutes until the top is golden brown and bubbly, and let it cool slightly before serving.
What's not to love about ground cherry fruit, with its interesting appearance and flavor and easy growing nature? While not as common as other fruits and vegetables, ground cherries are great plants to add to the garden. They grow quickly, are simple to maintain, and their unique fruits are fun to use in recipes.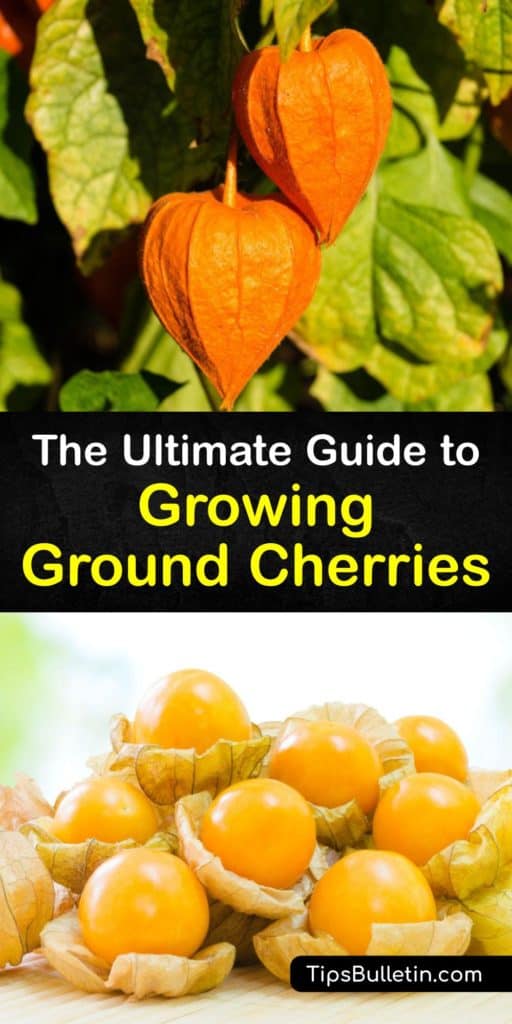 Now that you know how to grow ground cherries and harvest ripe fruit straight from the ground, why not share our ground cherry growing guide with your friends and family on Pinterest and Facebook?