Have you ever been strolling through your town and spotted an aluminum wheel that was so clean you could see every detail of your reflection in it? This reflection is precisely the type of shine you can achieve when you take the time to understand how to polish aluminum wheels.
Polishing aluminum wheels or alloy wheels takes a dull wheel surface and buffs it with wax and other aluminum wheel cleaner until it is shinier than a mirror.
Two common types of wheels sit in your vehicle's wheel wells. Aluminum alloy wheels are what a majority of today's cars use. They are built with a blend of nickel and aluminum that gets poured into a mold.
Alloy wheels are lightweight yet firm and withstand heat. They also come in a variety of wheel coat finishes, like stainless steel and chrome wheels.
Steel wheels are the second most common type of wheel and are made from an alloy of iron and carbon. Steel wheels are heavier than aluminum but more durable and easier to repair and refinish.
This article explains the steps necessary for understanding how to polish aluminum rims and tires to make them sparkle like they never have before.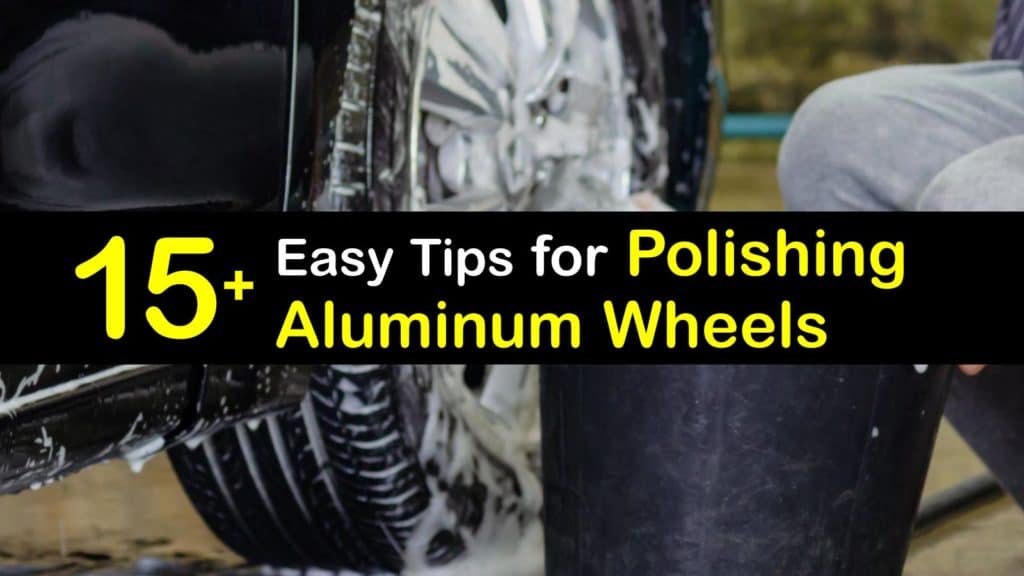 The Advantages of Having Aluminum Wheels
Aluminum is a beautiful metal. Unfortunately, though, it is prone to corrosion and makes it look dull as aluminum oxide builds up to protect the metal.
Polished aluminum isn't necessary to have, but this type is becoming more popular around the world. There are also benefits to learning how to polish aluminum wheels.
There are many advantages to having aluminum wheels and rims. Bare aluminum wheels are resistant to corrosion, far more than other types of wheels, which means that the cost of owning them is much lower over time.
You have to worry less about wheel-related incidents that happen from deterioration. It makes cleaning and polishing an aluminum wheel rim easier because the surface isn't riddled with rust.
Aluminum wheels are much lighter than steel ones. Their weight makes them less of a burden on the car and gives you better fuel economy. They are also more resistant to other types of damage from impacts that cause scrapes and scratches.
If these reasons aren't enough, a wheel cleaner makes polished aluminum look expensive. They are naturally shinier and improve the appearance of your vehicle.
These types of wheels give you a smoother ride because of how light they are, which is why you often see clean aluminum wheels on luxury car brands.
Polishing aluminum wheels isn't too challenging; however, figuring out how to polish aluminum rims means that you work faster the more you do it. Follow these simple steps for polishing aluminum rims and wheels for a beautiful, streak-free finish.
How to Polish Aluminum Wheels
To polish aluminum truck wheels, you must understand every step involved. Your goal should be to remove dirt, brake dust, corrosion, and other signs of wear to give you the shiny finish you desire.
The First Step for How to Polish Aluminum Rims and Wheels
Before starting, understand that brake dust is your wheels' worst enemy. Brake dust comes from adhesive and carbon fibers. These fibers come off your brake pads along with tiny metal shaving from the rotor.
The intense heat and friction make this process highly corrosive. If you drive every day, brake dust is constantly being made. Therefore, the only way to keep your wheel rim safe is to clean it frequently.
Washing Your Car
Before polishing aluminum rims, make sure that you clean the wheels before cleaning the rest of your car.
Doing it in this order prevents the dust and dirty water from splashing onto your clean vehicle. If you prefer, give the entire vehicle a thorough rinse before you get started.
Rinsing the Wheels
Start by rinsing your aluminum wheels to remove as much loose dirt and brake dust as you can. If possible, use a fireman's nozzle or power washer to deliver a powerful stream of water.
Make sure to rinse each lug nut, between the spokes, the brake calipers, and behind the wheels to reach every tiny crevice before you polish steel and metal by hand.
Aluminum Wheel Cleaners
Work on one wheel at a time with an aluminum cleaner from a trusted brand or make your own DIY brake dust cleaner for rims. There are a few simple recipes you can use if you don't have any brand-name cleaners at home.
To make this homemade cleaner to make aluminum shine, mix some Dawn detergent with equal parts water in a large bucket. Add a few tablespoons of white vinegar. Grab a sponge and dampen it in the liquid.
Sprinkle the damp sponge with some baking soda and start rubbing the wheel in a circular motion to begin the wheel polish. Repeat this process until you remove the outermost layer of grime.
A Deeper Clean
Take a soft bristle brush and use it to get into the smaller crevices and give the buffing wheel a deeper clean. Continue to dip it into your cleaning product. Resist the temptation to scrub aggressively to prevent scratching the metal polish on the coated wheel.
Pay Attention to Detail
Do not forget about the lug nuts. Brake dust hides in even the smallest places. There are lug nut brushes for sale that can help you clean these tight areas.
Keep the wheel wet the entire time you are scrubbing it. The water helps to loosen the grime and lubricate the surface when you clean oxidized metal and aluminum. Don't let the aluminum cleaner dry on the wheels, or it will leave spots behind.
Rinse and Dry
Rinse the entire wheel well again. Pay close attention to the lug nut holes and between the spokes. Once rinsed, dry the wheels with a microfiber towel or soft cloth.
A clean cloth will remove extra dirt. A microfiber cloth is recommended because the fibers easily lift away small dirt particles and trace amounts of water.
How to Sand Aluminum Wheels
Sanding your wheels is a process that you either love or hate. However, it is crucial if you want the best finish possible. For optimal results, spend the majority of your time sanding the surface of your wheels to remove corrosion from aluminum or chrome rims.
Start sanding your wheels using coarser grit sandpaper before eventually working your way down to a finer grit. If you have deep gouges to remove, you might have to use a lower grade.
Do not go below 180 grit when sanding your wheels, or you risk damaging them. Start between 180 to 320, depending on the severity of the project. Work upward once you start to get some of the scratches out.
Most professionals start with 320-grit sandpaper, move to 400-grit, and then finish the project with 600-grit. Detail-oriented people might even work up to 800 or 1500-grit before moving on to the next step.
Smaller aluminum pieces are easy to do by hand, but most people prefer to sand their wheels with a power tool. Do not rush this process if you don't have to.
Power tools are the only ways to speed up the sanding process slightly. An orbital sander or angle grinder are both acceptable tools.
Using Wheel Cleaning Clay
Consider using wheel cleaning clay to remove all of the embedded contamination that comes from your wheels. These products should be clearly labeled and are not to be confused with detailing clay used on paint.
How to Use Cleaning Clay
Spray your wheel with water or another type of lubricant. Grab your clay bar and work it in your hands until it forms a patty over your fingers. Rub the clay over the entire wheel and rims. Place some wherever you see black spots or pitting.
Fold the cleaning clay to reveal a cleaner side every time it becomes dirty and soiled. When you finish each wheel, use a clay lubricant to remove any residue and wipe the wheel with another clean cloth.
Polishing Aluminum Wheels
The best way to polish aluminum rims is to remove the remaining aluminum oxide beforehand. The previous steps are necessary to get the shine you look for in a polished aluminum wheel.
Using Aluminum Polish
A polished wheel looks best when you use products that are designed to get the job done. Pick up products from the store like Flitz Metal Polish and spread it all over the wheel with a microfiber applicator pad.
Attach a polishing pad to a drill and slowly spread the polish over the entire wheel. Gradually increase the drill speed until it starts to dry into a clear coat.
Wiping the Wheel Clean
After you finish the polished wheel, wipe it clean with another microfiber towel or soft cloth. If you aren't satisfied with the polish, you may have to repeat the entire polishing process.
Going to Extra Mile
Most people are happy stopping here, and others prefer to take it one step further. If you're a perfectionist and want your vehicle to look its best, consider using an ultra-fine polish that gives your aluminum a mirror-like finish.
Wipe it on with a foam or microfiber application and polish it again with your drill and microfiber pad until it starts to dry.
Buffing the Wheel
The final step in learning how to polish aluminum rims is buffing the wheel clean. Again, we can't stress the importance of microfiber towels enough.
Every time you remove polish with this type of cloth, some of it sticks to the towels. Always use a new towel when giving the wheels one final buff.
Repeat if Necessary
If you aren't happy with the way your wheels look, the most reliable way to fix them is to repeat the whole process. The more time you spend removing excess brake dust and dirt, as well as buffing it with a metal polisher, the shinier the wheels will look.
How to Wax Aluminum Wheels
Once your vehicle's wheels look flawless, you can further protect the metal and prevent oxidation by using wheel wax. One of the most popular and trusted wax brands is Turtle Wax and what we recommend using.
These products work the same as other types of car wax. Apply the wax with an appropriate applicator pad and buff the wheel to keep them cleaner longer and prevent dust from adhering to the metal.
Reapply these products every week if possible. If you use wheel wax the right way, you'll only need water to clean your wheels between each waxing session.
What is Tire Dressing?
Tire dressing contains silicone, and it produces a glossy shine. The one downside to these products is that they turn brown over time because they sometimes attract dirt.
There are newer formulas, however, that are water-based and slightly less shiny to keep them looking cleaner. Tire dressing does not go on the rims.
Instead, they go on the rubber part of the wheel that makes contact with the ground. Try to avoid pooling the dressing around the raised letters on the tires.
People who put time and attention into their cars stand out in a crowd. Their cars look cleaner and glossier than the other cars on the road.
Though the complete process includes many steps and takes at least a few hours, the work is worth it if you want your car to look like it's fresh off the lot.
Polishing aluminum wheels is something that many car lovers find relaxing. If you do it right, there is a lot of satisfaction every time you look in your driveway.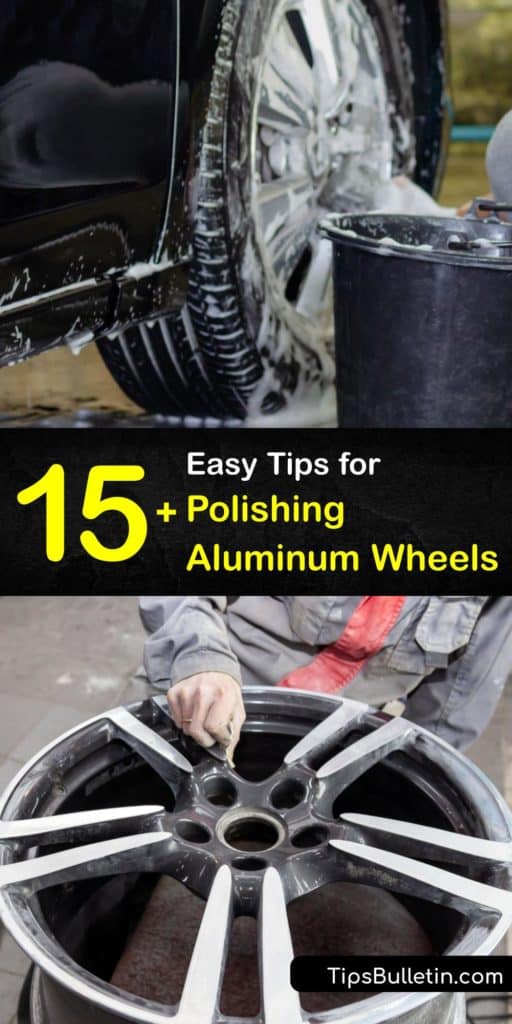 If learning how to polish aluminum wheels has made your car look better than ever before, share these step-by-step instructions for polishing aluminum wheels on Facebook and Pinterest.