It sounds intimidating to learn how to remove graffiti from a brick wall. Spray paints are robust and apply a lot of color pigment, which dries to be tough to remove and durable. Because they are a little more fragile than non-porous materials such as metal, porous surfaces like brick present an additional barrier to trying to remove unwanted spray paint.
Brick masonry is an investment and makes your home or establishment look classy and stylish. Graffiti destroys the aesthetic of your brick walls and makes your space appear unkempt. If you find graffiti spray paint, act fast to erase it and keep your home looking incredible.
Avoid letting spray paint ruin the appearance of your house and your belongings. Though removing graffiti from painted walls may seem like a chore, utilizing the right cleaners and techniques makes it simple. Discover how to get graffiti paint off a brick wall using easy DIY solutions.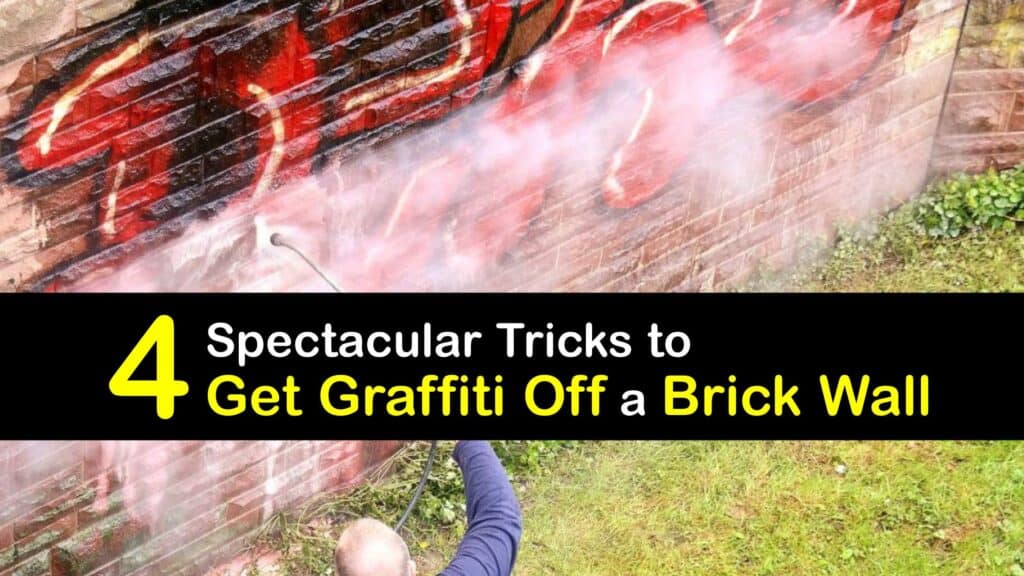 How to Get Graffiti Paint Off a Brick Wall
Finding a graffiti tag on your exterior wall is frustrating. When a graffiti artist visits and leaves you with unwanted art, you're left to figure out how to remove graffiti from a brick wall. You can make your own spray paint remover or try one of these easy ways to eliminate the paint.
Masonry brick has a porous surface; paint removal can be more challenging. Combined with the size of the vandalism, removing graffiti from painted walls seems daunting.
These strategies also apply to driveways and sidewalks. Clean up spilled paint on the sidewalk with a pressure washer, or use another one of these simple techniques if you just have a small spot.
Check out these straightforward tricks for getting rid of graffiti to restore your masonry surface to its former glory.
How to Remove Graffiti from a Brick Wall
The active component in nail polish remover is acetone. Given how effectively acetone removes nail polish, it shouldn't be a surprise that it also removes spray paint. If you don't have some nail polish remover on hand, pick some up at a local drugstore or cosmetics shop.
Use a towel and a generous amount of acetone to rub the spray-painted brick, working back and forth gently. If the towel fabric becomes heavily stained, stop and use a fresh towel, and more acetone, and continue working until all of the dried paint is gone.
Acetone or rubbing alcohol makes a simple paint remover for windows if you accidentally get paint on the glass or if you need to get spray paint out of clothes. Remember to dab rather than rub the cleaner into the spot.
Rubbing alcohol will also work to remove moss from a retaining wall. Moss is often stubborn and will grow back unless a chemical is used to kill the roots.
Removing Graffiti from Painted Walls
Spray paint is easily erased from brick surfaces with your pressure washer and without using toxic cleaners. It is advisable to avoid hazardous chemicals whenever possible to prevent accidentally damaging your walls or harming you and your family.
For porous surfaces like brick and painted or glazed masonry, pressure washing is suitable and efficient for removing graffiti spray paint. Start by soft washing the vandalized surface with a wide-area, low-pressure pattern, and hot water.
Move the nozzle closer to the brick surface as soon as the graffiti paint starts to fade, starting around two feet from the wall and working your way closer. If this doesn't work, try switching to a generic high-pressure spray. Be cautious when cleaning if the graffiti is on soft brick to prevent damaging the underlying material.
Getting Graffiti Spray Paint off a Brick Wall
If you need more time to perform your own clean-up or are concerned about destroying your bare brick or glazed brick surface, head to the hardware store and purchase a specifically designed graffiti removal product.
Be conscious of the type of masonry you're working with, and select an appropriate product. Consider whether you have a bare brick or a painted surface, and carefully read product labels to find a suitable match. Always use store-bought graffiti cleaners according to the instructions and safety guidelines to achieve the best results.
Using Goo Gone is also the best method to remove paint from vinyl siding on a house. This store bought graffiti remover is powerful enough to remove any type of spray paint.
Hire a Graffiti Removal Service for Removing Spray Paint
If you're uncomfortable using a DIY graffiti removal method, outsource the graffiti removal process to a specialized cleaning service.
Professional graffiti removers are familiar with the best techniques to clean graffiti and work safely and confidently with many surfaces and finishes, including brick, to fantastic results. Search for a local graffiti remover and get a quote to rid your brick exterior of stubborn paint without worrying about destroying it.
Finding property damage is upsetting. If the worst happens and your home's exterior is marked with graffiti, don't panic. It's important to understand how to get graffiti paint off a brick wall if vandals strike. Use easy at-home techniques to get the spray paint off your masonry and return your brick to its original state.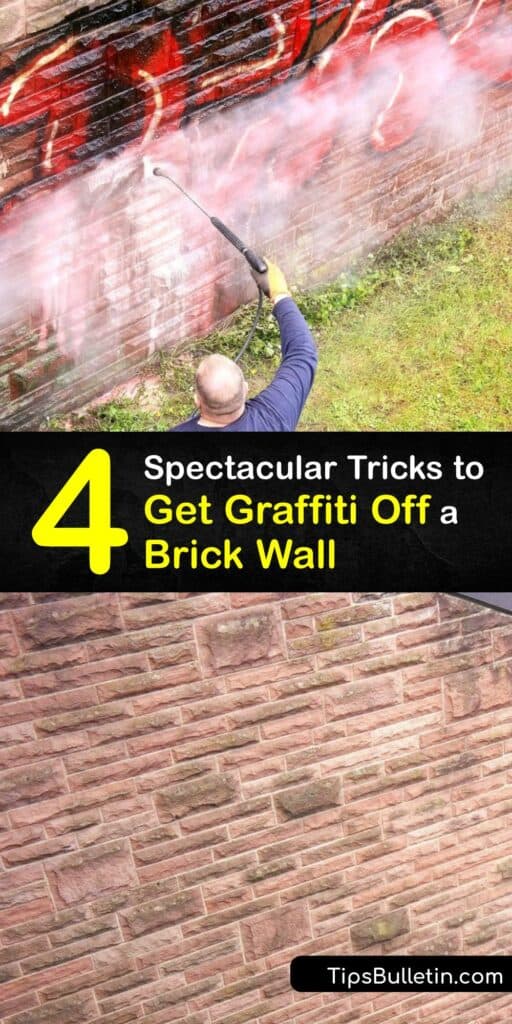 If you loved reading this article on how to remove graffiti from a brick wall, please share these brilliant tricks for removing graffiti from painted walls with some friends and family on Pinterest and Facebook.