If you spill some paint on a concrete surface during your latest home improvement project, don't worry. In this article, you'll learn how to remove paint from concrete without damaging the material underneath or using toxic chemicals around your home.
The best way to get paint off concrete depends on the type of paint you are trying to remove and how long it has been on the surface of the concrete. Paint removal from concrete takes patience and elbow grease, but there are numerous methods of accomplishing this task. Due to its porous nature, concrete readily absorbs liquids like paint.
It is best to begin the removal process as soon as possible. Read on to find out the best ways to safely remove paint from concrete floor, driveway, patio, or other areas. The length of the task depends on how large the affected area is and how deeply the paint has soaked into the concrete surface.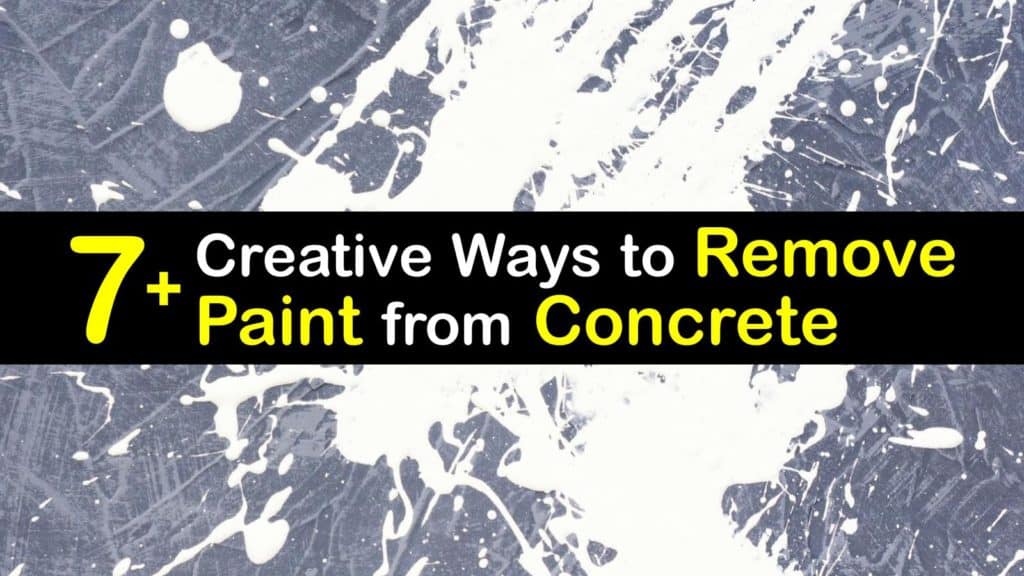 Best Ways to Get Paint off Concrete
No matter which paint removal technique you try, the project's first step is to thoroughly clean the affected area. Vacuum or sweep up any loose debris like dirt and lint.
Wash the surface with warm soapy water, using a hard-bristled scrub brush to work the soap into the concrete. Rinse with a high-pressure hose attachment, then allow the area to dry for several hours.
If you notice loosened paint after washing and rinsing, use a paint scraper or wire scrub brush to scour away as much paint as possible.
Before reaching for harsh solvents like methylene chloride or trisodium phosphate, consider trying out one of the following chemical-free paint removal methods.
Latex paint is less challenging to remove than oil-based paint because it does not absorb into the concrete as quickly.
Spray paint is often challenging to get off of concrete because it goes on fast in many layers. Removing spray paint may require several applications of your chosen technique.
How to Remove Paint from Concrete with a Sandblaster
Sandblasting is an effective technique to get paint off concrete without the use of a chemical paint stripper. However, misusing a sandblaster may damage the concrete. For best results, work slowly and carefully when employing a sandblaster.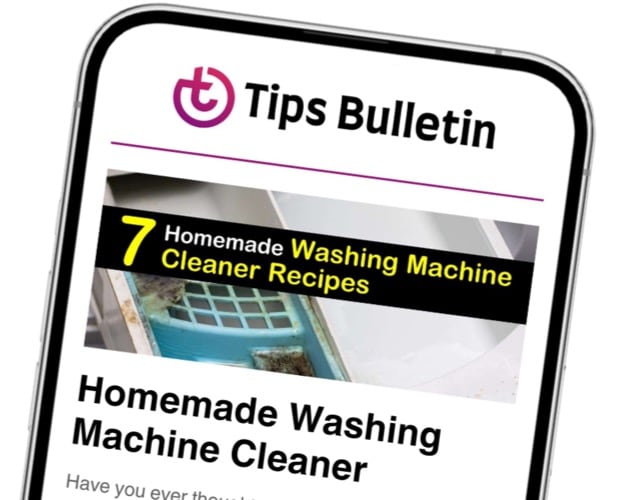 Finally, an email that Transforms Your Home.
Get the latest home and garden tips from our experts, delivered straight to your inbox.
Always wear protective clothing and equipment like gloves, ear protection, safety glasses, and a respirator mask. Crystalline silica is highly toxic when inhaled. To protect your skin, wear long sleeves and pants.
After turning on the sandblaster, open the nozzle valve slowly to initiate a fine mist of sand. Move the nozzle in slow, smooth lines up and down, then across the affected area. Avoid leaving the spray in one place, as that could damage the concrete surface.
Removing Paint from Concrete using a Soda Blaster
Soda blasting is a less abrasive and aggressive alternative to sandblasting. A soda blaster uses granular sodium bicarbonate to quickly remove stubborn paint from concrete and other surfaces without damaging the material underneath.
Purchase industrial-grade sodium bicarbonate when you rent the blaster. Regular baking soda does not work as well.
Since this mechanism also generates fine dust particles in the air, be sure to use protective gear like a respirator mask, safety glasses, and gloves.
Avoid letting the sodium bicarbonate overspray come in contact with nearby plants. The high pH level of the substance could harm them.
Not only does this method work for paint but it also can get epoxy off concrete outside.
Get Paint off Concrete with a Pressure Washer
If the paint stain is on an outdoor concrete surface or garage floor, consider using a pressure washer to remove the paint. For the best results, use a power washer with a pressure rating of at least 3000 psi and a flow rate of four gallons per minute.
Use a 15- to 25-degree nozzle to create a strong enough spray for removing old paint or to get spray paint off the concrete. Hold the wand at a downward angle at least a foot away from the surface of the concrete and move it in a sweeping motion.
This distance and angle let the force of the water scour away paint residue and remove paint from garage floor without damaging the concrete.
Use a Floor Grinder for Paint Removal
The fastest approach is to use a floor grinder for removing large spills or coats of paint from concrete floors. These machines work quickly to clean the basement floor through light abrasion and leave the concrete surface smooth afterward.
Once the paint is completely ground off the concrete, refinish the surface with a sealer or another paint layer. Handheld or walk-behind floor grinders are available to rent at most hardware stores.
Grinders generate dust particles in the air, so be sure to use protective gear like a respirator mask and safety glasses. Some floor grinders come with vacuum attachments to minimize dust and make the cleanup process more manageable.
Safely Remove Paint from Concrete Floor with Vinegar
Vinegar is an inexpensive everyday cleaning product that doubles as a natural paint remover and a way to take care of an oil stain on driveway surfaces. It is safe for your household and the environment.
Use vinegar to get paint off concrete without resorting to a toxic chemical paint stripper. If your concrete has a sealer or finish coating, patch test the vinegar cleaner on an inconspicuous, small area first to be sure that it does not cause damage.
Heat the vinegar on the stove or in the microwave until it is hot but not boiling. To remove paint or for getting grease out of concrete, use the sponge or paintbrush to work the hot vinegar into the affected area. Allow it to soak in for a minimum of 15 minutes.
The paint will start to bubble as it detaches from the concrete surface. For incredibly stubborn paint stains, reapply with more hot vinegar after 15 minutes and let it soak for the same amount of time.
Remove the loosened paint using a paint scraper or wire scrub brush. Wash the area with warm soapy water, then rinse and allow to dry.
Use Paint Thinner to Remove Paint from Concrete
If you are dealing with paint that is exceptionally hard to remove, like spray paint or an oil-based type of paint, you may have to use a commercial paint thinner.
Patch test a hidden, small area first to ensure that it will not hurt the concrete surface. Apply a liberal amount of paint thinner to the affected area, and let it soak in for six to eight hours.
Use a wire scrub brush or paint scraper to remove the loosened paint, then wash and rinse to clear lingering chemical residue.
Always use protective gear like rubber gloves, safety glasses, and a respirator mask when handling paint thinner. It is also beneficial to wear protective clothing to prevent the chemicals from coming in contact with your skin.
Making a Homemade Paint Stripper
Try making a homemade DIY paint stripper with absorbent materials like clay and cat litter to get rid of stubborn paint stains. While these substances dry, they absorb paint as it is dissolved by paint thinner, making it much easier to scrape off.
Combine the ingredients in a bowl to form a thick paste. Wear rubber gloves to protect your skin when applying the paste in a heavy layer to the affected area.
Allow the mixture to soak into the concrete for up to two hours. Clean the loosened paint away with a paint scraper or wire scrub brush. Wash and rinse to remove any remaining paint thinner residue.
Remove Wet Paint Spills with Dish Soap
The most straightforward paint removal technique is to wash the concrete surface with warm soapy water right away while the paint stain is still wet.
If it does not have the chance to soak into the porous material, it is possible to get paint off concrete with dish soap and a scrub brush.
In a bucket, combine two tablespoons of liquid dish detergent with one cup of hot water. Use a sponge or scrub brush to wash the paint off the concrete.
Rinse with clean water and inspect the spot for any residual paint stains. If you could not remove all of the paint, try one of the paint removal techniques listed above.
Always be sure to dispose of paint removal waste appropriately, as paint residue is toxic to the environment. Consult your local waste disposal agency for regional guidelines.
If your cement is beyond help, think about painting the entire surface or even making a homemade concrete remover if the area is small. There are always options.
Paint spills happen from time to time, and luckily there are numerous strategies for how to remove paint from concrete. Use chemical-free devices like a soda or sandblaster, power washer, or floor grinder to get paint off concrete.
In some cases, using solvents like vinegar or paint thinner may be required. Always be sure to use the appropriate protective gear when operating machinery or handling chemicals.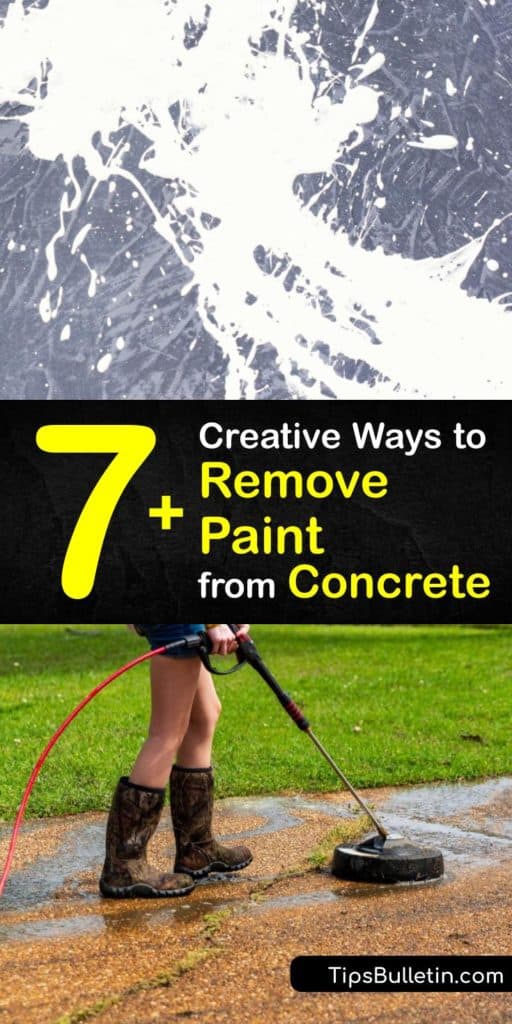 If you found these paint removal tips useful, please share this article about how to remove paint from concrete with your friends and family on Pinterest and Facebook.