There's nothing like mineral buildup on your shower head to make the thought of a nice, hot shower less appealing. No matter how pristine you keep the rest of the bathroom, those pesky white patches make the shower look shabby. Learn how to remove limescale from a shower head so you can enjoy taking a shower again.
Limescale deposits detract from a shower's appearance and restrict water flow by clogging spray holes. You might end up with water spraying in funny directions or only coming out in a trickle.
To make matters worse, hard water prevents soap from dissolving properly, leading to dry, itchy skin and soap scum. Hard water even reduces shampoo lather. Although you may be unable to modify water hardness, you can descale a shower head with an easy DIY technique instead of buying a brand new one.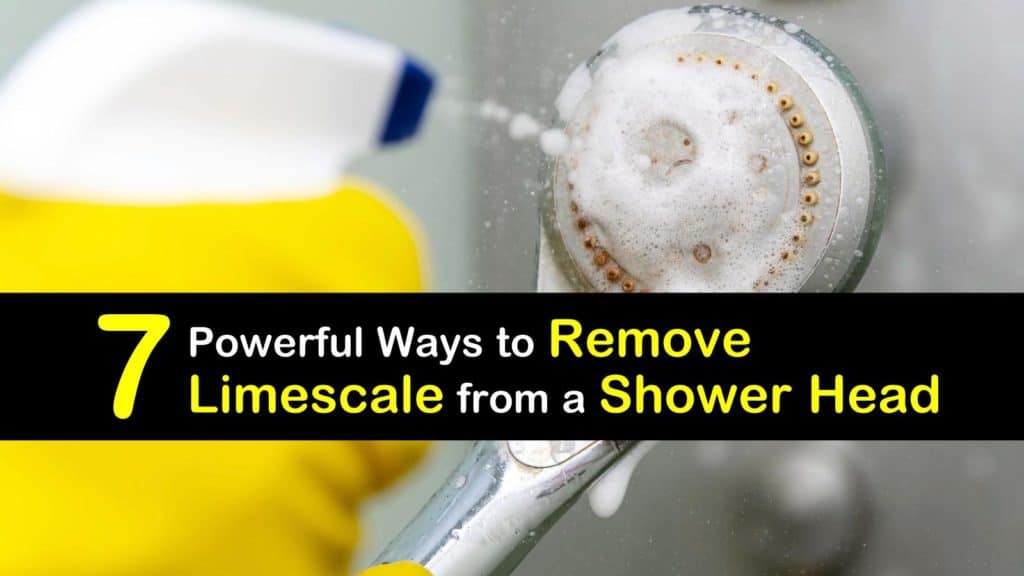 Descaling Shower Head Methods
Limescale develops when hard water evaporates, leaving behind calcium and magnesium deposits. Most forms of limescale remover dissolve the buildup with an acid.
Clean Calcium Deposits from a Shower Head by Soaking
Although looking up how to descale a shower head may spark targeted advertising for commercial limescale removers, vinegar is just as effective. Vinegar and baking soda are also handy ingredients for how to clean shower and toilet surfaces.
When cleaning calcium deposits from faucet or showerhead, first, stir the vinegar and soda in a large container, then remove the shower head. Submerge it in the bubbling liquid. Let the fixture soak for at least one hour and overnight for severe buildup.
Rinse the shower head, wipe it with a cloth, then reattach it to the shower arm. Run the water for at least a couple of minutes to eliminate the smell of vinegar.
How to Remove Limescale from a Shower Head in a Hurry
Insert the shower head in a pot of white vinegar and bring the liquid to a gentle simmer. Cook until the mineral deposits dissolve, which should only take a few minutes.
Make sure that the shower head does not get too hot, particularly if it has plastic components. After rinsing it thoroughly, screw the clean shower head back on. Run the shower briefly.
How to Descale a Shower Head: The Plastic Bag Method
If your shower head does not come off, you may be wondering how to clean a shower head with baking soda without removing it from the arm. The answer is to use a plastic bag half-filled with vinegar.
First, check for holes by putting a little water in the bag. Add a third of a cup of baking soda for every cup of vinegar. Tie the bag around the shower head with a rubber band.
Let this homemade shower head cleaner work and soak for at least one hour and longer for heavy deposits. This trick also loosens limescale deposits on a faucet. Carefully remove the bag, then polish with a soft cloth. Briefly run the shower.
Scrubbing to Clean Calcium Deposits from a Shower Head
Before or after soaking it, you may scrub a clogged shower head with an old toothbrush or plastic scouring pad. For removing soap scum, dip a toothbrush or cloth in white vinegar.
Scrub the shower head, focusing on clearing the small holes. Wipe the head with a rag, then rinse it with water. To clean the filter, if there is one, scrub it with a toothbrush to remove debris.
Rinse the shower head filter under running water for several minutes before reinserting it. To clean where the shower head connects to the pipe, pour three to four tablespoons of vinegar inside. Scrub inside the head with a toothbrush, then rinse well.
This method also works well to get rid of limescale stains on glass surfaces.
Unclog a Shower Head with a Toothpick
Limescale isn't the only gunk that clogs shower heads. Soap, shampoo, and conditioner can also block the spray holes, decreasing your shower's water pressure. Thankfully, it's possible to kill two birds with one stone using a toothpick.
Poke the debris out of the holes, being careful not to damage any little rubber gaskets. This trick works for both removable and fixed shower heads.
Using Lemon Juice to Clean Calcium Deposits from a Shower Head
Lemon juice is also effective at descaling a shower head. For this homemade descaler, remove the head and rinse off as much buildup as possible. Squeeze the juice of three to five lemons into a cup. Working over the sink, pour a little of the lemon juice onto the shower head.
You may also rub some lemon peel over it. Mix the rest of the juice with hot water in a large plastic bucket. Fish out any seeds, then add a little baking soda to the mixture.
Dunk the shower head in the cleaner, swirling it around to ensure it's well-coated. Wait 20 minutes, then rinse the shower head thoroughly. Any remaining limescale or other debris might form more buildup.
How to Remove Limescale from a Shower Head with Commercial Cleaning Products
In general, we recommend avoiding harsh chemicals. However, if you need to descale a shower head with severe mineral buildup, commercial cleaners may be the solution.
Several products are available at grocery and home improvement stores, including CLR, Lime-A-Way, and Viakal. Do not use bleach.
Always read the information on the package carefully since most cleaners only suit certain surfaces. Start by testing an inconspicuous area. It's often a good idea to wear gloves and other protective equipment.
Ensure adequate ventilation by opening a window or turning on the exhaust fan. The application process may involve scrubbing with a toothbrush or soaking.
Commercial cleaners generally require less soaking time. Rinse the shower head well before returning it to the shower.
How to Prevent Limescale from Forming on a Shower Head
Wipe the shower head after every shower to stop mineral deposits from forming. Follow our simple shower cleaning recipe to fight against limescale. Spray weekly with a mixture of equal parts white vinegar and water, and soak your shower head in vinegar once a month.
When deep cleaning the shower head, clean the shower hose as well. If possible, remove the hose and soak it in hot water and vinegar. If it doesn't detach, pour vinegar or limescale remover down the pipe, or call a plumber for severe buildup.
It's possible to buy a shower head that has a filter or even self-cleans. Alternatively, install a low-flow shower head or take shorter showers to reduce the hard water running through the shower. If your water is very hard, consider getting a water softener.
Special Instructions for Cleaning Different Metal Surfaces
Besides different options like a fixed versus a handheld shower head, there are various finishes, like chrome, stainless steel, and plastic. With metals, especially delicate ones like chrome, avoid abrasive scourers, hard-bristled brushes, and steel wool.
If it's necessary to use a wrench to remove a delicate shower head, try cleaning it without removing it. If you must take it off, cushion the tool with a rag to avoid scratching the finish.
Check the shower head's cleaning instructions or look up the finish since some may react with vinegar or commercial cleaning products.
The cleaner's label should specifically mention use for that finish. If you're uncertain, test the limescale remover on a small section.
Regular cleaning of your shower head by spraying, soaking, and scrubbing may not be very glamorous. However, if you want to know how to clean calcium deposits from a shower head, start with these preventative measures.
Try removing limescale with products you already have around the house—like vinegar and toothpicks—before turning to commercial products.
Now that you know how to remove limescale from a shower head, you'll be amazed at how easy it is to make your shower head shine.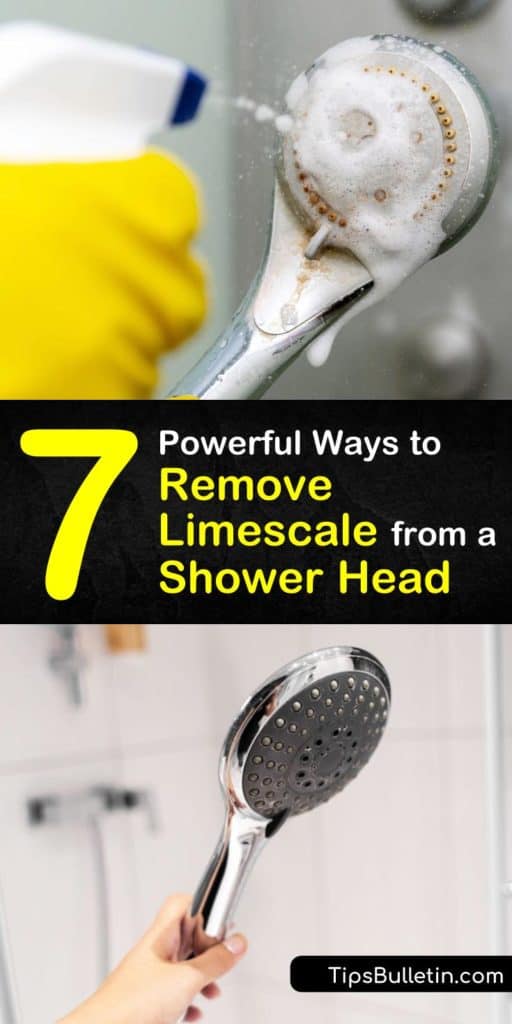 If you found these shower head cleaning tips helpful, please share these limescale removal tricks with your friends on Facebook and Pinterest.