Understanding how to remove mold from the bathroom ceiling saves you and your family from exposure to potentially harmful toxins. Mold is notorious for releasing spores that, when breathed in, result in anything from hives and migraines to respiratory issues.
People at enhanced risk, such as the very young or old, those with weakened immune systems, those who are allergic or sensitive to mold, or those who have asthma, may experience severe reactions to mold. Mold comes in many varieties.
No matter the type of mold you're dealing with—black mold, in particular, has a propensity for being extremely toxic—all molds detected in bathrooms carry the potential for health problems. It's vital to start removing mold from the bathroom ceiling right away. Mold is more likely found in tile grout, near a drain or air vent, and on wallpaper or the bathroom wall.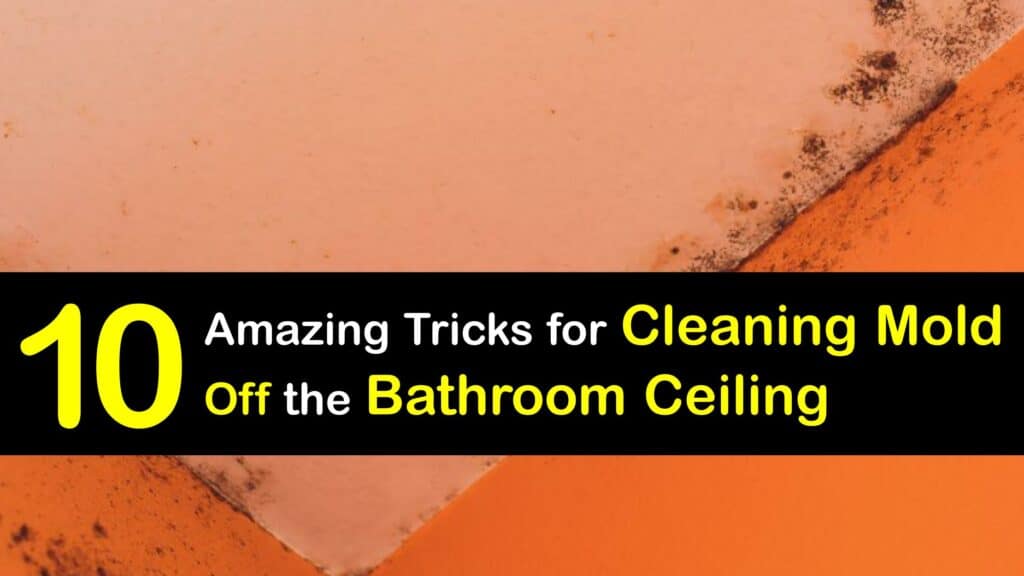 How to Clean Mold off the Bathroom Ceiling
Mold spores are present everywhere; all they require for activation are moisture and heat, and suddenly a mold colony starts to form. Growth can happen anywhere the conditions are favorable, whether on grout, tile, or sheetrock walls.
Remove mold as soon as it is discovered. Even though it might seem challenging, figuring out how to remove mold from the ceiling is simple if you have the right knowledge and equipment.
Learn how to clean mold off the bathroom ceiling and stop future mold growth in your bathroom. Consider creating your own inexpensive DIY mold cleaner to combat the spores and repair your ceiling rather than buying pricey professional mold cleaners.
What Causes Bathroom Ceiling Mold?
Excess moisture from regular bathroom operations or following water damage predisposes your bathroom to a mold problem. High humidity and poor ventilation encourage the growth of mold spores that soon become a mold colony on your ceiling.
Warm water vapor from the shower or bath rises and condensates on the ceiling, creating moisture. Over time, this moist surface becomes a home for mold spores.
Indicators for Mold Remediation
The most noticeable sign of mold presence is visible mold posts on your ceiling, though more subtle indicators are equally serious.
Initiate mold remediation as soon as you observe any of these issues to prevent health problems for your family or further damage to your bathroom ceiling.
How to Remove Mold From the Bathroom Ceiling
Chlorine bleach is an affordable tool to halt mould growth and destroy existing spores on the ceiling or as a way to whiten grout in your shower or tub areas. Mix an uncomplicated bleach solution with cold water for an effective mold spray cleaner.
Shake the spray container with the bleach and water until well combined. Spray on the affected area, so it is damp but not soggy. Use a brush or scouring pad to scrape the mold residue.
Reapply the cleaner sparingly, allow it to dry for 20 minutes, and wipe it off with a damp towel. Check the site the following day after letting it dry overnight, and repeat if signs of mold persist.
As a bonus, this solution works great for bugs. It kills mold mites instantly and takes care of ants and other unwanted indoor insects.
Removing Mold From the Bathroom Ceiling
A liquid mold cleaner is ideal for a porous surface like foam tiles or plaster as it penetrates the surface to destroy the mold below. Stay away from expensive and potentially poisonous chemical cleaners by mixing your own simple mold remedy to remove the mould growth from your bathroom.
In a sprayer, combine the contents and shake vigorously to incorporate. Spray the location evenly, then immediately use a brush or cloth to scrape off the top layer of mold. Respray the ceiling enough to moisten it, pause for ten minutes, and wipe it down with a clean rag.
Ensure sufficient ventilation, and keep children and pets out of the room. Let the ceiling dry overnight without rinsing to eliminate concealed mold. Spray should not be combined with other mold removers or kept because it loses effectiveness after three hours.
Use this mixture as a way of getting mildew out of grout in your tub and shower areas, as well as for grout on the floor.
Killing Mold on a Popcorn Ceiling
Many bathrooms have popcorn-style or textured ceilings that use porous material and different textures to enhance the look of a bathroom and give the space more depth, yet they present mold removal challenges. Textured or popcorn ceilings are easily ruined if cleaners are misused.
When removing mold from popcorn ceilings, do not saturate the spot to keep the texture intact. Spray lightly but thoroughly with the homemade bleach-based mold remover to guarantee good coverage and leave to dry. Respray until there are no longer signs of mold. Perform at least two treatments to guarantee the mold is gone.
Get Mold off the Bathroom Ceiling Naturally
To optimize vinegar's capacity to eradicate mold, use it at maximum strength without dilution. White vinegar's acetic acid concentration makes it an effective mold remover. Acetic acid destroys mold quickly and wipes off readily. Use distilled white vinegar sparingly on painted drywall since the acid component could cause the paint to flake or crack.
Spray a black mold stain with distilled white vinegar and let the spray stay on for an hour to eliminate all spores. Repeat the process of wiping mold remnants with a clean towel until there is no trace of mold left.
Remove Black Spots on the Bathroom Ceiling
Hydrogen peroxide is a wonderful substitute for bleach because it is harmless, doesn't harm the environment, and doesn't leave behind poisonous residue or emit hazardous smells.
Hydrogen peroxide easily cleans mold from ceilings, bathroom fixtures, walls, and appliances. Find this affordable cleaner in your first aid cabinet or local drug store.
Fill a spray bottle with 3% hydrogen peroxide, and use it to saturate the moldy surface thoroughly. After letting it sit for ten minutes, thoroughly scrub the area to ensure all mold and mold stains have disappeared. Wipe the ceiling with a damp cloth to remove any remaining mold and spores.
Cleaning Mold off the Bathroom Ceiling
If you don't have the time to prepare your own mold removal solution or prefer not to do it yourself, visit your neighborhood hardware shop. Check the instructions before selecting a cleaner to be sure you use it correctly and safely on the materials you'll be cleaning.
There are many mold bathroom removers on the market, including some with natural substances if you're opposed to using harmful chemicals. Make a selection based on your personal preferences and use it following safety guidelines.
Getting Rid of Mildew on a Bathroom Ceiling
Mold is a dangerous substance that demands careful handling. Put on gloves, long sleeves, and washable long pants so they can be laundered in hot water to kill any spores. Ensure no children or pets have access to your workspace.
Don safety goggles or other eye protection to shield your eyes from the mold removers and a dust mask with filtration or a respirator to defend your lungs from inhaling mold spores.
Ensure your clothes are prepared for immediate washing or disposal once the job is complete. Skin irritation and significant respiratory problems could result from mold exposure.
Tips to Prevent Bathroom Mold
Mold grows best in warm, humid places. The best way to prevent mold development in your bathroom is to reduce moisture and humidity. Though the bathroom is naturally predisposed to dampness, thanks to your shower stall and appliances, there are straightforward ways to lower the moisture and slow mold growth.
Every bathroom naturally gathers moisture; however, drying the area aids in preventing the growth of mold or slowing its development if it already exists.
There's no need to struggle with how to clean mold off the bathroom ceiling. Use simple at-home methods to clean up potentially harmful mold so your bathroom is a safe and inviting space for personal care.
Nobody likes dealing with mold, though it is a challenge many people face. Be proactive in reducing the potential for mold growth by controlling bathroom conditions. Address spores immediately to preserve the air quality in your home.
If you loved this article on how to remove mold from the bathroom ceiling, please share these brilliant tricks for removing mold from the bathroom ceiling with your friends and family who are facing mold growth on Pinterest and Facebook.