Dirty grout lines are not only disgusting to look at but can contain nasty germs, as well. If you've ever wondered how to clean grout in the shower, we've got your back.
Over time, grout builds up with grime that leaves behind stains and even a bad odor. Standing in the shower while trying to get clean is the last place you want to encounter dirty grout. While there are a lot of cleaning products on the market, they contain harsh chemicals and are unnecessary when it comes to cleaning grout.
With a little bit of elbow grease and a few ingredients that you can find in your own home, you can remove grout stains with ease. You can even remove soap scum from shower doors and the shower head.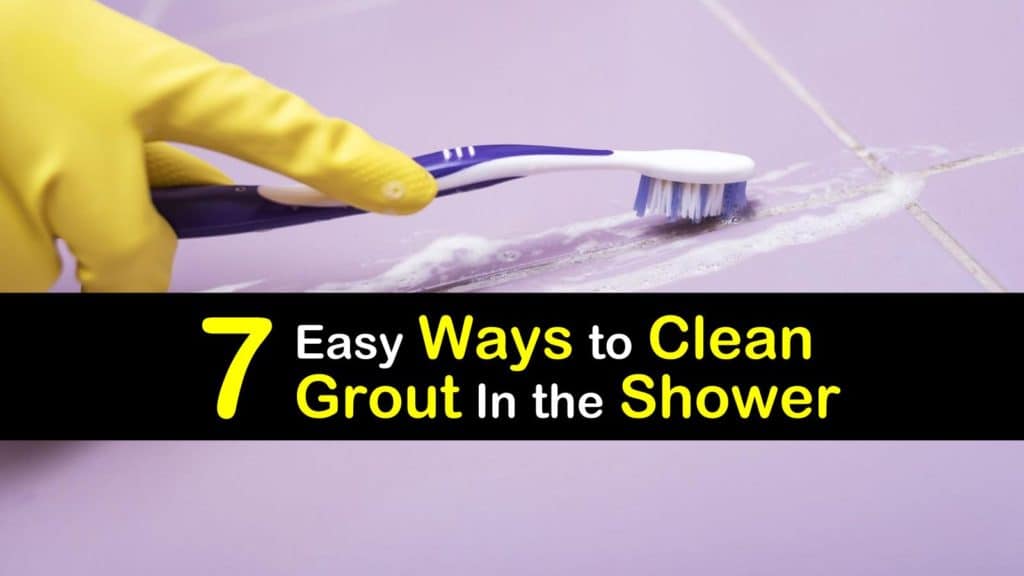 Shower Grout Cleaning
If your bathroom smells like sewer, it may be the tile grout mildew that is causing the odor. We've compiled some of our favorite methods for grout cleaning.
Try one or more of our grout cleaning tips to see which one meets your needs the best. It's always good to have several options for cleaning in case you run out of one. Check them out!
Cleaning Shower Grout with Vinegar
Why buy a grout steam cleaner or cleaning product from the store when you can make a shower spray cleaner at home? Using vinegar on grout works wonders because it is acidic and counteracts the grime buildup. If you've wondered how to clean grout in the shower, this is an excellent cleaning solution for getting rid of mold and stains.
Mix the water and vinegar in a spray bottle. Spray the shower tile generously and allow it to sit for about five minutes. Use the scrub brush or grout brush to scrub the grout areas of the tile and pay special attention to stained areas. Rinse off the dirt and cleaning solution with warm water.
Cleaning Shower Grout with Baking Soda
This method is ideal for washing tile grout that needs a deep cleaning. It utilizes the Vinegar Grout Cleaner recipe with a baking soda scrub. This method is also useful for removing hard water stains and getting rid of mold in shower.
Mix a little baking soda and water in a bowl. You'll want to add just enough to form a thick paste. Dip the toothbrush into the baking soda paste and apply it to the dirty grout lines.
Spray the Vinegar Grout Cleaner solution onto the area. It will bubble up and foam, which will help to loosen the scum. Use the bristle of the brush to remove more grime. Wipe down the area and give it a thorough rinsing with hot water.
Shower Grout Cleaner Using Hydrogen Peroxide
Hydrogen peroxide is considered an oxidizer and a bleaching agent and works well for getting those tough stains out of grout. The best thing about it is you probably have a bottle sitting in your medicine cabinet right now.
Fill the spray bottle with hydrogen peroxide. Spray the stained grout area with the peroxide and let it sit for a few minutes. Use the bristle of the grout brush to get into the crevices of the tile. Once the area is clean, rinse with clean water.
Cleaning Tough Grout with a Hydrogen Peroxide Paste
This bathroom grout cleaning method can be used to clean bathroom tile grouting that is well overdue for a cleaning. The baking soda and hydrogen peroxide combination give it that extra cleaning power.
Mix equal parts hydrogen peroxide and baking soda into a small bowl. Scoop out some of the mixture with the toothbrush and apply it to those areas that need extra cleaning. Scrub, scrub and scrub a little more. Clean up the residue with a damp sponge and then rinse the area thoroughly with clean water.
Cleaning Shower Grout with Dish Soap
Here is a way to clean shower grout using items from your kitchen and bathroom. It's relatively easy to mix and will clean grout with ease. It will also leave the bathroom smelling fresh if you choose to use scented dish soap.
Mix all the ingredients in a medium-sized bowl. Soak the sponge with the mixture and lather it onto the tile. Allow it to sit for ten minutes. For extra dirty areas, use the scrub brush to remove tough stains. Rinse the area with clean water.
Cleaning Shower Tile Grout with Chlorine Bleach
Bleach is a strong oxidizer. It's like getting out the big guns for cleaning shower tile grout. It works similar to OxiClean, but you won't have to go to the store to buy it. You've probably got a bottle sitting in the laundry room. We recommend using bleach as a last resort, however, when it comes to those tough grout stains.
Bleach Grout Cleaner
Remember always to use caution when cleaning with bleach. This bathroom grout cleaner method is not recommended for use on colored grout. Occasional use of bleach in showers is thought to be safe for tile sealant. Ensure the room is ventilated before you begin cleaning.
Fill a small bowl with chlorine bleach such as Clorox. You may want to set the bowl in the shower or tub in case of accidental spills. Dip a toothbrush into the bleach and scrub it into the grout lines.
Continue doing this until you have scoured all of the stained grout lines. Remove yourself and the bowl from the tub and rinse the tiles with plenty of clean water.
Keeping that Shower Tile Clean
Once you have done a deep cleaning of the shower tile grout, you should make it a habit of doing regular shower maintenance. Performing regular light-duty cleaning ensures that your shower stays clean.
Who wants to stare at gross stains again while showering, after all? Use one of the many ways to clean a marble tile shower or one made from other materials on a regular basis to keep your shower shiny.
Daily Cleaning Routine
Keep a spray bottle of the Vinegar Grout Cleaner handy (see recipe above). Make it a point to use the spray each time that you shower. Giving those shower tiles a good spray down after showering will ensure that mildew and mold cannot grow on the grout and cause stains.
Another great tip is to use a squeegee to remove excess water from the shower tiles to help prevent future mildew. Try adding some essential oil to your cleaning solution to help to eliminate that strong vinegar odor and leave the bathroom smelling fresh.
You can also spot-treat small areas with tea tree oil to remove mold and clean shower tile mildew if it does happen to appear in the corner.
If you have inherited or purchased an older home and the grout is beyond repair, it is likely time to remove shower grout and start over with nice, fresh clean grout that you can maintain yourself.
Once you begin to see discoloration in the shower grout, it's time to get to cleaning. Doing a deep clean followed by regular maintenance will keep those shower walls and tile floors the white color of clean. Once the tile has been deep cleaned, you may want to consider using a grout sealer.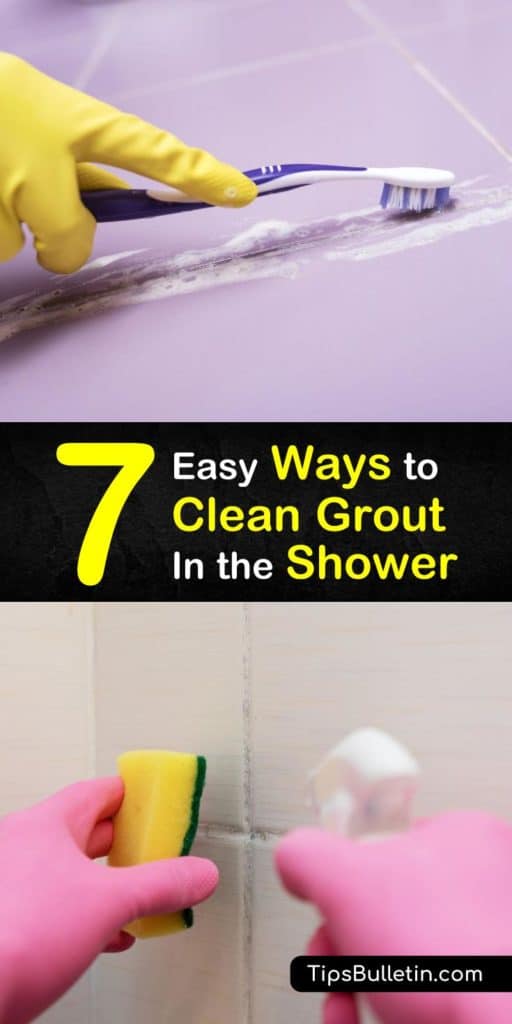 We all have more important things going on in our lives than spending time worrying about grout stains in the bathroom. Now that you know the tricks on how to clean grout in the shower with ease, why not share these DIY tips for grout cleaning with your friends and family on social media such as Facebook?