Don't allow oil stains to take over your prized wood possessions. With these time-saving tips, discover how to remove oil stains from your home's wood table, countertop, or any other wood surface. This article has everything you need to get started on an easy, effective wood care regimen today.
There are over 100,000 species of trees on our beautiful planet, and humans across all cultures and continents use these diverse materials to craft and construct timeless objects for everyone to enjoy. There is a good chance most of your furniture is made of wood or has wooden components, not to mention the house around you is likely made from timber supports.
Wood is perhaps the world's oldest building material, yet there's still something fresh about it. If you love wood furniture, you know that body oils and cooking oil spills can ruin wooden surfaces, countertops, benches, and cutting boards. Fortunately, oil removal from porous wood surfaces is only a challenge if you don't know where to start.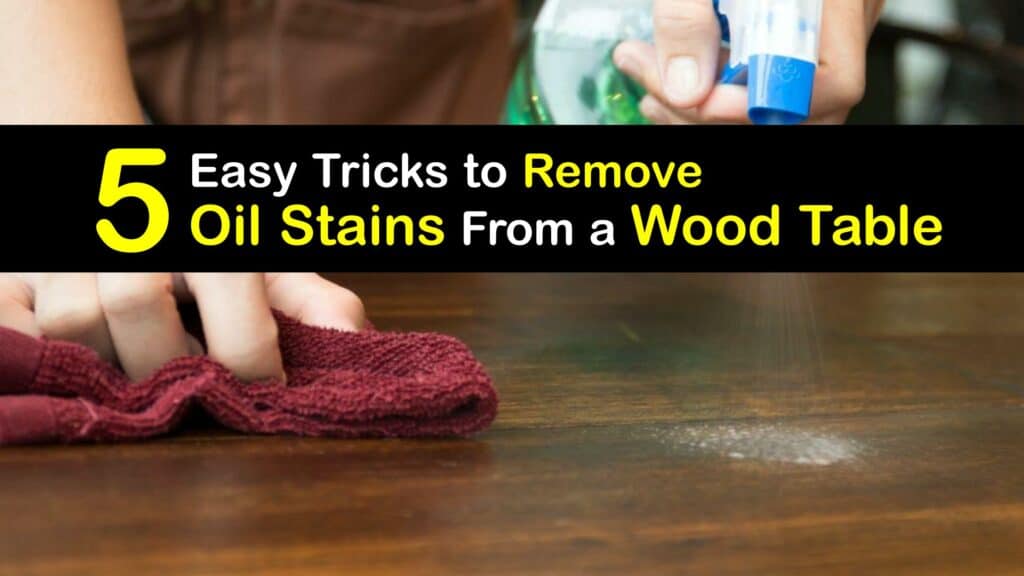 Learn How to Get Oil Stains off a Wood Table
We all have that dull, dingy wooden table in the corner that desperately needs attention. Cleaning and caring for wooden furniture doesn't have to be a thankless chore that only happens once every few years. This article is here to help with your wood-related woes.
Discover several simple ways to treat oil stains and easy ways to polish water rings off a wood table. Learn how to get oil stains off a wood table with minimal effort or expense. Learn how to clean and condition your tired wood furniture with inexpensive items around the house; save time and money with quick DIY tutorials and helpful pointers.
Use an Absorbent Powder to Stop Oil From Spreading
Getting oil stains off a wood table is about understanding the material you're working with. Wood is a porous organic material with many small crevices in which air, water, and oil get trapped, creating an unsightly mark.
Unfinished wood is exceptionally porous and more susceptible to holding a dark stain. Let's say the wood's pores expand due to the heat of a mug, and you get dark water stains or heat stains as a result. To release the water, warm the wood and blot the heat marks away with a clean cloth.
If you're dealing with a fresh, oil based stain, find an absorbent powder like cornstarch, baking soda, or sawdust and spread a quarter inch over the oil spill to contain and absorb. Let the power sit on the oil for several hours if possible. Sweep the powder away; you should see the oil confined and ready for easy removal.
A fine powder will also work for getting rubbing alcohol off of a wood table top, but you'll need to work fast as rubbing alcohol can leave a stain when left to dry on wood.
Clean Oil Stains on Wood With Soapy Water
Dish soap isn't just for your serving plates; it's also great for washing cooking oil stains from a wood table. Removing oil stains from a wood table is easier than you think with mild dish soap, warm water, and elbow grease.
Soak up fresh oil spills with a clean paper towel or a sheet of newspaper; act immediately to stop the soil from seeping into the wood finish. Press and hold the paper towel firmly, using a clean section for each pass over the oil stain.
Choose a clear, mild dish soap; dish soap with dye may leave a residue on your wood surface. Use warm water instead of hot water. Work the suds into the wood with your fingertips or a soft-bristle brush. When finished, rinse your wood with cool, clean water, and wipe with a soft cloth to remove excess moisture.
How to Remove Oil Stains From a Wood Table
If you love clean wood furniture with a natural luster, keep a can of mineral spirits around for emergency oil clean-up. Try these simple tips to learn how to get oil stains off a wood table with mineral spirits.
Mineral spirits are a solvent commonly used to thin paint and are ideal for cleaning old oil stains from a wood table. Mineral spirits pack a punch, so wear gloves and choose a well-ventilated workplace.
Use mineral spirits sparingly; a quarter-sized circle on a clean cloth is enough. To clean stubborn oil stains, get a clean cloth or cotton pad, dampen the corner with mineral spirits, and rub in a firm, circular motion to remove stain particles; don't soak or saturate the wood.
Wash your mineral spirits away with mild soapy water and pat dry with a clean cloth; don't allow mineral spirits to pool as it could remove wood stain and lacquer finish. Once the wood is dry, it'll be easier to tell if the stain is gone. Never use mineral spirits as a stain remover on food-prep surfaces; it is a toxic solvent.
Mineral spirits can also be used to remove black burn marks on a table top. The solvent can easily strip away any scorched marks or burnt wood.
Removing Oil Stains From a Wood Table With Vinegar
Vinegar is a powerful, non-toxic ingredient you might already have in your kitchen. Distilled white vinegar is a form of acetic acid. It is classified as a mild solvent because it cuts grease and breaks down cooking oil. Discover how to remove oil stains from a wood table with white vinegar.
Avoid abrasives like steel wool or toothpaste if you're cleaning wood with a delicate finish, and stick to vinegar. Balsamic or flavored vinegar is unsuitable for this recipe as it leaves a greasy residue.
Fill a small dish with warm water and white vinegar, and use a damp cloth to blot the oil stain without soaking the surrounding wood. Use this handy vinegar solution to clean teak wood and other wood furniture or remove a wood stain caused by an olive oil splatter.
Finish Cleaning Wood Furniture With Quality Polish
Removing oil stains from a wood table is just the first step; always finish with a coat of furniture polish. Both amateur and professional woodworkers recommend polishing your wood furniture and surfaces after cleansing to rehydrate and restore the naturally rich finish.
Don't stop at buffing oil stains off an antique wood table; pick up a quality furniture polish and a microfiber cloth, too. A good furniture polish keeps your wooden table in tip-top shape by locking moisture in and dirt out. Apply a thin layer of furniture polish to wood pieces to minimize old stains and maximize the wood's natural brilliance.
Wood is an attractive natural material around the home; the craftsmanship always shines through with a little extra care and maintenance. We hope you found value in learning how to remove oil stains from a wood table or surface with our easy-to-follow tutorials.
Treat oil spills immediately with an absorbent powder or a clean paper towel. Soak the excess oil off the surface, then use a clean, damp cloth and soapy water to break down the oil stain for easy cleaning. Remove water stains with heat; open the wood's pores and let the water out.
Always treat your wood furniture and surfaces to a quick polishing after you clean. Wood furniture can last a lifetime with the proper care and attention to detail. Well-moisturized wood lasts much longer and retains much more of its natural beauty when it receives a coat of wax.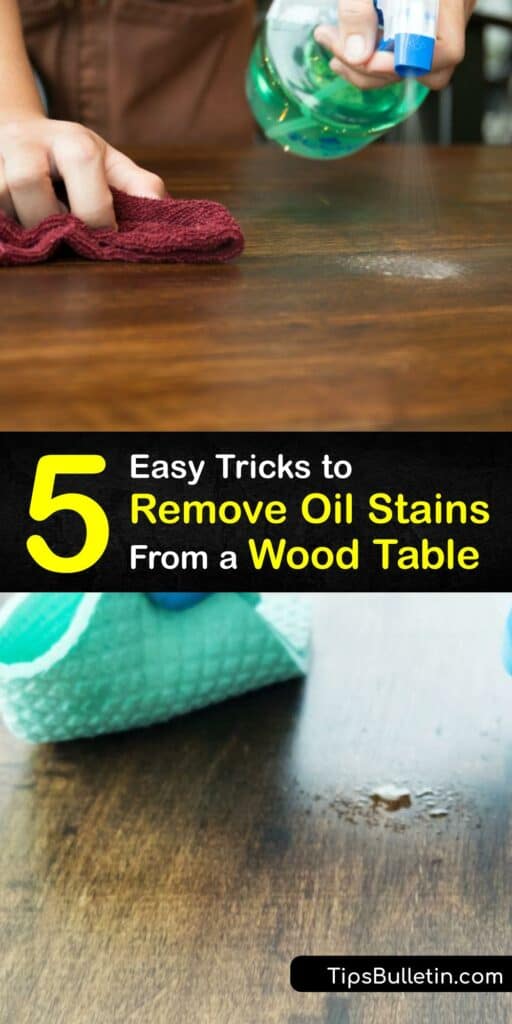 If you enjoyed finding out how to remove oil stains from a wood table with our fantastic wood care tips, share this oil spill clean-up article with friends on Pinterest and Facebook.