So many unfortunate circumstances may result in a heat stain or scorch mark on your hardwood floor or wood shop project. Learning how to remove burn marks from wood helps homeowners save money on having burned wooden flooring and furniture repaired or replaced. Though figuring out how to get burn marks off wood seems complicated, many straightforward at-home ideas use simple products and achieve excellent results.
Scorch marks ruin the aesthetics of a piece and detract from its overall beauty, so it's paramount to get them off. When removing burn marks from wood, start by ensuring any immediate threat posed by heat is past, whether by putting out a cigarette or cooling off a tool or other heat source.
Consider the type of wood and the size of the burn, as well as the supplies you have, and choose a method to suit your project. After removing a burn, use furniture polish to buff your wooden surfaces back to their original impressive finish.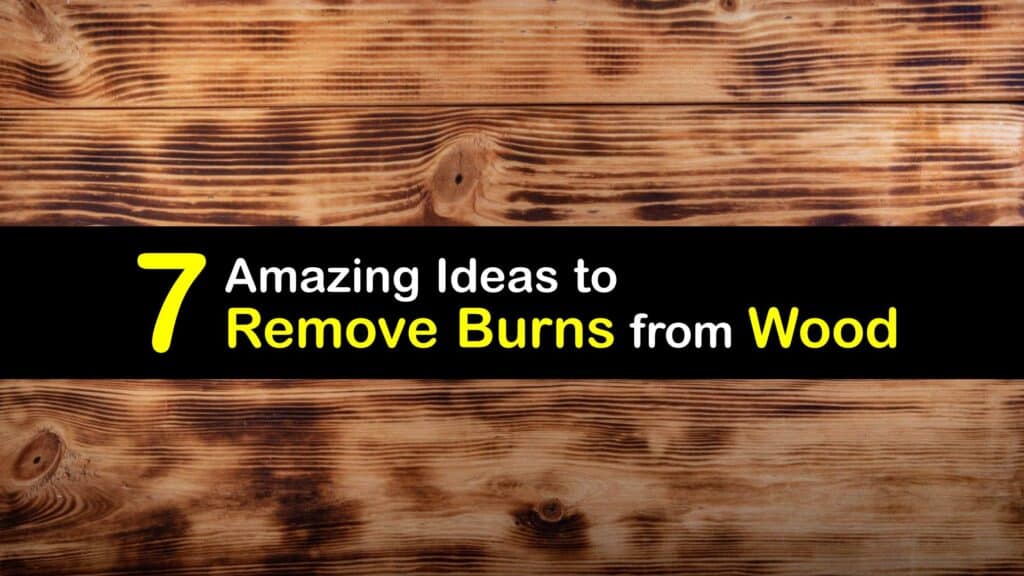 How to Get Burn Marks off Wood at Home
Exploring how to remove burn marks from wood serves you well if you have a hardwood floor or lots of wooden furniture. Many homeowners are daunted by heat marks and burn stains and are unsure where to begin and how to get burn marks off wood without causing further issues.
Cigarette ash and dull saw blades are two of the main culprits causing unsightly scorch marks on wood. Luckily, removing burn marks from wood is not as complex as it seems and is readily achieved using simple DIY tricks, similar to the way to remove paint from cabinets without sanding and a big mess.
What Causes Heat Stains on Wooden Furniture?
Burn marks are profoundly damaging and ugly. They ruin the aesthetic of your home and devalue your investment in quality wood. Finding a burn stain on your stunning hardwood floor or expensive real wood furniture seems devastating.
Though burn marks stem from many sources, cigarette ash and cutting with a dull blade are the most common. If people routinely smoke in your house, a cigarette burn happens easily, frequently occurring when ash falls to a wooden floor or tabletop.
If you use a table saw and your saw blade goes dull, it can leave burn marks on the wood and make your project look unprofessional. Whatever kind of burn you're dealing with, it's easy to eliminate heat marks from wood with effortless DIY techniques.
How to Remove Burn Marks From Wood – Ash and Lemon Juice
A mixture of fresh lemon juice and wood ash makes an efficient burn treatment for wooden surfaces. Remove heat stains from wood with simple home products.
Mix some lemon juice with the ashes in a basin. Spread the solution with an old cloth over the burned area and massage in the plane of the wood's grain for a few minutes or until the heat mark ultimately goes away. Use freshly squeezed lemon juice, not lemon oil or essential oil.
On the other hand, if you are getting water marks off a teak table, rub a little lemon juice into the stain. It should lift right off.
Removing Burn Marks From Wood Furniture
While it's known for its ability to clean dirty dishes, liquid dish soap helps restore the original color of burned wood and can help clean and restore vintage wood furniture. Dish soap is a mild detergent with a degreasing capability that soaks deep into the wood grain of the affected area to remove discoloration.
Mix the ingredients in a small container, dip a soft cloth into the liquid, squeeze it out, and rub it back and forth over the burn mark. It's one of the easiest ways to get burn marks off of a wood table or floor. Once the wood is dry, inspect it for any remaining blemishes and rewash it if required. Finish by working a good amount of furniture polish into the spot to restore the luster of your wood finish.
Try Tung Oil for Getting Burn Marks off Wood
Tung oil, also known as China wood oil, is a drying oil made by pressing the tung tree's nut for the seed. It is thought the oil's usage dates back to ancient China. With a translucent, moist finish, this natural drying oil is ideal for eliminating a difficult scorch mark from high-end wood floors and furniture, as well as to remove dried paint from varnished wood trim or your favorite piece of furniture.
It is environmentally safe, improves the hue of your wood, takes off stains, and provides outstanding protection. Dip a clean cloth into the tung oil and move it back and forth over the burned area until the stain clears. Avoid using tung oil on painted wood, and take care not to get any on your carpet.
The Best Way to Remove Black Burn Marks From Wood
Though it's intended to remove nail polish, nail polish remover or acetone has an array of applications. This inexpensive cosmetic product is a versatile solvent sold at most beauty and drug stores.
Dip a cotton swab or clean cloth in the acetone, remove excess liquid, and wipe it over the burn going with, then against, the wood grain. Give the acetone time to dry between sessions and continue until the burn mark is no longer visible.
Eliminate Smaller Burn Marks on a Wood Surface
Steel wool is a mild abrasive made of many thin metal fibers, making it an intelligent tool to eliminate heat marks from wooden items. It works best when utilized with deeply hydrating mineral oil.
Pour a small measure of mineral oil onto the steel wool and work in the direction of the wood grain, rubbing back and forth over the blemish to lift it from the wood and rehydrate the spot. For a lighter burn stain, use sandpaper instead of steel wool.
You can also try this method as a way to get white marks off a wood table. If it doesn't work, apply a little heat from a hair dryer.
DIY Burn Paste Eliminates a Burn Mark
Use simple ingredients to craft a homemade paste to remove the most challenging burn marks and heat stains from wooden floors and furniture. In addition, this technique will clean wax buildup off wood furniture. Both baking soda and toothpaste are effective stain removers, and combined, they form a thick paste that is easy to handle and effortless to use. Pick up traditional cream toothpaste rather than the gel kind.
Put one part cream toothpaste with two parts powdered baking soda in a bowl and mix into a thick paste. Apply a little blob to the heat mark, let it set for a few seconds, then wipe it off. You may have to repeat the burn-cleaning procedure several times.
Incurring a burn on your wood floor or furniture is disheartening. Always practice fire safety and focus first on removing any heat which could cause burns to your skin or fire in your home. Survey the damage and the supplies you have, and choose a burn removal trick to best suit your situation.
For stubborn blemishes, consider trying a mechanical technique like steel wool and pairing it with a treatment like tung oil to improve your chances of successfully achieving complete stain removal.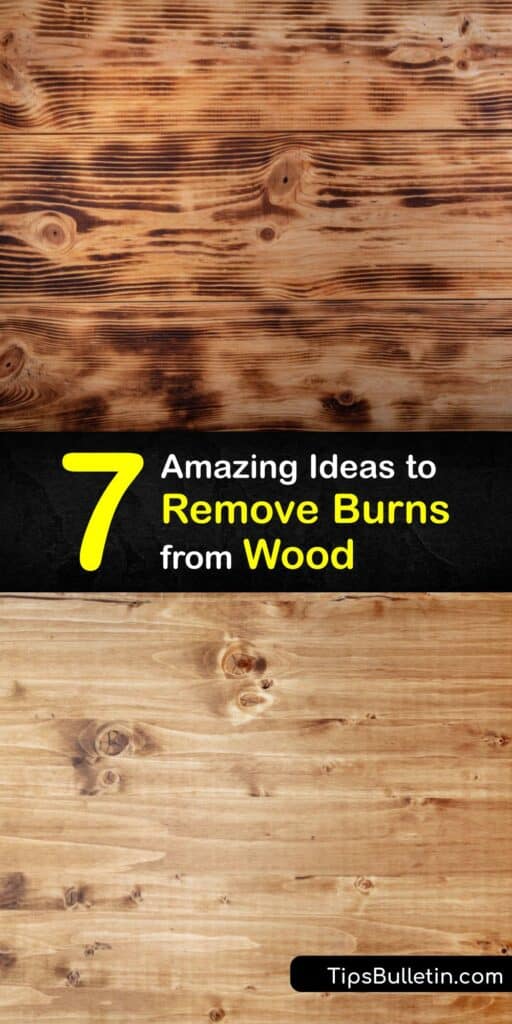 If you loved these ideas on how to remove burn marks from wood, please share these remarkable tips on removing burn marks from wood with your friends and family on Pinterest and Facebook.