Has your little one gotten carried away with their imagination and left decorative pencil marks on their bedroom wall? As annoying as it is, at least they aren't from a permanent marker or crayon marks. Before you grab a can of wall paint, learn how to remove pencil from a wall the simple way.
Discovering an ink stain, crayon stain, pen stain, or pencil stain on a wall is frustrating, especially if it's on a freshly painted wall. The good news is that pencil marks are the easiest stain to remove. Your cleaning solution depends on whether the pencil stain is from graphite or colored pencil. Sometimes, all you need is a basic cleaning method. Other times, a strong cleaner and elbow grease are required.
A regular pencil contains graphite mixed with clay and not pencil lead. A coloured pencil is made of wax or oil-based color pigment. Therefore, using the proper cleaner for the pencil stain type is necessary.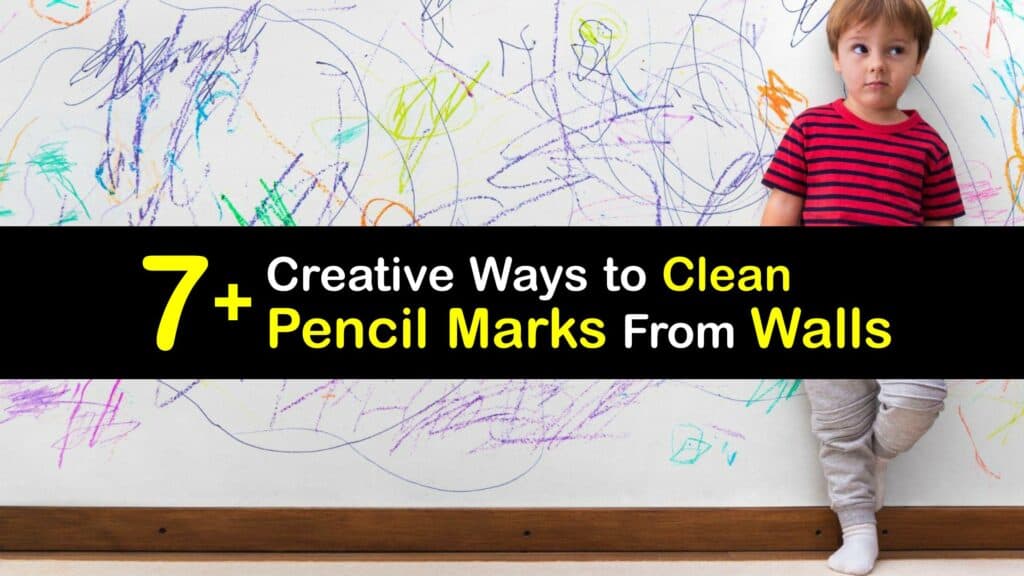 Removing Pencil Marks From Painted Walls
While pencil marking is more straightforward to remove than crayon and pen marks, using the proper cleaner is essential to prevent damage to the wall paint. We put together several cleaning techniques to help you remove pencil mark stains from walls.
How to Remove Pencil Marks on Walls With a Pencil Eraser
A pencil eraser is one of the best tools for removing pencil from painted walls, especially graphite stains. The rubber eraser gently scratches the wall surface to loosen graphite particles, and it's ideal for eliminating minor pencil and scuff marks.
To remove pencil marks from a painted wall or wallpaper, grab a soft eraser and carefully rub the spots off the wall. Don't apply too much pressure that may remove some of the paint or paper.
Use an art gum eraser instead if you fear that the eraser may damage the wall. Once the mark is gone, remove tiny bits of eraser from the wall with a damp cloth.
Removing Pencil From Painted Walls
A Mr Clean Magic Eraser is a type of melamine sponge. It acts like superfine sandpaper that cleans stubborn stains from various materials. Learn how to remove pencil marks on walls with this miracle sponge without discoloring the wall.
Many melamine sponges on the market remove stains, but Mr Magic Eraser is the most popular. However, keep in mind that all of these sponge types are not safe for cleaning wallpaper.
Dampen the sponge to activate the cleaning agent and wring out excess water. Wipe the pencil marks with small circular motions until they are gone, and dry the wall with a soft cloth.
How to Remove Pencil From a Wall With Toothpaste
It may sound strange, but toothpaste is not only for cleaning your teeth. Toothpaste will get pen marks off walls and any furniture painted white. It's essential to use white toothpaste instead of gel since gel toothpaste lacks the stain-fighting power required to remove pencil stains.
Squirt a bit of white toothpaste onto a microfiber cloth and rub it on the affected wall area. Wipe the paste away with a clean rag and check to see if the mark is gone. Reapply if necessary, and clean the area with a damp towel.
Remove Pencil Marks From a Wall With Baking Soda
Baking soda is great for removing pencil marks if your walls are washable. It gently scours the stains from the surface, leaving the wall pencil-free. Discover how to remove pencil marks on walls with this common household powder.
Combine a tablespoon of water with a half tablespoon of baking soda or sodium bicarbonate, and apply the paste to the wall stain. Test the cleaner on a hidden area before you start since baking soda is mildly abrasive.
Rub the area gently with a soft cloth until the pencil is gone. Rinse the cloth with water, wipe away the baking soda residue, and dry the wall with a towel.
Make a Soapy Solution to Remove Pencil Marks From Walls
Soapy water is excellent for removing pencil from painted walls as long as the paint is washable. All that's needed is warm water, mild detergent, and elbow grease. If you're unsure of the wall paint type, test it on an inconspicuous part.
Fill a bowl with warm water and squirt a small amount of mild soap into the container. Stir the liquid with your hand to form a soapy solution, and dunk a soft cloth into the water.
Wring out the excess water and rub the cloth on the pencil lead stains with small, circular motions. After removing the mark, rinse the fabric with clean water and wipe the soap from the area before drying it with a towel.
Get Pencil Marks off Walls With Cleaner Dough
Cleaner dough looks like Play-Doh and works to get pencil off painted walls without causing damage. It removes both graphite and colored pencil and is excellent if you have non-washable paint.
Graphite and Color Pencil Removal
Cleaner dough is available at supercenters in the wallpaper and painting aisle or online. Scoop the dough out of the container and knead it into a small ball until it is soft and pliable. Roll the ball over the pencil marks back and forth until they're gone.
Removing Colored Pencil Residue off Walls
Unlike graphite, colored pencils contain color pigment and wax, making them more challenging to remove. Often, you find color residue on the wall after cleaning it with soapy water or another cleaner. Luckily, nail polish remover will take black pen marks off white walls to keep them looking new.
Pour some fingernail polish remover on a cotton ball and blot at the colored pencil stain. Don't rub the area since that only spreads the pigment further, and use fresh cotton balls until the stain is gone. Clean the area with a damp rag and dry the wall with a soft towel.
Remove Stubborn Pencil Wall Marks by Painting Them
Painting is the final option for getting pencil off the wall when nothing else seems to do the job. Be sure to clean your walls before painting with white vinegar to remove any dust. Painting the walls is also the best choice if you're dealing with many pencil marks or the wall paint is too delicate to wash.
Paint the wall with a new color or take a paint chip to a paint store and have them match it to the existing paint. Prime the wall beforehand to ensure you cover the pencil marks.
Use a paint roller and brush to spread primer on the entire wall or the affected part of the wall. Allow it to dry for about three hours, depending on the humidity and temperature.
Cover the wall with paint once the primer is completely dry. Use overlapping passes with the roller or brush to get an even coat. Do not touch it or spread a second coat until it's dry. Latex paint takes up to four hours to dry, and oil-based paint is dry to the touch in six to eight hours.
Cleaners to Avoid When Removing Pencil Marks From Walls
Pencil marks get on various surfaces, from finished wood and drywall to wall paint and wallpaper. Knowing which cleaners are safe and which ones to avoid when cleaning different materials is a good idea.
Never use straight chlorine bleach to clean a wall. If you must use bleach, dilute it with water. Avoid cleaning latex paint with ammonia, which softens the wall paint, making it susceptible to damage. Degreasers are also a no-no when cleaning walls.
Do not use steel wool and other abrasive sponges when cleaning either paint or wallpaper. Instead, clean the stain with a soft sponge, cloth, or melamine sponge.
Avoid using too much water when wall-cleaning since excess water may remove paint, loosen wallpaper, and leave water marks. The same is true for applying too much soap.
Less is always better when removing wall stains. Always dry the wall completely after cleaning it, no matter which type of cleaner you use.
Pencils are the handiest of tools. Their marks are erasable, making them ideal for everything from craft projects to writing and sketching. Unfortunately, there are times when pencil marks end up where they don't belong, like on a wall.
The good news is that an eraser, sponge, or mild cleaner are all great for removing pencil from painted or wallpapered walls.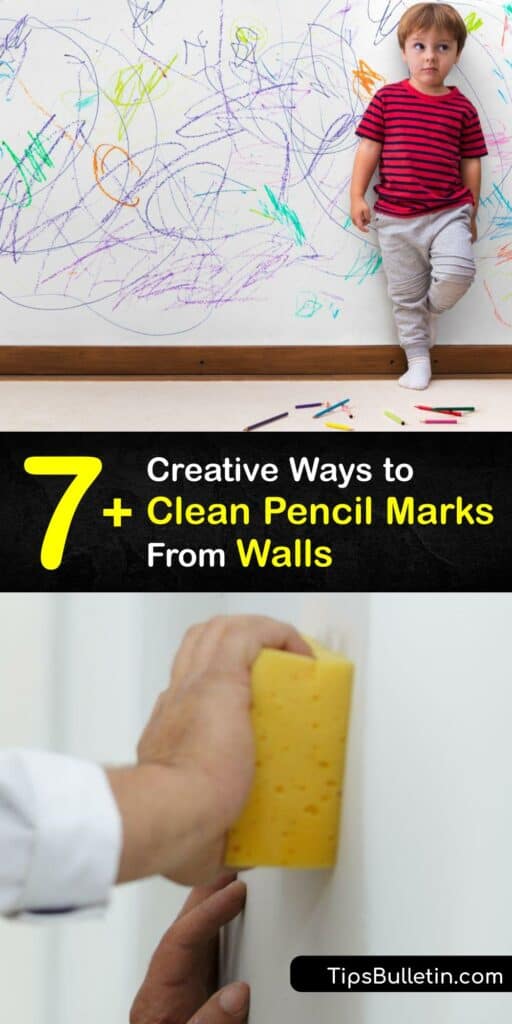 We hope you enjoyed learning how to remove pencil from a wall, and we'd love it if you'd share our tips for cleaning pencil marks off walls with your family and friends on Pinterest and Facebook.