Stickers are great when we want to decorate something, and many electronics like laptops now come with stickers already put on by the manufacturer. While this has become standard for most laptops like Apple MacBook, removing them leaves behind a sticky residue that feels nearly impossible to lift. Knowing how to remove sticker residue from a laptop is feasible when you know what products eat through the sticker glue.
To get sticker residue off a laptop, there are several safe ingredients and products to use. While most are found stored inside people's homes, there are also products available for purchase that work just as well.
No matter what adhesive-removal approach you choose, we guarantee you'll find a way to remove sticky tape residue from a laptop after reading this article.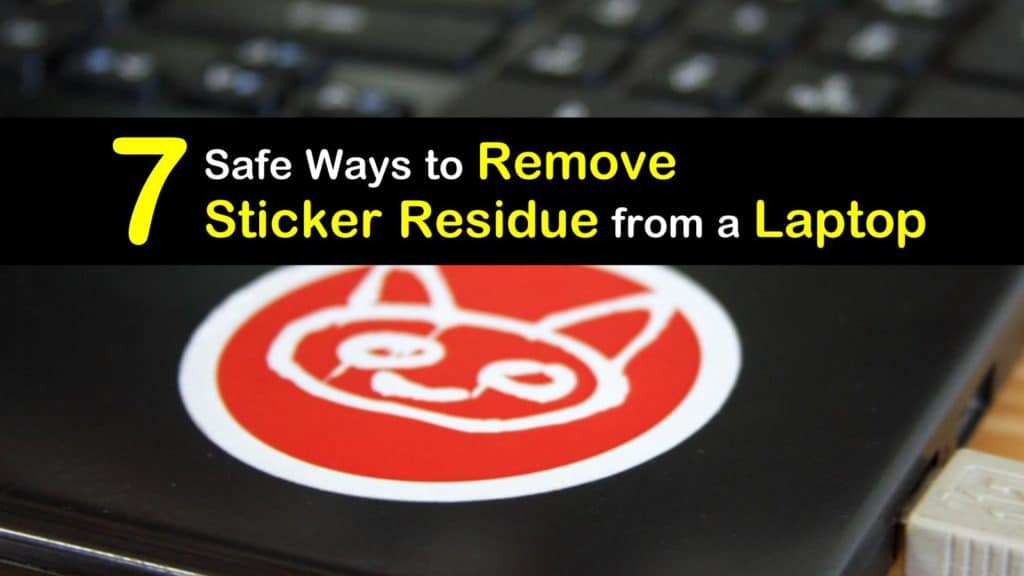 How to Remove a Sticker from a Laptop
Whether you or the manufacturer put a sticker on your laptop, there will probably be some residue left behind. If you want to get sticky residue off a laptop, the first lesson to learn is that there is a right and wrong technique to remove a sticker or tape from a surface.
Removing the sticker the right way helps get adhesive off a laptop with less work. To adequately remove a sticker from a laptop or another surface, start using your fingernail or a credit card to lift only the corner of the sticker or tape.
Continue to peel the sticker off slowly while lifting the residue with your fingernail. The moment the sticker or tape is removed, use a microfiber cloth and water to remove the fresh residue.
If the debris doesn't come off, it's time to move on to one of the following ways to remove sticky tape residue from a laptop.
How to Remove Sticker Residue from a Laptop
Laptop stickers and tape are fine while they are on the laptop, but it isn't until we want them gone that they become a real nuisance.
Making a homemade adhesive remover only takes a few minutes and uses minimal ingredients so that nothing goes to waste. Don't be afraid to try different recipes because some solutions may work better than others on different adhesives.
Scraping off Adhesive Residue
Once your sticker or tape is gone, there is likely going to be remaining residue. One of the quickest ways to get sticker residue off a laptop is to scrape it off. This goal is achievable with a heat gun or hair dryer and a razor blade or credit card.
Use a heat gun or turn your blow dryer on its highest heat setting and warm the adhesive residue for a couple of minutes so that it's more pliable.
When the adhesive is warm, use a razor blade or credit card to begin scraping at the remnants, being careful not to scratch the laptop's surface. Continue this process until all the sticker glue is gone.
Get Sticker Residue Off a Laptop with Dish Soap
Dish soap with grease-fighting abilities is a great way to get sticker glue off a laptop or as an adhesive remover for cars. Dish soap is recommended for stickers that were recently removed and haven't been allowed to sit for long periods.
Wet a clean cloth in hot water and wring out the excess so it isn't dripping. Squeeze a small amount of grease-fighting soap into the damp cloth. Use the soapy cloth to start scrubbing at the adhesive residue until it lifts. Use a paper towel to dry the wet area.
Remove Sticky Tape Residue from a Laptop with Rubbing Alcohol
Getting duct tape residue off a laptop and finding the best way to remove super glue residue are a couple of the most challenging things to accomplish. Strong tapes like duct tape are known for leaving adhesive behind and often need a more robust cleaning solution.
Rubbing alcohol is also recommended for cleaning a laptop keyboard because it removes gunk while disinfecting at the same time.
Unplug your laptop from power sources whenever dealing with liquids so you don't damage your electronics. Dampen a small area of a rag with isopropyl alcohol. Set the dampened rag over the spot and let it sit for a few minutes.
After several minutes have passed, use the same rag to peel away the stickiness. Repeat this process as often as necessary. If you don't have rubbing alcohol, nail polish remover and lighter fluid are excellent replacements.
Alcohol is an ideal laptop screen cleaner, too. Be sure the screen is off before gently wiping the screen with a microfiber cloth dipped in water and rubbing alcohol. Dry thoroughly.
Rubbing alcohol works well for eliminating stickiness from a variety of sources. Clean duct tape residue or a super glue stain or even clean up a paint spill with alcohol.
Homemade Paste for Sticker Adhesive
There are often moments of frustration when nothing seems to remove the adhesive that has sat for years.
When this happens, creating a homemade adhesive removing paste is one of the hardiest options. This paste takes only a minute to make and is powerful against sticker glue.
Mix baking soda and small splashes of water until you get a very thick paste and add a small splash of vinegar to it.
Spread the adhesive removing paste over the designated area, and let it sit until it dries. Once dry, dampen a cloth with hot, soapy water and scrub away the paste until all of it lifts into the rag, and no residue remains.
Remove Sticker Residue with Oil
Oils are a fantastic ally when learning how to remove sticker residue from a laptop or to get super glue off plastic surfaces. Nearly all oils such as olive oil, vegetable oil, tea tree oil, and baby oil work for this tactic.
Pour a small dab of oil over the sticky area and let it sit for ten minutes. Use a clean cloth to begin buffing out the residue until all stickiness lifts into the fabric. You can also use oil for removing dirt on a phone case made of silicone or a plastic case for laptops.
A Surprise Item to Remove Sticky Tape Residue from a Laptop
Have you ever heard of people using peanut butter to remove gum from hair? With that identical logic, peanut butter works the same way to get sticker residue off a laptop.
Spread a thick covering of creamy peanut butter over the area that had adhesive and let it sit for 20 minutes. Wipe away most of the peanut butter and use a razor blade or fingernail to peel away the remaining glue.
Products for Removing Sticker Glue
Some people aren't into making homemade residue removers. If this applies to you, make a trip to the store and purchase either Goo Gone or a Mr. Clean Magic Eraser. Both of these products are excellent for lifting tough stains, sticker residue, and glue, whether you need to remove adhesive from plastic or your laptop.
Always read the directions before using any store-bought product. When using Goo Gone, apply a small amount over the sticky area and let it sit.
Put on a rubber glove and begin massaging the area with the Goo Gone. After some time, the adhesive starts to lift and is easily peeled or wiped away.
Mr. Clean Magic Erasers are great for various uses around the house, like buffing out scuff marks on walls or getting rid of lime and calcium build up in the bathroom.
Most people don't realize that they work well for removing sticker residue from laptops, too, or as a homemade TV screen cleaner. Wet the Magic Eraser and use some elbow grease to scrub the desired spot until it's clean.
Stickers and tape with designs are a fun way to add personality to our electronics. Even when we don't put them on ourselves, most laptops now come with stickers already on them.
When you're ready to remove all the stickers from your computer, knowing how to rid yourself of the adhesive is a tool that you'll be able to use and pass on to your friends and family for the rest of your life.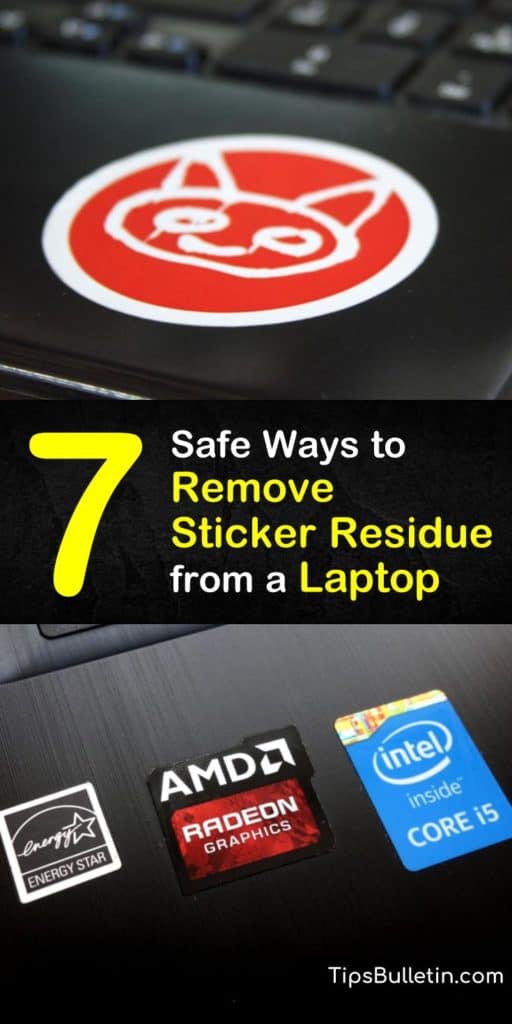 If you learned how to remove sticker residue from a laptop to get rid of all the stickiness on your electronics, share these homemade adhesive removers on Facebook and Pinterest.