Accidents happen, especially when painting, whether you are trying to master a work of art or the little ones in your home decide to get too creative. Sometimes that paint splatter ends up on the hardwood floor or wood trim. Learn how to remove water based paint from wood and restore its surface.
We all feel a moment of dread after spilling paint on wood since a wood floor is porous and more challenging to clean than a vinyl floor. It's even worse if you don't discover the paint stain until it's dried.
The great news is that water-based paint is much easier to clean than oil paint or lead paint, and you don't need a chemical paint stripper to remove paint from the floor. Unlike oil based paint, soapy water and other mild cleaners usually do the job of cleaning latex or acrylic paint from wood.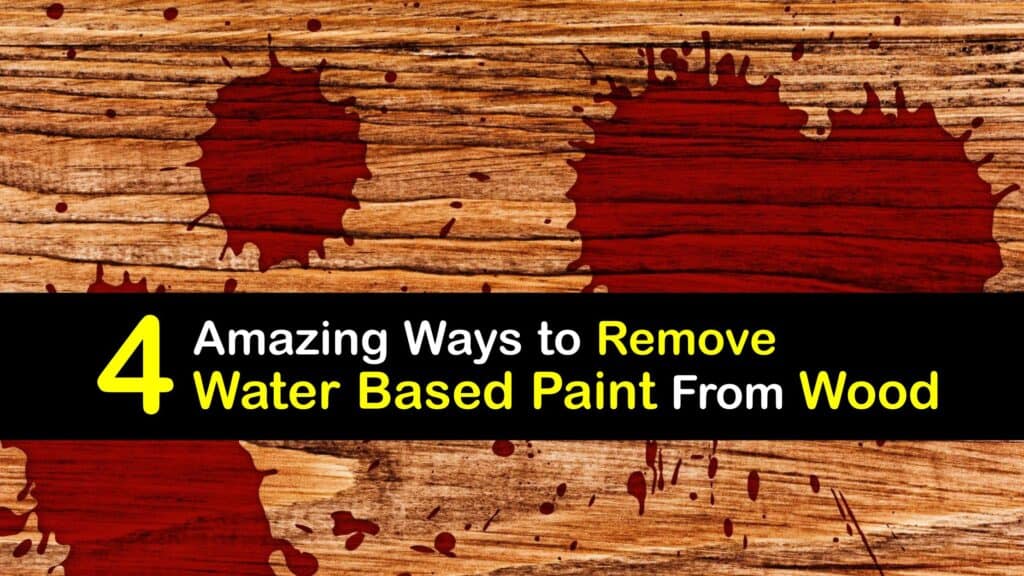 Ways to Remove Water-Based Paint From Wood
Acrylic or latex paint stains are easier to remove than you think. Discover how to clean paint off wood using simple solutions like soap and water or advanced cleaners like rubbing alcohol.
How to Get Water Based Paint off Wood With Soapy Water
You can often use warm water and dish soap to remove a water-based paint stain. Here is how to get old paint off wood trim and furniture with soapy water and a paint scraper.
The simplest way of getting water based paint off wood without a stripper is with soap and water. Fill a bowl with water and a squirt of dish detergent. Then, dunk a cloth into the mixture and scrub the latex paint stain with a small circular motion.
Once wet, use a dry towel to wipe away the paint residue. If the stain persists, add baking soda to the sudsy water to give the cleaner mild scouring abilities.
Removing Water Based Paint From Wood
Rubbing alcohol is an excellent alternative for removing water based paint from wood as it dissolves paint residue from the surface. You can safely strip old paint from wood dressers and chairs with a bottle of rubbing alcohol and a putty knife.
Employ a plastic putty knife to gently scrape excess paint from the wood without scratching the wood stain. Mix three parts rubbing alcohol with a single part lemon juice in a bowl and apply it to the area with a soft cloth. Leave it for five minutes, and use a dry cloth to scrub away the softened paint carefully.
How to Remove Water Based Paint From Wood After it Dries
The best way to make an oil based paint remover at home is with nail polish remover. Use an acetone-based remover for optimal results. Find out how to remove dry paint from wood with fingernail polish remover.
Soak a cotton pad with acetone nail polish remover and rub it gently on the paint spot without spreading the color. Use fresh cotton as needed until the stain is gone, wipe the area with a damp rag, and dry it with a paper towel.
Using Denatured Alcohol to Remove Dried Water-Based Paint
If simple methods don't work, try denatured alcohol to remove old paint. Explore how to get water based paint off wood using this solvent to strip paint.
Before removing water based paint from wood with denatured alcohol, use the edge of a credit card or plastic spatula to carefully scrape away dry paint.
Pour denatured alcohol onto a white cloth and gently wipe the spray paint stain. Work quickly since the alcohol evaporates fast, use clean fabric parts as necessary, and avoid spreading the color.
Painting is a rewarding experience until you get a paint drip on your wood floor. You don't need paint thinner or a chemical stripper for removing paint from wood. Fortunately, cleaning a water-based stain is more straightforward than removing an oil-based stain.
We hope that learning how to remove water based paint from wood makes your next painting experience stress-free, and we'd love it if you'd share our tips for cleaning water-based paint stains off of wood with your friend and family circle on Pinterest and Facebook.