Marble is a natural stone with an attractive and lustrous surface and is a stunning sight to see in the home. Stained marble is not only unsightly but causes damage to the surface if left unchecked for too long. Learn how to remove water stains from marble in a few simple steps.
Marble is a widely preferred material for countertops and floors and is highly valued. Its soft appearance and distinctive veining give it elegance and style that stands the test of time. This natural material is strong and durable. However, it is very porous and susceptible to scratches and stains. Different types of stains appear on marble surfaces.
Water stains happen when water sits on the marble surface for too long and evaporates, leaving a dull stain of magnesium and calcium left behind by the water. Rub your hand over the marble surface. If the stained area feels raised, it is a hard water stain.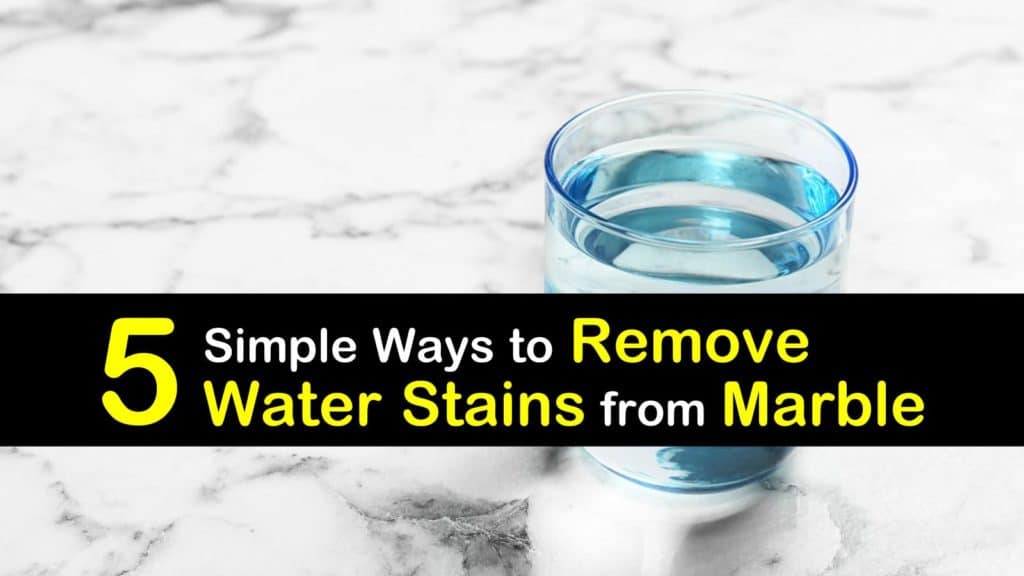 Cleaning Marble to Remove Water Spots and Hard Water Stains
Different types of stains require distinct cleaning solutions. Cleaning your marble surface with a cleaner meant for etch marks, rust stains, or mildew has little effect on removing water spots.
We have several ways to remove the build-up of mineral deposits left from standing water on marble or for the best way to clean granite countertops and remove stains from that surface.
Removing Marble Water Stains with Soap
Sometimes, the easiest way to remove a stain from marble, faucets, and other surfaces is to clean the area with simple ingredients. To remove mild water stains, try using a DIY marble cleaner using a gentle soap and warm water.
Fill a container or bucket with water, add the liquid soap, and agitate the water with your hand to create a homemade marble floor cleaner. Calgon or mild dish soap are both good choices and safe to clean marble. Buff the area gently with dry 0000 steel wool to remove water spots and rings.
Dunk a soft sponge into the liquid and rub the water stain lightly, using a circular motion. Continue applying the soapy water until the stain dissolves. Use a soft cloth to dry the marble completely.
Often, soap and water make the best homemade granite countertop cleaner – no sandpaper required.
Easiest Ways to Remove Water Stains from Marble
Many natural cleaners such as white vinegar and lemon juice are too acidic to clean stains off of natural stone surfaces such as marble and travertine. These liquids tend to etch the surface and damage the sealant.
One of the easiest ways to get rid of water stains from marble is to use commercial cleaning products designed for this material. Many of these cleaners are also suitable to clean marble tile floor.
Follow the instructions according to your marble cleaner. Apply a small amount of the cleaner to the water spot and spray the powder with a little water until it is damp.
Use a soft cloth to wipe the cleaner into the marble surface, using a circular motion. Rinse the rag under clean water and wipe the marble surface clean. Finish up by using a marble polishing powder to keep the surface shiny.
Cleaning Water Stains off Marble with a Baking Soda Poultice
Baking soda is an alkaline powder and mild abrasive. This natural ingredient is a safe alternative for cleaning away scum and stains on stone surfaces. Here is how to make a baking soda poultice for cleaning water stains off marble.
Shake some baking soda into a container or bowl and add enough water to create a thick paste. Apply the paste to the stain, rubbing in a circular motion to cover the entire spot.
Spread plastic wrap over the area and let it sit for 24-hours. Remove the plastic, and use a wet cloth to wipe away all of the dried paste.
How to Remove Water Stains from Marble with Hydrogen Peroxide
It is tempting to grab a bottle of bleach when trying to remove stains, but this is a no-no when it comes to natural stone care, as it damages the sealer.
Hydrogen peroxide is an oxidizer and mild bleaching agent that is a safe alternative to bleach and is useful to get stains out of marble. Regular use is also quite beneficial to prevent calcium buildup on the marble and your fixtures.
Sprinkle a decent layer of cream of tartar on the water stain and add enough hydrogen peroxide to form a thick paste.
Rub the mixture on the stain with a cloth using a gentle scrubbing motion. Cover with paper towels, and let it sit for about half an hour. Use a clean and damp cloth to swipe away all residue.
This paste also works as a natural hard water stain remover for a variety of surfaces from granite to glass.
How to Prevent Water Spots on Marble
It's easy to let water droplets go unnoticed on your marble counters and floors, but doing this results in water stains from mineral deposits. Therefore, it's essential to take care of spills as soon as you notice them.
The key to preventing water spots and stains on your marble countertops is to perform regular marble cleaning and keep the surface area dry. Absorb water spills with a paper towel as soon as you notice them, and wipe down the surface area with a soft cloth.
Always place water glasses on a coaster to prevent the formation of water rings on the marble surface. Clean the marble regularly with mild soapy water to prevent the build-up of dirt and grime.
Crusty water rings and splatters of dull water marks turn that once shiny and beautiful polished marble surface into an unattractive eye-sore.
Instead of ignoring stained areas of marble, or replacing the entire piece, try using gentle cleaners to restore its clean shine.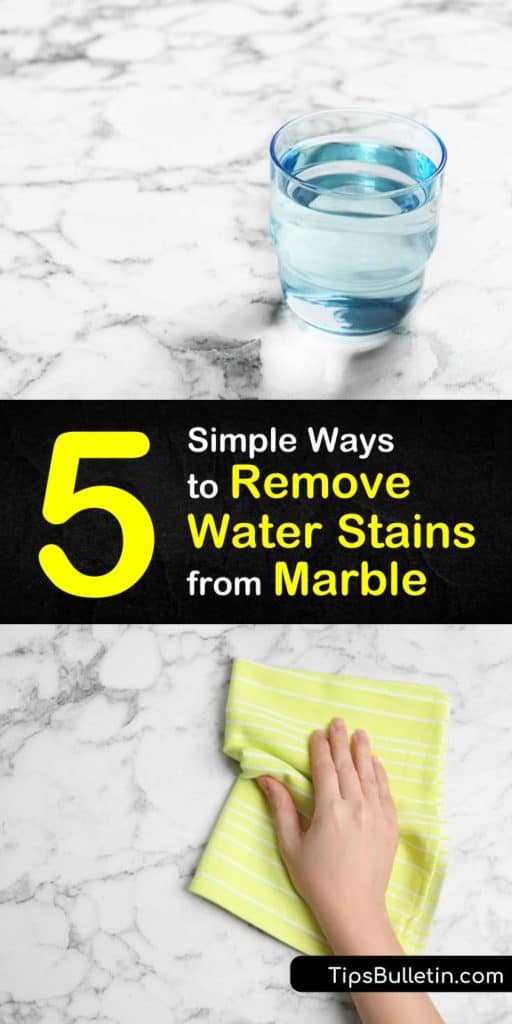 Now that you learned how to remove water stains from marble using a few manageable ingredients, why not share our marble cleaning tips with your friends and family on Facebook and Pinterest?