There's nothing like getting home from the shoe store or opening the box for those shoes that you ordered online and realizing that they don't fit quite right. The shape isn't wrong, and you're in love with the style, but you don't think that your feet can handle these tight shoes for very long. If you're wondering how to stretch tennis shoes so that you won't need to visit a cobbler or buy a new pair, you're in luck.
We have a wide range of ways to stretch tennis shoes to share with you to end your suffering from bunions and blisters, even if you've struggled to find shoes that are the right shape for your wide feet.
Whether it's your shoe's instep rubbing against your bridge, the toe box squishing your big toe, or the high heels straining your ankles, ill-fitting shoes have a way of ruining your day. Overly tight shoes can even create or worsen foot problems like instability, toe deformity, inflammation, and flat feet.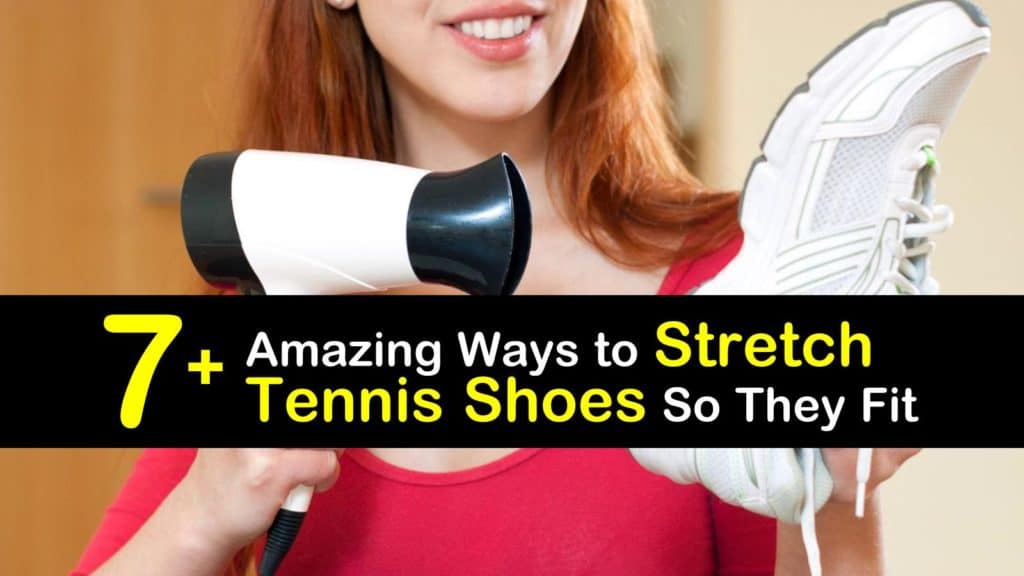 DIY Tennis Shoe Stretching Tips
How do canvas shoes stretch? You have several options for how to make your tennis shoes wider so they are more comfortable, whether you wear them just to the mailbox or for shopping at the mall.
Interestingly, both heat and cold stretch sneakers, as does inserting an object inside the shoe to exert mild pressure on it. Some of these ways to stretch tennis shoes are so effective that they expand shoes by up to a half size.
Can the washer help stretch shoes? Can you put Vans® in the washer to help make them bigger? While you CAN put your canvas shoes in the washing machine, it's not the best way to stretch shoes. Read on to learn better methods for expanding shoes.
Wear New Shoes around the House
You may have heard that it takes several weeks to break in a new pair of shoes. Well, it's possible to speed up this process by wearing your slightly tight running shoes around your home. It's also one of the best ways to stretch suede shoes that are a little too tight.
However, you should still expect to carry out this step for five to seven days before noticing results. In the evening, once your feet have had a chance to rest from their daily activities, put on your new shoes, ideally for several hours.
If your goal is to keep the runners looking like new in case you decide to return them, stick to walking on rugs and carpeted surfaces. Even if you just sit still, your feet's warmth and sweat soften the pair of shoes, molding them to fit your feet.
How to Stretch Tennis Shoes using a Hair Dryer
Start by putting on two thick pairs of socks and your suede or leather shoes. Even the action of wearing a second pair of socks stretches the material of your shoes, although one thick pair works if that's all you can squeeze in.
Heat each shoe for a maximum of 30 seconds with a blow dryer on medium heat before switching to the other foot. Move the dryer around to loosen all of the leather without damaging any sections through prolonged exposure to heat.
Wiggling your toes throughout the process physically stretches the material. It takes approximately two minutes total per shoe for this stretching method to be effective.
We recommend applying a leather conditioner to your piece of footwear once you've finished, whether you're working with a tennis shoe or a professional shoe that you'd like shiny for work.
Interestingly, using heat is also one of the ways to shrink rubber and some other materials. Depending on how you use it, heat is very versatile.
Use a Shoe Stretcher to Improve the Fit of Your Tennis Shoes
Although shoe trees and stretchers are both wooden or plastic objects that go into shoes, stretchers are likely what you're looking for if you're wondering how to make your tennis shoes wider. Shoe trees prevent creases from forming in leather, while a shoe stretcher adjusts the length and width of a shoe.
Some of these devices even come with plugs that reduce the chance of painful bunions developing. Insert the stretcher into your shoe and turn the handle to make it expand, which pushes the shoe outward.
Leave the stretcher inside the shoe for several hours or longer, in which case, rotate the handle every eight to twelve hours. Shoe stretchers are an excellent option if you're wondering how to make shoes wider without shoving your foot into them.
How to Stretch Tennis Shoes without using a Shoe Stretcher
If you don't want to spend time or money squinting at the shoe stretcher selection at a shoe or home improvement store, use rolled-up socks instead. Stuff as many socks as possible into the shoes' toe box as a gentle way to stretch the shoes.
Leave your DIY shoe stretcher in place for as long as possible and at least overnight. Alternatively, for non-leather shoes, use crumpled-up balls of damp newspaper. The paper expands as it dries, so make sure to stuff it in a way that won't leave bumps in the shoe.
Use Freezing Water to Stretch Shoes
As water freezes, it expands, making it a key component for one of the best ways to stretch tennis shoes. Fill a resealable Ziploc bag halfway with water and seal it tightly, placing it inside a second bag for added protection.
Place one bag of water inside each sneaker, adjusting it to fill the toe area if necessary. Put the shoes in the freezer overnight on a tray or baking sheet.
Remove the bags and let the sneakers warm up for half an hour before putting them on. If your sneakers have not expanded enough, try carrying out the freezing process a second time with slightly fuller plastic bags.
How to Make Your Tennis Shoes Wider with a Potato
This vegetable is surprisingly effective at stretching sneakers. The potato's firmness presses against the inside of the shoe, while its slight moisture loosens up the fabric.
Peel one large potato for each shoe and carefully carve them, if necessary, so that they'll fit perfectly into the toe box. Dry the potatoes with a paper towel prior to placing them inside your shoes.
Leave the vegetables in place overnight to give your shoes a mild stretch. This shoe stretching solution has the added benefit of eliminating the stinky feet smell from leather. An essential oil shoe spray, meanwhile, brings a pleasant scent to any pair of shoes.
How to Stretch Tennis Shoes using Oats
If you're wondering how to make your tennis shoes wider with the help of kitchen ingredients, potatoes aren't your only option. Any grain that expands upon contact with water, like oats or rice, pushes against the walls of shoes.
Fill a resealable plastic bag with your desired grain and cover the grains with water. Place the sealed bag inside your sneaker, making sure to get it down the toe end. Leave the bag of grain in your shoe overnight to give it time to expand.
Ways to Stretch Tennis Shoes with Rubbing Alcohol
It's easy to make your canvas shoes expand using this standard household product. Test some of the diluted rubbing alcohol in an inconspicuous location before spraying the whole sneaker.
Shake up the ingredients in a spray bottle, then squirt the mixture on the shoe's inside and outside, focusing on especially tight areas. Walk around in the shoes as the alcohol dries.
Or, soak a pair of thick socks in pure rubbing alcohol. Squeeze out extra liquid before putting them on and placing your feet in the shoes.
In either case, work quickly since rubbing alcohol dries fast. Also, make sure to apply leather conditioner if applicable, because rubbing alcohol dries out leather.
How to Stretch Leather versus Canvas Shoes
Chances are your tennis shoes are made of either canvas or leather. Although some methods work for both types, like wearing the sneakers inside, many are more suitable for one style of shoe.
Inserting a potato, rolled-up socks, or a shoe stretcher are all effective ways to stretch tennis shoes made from leather. Although potatoes remove bad odors from leather shoes, they leave their scent behind in fabric like canvas.
The important thing when working with leather shoes is not to get them wet. In this regard, the freezing water, damp newspaper, and oat methods are safest for canvas shoes.
It's also crucial not to dry out leather when you try to stretch leather, so if you choose to use either a hair dryer or rubbing alcohol, make sure to finish by applying a leather conditioner.
How to Maintain Tennis Shoes
You've stretched your shoes to just the right fit for your foot, and now you're wondering how to keep them in good shape. What is the best way to look after your sneakers so that they'll stay clean?
If you have canvas tennis shoes, this guide to washing Toms® is informative. Start by removing the laces, then wash by hand with a soft brush and gentle dish soap. Make sure not to submerge the shoes in water or place them in the dryer, but do place paper inside the shoes as they air dry.
To clean leather shoes, remove the laces, then wipe the leather gently with a damp cloth with a little liquid soap. Remove the soap with a second damp cloth and allow the shoes to dry somewhere cool.
Tight-fitting shoes can be detrimental for your health, besides being just plain uncomfortable. The good news is that it's not necessary to content yourself with developing blisters, stuffing your new shoes in a closet, buying a replacement pair, or going to a cobbler.
You now know how to stretch shoes using a few ingredients that you probably already have around your home.
There are a several options for expanding canvas or leather tennis shoes to allow you to enjoy both the feeling of the shoes and their appearance. Knowing how to stretch tennis shoes is a skill that can come in handy.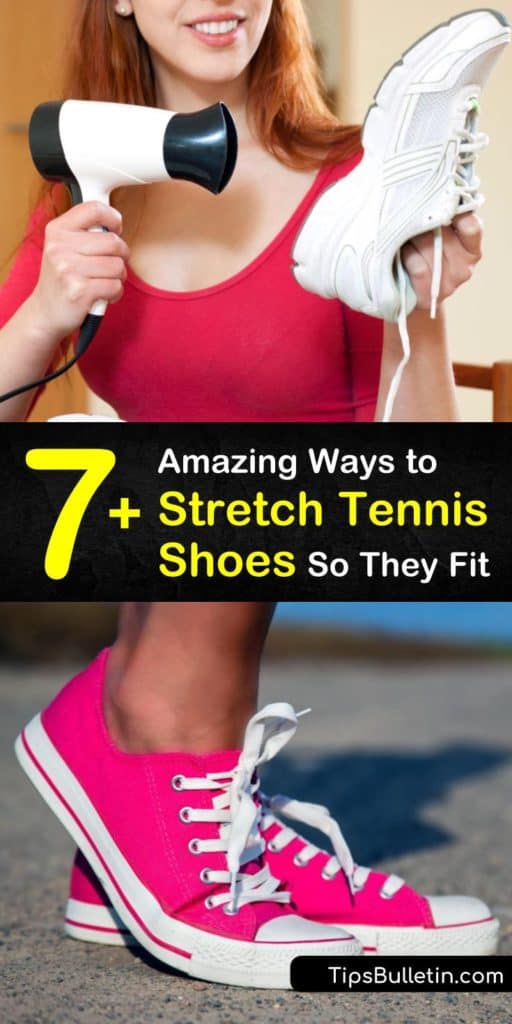 We hope you found our tips for stretching tennis shoes helpful and would appreciate it if you share these shoe widening tricks on Facebook and Pinterest.