Discovering a bed bug infestation in your home is always a distressing experience. Regardless of how they got there, you want them out of your house as soon as possible. In this article, learn how to tell if you have bed bugs and what to do about it.
Although many people associate bed bugs with dingy hotel rooms, the most common bed bug infestation source is secondhand furniture. Before bringing such items home with you, it's critical to carefully inspect them for signs of bed bugs or other potential problems.
There are a few telltale signs of bed bugs to look for even before the dreaded bed bug bites begin to show.
Take the following proactive measures and be diligent in monitoring for evidence of bed bug activity so you'll be able to catch and mitigate an infestation right away before it becomes too severe.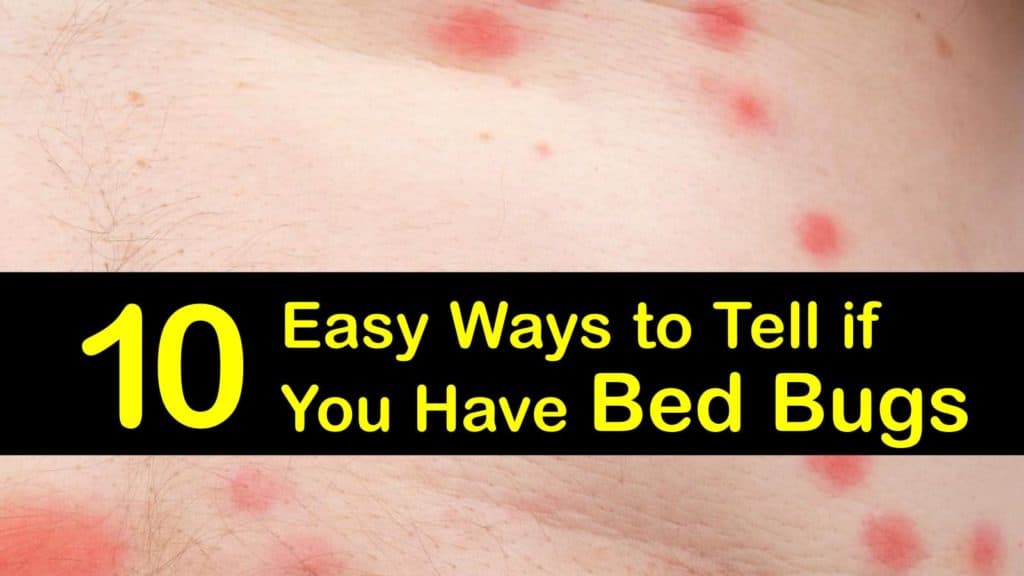 How Do I Know if I have Bed Bugs?
According to entomologist Richard Pollock, Ph.D., it turns out that less than 10% of insects that people initially identify as bed bugs honestly are. You might be wondering, "How do I know if I have bed bugs in my house?"
Knowing what you're looking for is the first essential step in identifying and eliminating a bed bug problem. To differentiate true bed bugs from their numerous look-alikes, consider their size, shape, and color.
Bed bugs are adept at hiding in furniture, baseboards, and other crevices around the house. There are a few other helpful indicators to use when determining whether you're dealing with bed bugs or something else.
These include dark reddish-brown spots on sheets, linens, and furniture from bed bug poop, tiny yellowish eggs, eggshells, shed skins, and the sweet, musty odor the insects secrete from their glands.
If you or your family begins experiencing itchy red welts, it's essential to correctly identify whether or not the culprits truly are bed bugs to create an efficient treatment plan. Here are some of the key indicators for how to spot bed bugs.
What do Bed Bugs Look Like?
Bed bugs are hematophagous arthropods, which means that they're invertebrates that feed on blood. While humans are their primary hosts, they occasionally feed on the blood of other animals.
Adult bed bugs have flat, oblong, reddish-brown bodies. They tend to swell and turn redder after feeding.
Although bed bugs don't develop actual wings and fly, adult insects have wing pads on their backs. However, they move quickly over household surfaces like floors, walls, and ceilings on their six legs.
How Big are Bed Bugs?
With so many look-alikes that frequently get misidentified as bed bugs, it's imperative to answer the question, "How big are bed bugs?" In general, adult bed bugs are about a quarter-inch long, roughly the size of an apple seed.
As they mature, bed bugs go through five different nymph stages before becoming adults. When progressing through the nymph phases, they molt, shedding their exoskeletons, and grow larger and darker in color.
Between the first nymph stage and the adult stage, bed bugs nearly triple in size. The nymphs must consume at least one blood meal before shedding their exoskeletons and growing larger.
Bed bug eggs are a yellowish-white color and are almost invisible to the naked eye, measuring only about one millimeter, which is roughly the same thickness as a credit card.
After hatching, the young nymphs are nearly the same color as the eggs and only slightly larger, at about a millimeter and a half long.
The nymphs shed their skins several times as they grow larger, often one of the earliest indications of a bed bug infestation. The light yellowish exoskeletons are hard to see, though, and blend in well with house dust.
Bed Bug Behavior and Life Cycle
Understanding typical bed bug behavior and their life cycle stages allows you to spot a bed bug infestation before it becomes too severe. According to the EPA (Environmental Protection Agency), bed bugs appear to prefer feeding on humans over other animals.
Usually, bed bugs bite humans at night. However, if they're hungry, they also feed during the day. They travel up to 20 feet from their hiding places to feed on a host.
A common sign of bed bug activity is dark spots on bedding. These are either blood stains from their bites or fecal spots from the insects themselves.
Female bed bugs might lay up to 500 eggs during their lifetime, another reason to be proactive about finding and eradicating a bed bug infestation as soon as possible before it spreads.
The life cycle of bed bugs lasts between six months and one year. They can go without feeding for several weeks to several months, depending on the humidity and temperature levels.
At cold temperatures under laboratory conditions, bed bugs reportedly survive up to 400 days. Also, bed bug eggs may take up to 21 days to hatch, so keep monitoring for signs of bed bugs long after your initial treatments.
Frequent Hiding Places for Bed Bugs
After learning how big are bed bugs and what they look like, the next step is finding out where they're hiding.
Bed bugs frequently hide in the cracks and crevices of walls and baseboards, as well as furniture, sheets, pillowcases, and other linens and upholstery. It's beneficial to know where to look when searching for signs of a bed bug infestation.
Once you discover where the problem areas are, develop a strategy for eliminating the bed bug infestation. If your bed bug problem isn't too drastic, there are several home remedies for exterminating bed bugs.
If the infestation is extensive, you're probably better off contacting a pest control company.
How to Tell if You Have Bed Bugs using a DIY Bed Bug Trap
Unfortunately, homemade bed bug traps are not sufficient for completely eradicating an infestation. They are, however, helpful in identifying a bed bug infestation and monitoring the progress of your pest control strategy.
Because bed bugs are chiefly active at night, it's often challenging to find them for identification.
Use a mixture of sugar, yeast, and water to lure bed bugs out, identify them, and find out where to concentrate your efforts. The carbon dioxide generated by the sugar and yeast reaction attracts bed bugs, then they get trapped in the liquid.
To make some bed bugs traps, mix the sugar and yeast in a medium-sized bowl, then pour in the warm water. Set the bowl aside for a few minutes. The mixture begins bubbling up as the yeast activates.
Cut off a plastic bottle just above the label. Wrap the middle of the bottle with a paper towel to give the insects something to grip as they climb up the sides. Hold in place with tape.
Leave a slight overlap at the top of the paper towel to fold over the edge of the bottle. The slippery sides of the bottle prevent the insects from being able to get back out again.
Pour an inch of granulated sugar into the bottle, and then add three inches of the yeast/sugar solution. Place the cut-off bottle top upside-down in the opening so that the cut edges are even with the trap's top, and it funnels the insects inside.
What do Bed Bug Bites Look Like?
Ordinarily, bed bug bites appear as small, red, itchy welts slightly bigger than mosquito bites. There is usually a darker red dot in the middle of the welt at the injection site.
When bed bugs bite, they inject anesthetic and anticoagulant enzymes into the host through their straw-like mouthparts. The anesthetic keeps the host from noticing the bite right away.
The anticoagulant prevents the blood from clotting at the bite site, allowing the insect to feed more efficiently. The itchy bites result from our bodies' reactions to the saliva left behind after bed bugs feed.
Allergic Reactions to Bed Bugs
While bed bugs don't typically transmit major diseases when they bite, a few other health risks are associated with a bed bug infestation in your home. These are particularly concerning for those who suffer from allergies.
Bed bug feces contain pheromones, a mixture of chemicals that they secrete to attract other bed bugs. One of the chemicals is histamine, which triggers airborne allergy symptoms in susceptible people. Symptoms may include itchiness, congestion, dry eyes, and asthma-like respiratory symptoms.
In rare cases, people develop an allergic reaction to bed bug bites that result in blisters, hives, and extreme itching.
Find immediate medical attention if you experience these symptoms, notice pus or discharge coming from bite wounds, or if bed bug bites become infected due to excessive scratching.
Pest Management Strategies for Getting Rid of Bed Bugs
If you discover a bed bug infestation in your home, act fast. It's essential to quickly identify all infested areas and get rid of as much clutter as possible to remove their hiding places.
To prevent the infestation from spreading further, remove all infested items like bedding, clothing, mattress covers, pillows, shoes, or stuffed animals and seal them in a plastic bag for treatment.
How fast can bed bugs spread from house to house? Fortunately, not that quickly.
Preparing Your Home for Bed Bug Removal
Closely inspect all pieces of furniture in the infested rooms for signs of bed bugs. If you cannot safely treat any of the furniture, contact your local waste disposal service to collect it as soon as possible.
Thoroughly vacuum all carpets, furniture, and hard floors to wipe out as many bed bugs as possible. Clean out the vacuum cleaner regularly throughout the process and seal the vacuum contents in a plastic bag to be disposed of in an outdoor garbage container. Make up a natural bed bug killer spray with essential oils to eliminate bugs in hard-to-reach places.
It's beneficial to keep records of when and where you see bed bugs in the house and track your treatment progress to allow you to know where to concentrate your efforts for the most effective pest management.
Kill Bed Bugs Fast with High Heat
A study at Purdue University found that it takes around 30 minutes to kill bed bugs at a temperature of 113°F. The bed bugs die faster at higher temperatures.
When carried out correctly, heat treatment works well to eliminate a bed bug infestation. High heat is one of the simplest and easiest ways to kill bed bugs and works at all stages of their life cycle.
Use your washing machine and dryer on the highest possible heat setting to treat infested items that can be safely machine-washed and dried. Use a steamer to heat-treat things like furniture, mattresses and box springs, bed frames, baseboards, and carpets.
Trap Bed Bugs with a Mattress Encasement
Mattress encasements are practical for trapping bed bugs and keeping them from spreading to new locations. Well-designed encasements form a complete seal around the mattress and box spring.
Ensure that there are no gaps or holes in the mattress encasement. Seal infested beds in an encasement for a year or more to ensure that all bed bugs are gone.
Mix a peppermint oil bed bug spray recipe in a glass spray bottle to keep handy just in case the problem reasserts itself.
Have you ever wondered, "How do I know if I have bed bugs in my house?" Although a bug infestation is certainly an alarming discovery, it's essential to correctly identify whether you're dealing with bed bugs or a different pest to develop an effective treatment plan.
Apart from the telltale itchy bites, look for signs like blood spots and fecal stains on your bedding and a sweet, musty odor to indicate where bed bugs may have moved in.
While it's possible to bring bed bugs home from hotel rooms when traveling, their most common method of entry into your home is on used furniture.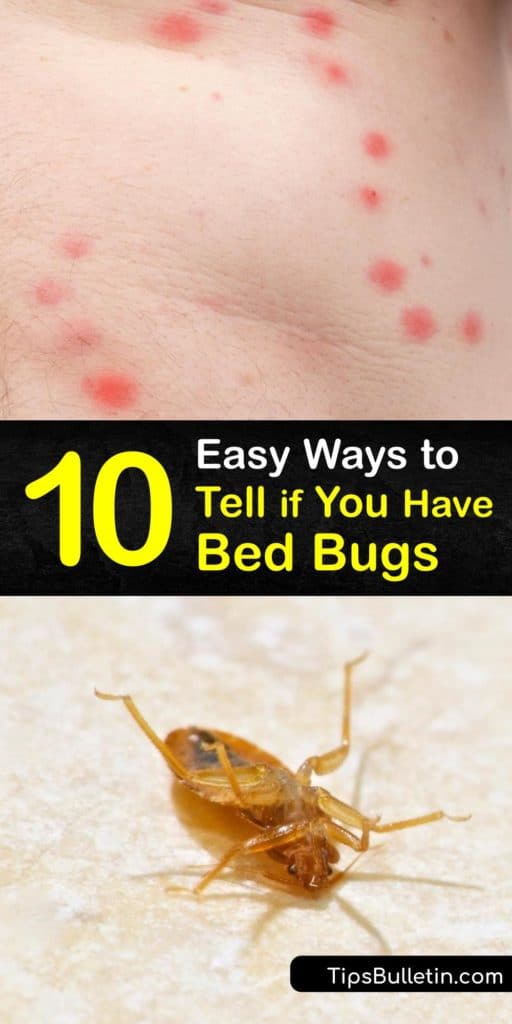 If you found these pest control tips helpful, please share this article about how to tell if you have bed bugs with your friends and family on Facebook and Pinterest.