Fresh zucchini spoils fairly quickly, whether you get them from the grocery store or grow your own. Therefore, it's important to know the signs of bad zucchini before bringing it to the table. We'll show you how to tell if zucchini is bad and ways to store it to prevent early spoilage.
Winter squash, or Cucurbita pepo, has a thick skin and is easy to store through the winter, but zucchini squash is part of the summer squash family.
Summer squash is part of the gourd family or Cucurbitaceae, and they have thin and edible skin and a shorter shelf life. There are different varieties of zucchini, some dark green and some yellow, and knowing what to look for in freshness is key to preventing food poisoning.
Once zucchinis begin to spoil, their cucurbitacins level increases and becomes toxic, causing nausea and vomiting. Knowing the difference between fresh zucchini and bad zucchini is vital to good health.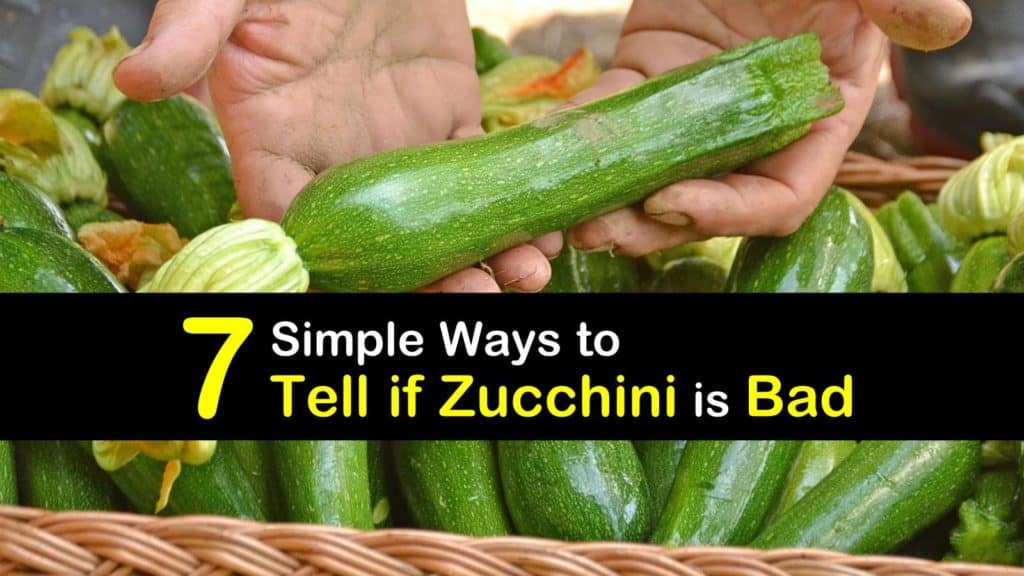 When Zucchini is Bad and Ways to Keep it Fresh
All veggies have an expiration date, and this is true for zucchini, whether you have pounds of zucchini or just a few. We'll show you how to tell if your zucchini is still fresh or spoiling and the proper ways to store it to enjoy all of your favorite zucchini recipes.
Choosing the Best Zucchini to Last the Longest
Raw zucchini also called a courgette, is rich in potassium, magnesium, and Vitamin A, and has small amounts of iron and calcium.
However, these gourds lose their health benefits as they age and spoil. Learn how to pick the healthiest zucchini for the longest shelf life.
Fresh and Healthy Zucchini
When it comes to zucchini, size matters since large ones are watery, have large seeds, and little to no flavor. Try to choose small to medium-sized zucchini that is no larger than a standard flashlight.
Pick summer squash from the grocery store that still has the stem attached and tiny hairs on the skin since these are freshest. Avoid them if they have nicks or cuts, discoloration, or dark spots.
Ensure they are firm when you hold them in your hand and use proper storage methods to avoid a zucchini gone bad scenario.
Whole zucchini lasts about five days at room temperature, two weeks in the refrigerator, and six months in the freezer. After you slice it, it only lasts about an hour since air allows oxidation in the meaty flesh.
Zucchini Gone Bad and How to Tell by Taste and Sight
There is nothing worse than zucchini gone bad unless it's knowing when is an onion bad. Not only does it look and taste wrong, but it also causes stomach problems and diarrhea. We'll show you how to know when a zucchini is gone bad or still fresh and edible.
Zucchini's Appearance and Flavor
How do you know if cabbage is bad, as well as zucchini and other vegetables? To test for spoilage, look at the overall appearance of the zucchini.
If it is going bad, the skin begins to look dull and wrinkled or shriveled. If the outside feels mushy or you cut into it, and it feels spongy and looks stringy, it is past its edible date.
Sometimes a zucchini is bad even though its appearance gives you the impression that it is still good.
The only other way to determine if it's safe to eat is to test a small piece, as you would do to tell about rotten cucumbers. Cut off a tiny portion of the gourd and lick it with your tongue. If it leaves a bitter taste in your mouth, the zucchini is bad.
How to Know When a Zucchini is Gone Bad in the Garden
There are various reasons that summer squash plants do not produce well in the garden, and sometimes these gourds are not edible. Learn how to know when a zucchini is gone bad in the garden, and it's no longer viable for harvesting.
Garden Zucchini
Powdery mildew is a common cause of a low zucchini yield, so it's essential to regularly check the leaves. Harvest zucchini plants while the squash is still immature since sitting past that time causes deterioration.
Bad garden zucchini often has areas of rot and is not desirable for the kitchen. This is often the result of improper pollination between the male and female flowers or blossom end rot.
Overwatering, too much nitrogen, and uneven watering are major causes of this problem.
How to Tell if Zucchini is Bad and How to Store it in the Fridge
It's vital to store zucchini properly to prevent them from spoiling, whether after harvesting them from the garden or picking up a large bunch from the grocery store. We'll explain how to tell if they're still fresh and the best way to store them in the fridge.
Feel the outside of the zucchini. A slightly rubbery texture is an indication that it is about to spoil. It is not proper for eating raw but it is still okay to cook in a soup or stew, as long as you cook it immediately.
Toss any gourds that have mold or rotten spots. If the zucchini is still firm, wrap it whole and unwashed in a paper towel to absorb moisture and set it in a ventilated plastic bag.
Place it into the crisper drawer of your refrigerator and use it within a week or two for optimal freshness.
Freezing Zucchini to Stop it from Going Bad
You don't always have enough time to eat up all of that zucchini before it starts to spoil, and wasting it is definitely not an option. Fortunately, there are a few ways to freeze your summer squash to keep it long term.
Slice the zucchini into one-inch pieces and place them into a pot of boiling water to blanch them for one minute. Quickly transfer the chunks into a bowl of ice water to stop the cooking process and then drain them in the kitchen sink.
Pat the gourd pieces with a paper towel and spread them in a single layer on a baking sheet. Set them into the freezer to flash freeze for a few hours, then move the frozen pieces into a freezer-safe container before placing them back into the freezer.
While freezing whole zucchini is possible, it's best to slice or shred it for later use.
Using Frozen Zucchini to Make Stir-Fry
After you stack your bags of frozen zucchini in the freezer, you probably wonder what to do with all of those garden delights. One of the tastiest ways to use them is to make a stir-fry.
Combine the vinegar, sesame oil, soy sauce, and red pepper flakes in a bowl and set it aside. Heat a saute pan or skillet on the stove, add the olive oil, and then toss in the frozen zucchini.
Cook for three minutes, and add the scallions, garlic, and ginger. Cook for about one minute, and then pour in the soy sauce mixture. Continue simmering for about three minutes or until the liquid is absorbed.
How to Make Bread Before Zucchini Goes Bad
If you run out of zucchini recipes and your squash is nearing its expiration date, consider making a couple of batches of zucchini bread. Not only is this bread delicious, but it's easy to freeze whole loaves for later.
Pour the dry ingredients into a large bowl and set it aside. Whisk the wet ingredients in a separate bowl and then add the shredded, drained zucchini and melted butter. Combine the dry ingredients into the wet while you continue mixing.
Lightly butter two loaf pans and then spoon the mixture evenly between each one. Put them into an oven preheated to 350°F for 50-minutes and then set them aside to cool.
Wrap the cooled loaves in a sheet of aluminum foil and place them in freezer bags to store them in the freezer.
Growing squash, cucumbers, and tomato plants is rewarding, but it's best to toss zucchinis with mushy or rotten spots into the compost pile.
Spoiled zucchini squash is something to avoid, and learning how to tell the difference between good and bad gourds is vital to having a delicious and safe meal.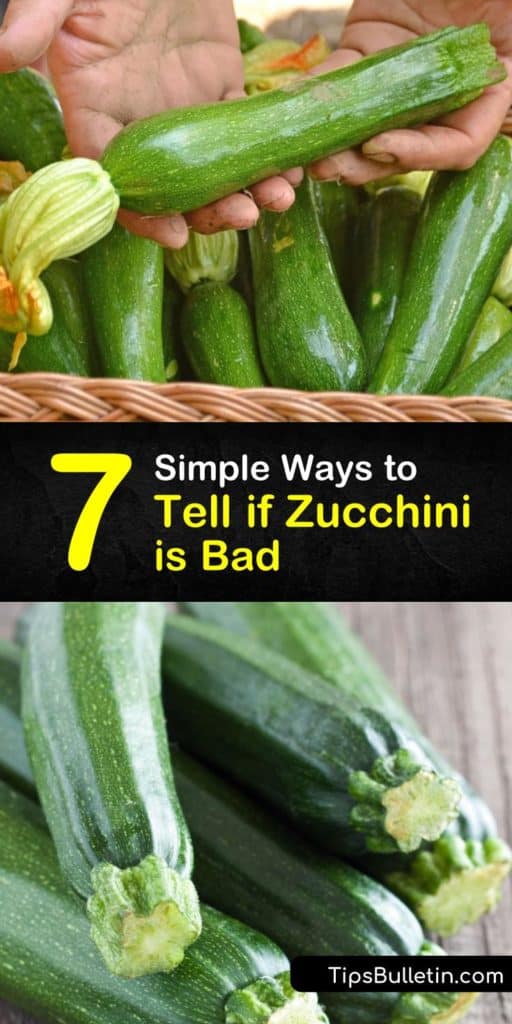 Knowing how to tell if zucchini is bad is the difference between a tasty meal and an upset stomach, so why not share our zucchini spoilage prevention guide with your family and friends on Pinterest and Facebook?