It can be tough to find out how to treat soil mites since gardeners have differing opinions. These little soil bugs have their advantages. While some think their benefit makes them worth keeping around, others prefer not to see them on their indoor plants.
Soil mites do not harm plants and help the soil decompose. Soil mites aid in the breakdown of organic matter, including leaf litter, fungi, and other naturally present substances in the soil. Some also consume nematodes and dangerous germs. These soil-dwelling mites are often confused with spider mites, although they feed only on earth rather than leaf tissue.
The idea of soil mites is often unsettling, especially if you have plants indoors. Fortunately, a straightforward soil mite treatment ousts the insects quickly. Explore brilliant tricks for treating soil mites and eradicate them from your containers or beds.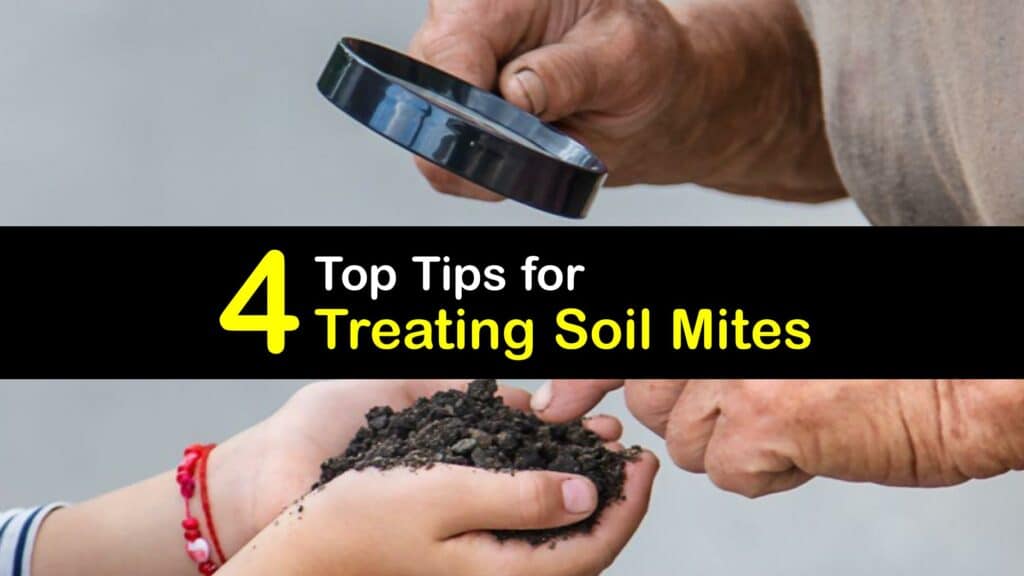 Learn All About Soil Mite Treatment
Though they're beneficial, soil mites are creepy and unpleasant when they are amassed in large numbers. Although there are many home remedies to get rid of spider mites, soil mites require different methods as their presence can be troubling and makes maintaining healthy house plants more difficult.
Some prefer treating soil mites and white worms in compost rather than letting them linger in the compost bin or skulking around an indoor garden. If their presence bothers you, discover how to treat soil mites with easy remedies.
What Are Soil Mites?
The soil mite (Phytoseiulus persimilis) often looks like a spider mite infestation. However, they cause no harm to your indoor plant. You're likely dealing with soil mites if you notice tiny white bugs but no spider mite damage. If you have noticed damage from spider mites, be sure to discover ways to treat spider mites to keep your house plants free from harm.
Soil mites resemble the predatory mite and are often confused with root aphids or the fungus gnat. They are a beneficial insect population living in potting soil or houseplant soil. These bugs feed on rotting organic matter and convert it into nutrients.
They aid in decomposition and create healthy soil for indoor and outdoor plants by feasting on undesirable organisms and improving the soil's structure. Many gardeners ignore soil mites rather than try to get rid of them.
Others eliminate them to preserve the visual appeal of their potted plants. Additionally, there is a remote possibility that these mites transmit illnesses and parasites such as tapeworms.
How to Treat Soil Mites with Insecticidal Soap
Insecticidal soap destroys soft-bodied insects like mites and aphids by smothering them. This natural mite-killer is found in most gardening stores and annihilates soil mites on contact.
Mix well and spray the solution over the entire plant and the soil until the earth is saturated for a potting soil mite infestation. Horticultural oil is also efficient pest control for the soil mite if you don't have insecticidal soap.
Organic Treatment for Soil Mites
Diatomaceous earth contains the remains of fossilized diatoms and is a potent natural insecticide. This gray-white powder poses no threat to your plants and may be applied directly to destroy soil mites. It kills grain mites and many other common household pests, as well.
Soil mites become injured by the diatoms on contact, making them unable to contain moisture, so they dry out and perish. Sprinkle a fine, even layer of food-grade powdered diatomaceous earth over the affected plant soil to treat for soil mites.
Management Tips for Treating Soil Mites
Keep the soil mites away, or reduce plant risk with simple plant management. Since soil mites feed on organic matter, clean up plant leaf litter or other debris to limit food sources.
Avoid overwatering to reduce the allure of the environment for soil mites and other pests like fungus gnats. You don't want to have to get rid of mold in potting soil in addition to dealing with bugs. Inspect new potting soil for signs of mites before introducing it into your surroundings.
Soil mites help your plants, yet they're offputting. You're not alone if you don't want them in your garden. Use simple solutions to banish soil mites from your houseplants. Whether you picked them up while bringing in fresh soil or found them on an infested plant, remove these houseplant bugs using simple soil mite treatment ideas.
If you loved this concise article on how to treat soil mites, please share this knowledge with your friends and family who are treating soil mites on Pinterest and Facebook.