When you explore how to use compost, you open up new possibilities for your garden. Even if you already know how to apply compost as a fertilizer, discover the other uses for compost to get the most out of this incredible garden helper.
Composting reduces your home's waste footprint, cuts down on food waste, and frees space in the landfill. Compost is made from organic waste products like grass trimmings, leaves, food scraps, and shredded paper. These products are considered waste, yet they're still packed with essential nutrients made available by composting.
Finished compost is often applied directly to soil as a fertilizer, though its talents are more far-reaching. Find other ideas for using compost in your garden to boost your plants and save money on mulches, foliar sprays, and more by using your homemade compost.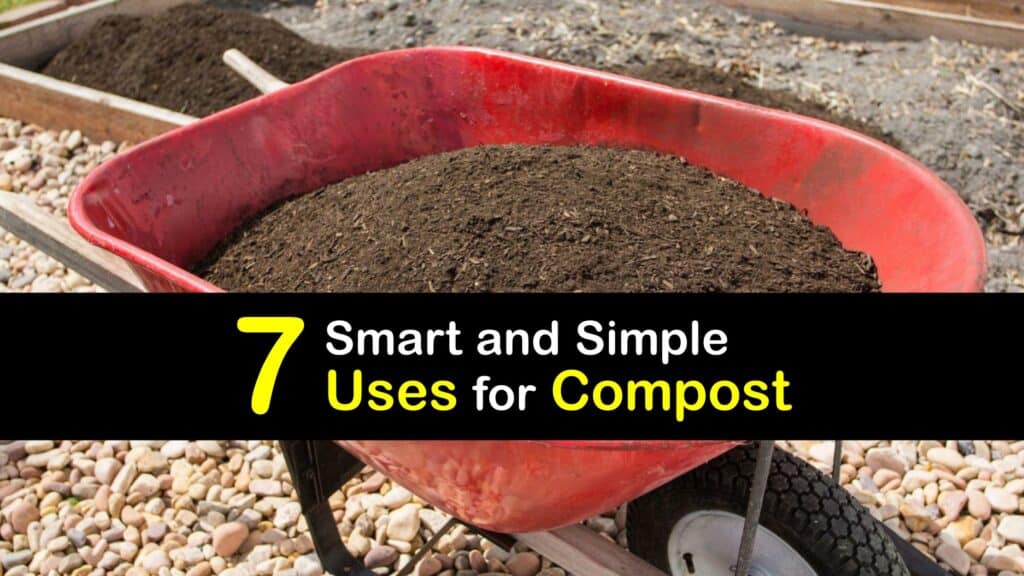 How to Apply Compost in Your Home Garden
Learn how to use compost and the many uses for compost to level up your gardening. The popularity of sustainable and organic gardening continues to grow.
More growers are embracing the benefits of composting to improve the size and quality of their fruits, veggies, and flowers and keep their indoor plants healthy. Find out how to apply compost as a fertilizer, foliar spray, mulch, and more.
Different Uses for Compost
Compost is a valuable tool for the garden; this versatile, organic substance may be used in many ways. Finished compost is helpful if you're looking for a natural mulch to improve your lawn or fertilize your vegetable garden.
The composting process combines nitrogen and carbon-rich organic matter to form immature compost, and is eventually processed into finished compost by soil microbes.
Nitrogen rich items like green lawn clippings, food scraps, and green garden waste mix with carbon-dense things like dried leaves, branches, and shredded paper in a 1:3 ratio. The forming compost is kept moist and aerated by turning or tumbling until the organic material is processed into compost.
How to Use Compost for Organic Material Disposal
Composting is an intelligent and eco-friendly way to dispose of organic waste without sending it to a landfill. Bulky waste like grass clippings, leaves, branches, and other garden waste is inconvenient.
Composting is an ideal way to combine this material with other organics like food waste and shredded paper to make unfinished compost which breaks down into finished compost. Learn more about fast compost methods that you can use to break down organic material at home.
While most garden waste is perfect for the compost pile, it's best to exclude weeds to avoid accidentally spreading weed seeds in your garden while using your finished compost.
Compost Gardening Tips – Compost as Fertilizer
Compost is packed with helpful nutrients to help your vegetable garden or potted plant thrive. One of the main reasons people make compost is as a free and organic alternative to chemical fertilizer. During the composting process, microbes liberate nutrients like nitrogen, carbon, and potassium in the organic material, making it readily available for plants.
To use compost, turn it into your garden soil or potting soil before planting, or side-dress it at the base of your existing plants by adding a small mound and watering it in.
Brew Compost Tea for Your Home Garden
The liquid form of solid compost is known as compost tea. It includes a diverse population of beneficial bacteria and soluble plant nutrients. Gardeners may use compost tea in many ways with lots of different additives.
They all generally start by combining compost and water to extract plant nutrients and microbes. Use liquid teas as irrigation system additives, foliar sprays, or soil drenches.
Add the mature compost to the bucket, fill the bucket with warm water, and stir vigorously for at least two minutes. Let the tea brew for 7-10 days, stirring twice daily. Strain the liquid using the mesh sieve and add it to a sprayer or watering can to apply as liquid fertilizer or foliar spray.
Gardeners Use Compost as a Soil Amendment
Adding compost is a clever way to alter the structure of existing soil to make it more hospitable to plants. Compost alters the soil structure by making it lighter and creating more air pockets to promote the health of plant roots and encourage adequate draining to avoid issues like root rot.
Most plants grow well in sandy soil with plenty of air spaces and ample drainage. Gardeners working with native clay soil may struggle to keep their plant roots healthy.
Mixing compost into heavier soil like clay helps to lighten and break it up to better aid plant growth and development. Compost also helps sandy soil retain more water and boosts the natural soil microbes in the garden to help promote healthy soil.
Make Natural Mulch With Compost
Mulching is a popular gardening technique involving covering the soil surface around the bases of your plants to assist with water retention. The surface covering slows evaporation; plant roots have added access to water and survive better between waterings or during a drought.
Every garden store sells various mulch products, from wood chips and straw to inorganic mulches like plastic and rubber mulch. You can compost wood chips to create a brilliant mulching substance as it's upcycled from organic waste, free, and has the bonus of nourishing your soil and increasing water retention.
Spread about a two-inch thick layer of compost around the bases of your plants to use compost in the garden as mulch. When it rains on the compost, or you water your plants, the water filters through the compost, carrying essential nutrients to the plant roots. The compost acts as a slow-release fertilizer to promote growth.
Put Compost to Work for Lawn Care
Using a good compost helps make your grass greener, healthier, and more resilient to weather, traffic, and disease. Using compost to topdress your lawn increases the organic matter in the soil and improves the soil structure for better drainage. The soil microbes found in compost help make nutrients and minerals available for absorption by grassroots.
While mature compost may be applied as a topdress year round, it's best done after aerating the lawn or overseeding. It's crucial to spread enough compost to effectively increase the health and vigor of your grass without smothering it.
Plan to use a quarter to a half-inch thick layer of compost. Rake it gently into the lawn and water it in well using a hose or sprinkler.
Composting is a fantastic way to lessen food waste, make your home more eco-friendly, and access a versatile tool for your garden. Though compost is best known as an organic fertilizer, it saves money by working as a mulch, lawn treatment, foliar spray, and more.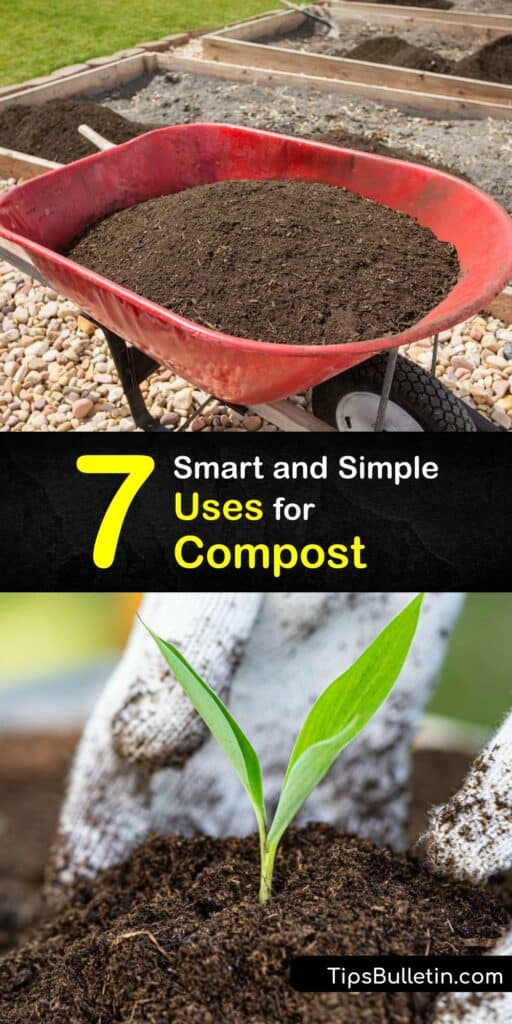 If you loved this article on how to use compost, please share this brilliant information on how to apply compost with your friends and family on Pinterest and Facebook.